Nokia Lumia 900 Case Review: Case-Mate Pop! Case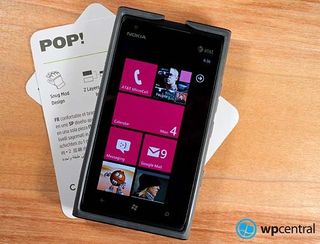 Case-Mate has a reputation for making quality Windows Phone cases and the Case-Mate Pop! for the Nokia Lumia 900 follows in that same tradition. The Pop! is a well built case that fits snugly around your Lumia 900, adds a decent amount of protection, but it may not appeal to everyone. While the one piece case does offer a good amount of protection it also adds a good amount of bulk to the slender Windows Phone.
We've looked at the Pop! cases before with the Samsung Focus and liked what we saw. With the Lumia 900 though, the Pop! adds more bulk to the Lumia 900 (the case seems more beefier) that may detract too much from the Windows Phone for some.
The Case-Mate Pop! has a rubber lining with a hard shell backing. The rubber lining is exposed at the sides of the case providing a nice gripping surface and along the face of the case to provide a bumper to protect the screen. A plastic kick-stand folds into the back of the case that can be used to prop up your Lumia 900 (for video viewing and such).
The Lumia 900 pops into place (hence the case's name) and the fit is tight to eliminate any wiggle room. Buttons are not exposed but rather covered with rubber extensions that work rather nicely. A large cutout is on the back of the Pop! to expose the camera and light. A recess is cut out of the top of the case to expose the micro-USB port and a hole is in place to access the headphone jack.
While the Case-Mate Pop! offers a good amount of protection, it gives the Lumia 900 a significantly beefier feel to it. The Pop! isn't a bad option if you need the added protection but if you like the slim feel of the Lumia 900, you may not like the Case-Mate Pop!. Pocket carry is still possible but the phone doesn't slip inside pockets as smoothly and the added bulk can be a little uncomfortable. Should pocket carry be your style, with the Pop! you're more or less limited to back-pocket or cargo pocket carry.
If you carry your Lumia 900 in a briefcase, purse or backpack, I could see the appeal of the Case-Mate Pop! as added protection otherwise, I can see the thickness the case creates not being very appealing.
The Case-Mate Pop! comes in black/gray and white/gray color patterns. The Pop! is currently running $29.95 and you can find it here (opens in new tab) at the Windows Phone Central Accessory Store.
George is the Reviews Editor at Windows Central, concentrating on Windows 10 PC and Mobile apps. He's been a supporter of the platform since the days of Windows CE and uses his current Windows 10 Mobile phone daily to keep up with life and enjoy a game during down time.
I have this case and I really like it. With the white 900 (which I have) the front leaves a small line of white around around the screen. I've had many comments of "what phone is that!". Also, I like the beefier feel of the phone. Much easier to grip.
The best thing is that when you put it on a slippery surface (like your dashboard or center console) it stays put - no slipping ever!
This is, BTW, the same case as is sold in the AT&T stores.

Want one of these for my Lumia 800 :(

Too big for me I love the oem cases the best

So hard to put a case on such a beautiful phone. But I want it to stay beautiful. Ahhhh!

I couldn't agree more, I feel the same about my Focus S...i found some cases that didn't add too much bulk amd I used em for a while but I recently took it off and now I remember why I went 6 months without a case to begin with...sleek, slim and beautiful...i understand the concept of keeping it that way but if you never enjoy it as such, what's the point?

I had Case-mate for my former Omnia 7, definitely quality products.

Looks good. Was going to order a Pop! case for my Focus, but it did not have good reviews. Most reviews stated the soft rubber on the sides started coming off only after a couple months of use and plastic broke in certain areas. I certainly hope that in not the case with the Pop! for the Lumias.

Love the kickstand idea. Still waiting for the construction grade tank case.

This is a pretty durable case! I use one, and I detail cars. Had it for one year...

I'd like this case even more if I could actually buy a Lumia 900. LOL

Still waiting for release in Thailand as well. Nokia missed it's opportunity here as the Galaxy 3 is out now. Think I will just wait and see what wp8 will offer.

Waiting for Bell in Canada.

I bought the Pop as it was the only case the ATT store had when I bought my 900. It does add considerable size, but feels much more secure. Seeing as I have had the case since I bought it, I'm used to it more so than the naked phone.

I got this style pop case for my Focus about a year ago, and my phone still looks absolutely brand new... The grip is amazing, and like the dude above said, the phone stays put on solid slippery surfaces because of the rap around rubber. After a year my case is beginning to show signs of ware, like the rubber separating from the hard plastic, but its on the inside, and could probably last me another year until my contract is up.... By May 2013 we'll be looking forward to "WP8.5". I definitely recommend getting a casemate hard shale case for any phone, especially if its not insured. The extra bulk ain't nothing to deal with...

Next phone I get, I will be looking at a Casemate. I got am Otterbox for the Dell Venue Pro and that case is a disaster. The upper portion of the case is not lined in rubber for some reason. As a result, all the 'chrome' on the fact of the phone looks like a grinder was used on it. In all honesty, I think the phone would be in MUCH better shape today if I had gone with no case.

Sorry about the typos...disappearing keyboard is a nightmare.

My keyboard disappeared 0 times while typing this

What a waste covering up a beautiful phone. So I figured maybe when it's all dinged up that is when I put on a cover....much like with my car seat cover. :D

This. I really want a case, but I hate to cover up the cyan! But I am hoping to recoup some costs by selling my 900 to put towards a WP8 device. So it might be in my interests to try out a case. Decisions, decisions.

Why would you protect your phone from scratches if you never get to see your scratchless phone? What a waste.
What's next? A case for the case?

If you really want to protect your phone when it's not in use, use a nice soft pouch with integrated display cleaner. That way it's protected whenever you don't use it, but you can still see, touch and feel your beautiful phone.
Have a look at yomix and fitBag. I don't know if they ship to the US though.

+1 I like my phone to come out of the case when in use. I've yet to see a case that's better than the bare phone. I have one of those leather slip pouches for my HD7 :)

Love this case but more color options would be nice.

I need a nice case for my HTC Titan :-( I've dropped it so many times...it's all scratched up :O

IF you are lucky enough to have this phone, do not hide the beauty of the phone with fugly cases.

I use this case when I travel. Also, when using Nokia Drive, with this case on, it fits snuggly into my Garmin holder. Its my GPS without having to buy new equipment because of this case!

I have this case for my white 900. I've notices small scratches on the edges of my phone when I take the case off. It also doesn't protect the chrome piece on the camera. Its a good case otherwise.

I only buy casemate cases but why are they 20 dollars......anyone know where can find a case for a titan 1 for cheap...lol

I have one I can sell you. I've never used it because I returned my titan to wait for the lumia.

This case is the best out of the original set of cases released for the Lumia 900. Why? Because it helps to protect your screen should you happen to drop it via the slightly "thicker" sides that extend slightly above the screen on all 4 sides of the front of the phone. One of the guys I work with didn't buy a case for his phone, dropped it, and now has a phone with shattered surface glass (he was lucky that the LCD does not appear to be damaged itself).
So everyone has a choice:
1) Love the phone's out-of-the-box aesthetic design and not put it in a case. This leaves you with increased risk for damaging the screen and all sides of your ~$500 (non-contract-value or replacement value while still under contract) phone.
2) Buy a gel case - this will protect the sides and back of your phone but most will leave the chrome around the camera fully exposed and also do not provide any "bumper" for the screen area. The gel cases I've seen don't do anything to help protect the screen area.
3) Buy a case that is designed like the Case-Mate Pop! case that was reviewed in this article. This will increase the width and height somewhat as well as adding a touch of weight to the phone. Unlike the reviewer, I pocket-carry my phone with the Pop! case on without much difficulty. I won't deny that the phone + case = significant size increase over my old Samsung Focus + case.
Do I like that the Pop! case hides the overall slimness of this phone? Nope. Do I want to seriously increase the risk of cracking my screen should it accidentally be dropped or knocked off a desk or some other such accident? Absolutely not.
So in the end it is a personal choice based on how much risk you're willing to take, IMO.

If you're clumsy then get a case... Otherwise you don't need one. I keep mine in a leather slip pouch, which is slightly padded. I have dropped my phone once in the case and it was fine. When it's out of the case it looks great and I'm careful with it.

I don't like cases for gorgious devices. It's like covering a Benz with a sheet.

Why don't they make a blue case? Since I have a blue phone I want a blue case.

I bought the case-mate for the 900. After a week or so I removed the case and noticed scratches and pitts down almost the entire side above the buttons. On the inside of the case-mate there are hard plastic separators above, in between, and below the cushioned button protectors that basically grind into the phone. I purchased the case from a at@t store along with the phone and was met with a blank stare, followed by the advice that I could purchase a different case when I returned to complain. The case-mate managed to successfully perform the exact opposite job for which it was intended. BRAVO!!
Windows Central Newsletter
Thank you for signing up to Windows Central. You will receive a verification email shortly.
There was a problem. Please refresh the page and try again.