Nokia Lumia 900 gets priced at Rogers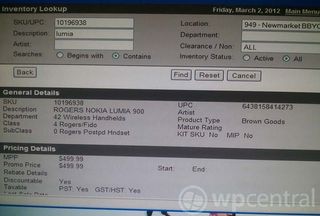 When the Nokia Lumia 900 Windows Phone goes global in a few months, Rogers Canada is likely going to be the 900's first stop. While the when of the Lumia 900 landing in Canada is still a little blurry, the pricing appears to be coming into focus.
One of our stealthy readers was able to grab a shot of the inventory screen for the Roger's Lumia 900 that indicates the pricing to be $499.99. Unfortunately, no date for release can be seen.
The Lumia is marked as discountable but that is something that Roger's will determine based on vendor agreements and other factors. More than likely the $499.99 will drop a bit once contractual discounts kick in. How low the contractual price will be is anyone's guess.
Hopefully, this is also a good indication of what AT&T's pricing might be.
Thanks to our stealthy reader for the tip and the pic!
George is the Reviews Editor at Windows Central, concentrating on Windows 10 PC and Mobile apps. He's been a supporter of the platform since the days of Windows CE and uses his current Windows 10 Mobile phone daily to keep up with life and enjoy a game during down time.
I certainly hope the Lumia 900 is on AT&T before Rogers. Why it's not out yet is extremely frustrating.

I Agree 100% unless AT&T has second thoughts. But, since it's gone through FCC blessings recently, I am hoing the rumored date of March 18th is still on track.

99 for 2 years or $50 bucks for 2 years, the lower the better since this phones won't be updated to Apollo....

we dont have official comfirmation about phones not getting the upgrade!, as a matter of fact there is more saying we will then we wont!! ALLoT more.

as for the price, how in HELL is it 499$ when the 800 is 539$ at telus!!!! the 900 is clearly better!

I think it would be utterly stupid on Nokia's part to release a phone which will get outdated in 4-5 months. My bet is on the 2nd Gen handsets (at least) getting the Apollo update in some form or the other.

If I had to bet I'd say there will be no Apollo upgrades. This is just based on the fact that Microsoft is keeping quiet about it. If free upgrades were planned I would think that would be something they'd have wanted to announce by now. Of course, that's just my guess. I hope I'm wrong. I totally dig the Quantum!

Ok this right here is why MS needs to just freaking tell us the news about Mango-Apollo. Every article about an upcoming WP7 device sparks a debate on whether or not it'll get WP8! It's on the verge of becoming a form of trolling. The fact they remain silent is Apolling. (misspelled intentionally-yeah I know it's still not as good as "Scobling")

I do not understand why people are so confused about current Windows Phones not getting the Apollo update. Where are you getting this from? It's bullshit. All phones will get Apollo, that is just up to the manufacturer and carrier to how long they'll take. Apollo is just another update for Windows Phone, just like Mango was. There is no difference. NODO>Mango>Apollo.. They will all come and be updated. Its not that huge of a change that for some reason old phones won't update to it. Its just another update. Chill, people.

Totally agree with your sentiment on updates. Not sure why these folks are trolling about fragmentation.
My Samsung Focus has received every update and will in the future. I would expect Microsoft to support my device for at least 3 years (standard locked in contract with a provider). So overall we are looking at a 4-5 year cycle.
And unlike Apple and the iPhone my phones performance actually improved instead of degrading with a software upgrade. My partner has a 3G that is almost off contract now but for the last year it has been brickishly slow compared to the first original operating system when the phone was introduced.

And my Samsung Focus hasn't. So I think it's a valid question to ask.

Wow that is a lot cheaper than I was expecting.

It will be cheaper than the 800 telus (525$). I'm not sure

$500 off contract? That's less than my SGS2 was. I hope the 900 is that cheap when it comes to the US, cuz that bad boy is coming home to daddy!

They're upgradeable to Apollo, like Apple does with iOS on the 3GS/4. I'm thinking $499 no commitment means $50 on contract. Which would stick a knife in Android for LTE highend/budget phones. Pantech's Burst is garbage.

Link something official or you're just stating your opinion.

$499? That's a great price for this phone w/o contact! Wonder if it'll fully work on TMobile here in the States?

1) Is it off contract ?
2) Is it LTE ?
3) Is Rogers logo (brand) will be on the phone ?

1. So far every Rogers phone I bought (Samsung Focus, Nokia Lumia 710) have been unlocked and worked on other carriers (Bell for example).
2. Yes
3. No physical branding, but the Booting screen will most definitely have the same Rogers logo as my Lumia 710 on Rogers.
4. Keep tuned to forums like this for 2G/3G bands. The Lumia 710 was announced as 850/1900/2100 3G bands, but shipped as pentaband.
5. Rogers would not sell me an off-contract Lumia 710 via their website. I had to make the trek across town to their retail store to purchase. I also didn't qualify for any of the promotions since I bought it outright (free bluetooth, case etc).

Yes, yes and no. Its off of contract, it is LTE and there is no Rogers Logo on the phone

4) Can it work in any 2G/3G network ?
5) Do you have to be Roger subcriber to get the phone or you can buy it from the resallers on ebay when it gets relased with Roger ?


4) check the bands
5) anyone can buy the phone off contract

WoW now I realized that $499.99 is CAD not a USD. So it's around 509 USD, so still good price.

Woohoo with Apollo this baby will be sweet!

I'm not sure I'm convinced: The screenshot is from Best Buy Canada's inventory system, not from Rogers directly. Top right indicates it's store 949 in Newmarket, just north of Toronto. The price also seems almost too good to be true. Don't get me wrong, I would pick up this handset in a heartbeat at this price. But it seems a bit too convenient that this was "leaked" the day after the Lumia 800 was released on Telus (another Canadian network) for $525. If the 900 really is cheaper than the 800, then Telus has a big problem.
Just FYI, Rogers and Fido (their pre-paid budget brand) use the same frequencies as AT&T in the US. Unlock the phone, and you should have no trouble using it on AT&T in the US. As for branding, my experience with smartphones on Bell, Telus and Rogers so far is that they are generally left unbranded. No guarantees, though.

Lumia 800 costs 399€ in Italy now, wo contracts, I expect 900 will be start priced 499€. Personally I buy only contract free unbranded phones so I m free to change/sell it, and I can play with latest model ;)

$500 for off-contract 900 is a-OK by me.

Will there be more than the 16gb version? The lack of micro SD support is kind of frustrating. I heard Apollo will have SD support though. Not sure if that's true though. My 1st gen focus is at 22gb.

The Samsung Focus is the only Windows Phone to support (semi-officially) SD card expansion. The main reason for the lack of support is that Windows Phone doesn't support multiple storage drives. Having a removable SD card would require some sort of file manager (save to local storage vs. removable storage) and could cause confusion. That's why when you install a memory card in the Focus, it stripes the memory into a single storage unit and cannot be removed without completely restting your phone to factory defaults.
There's only one Windows Phone anywhere on Earth that has more than 16GB: the Toshiba-Fujitsu IS12T (how's that for a name that just rolls off the tongue). It's a gen-1 device with 32GB internal (non-upgradable) memory, a 13.2MP camera ... and it's waterproof. It' s only available in Japan and Australia currently, but apparently Fujitsu is looking to possibly release it in Britain, Spain and Germany.

holy moses... cheaper than the 800 on Telus, Rogers is probably going to get my contract when its up end of this year
Windows Central Newsletter
Get the best of Windows Central in in your inbox, every day!
Thank you for signing up to Windows Central. You will receive a verification email shortly.
There was a problem. Please refresh the page and try again.