Nokia Lumia 900 shows up on Fox's "Touch", sports AirGraffiti app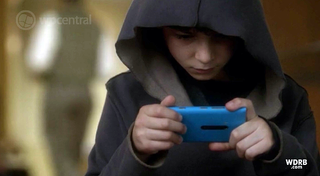 Well, if there's one thing we learned tonight it's that a lot of you watch Kiefer Sutherland's "Touch" series on Fox, at least judging by the amount of tips we received. Evidently tonight was the two-part season finale (yes, the show was renewed) and the main child prodigy gets his hand on a cyan Lumia 900. What's more, the scene is fairly long by product-placement standards, resulting in some nice screen time for the hit device on AT&T.
Also note the appearance of the AT&T AirGraffiti app for Windows Phone. For those of you who don't know, AirGraffiti was a concept app from AT&T that allows users to "...leave videos, photos and songs "in the air" at physical addresses for friends or others to retrieve when they visit that location". It's a very cool concept that uses the phone's media resources, social networking and Location Based Services (LBS).
AirGraffiti on Windows Phone?
No word though is that app is actually coming to Windows Phone or AT&T and Nokia are just teasing the hell out of us. Let's hope it's the former as that'd be a very cool win.
Anyway we managed to get a video clip of the appearance on the show--there were two scenes--and we mixed 'em and posted 'em for you to peep. The video is on SkyDrive and if you're wondering why it's not on YouTube, you can blame their Draconian copyright enforcement.
Windows Central Newsletter
Get the best of Windows Central in in your inbox, every day!
Daniel Rubino is the Editor-in-chief of Windows Central, head reviewer, podcast co-host, and analyst. He has been covering Microsoft since 2007 when this site was called WMExperts (and later Windows Phone Central). His interests include Windows, laptops, next-gen computing, and for some reason, watches. Before all this tech stuff, he worked on a Ph.D. in linguistics, watched people sleep (for medical purposes!), and ran the projectors at movie theaters because it was fun.
I can't find the video on the wpcentral app

Read the end of the article. It's not on YouTube.

Daniel, check out part one that also aired tonight. Is that a 900 that Maria Bello is using the hole show?

Sure, it's on SkyDrive, but WHERE?

Ha, add me to the list of watchers. Came here to submit the same tip

Very nice. Using a Cyan Gel Case on my Black L900 to help with that device recognition. Not an easy phone to miss.

I have ordered an non oem dark red gel case to hopefully give me the nkoia win8 concept phone look!

My GF rolled her eyes when I saw the 900 in the bottom of the box of phones and exclaimed out loudly.

On part one of this same show tonight I could have sworn that Maria Bello was using a 900 the entire show. She was on a beach with some dude collecting junk...

Nope, she had an android phone of some sort. It had the 4 android buttons on the bottom.

Its touching to see the phone pop up on tv makes me all giddy

interesting how the boy accesses the camera....hitting the Back button.

Well maybe it was tombstoned.

I am sure it was. Just interesting that route was chosen.

It was so awesome seeing a Lumia 900 so prominent.

Just saw the video. This is how they should show more tv commercial for windows phone

That friggin show! I watch cliffhanger after cliffhanger and what do I get as a season finale? Another cliffhanger! Anyways, pretty weird, they have advertising for MacBook iPhone android blackberry and the lumia...pretty weird

What's even weirder is the Samsung note being advertised on the Xbox dashboard.

Sonuva! Gonna have to get on the laptop to view it. Vid won't play on windows phone!

Worked fine watching it on my wp 7.5

But WHERE is that freaking link to SkyDrive, could somebody please finally tell us?

It looks like there was an Android and IPhone in that drawer. The Lumia stood out big time.

That's what I noticed too. It was a box of black phones and the the cyan just jumped out at you immediately.

I haven't watched the last few episodes...but if you wanna catch it, go to Xfinity.com

lol, loved how he shoved all the black slabs out of the way to get down the cyan goodness.

Can anyone name any/all of the phones in that drawer? I can recognize two, maybe three:

There's definitely a Focus laying face-down.

The flip phone is a Sanyo MM-9000 - one of Sprint's first EvDO phones. I remember lusting after that phone when it first came out back in 2005. It still looks like a big, beautiful brick to me.

The bar phone looks like a Sanyo 4920 but the more I look at it, the less sure I am. Probably a different phone.

I also saw a blackberry when he first pulls the drawer out from under the bed but no idea what model it is.

When does that kid charge all of those phones?

It'd be nice if there was a non-carrier-specific AirGrafitti-type app. Would be a good addition to 4th & Mayor.

I'd really appreciate it if someone could answer my dumb question: if a video has been uploaded to WPCentral SkyDrive, how can I watch it on my mobile device?

Doesn't seem possible from the app or the mobile site. "Install the latest version of silverlight" is the error message I received.

So how do you forget that a phone that is two months in the market is even in a drawer full of older phones? are they all charged? How come it's in the Bottom? was it ever used. Inquiring minds want to know! NO cables no bateries no nothing.

Is there a reason they had to cross out the Windows icon on the bottom

They hid the Nokia logo also, but kept the AT&T logo. I think AT&T paid for product placement for their brand and their brand only, they don't exactly want to give free brand exposure to Nokia and Microsoft.

Before the boy launched the camera, we can see in the Phone tile there's no network connectivity, it says "Emergency only". After the boy finishes taking pictures and back to the Start screen in the same location, everything on the 900's screen is now done in post production. The Phone tile now says "AT&T", and there's also "AT&T" on the top bar next to the network bars and "LTE" which isn't supposed to show up unless manually pulled down by the user. And I've never seen the operator's name show up in that top bar on any Windows Phone.


The way the AirGraffiti app launches is clearly done in post production, notice the tile glows then the splash screen image shows up almost immediately in iOS-style, with no turnstile animation beforehand. No actual Windows Phone app launches like that.


The font on the AT&T U-Verse and Internet Explorer tile is also in the wrong font.

May its a phone 8 function think about it
Windows Central Newsletter
Thank you for signing up to Windows Central. You will receive a verification email shortly.
There was a problem. Please refresh the page and try again.