Nokia Lumia 920 looked at in more depth in new video against GS3, iPhone 4 and more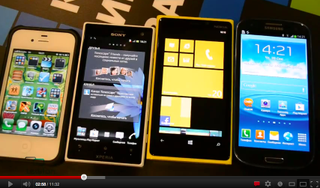 The Russian mobile phone website Mobiltelefon.ru has published a fairly long video of the Lumia 920 in action. This follows the video published comparing the video image-stabilisation on both the Lumia 920 and Samsung Galaxy S3.
While we can't tell what's being said throughout, we are aware of the team being located in a "secret Nokia bunker" - this was of course a humorous jab at Microsoft for how reserved they're being of Windows Phone 8.
With both the Lumia 920 and Lumia 820 in possession, the Russian team compare the flagship Nokia Windows Phone against the Samsung Galaxy S3. Viewers are walked through the design of both Lumias, and are subsequently taken through the following Lumia 920 comparisons (what both our tipster and ourselves can make out):
Screen quality against Samsung Galaxy S3.
Touch screen responsiveness compared (as well as demonstration of usage with a key where the super sensitive PureMotion HD+ display on the Lumia 920 wins) against the Galaxy S3, Sony Xperia and iPhone 4S.
OIS demonstration with more closely synchronised comparison against the Galaxy S3 (920 is a second or two ahead).
Camera compared against the Galaxy S3, iPhone 4S and two Sony Xperias.
Demonstration of available wireless charging kits (including distance required to charge - doesn't fully need to be connected to base).
Making use of NFC and wireless charging with JBL speakers
Quick look at the Lumia 820 and detachable covers
The quick review of both Nokia Windows Phones clearly illustrates how far Nokia has come in the almost-two years it has supported the platform. One can also see how the Lumia 800 has evolved as the OS has matured, with the Lumia 900 boasting improved specifications and now the Lumia 920 that sports even more advanced hardware and built-in functionality.
The Lumia 920 is expected to be available later this year, though pricing is still speculative at this point.
Source: YouTube; thanks, chuey101, for the heads up!
Windows Central Newsletter
Get the best of Windows Central in in your inbox, every day!
Rich Edmonds was formerly a Senior Editor of PC hardware at Windows Central, covering everything related to PC components and NAS. He's been involved in technology for more than a decade and knows a thing or two about the magic inside a PC chassis. You can follow him on Twitter at @RichEdmonds.
Interesting to watch lumia battery dropping lol

Is it the iPhone 4 or 4S????

I'm Russian and I can say that there was nothing new in this video. The only thing I found new for myself is a clarification on the buttcalls with super sensitive screen on lumia 920. Guy from the video told that there are distance sensors as he called it that will not allow sensitive screen to work when there is something very close to the screen. I assume he meant your butt. So no worries here, guys! Oh, if you want me to translate something don't hesitate to ask. ;-)

Speaking multiple languages is definitely and advantage.

To bazlov. Mayby my english is poor, but russian i know well. And video is very interesting with new details first charging with pillow takes 3hours. They talks about distance from pillow to phone. Another 820 have 8 mx camera and seems batery is removable.

In the end they opinion is that 920 is nit just new phone next to lumia line like iphone an samsung, but its next generation new tehnique and new innovation. And from me i can say the new iphone is lumia 920

Bazlov, Can you translate their comparison between the phones video/photo quality. Namely how does the 920 compare to the other phones. The 920 looks oversaturated (too white) in the video, but it could be the camera that they are using to film the review. Thanks!!

The point of their words while comparing photos taken with several devices is that every other camera than lumia is very noisy. And when they talk about lumia they say that the picture quality is that if it was taken in a room filled with sun light. And lumia display indeed looks like to bright but it is their camera. They do not tell it, but you can see it when they manually reduce brightness of the camera. And yeah, they tell that with wireless charger it takes about three hours to full charge, while with a regular cable it is about 2.5 hours. I can make full translation but it is too long for comments, I believe. How should I do it?

The film was oversaturated throughout the whole thing, the Lumia screen looked crazy bright throughout, and we know it's not. Also the color shift was off too, red looked orange etc...

What does he say about fingerprint issues on that glossy surface (around 9:30 I think)? To me it looks like the 820 gets a lot, but not the 920.
Thanks for helping.

I'm wondering about that also. I noticed he keept rubbing the back of the yellow 920. I've been wondering if the high gloss surface will show scratches.

There are no scratches on this prototype, he says, though it was produced a while ago and was heavily used. The surface is sort of scratch protected as he says.

Actually he mentioned that the Lumia 920 is a presentation device and was in many hands already and used for a while but the back shows no sign of scratches( and the buttons and backplate aren't scratching too).

He is not talking about fingerprints, you will get that a lot obviously on a glance surface, he is actually talks about scratches... To be more specific about their absence. He says that there are no scratched on this phone though it is a pretty worn prototype that was produced a while ago. He says that this service is kind of scratch protected.

They are not talking about finger prints. They are talking about sctaches. They said even though this is a demo model that was used alot, it still looks fresh. Scratches aren't visable on the glossy surface.

They are not talking about finger prints. They are talking about sctaches. They said even though this is a demo model that was used alot, it still looks fresh. Scratches aren't visable on the glossy surface.

I was actually wondering about this - thanks for the translation!

Wow that is one bright screen on the 920. Thought the photo colour reproduction was off but when the screen dims you can see it's pretty accurate, it's just too bright for the camera that filmed this video.

nokia new moto always awesome, hehe

Just impressed with that camera :-)
Me want... now...

I expect pricing to be at or less than the HTC counterparts

I hope that was sarcasm. If it wasn't, then let me say that in Switzrtland, the 920 is going to be selling at CHF 749.- off-contract while the 8X is going to be 599.- off-contract. The difference is worth it though.

I couldn't understand a single word of the video but I was mesmerized for 11 minutes. Nokia 920 porn.

Nice, new repeat and shuffle toggles on the lock screen!

Who cares what the price is... We all know it will be cheaper than the iPhone 5 (and better too)

Anyone peeped the 2chainz (he's an American rapper) song in the beginning? Lol but I now I think I made my decision...getting the 920 asap

Here's a very minor new thing I noticed: When you turn on the screen in existing Windows Phones, it turns on without any transitions, which feels harsh. If you look in the video, when he turns on the Lumias, it has a nice fade transition. Also, when the screen begins to timeout, it has the same fade transition from full brightness to dim and then a transition to off. To me this makes the initial experience of using the phone seem more polished.

IPhone seems a phone of 80's, definitively old.

What you can see in the video, the guy there had no way of noticing is the 60 Hz refresh rate of the 920 screen. In the comparison of the video stabilization of the 920 vs the GS 3 you can see the GS3 screen flickering while the Lumia screen is completly stable due to the higher refresh rate. This is probably not noticable during use, but in this comparison nice to see the difference in action.

What a difference the refresh rate makes on camera. We may not notice it but 60hz may be less tiring to the eyes.

Now samsung with apple feels like shiiit

Awe... Can't wait to get one. The hardest decision for me is the choice between the 920 and 820. I like removable cover and microSD on the 820 but it's missing all the goodies on the 920.

820 will still have super sensitive screen, wireless charging. What it lacks it makes up for it with microSD, removable battery and slick covers

I didn't think the 820 had the super sensitive screen...

Looking at the deminsions, I was worried that the Lumia 920 would be too large. But from the video it looks to fit in the reviewers hand nicely. I think that it looks comfortable to hold in the average male's hands.
Also, almost every iPhone that I see in the wild has a case, without a case they are very scratch and shatter prone and uncomfortable to hold 9 (at least thru the 4s), so I think that requiring a case kind of diminishes the size advantage that the iphone claims to have over other flagship phones. Though with a slim fitting case, the iphone is probably still substacially skinnier than the 920, but probably still more shatter prone.
Now I just need to make sure I can live with the weight of the 920. I'm upgrading from a Samsung focus which is extemely light and pocketable. I've had my focus for almost 2 years and it's been extemely durable, even without a case. It's funny, because I remember when the focus first came it it got some bad reviews because it was too light and did not feel durable. It ended up being extemely durable, and the weight and dimensions are very similar to the new iphone 5, plus I got it for free on contract. I guess Samsung new how to make a magical phone two years ago.

Wow I'm in the exact same situation as you brother.

I'm set for a 920 but have serious problems trying to decide on a color. Btw I'm not sure what the fuss is about with the weight. It's only a tad heavier than your average smartphone...

Weight Comparison: Now I do think that you have to keep this in perspective. The iPhone 4s is 25% lighter than the lumia, but keep in mind that it only had a 3.5" display. However, that was last years tech.
Phone - % Lighter iPhone 4s - 25% Galaxy Nexus - 27% Galaxy S3 - 28% Samsung focus - 37% iPhone 5 - 39%

Sorry, but all this "heavier" talk is bollocks...
Its not like 30g more is heavy?!? If it is, you really need to get on the weights!

Right! You dont feel the difference in 50g, i have a htc 7 pro and think it is the heaviest wp7 and the thickest. But i dont feel the difference in comparisson to the lumia series, because we can not concentrate the whole time on weight. Once it is in the pocket we forget it. :)

It's weird this video shows off just the phone, and not parts of the OS that Microsoft would rather keep hidden. Shows the signs of a controlled leak.

Or they're respecting the embargo.

Maybee there was a microsoft representative the whole time of filming and using. And they had respect

Excited to see the phones up close. It would have been funny if Samsung trolled at iPhone 5 release by comparing them.

In the OIS comparison he mentioned to not look at image quality as the camera on the Lumia was focussing on the structure wheel that was in front.

When they compare the S3 and 920 video recordings, at 4'33'', you see both cameras are not moving when the RC car is stationary. But in the lumia, the video is continuing to distort the image (OSI) and as a result you see everything "pulsing". I hope that won't be a problem when taking stable videos where there are minimal movements. The artifacts of OSI is very evident for non moving objects.

The springs are probably still stabalizing it a bit. You will not be shaking it as much in your hand as the rc car was. So, in normal recording this shouldn't be noticable. Even if it is, I rather have a whole video that is fairly steady throughout with a little wobble for a second, than a shaky video that only stabilizes when you are standing perfectly still.

It looks to me as if the videos aren't in sync and while rc car is stopped in the non Nokia video, in the Nokia video it is starting and stopping. Both of the video demos they have done are nearly useless as the videos aren't perfectly synced.

I was hoping the wireless charging time would be a little shorter than 3 hours... But I suppose the intention is that you put it on to charge in bursts throughout the day whenever it is convenient to boost battery life, and 3 hours of charging dispersed throughout the day would double your battery life. It was good to see some charging accessories in action too, what I am really hoping for now is a wireless car charger.

I don't currently own windows phone so I might be wrong, but did anybody catch the animation on lumia 820 almost at the end when he was going back to start screen from the accidently opened app? It looks like it passes through the applist screen to get to the start, which I don't recall seeing on windows phone 7.5.

I replayed it and caught it too, I suspect its purposely done sense it cab remind you of the app list, the missing arrow (at bottom now)

Eugh its so annoying 920 or 8x they both have bits that the other doesn't like notification led and stuff argh! And I think I kinda like the way the 8x looks in the tennis ball yellow hmm.

Come back with a better article comparing with the iPhone 5 pls
Windows Central Newsletter
Thank you for signing up to Windows Central. You will receive a verification email shortly.
There was a problem. Please refresh the page and try again.