Nokia, the Lumia 925 and Man of Steel World premier in New York City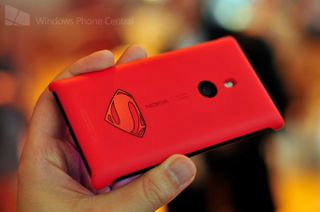 Last night in the heart of New York City, Nokia co-sponsored the world-premiere of Zack Snyder's "Man of Steel". We, along with the usual Manhattan glitterati, we lucky enough to attend the red-carpet gala on a rain-soaked Monday.
Yeah, this job has its privileges sometimes, we'll admit it.
Nokia is one of many companies that have a sponsorship deal with the movie, though they are cited as the largest global partner. Such deals are used to off-set the high costs of the film, associated with production and later promotion of the summer hit, and it helps to have someone else help pick up the bill. In exchange, those companies can have their products featured in the film—sometimes subtle, other times not.
Lumia 925 in the house
At the event and before the movie, the crowd was able to mill about outside of the famous Lincoln Center where the film was being premiered. Amongst the crowd were a handful of Nokia employees, sporting "Man of Steel" of shirts and carrying around shiny new Lumia 925s.
The Nokia Lumia 925 is an alternate version of the Lumia 920 with an aluminum body to make it thinner and lighter, a new sixth-lens in the camera to make photos shaper and a improved AMOLED display. While the device gives up built-in wireless charging, the feature can be added back by snapping on a wireless charging shell, which also adds some color to the device.
We were able to play with the 925 a bit, including taking a peek at that new Lockscreen clock feature, that allows the time and any notifications to be shown on the display in "standby". The feature worked well and you can see it demoed in a short video above to get an idea of what it will be like. Though it launches with the Lumia 925, it will be coming to all Windows Phone 8 Lumias later this summer with the GDR2/Amber update.
Once again, we were also impressed with the 925 especially just how thin and light it is compared to the Lumia 920 (or even Lumia 928). One other feature we really like is the camera button, which is the most prominent yet that we've felt on a Lumia. That should allow easier photo captures as the button felt just more tactile (there's nothing more annoying than buttons that are too flush, or don't have enough travel).
Overall though, it was fun to see the phone, emblazoned with a Superman logo, milling about the public (even if they were slightly more excited to see the movie).
Man of Steel vs Nokia
Ironically, the Lumia 925 doesn't appear in the film. Indeed it looks to be the Lumia 900 (and maybe a 920) that is shown off around three times in the mega blockbuster that we were able to discern. That includes a bar scene where two Lumias are shown, one receiving a text, another with Louis lane on a white Lumia 900 making a call (and the Carl Zeiss chrome band clearly being shown) and another with a phone with a faux 'NOKIA' emblazoned on the top and something about Zog hacking their RSS feeds (seriously).
If you're looking for it, you'll clearly get a chuckle as it seems a bit obvious with the placement. But honestly, it was done well and it's more of a "blink and you'll miss it" rather than a Nokia commercial in the middle of the movie. In other words, it was tactful (unlike Nikon's D3s scene, which was borderline a commercial and quite hilarious in its obviousness).
So why no Lumia 925? Simple. The movie was shot months ago and Nokia would not have had a final version of the phone to be used quite yet for its big scene. In addition, being 9-12 months out from shooting, there is no way they would be able to tie it in with a dual product launch and movie launch.
Instead, we're treated to what one could argue are more iconic Nokia Lumia designs, including the polycarbonate body, that Carl Zeiss/PureView band and of course "NOKIA" on a phone.
Wrapping it up
Needless to say it was a fun night and without ruining the movie with spoilers, yes, it's highly entertaining and definitely worth seeing. It does clock in at two hours and twenty minutes, so ease up on the soda beforehand. While the film does go by fast, it does perhaps go on for a bit longer than I would have liked and some of the fight scenes begin to feel a little too Matrix 3-ish (and I say that as someone who likes the Matrix 3). Ironically, the movie has two actors from the Matrix trilogy in it, so maybe it's more than coincidence.
Director Zack Snyder, who also did the excellent "300" and "Watchmen", does a great job with "Man of Steel". It has its own visual style different from those other two films, but it still brings Snyder's unique touch, which I happen to really enjoy. Indeed, I'm not even a Superman fan (or a comic book reader), sorry even this geek has his limits) but I was able to thoroughly enjoy the spectacle—it's a classic summer popcorn flick that is clever and well casted.
And kudos to Nokia for scoring one of the biggest promotions deals of the summer. They tied themselves to a solid, summer blockbuster and they should be able to get their name out there and noticed. With the Lumia 925 launch coinciding with the movie's release and those limited edition Superman covers, it ought to help with word of mouth and their continued brand revival here in the U.S and elsewhere.
Download the official Man of Steel app for Nokia Lumia phones here in the Store.
Daniel Rubino is the Executive Editor of Windows Central, head reviewer, podcast co-host, and analyst. He has been covering Microsoft here since 2007, back when this site was called WMExperts (and later Windows Phone Central). His interests include Windows, Microsoft Surface, laptops, next-gen computing, and arguing with people on the internet.
1st of only two films worth seeing in an actual cinema to me, other being Thor. Apart from Mr L Fishburne who is the second matrix actor?

Im not sure how this superman will turn out to be. 300 and watchmen were crap IMHO

Check the Nokia sponsored trailer, will be worth it for the epic battle alone, compared to the poorly done Hulk vs Thor battle in Avengers

You must be crazy, 300 and watchmen are only like 2 of the best movies ever...

300 was good. Watchmen was very good. Don't tell me you think Scary Movie was good...

Your small group is the yang to the majority. Both of those movies were fantastic. Rich, deep stories. Great acting, englufing plots and overall action, CGI was amazing.
If you don't like good movies that's fine. But the rest of need people with poor taste to determine the contrast between good and bad. It's life.

irony Man of Steel game doesn't available lol xD

Man of steel game has been available more than a week now

no! it's not available on WP.
http://www.youtube.com/watch?v=_6DIaa-0YJk

i thought u said Iron Man of Steel lol

Me too. It shhould read:
The irony is the 'Man of Steel' game is not available lol xD

I wonder if the lockscreen clock feature will soon be updated to the great "Sleeping screen" from Symbian (meaning that it shows all the notifications also)

From the article: "... including taking a peek at that new Lockscreen clock feature, that allows the time and any notifications to be shown on the display in 'standby.'"
Is that not the same thing? I can't watch the video that's posted here (blocked from my work computer) and I've never seen the feature on Symbian, so I don't know.

No, it is not the same thing. The 'Glance Screen' is akin to the 'Always On' feature on Symbian devices. Sleeping Screen is an app, that allows a bit more robust imagery (which includes notifications), including being able to use photos from your own gallery. Sleeping Screen is kind of like a screen saver; kinda :)

What do we want iron man version when do we want it! Soon would be nice yay or nay people !

I won passes for a screening tonight in San Antonio. I shall be going...

You have good perks of the job hey Daniel

Yeah, right? Hey Daniel, you want to give me a job? I'm almost finished with my English degree and I'll need work! :P

English? What are you going to do with an English degree?

Serve fast food eloquently.

The program in under the English Department, but the degree is actually called Editing, Writing, and Media. Also, I already have a great job with decent pay, I just don't like it, hence why I'm getting a degree in something I do like. Thanks for judging me and pretending you know me and my situation though, you guys are really cool.

We've seen the clock thing already. Show us some camera samples.lol That's the good stuff. Oh....and a release date. Let me not say that too loud. Nokia. T-Mobile.

Who cares about the movie, when can we buy the 925 in the US? I'm tired of hearing,about it in ads and not be able to get it, while its already available elsewhere. I want to ditch my poorly supported 8X and finally get a device with the WiFi calling feature that I miss from previous phones, and which HTC never bothered to support.

The problem is T-MoUS's deployment of LTE has a loooooong way to go. This phone will be next to useless in most of the country if all it can do is LTE and 2G. Edit: Can this phone do TMo's 3G/4G?

Umm nice article.
Regarding the soda point, is there a good time to go to the toilet lol. Im going to watch it tmw

Hey Daniel...Lucky You! In the article you wrote : "new Lockscreen clock feature, that allows the time and any notifications to be shown on the display in "standby"." Did you see it in action because in the video when you do show the lockscreen it shows that there is 2 texts messages but when you go back to the "stanby" lockscreen it doesn't show those notifications.

Love it... =) "The only smartphone powerful enough for the MAN OF STEEL."

wait... isn't the L925 already have that Tap To Wake feature out of the gate?????... if so, he coulda atleast did a quick demo...

this will undoubtly be my next device as soon as it comes out... alongside my 810 who got jit (but) still love the device.

i've got a Nokia shirt. different one of course but it came in a care package.

What about Hans Zimmer's music in this movie? Has he nailed it, again?

Maybe things are different in this movie but I'm assuming these are typos and it should be:

"Lois Lane" and "Zod"
:)

Dan, will the lock screen features be there for Lumias with LCD screen when they get the Amber update? Just wondering about my 920.

I don't know how Nokia can add this lockscreen click feature to the 920 -doesnt this feature require an OLED screen?

You didn't even show the awesome logo!

In an alternate universe I worked for my favourite smartphone company on my favourite superhero movie. :D I LOVE that Nokia are behind this movie. Its fanboy heaven.

lot of sexy women in the background of the video

I want the shirt! Is it available?

+1 - just saw this and really enjoyed it.
"Louis" and "Zog" - hahaha

Techiedude
Windows Central Newsletter
Get the best of Windows Central in in your inbox, every day!
Thank you for signing up to Windows Central. You will receive a verification email shortly.
There was a problem. Please refresh the page and try again.