Nokia Lumia 925 availability in the UK: Where will you be able to pick one up?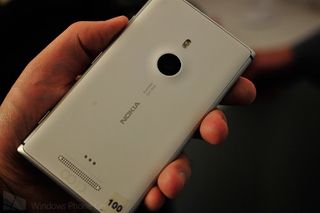 Nokia has announced the Lumia 925, the next flagship in the manufacturer's Lumia line of Windows Phones. We already know the device is heading to T-Mobile in the US, but what about here in the UK? Several carriers and retailers have all revealed plans to stock the new smartphone. We're looking at Phones 4u, Carphone Warehouse, Vodafone, O2 and Three.
Phones 4u
UK mobile retailer Phones 4u has today announced plans to range the new Nokia Lumia 925, which was unveiled today. The company will begin selling the new flagship Windows Phone this coming June when Nokia releases the device to the public. Pricing and exact dates of availability are yet to be released, but Phones 4u does have the option for customers to register interest for the Lumia 925.
Here's what Scott Hooton, Phones 4u Chief Commercial Officer, had to say about the Lumia 925 news:
Vodafone
As noted in our live blog and our Lumia 925 announcement coverage, Vodafone will be exclusively offering a 32GB variant in black of the Lumia 925 to customers in the UK, Italy, Spain and Germany. Patrick Chomet had the following to say on the new Windows Phone:
The Lumia 925 will join Vodafone's range of "4G-ready" hardware that will take full advantage of increased speeds when the company eventually rolls out the network upgrade.
O2
We've received word that O2 in the UK will be exclusively launching the Lumia 925 in white (to compete against Vodafone). Set to be available on June 13th (pre-order opens up on May 30th), customers will be able to check out and purchase the new flagship from O2. The device will also be the first Nokia phone sold without a charger as part of O2's 'Chargers out of the Box' environmental initiative.
O2's Refresh tariffs will support the Lumia 925, with a full price published closer to the release date. The Nokia Lumia 920 and Lumia 820 both already support Refresh. What's more, to celebrate the release of the Lumia 925, O2 will be giving a lucky winner the perfect mobile number for the new phone - 07525 925 925. That's pretty awesome. All one has to do is simply tweet @O2, using the hashtag #lumiamazing before May 31st.
Carphone Warehouse
As well as Phones 4u, Carphone Warehouse will also offer the Lumia 925 to customers both online and who walk through the front door. Graham Stapleton, Chief Operating Officer at the company said the following:
You'll notice we're highlighting these quotes and with good reason too. It's a sign of something big occurring here in the UK with multiple operators and retailers getting behind both Nokia and Windows Phone right after product lunch. Three UK also published a new article on the official blog detailing features of the new Lumia 925, so you can be sure to see the device listed with the operator.
We'll have more information in the near future.
Rich Edmonds is Senior Editor of PC hardware at Windows Central, covering everything related to PC components and NAS. He's been involved in technology for more than a decade and knows a thing or two about the magic inside a PC chassis. You can follow him over on Twitter at @RichEdmonds.
remindes me alot with my Nokia n8. :')

32GB version exclusive to a carrier? No, thanks. I'll stick with my fully unlocked and unbranded 920.

The phone looks great but i am waiting till the 41MP phone is released.

I'm pretty sure WP8 only supports up to 21MP cameras. So you might be waiting a while. Upgrade now! :D

My advice to everyone: Don't buy from Phones4u, they're an awful, awful company.

A mobile number everyone knows about - what can go wrong?

Heh, never thought of that!

Why don't Nokia realise what we all know - that rather than switching carrier to get a model which is exclusive to just one company, most of us will just buy a different phone. I can't believe that it in any way helps their sales figures.

It probably helps their profit margins with respect of the price the carriers pay for each device.
That might be more important to them than the quantity.
I wonder if you and I are in the minority though and enough customers are prepared to switch carrier meaning that Nokia aren't getting our hint. :'(

why release it to the worst 3G networks in the UK? O2 and vodafone barely have HSDPA let alone HSPA+ just standard 3G and even that isn't great.
O2 is known for its completly crap 3G network and vodafone was also named and shamed by Ofcom for its crappy network.
If and when this comes to Three, or even T-Mobile i'll think about getting it

"Three UK also published a new article on the official blog detailing features of the new Lumia 925" I'm waiting for these details and throwing my money at the 1st Three rep I can find. Anything to get away from Orange/EE

+1 on going to 3 and getting away from Orange.

Getting away from Orange by going to Three? Awesome, except Three have a roaming/sharing agreement with EE to use their masts when Three have no coverage.
As for Voda having barely any HSDPA, I have it pretty constantly across the North West, Midlands and Avon. My old Mozart was an Orange signature branded device yet only ever picked up 3G, after 6 months I took it to Voda and I got pretty solid H, now with an 820 and 620 its H+. Avoid EE and their brands at all costs.
With family in Northern Ireland I can certainly say that Vodafone invest in their network compared to others, much more comprehensive coverage everywhere.

Wrong. Three used to have a roaming agreement with Orange to use only their 2G coverage when there was no Three 3G coverage, that has since ended years ago. see: http://www.theregister.co.uk/2010/11/08/3uk_orange_roaming/



Afgzee, you are 'Wrong'. It is still in operation, check out www.mbnl.co.uk
It makes references to EE and T-Mo working in cooperation with Three. It is still a valid venture, called Mobile Broadband Network Limited. Three and EE share sites around the UK so if as the original reply was responding to - moving to Three to get loose of Orange is a bad move.
A quick check of Companies House shows that MBNL's last accounts passed in 09/12 and next due 09/13.

The masts are only 1 side of the equation, but you are basically correct.
"Backhaul" the part from the mast to the Internet is the other part.
VodaFones data network is awful at the moment.
I will either go EE, or O2. I don't like EE/Oragen/TMobile, all terrible companies to deal with - but there coverage is good.
Three is great for data, but drop calls often (don't they hand off to O2, and its the hand off thats problematic?). Kinda leaves O2 by default. Ok to deal with, ok'ish network. There is no perfection in carrier land.

Forgot to add, its also number of subscribers per radio and could have very local conditions) its why comparing phone network is very hard, and can be very personal to your own local experience. (You could have 90% of people around you on your network, dividing up the cell bandwith into a tiny amount)

I understand that everyone's mileage varies, but for my circles Vodafone seems to win. As for leaving only O2, you'll be (not so) pleased to hear that Vodafone and O2 have a similar agreement to share masts as EE and Three. The upside is that as I previously read on The Register that Vodafone will provide a fair bit of the backhaul over their own fibre network as acquired from C&W - the only mobile network with its own cable/fibre operations. Again, another story I read (I think it was El Reg, again) was the Vodafone rebuilt their entire backhaul etc so that instead of having a 2G network interfacing with a seperate 3G network, they merged the two like no other network in the UK has done yet, apparently its very complicated and not an easy undertaking so the operators like to just build out the infrastructure and patch it together later - instead of considering the advantages of the harder job, like fewer dropped calls between the 2G/3G handover etc.
I was on Orange for about 9 years - very happy as I always got what I wanted from them. Until they begun refarming signal for 4G and over subscribing the network. I used to get texts saying I had missed calls or late texts when I was in a full coverage area with my handset on and not in use. Got a lot of bill credit but theres only so far that could take them. I quit and left for Vodafone, poached by the @vodafoneukdeals team on twitter after an outburst at Orange. Even after the merger my family continuted to use Orange in Northern Ireland; where they turned off the T-Mo masts and the main Orange mast in my home town. Now people can't go into shops or restaurants without severe degradation of the signal. A brief check of the respective networks coverage checkers online shows the degree of how they respect Northern Ireland. Vodafone have 3G in most towns, EE in only the largest and its fairly patchy. Even my brother who's gone to O2 finds his signal doesn't penetrate or propagate as well as my Vodafone who seem to have more masts. I eventually talked my parents into moving to Vodafone last November and now I get them and not their voicemail when I call.
While I only reflect one side of the national picture, I will say that Vodafone are winning for me on coverage - even if there is poor signal around Vodafone are the only network to actively sell a Femtocell, their online relations team even sent me the v3 (£100 cost) for free after my v2 (£50 cost) developed a fault, later diagnosed to be my Virgin Media cable line. Their customer service isn't perfect, nobodys is but at least I can pick up signal and have spare capacity on the network to call them to complain should anything ever develop - more than I can say for Orange. From what I understand Vodafone are a network of choice for emergency services too.

Cheers.

http://blog.three.co.uk/2013/05/14/nokia-lumia-925-coming-soon/

Yeah Nokia...why you no Canada?

I thought Instagram would come out today, at least for Nokia phones. Do you have any news about that, or suggestions about when it's going to be released?

What is charger out the box all about, i sell my old phone & charger?

Great to hear about the network support for the 925. Availability and presence in store has always been an issue for Nokia in the last year, if this is a shift in the views of the networks hoping to break the iPhone/Android monopoly then this is BIG news for Nokia and WP.
Whatever you think of the 925, it's a more appealing phone to the masses. Thinner, lighter, cheaper - yet still with the great camera from the 920. It should be a big seller.

(and personally I'm happy with my 920 and will wait 5 or 6 months for the EOS or whatever they release with Blue).

Good stuff, I'll be in there (Phones4U) like swimwear come the 13th to avail of their 6 month buyout on contracts.

Any news on UK SIM free availability?

Is this phone coming to Canada?

Will there be a silver/grey 32GB version in Europe, or does Vodafone's 32GB version only come in black?

Lol Three UK:
"There's a 1.5GHz quad-core processor thrown in to the mix as well"
No, no there isnt.

Im gonna sell my 920 and get this offline. As long as its not stupidly priced though.

Phones always start of at a high price you might want to wait or if your in the US get it from t-mobile and have them unlock it for you.
Windows Central Newsletter
Get the best of Windows Central in in your inbox, every day!
Thank you for signing up to Windows Central. You will receive a verification email shortly.
There was a problem. Please refresh the page and try again.