Nokia continues the Lumia story with the Lumia 925 for T-Mobile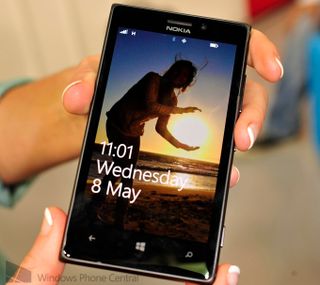 Nokia today announced the Lumia 925, alongside the Lumia 928. The two new flagship Windows Phones (yes - both are high-end mobile operator exclusives) will help the manufacturer continue to push through into the US market, Vodafone (UK, Italy, Spain, Germany) and China Mobile The Lumia 925 will be heading to T-Mobile later this summer and the company has managed to produce something rather magical in an aluminium package.
So what are the specifications and why should you be interested in the latest twist to the Lumia story? You definitely should be. While there's no 41MP camera on-board, we're looking at a similar package to the Lumia 920, which is essentially what Nokia is planning to carry out in the US. You're going to see three flagships on three operators. The Lumia 920 on AT&T, Lumia 928 on Verizon and Lumia 925 with T-Mobile.
The Lumia 925 comes with a dual-core 1.5 GHz chip, 1GB RAM, 4.5-inch AMOLED display, no Xenon flash and no wireless charging built-in, but there are contacts on the rear of the device for a small (and non-intrusive) cover to be attached to take advantage of wireless juice transfer. It's a similar specification sheet to both the Lumia 928 and Lumia 920, each with its own list of strengths and weaknesses.
The good news is consumers shouldn't feel hard done by with any choice as each Lumia flagship will be more than worth the affordable price point. Be sure to remain tuned to Windows Phone Central for more details to come as we continue to crawl along the floor and dig up bits and bobs.
Tech Specs
Networks: GSM 850, 900, 1800, 1900, WCDMA, 2100, 1900, 850, 900, LTE 2100, 1800, 2600, 900, 800
Memory: 1GB RAM, 16 GB user memory (32GB on Vodafone)
Display: 4.5-inch AMOLED WXGA (1280×768)
Processor: 1.5 GHz dual-core Snapdragon
Camera: PureView 8.7-megapixel with OIS, Autofocus, dual LED flash. 2nd camera: HD 1.2MP wide angle
Size: 129 x 70.6 x 8.5* mm (*volumetric). Weight: 139g
Connectivity: USB 2.0, BT 3.0, NFC, WLAN a/b/g/n, A-GPS and Glonass, 3.5mm audio connector
Battery: 2000 mAh
Audio: -IHF speaker, 2 microphones, HD voice compliant, 3.5mm AV connector
Windows Central Newsletter
Get the best of Windows Central in in your inbox, every day!
Rich Edmonds was formerly a Senior Editor of PC hardware at Windows Central, covering everything related to PC components and NAS. He's been involved in technology for more than a decade and knows a thing or two about the magic inside a PC chassis. You can follow him on Twitter at @RichEdmonds.
@InstagramWP
Real or fake...?

We got "hipstamatic" which Is a popular app for IOS that allows uploads to instagram!!

I'd say fake, the fact that the official Nokia account is following it is odd though. Maybe they just want to see the drama unfold.

But they are being followed by the Official Nokia. I don't know.

Official Nokia follows many of it own followers it seems. It follows me for some unknown reason, so I don't think it means much.

the same page also on Facebook... as like Facebook for Windows Phone... here it is Instagram for Windows Phone
https://www.facebook.com/InstagramWP

Facebook and Twitter have different avatar pictures, I call bull on that front alone. A company would (should) make sure that their accounts were consistant.

If I was forced to fly to London just to see this same old 920, I'd e going nuts now.
Next Lumia to be 8GB, then 4 GB then no storage at all. This is innovation.

Don't forget... you get 7 GB of online Skydrive storage free with every Lumia purchase!
(...even though that's free with any Hotmail/Outlook account... which used to be 25 GB) I like Nokia and Windows Phone... but why bother making these great cameras if we don't have the storage to use them? Nokia: Our research shows that people don't like a lot of storage on their phones.

Don't forget, you can pay MS $25 or $50/yr and have 57GB or 107GB, respectively, of storage on your SkyDrive!!

Well it is cheaper by 100 euros than Lumia 920.
I never quite understood why people were expecting anything else as all the rumors said it had 16GB and that Lumia 920 was to stay as flagship. Phablet was naturally impossible as Windows Phone 8 does not support 1080p.
I think people just need to understand that we need to wait till GDR3 with new Qualcomm SoC's and 1080p support. Just since the start of Windows Phone, you will see all of the manufacturers releasing phones with exact same core hardware as the support has been lifted by Microsoft. Why is Nokia releasing so many phones? Because Windows Phone is unfortunately the only high end OS they got. At this point though I really do wish they had continied with MeeGo so they could have brought the innovations like the true PureView camera on 808 PV much faster with kernel access.

You'd be complaining about a free trip to London?

Thinner, lighter, cheaper - what's not to like? Sure I'm not going to swap my 920 for this, but I never expected I'd want to. This will help boost sales for Nokia; that's the important factor here. Wait 4 months for the next flagship and the 920 replacement.

Yeah I was hoping for a lil more on the software side like lifting the beta off of here drive. But really never expected a huge upgrade in hardware due to the limits. But I'm completely satisfied with my 920 as it still can hold its own against the S4 and One

What you said right there may be one of the reasons Nokia did not want to release a significantly upgraded flagship. Why make current customers unhappy for being out of date within 6 months of buying the then-recently-released, most up-to-date phone?

No wireless built in that's not to like..but what am I saying I'm still using my 900 I keep waiting for the next high end lumia nd so far the 920 is still top dog imho

I'd personally like to put my foot straight up Tmo's a@#....... I love the phone but only 16GB!!!!! That just pisses me off. I guess Tmo wants to continue to be the little guy. I have a Rogers 920 now and I guess I'm not gonna update now. What makes it worse is Vodafone is getting a 32GB version.

Nevermind the missing 16GB... The phone is missing frequencies required for full-speed data on TMoUS. [Sigh.]

Because the press release is quoting the International version, not the US version (notice the lack of AWS HSPA+).

Given that TMoUS customers expect to be left behind based on the last 2 1/2 years, I don't think it's too much to ask for the press release to provide complete information. Not be snippy, but given what looks like laziness on the part of the people tasked with providing the information potential customers should reasonably expect to receive, let me do it for them... Firstly, Nokia's PR piece (http://press.nokia.com/2013/05/14/nokia-introduces-nokia-lumia-925/) does not have any of the specs in question. There is a link to the product page (http://www.nokia.com/global/products/phone/lumia925), so let's give that a try... Nope, no specs there either. Oh, but there's a link for all specifications (http://www.nokia.com/global/products/phone/lumia925/specifications/)... A-ha, frequencies! But those are not the frequencies we are looking for. Further searching reveals no TMoUS frequency information. Fine, let's take a look at what TMoUS has to say on their site: http://newsroom.t-mobile.com/phoenix.zhtml?c=251624&p=irol-newsArticle&ID=1818988&highlight= NOW we are getting to the bottom of the missing frequencies. The 925 will be TMoUS's first LTE WP8 device:

(from T-Mobile News Release Statement: Nokia 925)
T-Mobile is excited to continue building on our partnership with Nokia and Microsoft by bringing customers another exclusive device - T-Mobile's flagship Nokia Lumia 925. T-Mobile's first LTE Windows Phone 8 device... For those customers interested in the Nokia Lumia 925, they can register at http://explore.t-mobile.com/nokia-lumia-925. Additional Lumia 925 details, including availability and pricing, will be shared at a later date.

Oh, surprise, no firm release date. Not even an idea of when. Given past treatment of TMoUS customers, we will believe it when we finally see the device available for sale by TMoUS.

Precisely why I left T-Mo.

Just buy a used AT&T Lumia 920 on eBay for $250, unlock it for free by asking AT&T for the code, flash it with Euro Dev ROM to enable AWS 3G and retain LTE. Use on T-Mobile. Profit.
http://forum.xda-developers.com/showthread.php?t=2278329

I guess that works if you don't mind risking $250+ on the hope that AT&T will gleefully hand over the unlock code. What's their incentive to play nice?

I've been following that for months. Only Rogers Lumia 920 is guaranteed to with with T-Mobile AWS. And in fact many people flashed Rogers Lumia 920 with AT&T rom which actually disabled AWS and they cried they could NOT revert back.
Only until recently some people claimed they could enable AWS in AT&T 920 but if you really read the thread, it's still skeptical since other people could not reproduce the result.
It's easy to get unlock code for AT&T Lumia 920, but it's a huge risk to get AWS enabled.

I have a Lumia 920 and I love it. But, my complaint is that it was carrier exclusive and I was forced to stay AT&T to get it and my other option was waiting 6 months until now for Verizon or sometime in the middle of the summer for T Mobile to get the same phone. If Nokia is going to severely limit my choices next time, I may just find something else.

I know how you feel. I'm on sprint and they've still yet to consider Nokia WP8....

Go Nokia and Microsoft even though Samsung is killing us at the moment and they will continue to kill us. Microsoft always plays catch up and the 925 seems to be a competitive move. Oh well time will tell

Probably to indicate that the 920 is still the flagship/

so i am happy my 920 is still on top

32GB on vodafone. maybe to give them some exclusivity.

Because Tmo is the little guy that doesn't give a crap about windows phones. Just look at their record on updates.

Definitely not true about T-Mobile but it is a bummer. Since my full upgrade isn't until August 2014 anyway I think I'll have to get the 920. My Titan has 16gb. I need more than that these days especially with the larger games now.

if you're on a Classic Plan on through T-mobile, there won't be an upgrade as they gotten rid of contracts. If you're on a Classic Plan through a third party retailer, e.g. Walmart, then you may have that option.

I'm guessing Nokia wanted to balance the 3 versions of the flagship. With equal storage the 925 would probably be the most desirable with all the new apps and classy design.

This is just a revamped version another variant of 920. Thinner and lighter. Now, I can't wait for Nokia's summer announcement... and I want colors!

And don't forget that whopping 16gb of storage!

For quite a few people, 16gb is fine. They don't need or care for more.

Ok I understand that some people will be happy with that but come on we can't keep overlooking the fact that the 920 and 928 both have 32gb of storage guaranteed. And for a flagship to have the same amount of storage as older 16gb devices and not have expandable storage, what's the point. Even the lowly 520 and 720 have micro SD options. Shut your mouth and go to your room.

That plus Skydrive is enough for most people. But, they should have a 32gb offering too.

Mh I definitely expected more
Maybe later this year with WP major update

This summer, "great summer announcements" as Jo Harlow said. This is just a sneak peak to the future of Nokia WP

The lack of build in wireless charging is a deal breaker for me. They should have included wireless charging and made the the back flush with the camera.
Luckily I still have my 920 :)

Then it basicly would have the same body as the 920, pointless.

I'm pretty sure the phone is thinner than 10.7mm even where the camera lens is and I doubt that wireless charging adds 50g to the weight of the phone

It does not. 928 has wireless charging and it's still 162g.

Bit disappointing... No INSTAGRAM... No JETPACK JOYRIDE... No TEMPLE RUN 2.. No HERE DRIVE +( still in beta)

But we get hipstamatic which allows posting to instagram!!.

Ya but not enough.. We want full official app.

You know what.. Whatever, get an android or iOS if its a huge deal for you.. You get an "official" way and still,complain (ugh!!)

Providing the apps that you listed is NOT Nokia's responsibility!

Instagram is the cancer that is killing the internet.

Does it really matter if something is in beta if it works great?

Which it sadly doesn't... It crashes all the time and if it does work it takes the app forever to exactly pinpoint where you are and in which direction you are heading.

Ofcourse.. I think you dnt know anything.. Trafic info is coming on full app..

i hate the windows phone team right now....they are nothing but a group of incompetent jerks in front of apple,android and maybe even the blackberry team !!

Calm down. This is just a revamped version of 920. The new wave of Nokia Lumia WP is said to be announced this summer.

its not that i dont like the phone's hardware but its the software which i thought was going to be updated with GDR 2 as its still lacking many basic features where as it should be ahead in it as it has only a small share worldwide

This was a Nokia event, not Microsoft. Why would you expect them to roll out new OS features at a hardware event?

why would microsoft have an event for an update as it won't be wp9. they could have showcased the features of the update here as they did with the 920 launch event

If you've been reading WPcentral, Windows Phone 9 is still currently on development. But there's Windows Phone Blue right? Haha

i was trying to say that MS would only hold an event for an update like WP blue which i know would be around december so they had the oppertunity to showcase GDR 2 here only

Microsoft has build coming up and a possible event for the Blue release. They could include WP in one of those event. The 920 was released 6 months ago. Nokia will still have a new flagship later this year. They can still have an event for the WP improvements and to launch the new flagship. This event had too many rumours and to much hype.

What a ridiculous comment

read the justification above...tired of writin it again and again

Nokia made a lot of progress in 18 months, what Microsoft did? Nothing.
They are going to kill Nokia

I don't know about that. They released a new phone OS which is a vast improvement over the previous one and they've been announcing and releasing a steady stream of big name apps. Yes, Nokia is pushing the hardware and software but I don't necessarily think MS is a slouch either. Just because they aren't releasing everything at once doesn't mean they aren't cutting deals we know nothing of.

Let down... Were now going to sell a "cut-down" 920, which is a little bit smaller and has less features, for the same price, and we've made a big song and dance about that fact - smacks of Apple here!! Wake me up when they bother to release a worthy handset...

Bring it to malaysia please

For Nokia, it's always "next time".

What can Nokia do unless Microsoft updates the windows phone chassis spec to include better SOC's and Screens?

Don't know how long this time to reach Malaysia...

We all knew what the "catwalk" was going to be. So let's stop acting surprised. Big announcements are for September/October. Congratulations to T-Mobile customers. You now have a Lumia flagship with new awesome camera tricks that the rest of us can only envy, for now ;)

Yes!!! T-Mobile customers can now be happy because there is no,nor lowend midrange devices coming.. Finally a FLAGSHIP!!

I have come to the conclusion that WP fans are the whiniest of all smartphone OS fans. Always complaining, never satisfied with anything, always wanting the earth but never wanting to pay for it. Pretty sad to see all the whining about the 925 when they could just choose not to buy it.

This. I am really getting fed up with some of the complaining. I am happy with my Lumia 920 as I knew the limitations when I bought it. Anything added to it now is purely a bonus.

Exactly!!. I guess is because they are expecting every new release to,be comparable to the releases on Android or iOS.. Wp users have to understand that we ARE DIFFERENT.. The WP world is a total different arena from iOS and Android.. And if you don't like it that way then as MSFT says "Don't fight [with us]. Switch" to another platform..

Yeah. We do seem to whine a lot. Always worried with quad cores and fHD screens. In reality, those are just gimmicks that unfortunately are used as a selling point. Yes, WP needs to be revamped/improved but I'd rather have Microsoft and/or Nokia take their time with it and give us quality end results.

@theefman...So true! It used to be you would only expect comments like this from Android/iOS users, but when WP users, especially the current Lumia 920 users, complain and put down other Lumia 92x variants, it is really a pathetic state of events.

Nokia is doing what it can to reach as many carriers, with various models and price points, and these people are complaining about it, when that is all they would talk about when Nokia/WP hadn't yet reach this level!



Not the point. If there was nothing new and impressive to show then a press statement for the Lumia 925 would have sufficed. Instead they held an event which got awkward real fast when they brought out that basketball.

They held an event because its a Worldwide release not a carrier specific.. They announce a couple of apps a new phone and that it will be an exciting summer.. So is not all lost..

I get where you are coming from but they could just as easily have released a press statement saying that the Lumia 925 is a lighter, thinner 920 packing lame camera software "features" (read gimmicks) and lost native wireless charging. The EOS better live up to the rumours. Goodness knows I've been a Nokia cheerleader for way too long and would love to seem them do well, but dual weilding the Nexus 4 alongside my 920 is starting to sway my faith.

It seems being a cheerleader has clouded your thinking.

How about you just not give any creadence to the rumors and WAIT until Nokia presents its next device at Nokia World. That way, you won't be disappointed by your preconceived notions.

Beautiful device, but the "Lumia story" is starting to get booring. I've had the N9, L800, L900 and now the L920, I fear that next time I won't settle with a Nokia branded phone, not even a phone running Windows Phone. The press release says the 925 won't be available to Scandinavia untill 3rd quarter. Who would buy a phone as outdated as this at that time?


You should be happy that you're getting two choices in same price range,in fact it's cheaper than 920, so people will buy this instead of 920. Can't you see it's just 6months from 920's launch, Nokia will release new flagship in summer but that doesn't mean nokia shouldn't offer good devices. People will buy 925 even after 1 year if it's fit in their budget and need. Everyone can't afford flagships otherwise why should we have 520, just make new flagships in every announcement. It's merely 6 months from last flagship.

I have never seen such weird strategy, the Lumia 920 is out first and then after it all the models are crap lower specs. When are they going to upgrade to higher models better specs and sizes?

Next Gen Lumia will be announced in the fall.

Nokia's strategy is to bombard the market with as many Lumia phones as they can. Rather than give people the choice, it's now becoming more and more confusing.

When Microsft updates the platform chassis specs, this is the max that can de done now in terms of SOC and Screen resolution due to platform restriction.

When MS updates WP....It's limitation of OS that don't let Nokia make higher spec phone... Blame MS....

I wish people like you would get their heads out of their asses already.
It's the user experience that counts, not the numbers in the specs sheet.

And which manufacturer releases a new flagship model less than 6 months after releasing the last? They are filling out their line to cover the various price points and different carrier requirements. They can't release the next flagship until Microsoft releases the next update to include 1080p support. Microsoft also picks the SOC. I don't believe they announced which SOC will be used in the next generation of WP's.

Wireless charging out of the box has spoiled me on my 920, still glad I left Tmo for Att. This phone, while nice looking, is just nothing special or should I say its nothing new...tbc

You need new phone after 6 months ??? you must be rich...It's for people who still didn't buy WP. People will continue to buy 920 after 1 year, nokia just don't want them to complain about weight and ao they gave 2nd choice for those customers....

This phone is for the carriers that didn't get the 920 due to exclusives. It will increase the amount of people exposed to the Lumia brand. I am disappointed no new apps were announced though.

Ehem.. Nokia camera, hipstamatic..

when are this app coming out??

This phone is actually a downgrade from Lumia 920 in many aspects. Less internal storage unless you opt for the more expensive 32GB version, less colors, no wireless charging. Oh and its the middle of 2013; a 15 month old Snapdragon S4 dual-core is NOT flagship.

Don't cry about specs, that is the platform restriction and new hardware can be expected only after Microsoft updates the platform chassis with new SOC and screen resolutions. Anyway you are an iphone fanboy, why not stick to imore instead of trolling wpcentral.

OK I will stick to iMore because some random nobody on the intewebs asked me to.

16gb and no microSD, WTF, at least vodaphone has 32gb, but thats crap as well without a micro sd


THIN! THIN! THIN! And with PureView! About freaking time T-mobile!!!!

It's a great looking phone, but I saw nothing that is tempting me to switch from my T-Mo 8X. 32GB or expandable storage could have done that for me.

To me its a revamped HTC hd7 as far as looks. Chrome bezel and all

This would have been the upgrade for my Lumia 620 if it had 32GB or a microSD slot (or both!). Yet they settled for a meager 16GB. What a shame. I guess I'll wait for the EOS...

Wow, months later than the 920, and it still doesn't have the S4 Pro.
Wait, what? 600$ as the Lumia 920 used to be?
Ahahahahahahaahahahahahah

There is no S4 pro now, its snapdragon 600 and 800 which are not supported by Microsoft till now, so just wait till MIcrosoft updates the windows phone chassis specs later this year.

Well this work on AT&Ts LTE network?

What a colossal waste of everybody's time. They should have just put out a press statement for this device and called it a day. Didn't even get the Xenon flash and the camera software features are just as gimmicky as the Galaxy S4's.

They announce an almost as good phone as 920 but way cheaper, as far as I understand.... What's bad about it?

faaaaaaaaaaaaaaaaaaaaaaaaaaaail. hahahahahaha
made a london event for a revamped 920? im getting the 928!!!

Nokia has no one but themselves to blame for some of the backlash. Calling a press conference to announce a 6mth old phone. However, im happy T-Mobile & Verizon customers now get a high-end Nokia device. Guess I'll hang on to my ATIV S until the Summer.

Why are people dissapointed. This is clearly a "alternative" to the 920. Always has since the rumors. AT&T / Verizon / T-Mo's got 92X's now and the next flagship (to 920) will be announced in the summer. That's the real deal. Nokia shouldn't be announcing 2-3 new Flagship phones a year. 1 with alternatives is enough. Chill.

At least someone gets it. These comments are outrageous.

Sick off waiting for a high end Windows Phone, this might of been ok for me as it is a slim Windows phone. But why drop the storage capacity to 16GB might have to give a HTC one ago and see if it's any better then the last crappie android phone I owned.
still can't believe they even contemplate a 16GB where do they think we are going to store all the photos and videos we will record with the phone that's made to do this with.

Where is Instagram for Windows Phone? The event already finished?

So the wireless charching in 920 means 46 grams added to the phone? Definitely not worth it.

LOL
all the main 2nd gen lumia have been announced. 520,620,720,820,920. 521,810,822,925,928 just the other version of 520,820,920.
Even, most of them except 925 only for American. So, we have to wait till Nokia World's event for 3rd gen Lumias (930,830) if Eos is going to come, i guess it comes in diferent line. Not include on main 2nd gen lumias.

Whats there to LOL about on this topic, ofcourse you are are going to see only variations of the same phones till year-end because that is when Microsoft updates the windows phone chassis specs and then you can expect better cpu,gpu, screen resolutions etc.

Lolz at angry comments from people. Nokia 920 is flagship for ATT. Nokia just releases refresh flagship for Verizon and T-mobile. I am glad that they don't release the next flagship just yet, because Nokia 920 just has been like 6 months old. I don't expect the EOS 'till sometimes in summer this year.... Long live Nokia 920 :) ...

Don't understand the backlash at all. At no point did anyone say this was going to be a new flagship. At no point did anyone say Instagram would be announced.

Personally, although I would prefer a bright colour, I could see this being my next phone if they don't have something new out by November. Really like the look of it and the Smart Cam stuff looks pretty ace.

I like this and it's not a Vodafone exclusive in the UK o2 will be carrying this in white. Available June 15th

I like Nokia, I like the 920 that I own. I get that they wanted to bring out lower end phones to get more people onboard with WP8. These carrier specific phones are a bit confusing from my perspective. I've heard that a lot of that comes from the carriers themselves but I don't see why Nokia couldn't have made just one model across all carriers. Make it like the 920A, B or C. Having all these different phones adds to confusion if you ask me and confuses brand.

Yes by all means make a sleeker version of the 920 but make it better all around and make it the new flagship if that is what you wanted to do. I'm not sure what they were trying to accomplish here really.

Great to see the new camera app and hipstagram. Disappointed that there's no Instagram and other apps that are still missing on the platform. Maybe the Microsoft announcement hopefully?

The American carriers will show you the door if you come with 920A, 920B etc. they want unique,exclusive phones which they can market and support unless you are too big like apple and samsung.

Really? Heard of HTC one or Blackberry Z10

Yes, really, absolutely. HTC one and Z10 are not available on all the carriers, so do some basic search next time before typing asshole comments.

Mind your language dude and do a better research next time. They are available on 3 out of 4 major American carriers.
http://www.htc.com/us/smartphones/htc-one/?PS=1&cid=sem157p127460
http://us.blackberry.com/smartphones/blackberry-z10/buy.html

My point still stands, both are not available on all the carriers, so shut up and do better research next time.

Is it? Go back and check what you posted. Can't see. Here it is:
The American carriers will show you the door if you come with 920A, 920B etc. they want unique,exclusive phones which they can market and support unless you are too big like apple and samsung.
No where you mentioned ALL carriers. You seem to be on high. So better shut up.


And that is the truth which your small brain can't understand or maybe you work for one of those bloodsucking carriers.

All the American carriers in the USA will just say "We will never carry a phone of yours ever again" and any phones of that company found on the network, will be blocked from the network. Unless you're too big to ignore as Apple and Samsung are right now. Then they will use their links with other companies to block the company around the world, and bye bye Nokia.

So from the sounds of it since Nokia are a small player in mobile phones in the USA only they need to release special phones for the carriers (wasting resouces to do so) where other companies, nowhere near as big as Nokia don't. Right, makes sense. I don't think I'll ever understand the special treatment concept for the US.

Nokia was able to release the 920 etc to all of the EU and India as is but the US has to be 'special',. I won't get into my opinions on how messed up the idea of exclusive carriers have done nothing but hurt the WP8 platform and Nokia as a whole.

The thing is this though. MS has to up their game to get devs onboard. There's still too much missing to attract people over and what the OS has hasn't been advertised enough. Nokia does their bit but MS hasn't done enough as far as I'm concerned.

Yeah, it's definitely messed up. Then again, especially in the CDMA section of America, Nokia was never a big player. HTC and BlackBerry have been. But outside of America... oh boy was that mental. I mean there were exclusives in the UK on the Lumia 920, but then it released on other carriers afterwards without being changed. But I'm definitely glad I'm on T-Mobile UK (left Three for T-Mo), meant I could get my Lumia 920 from Phones4U. Won't be moving to America though so I won't have to worry about this. Am planning to save up to take a trip to Florida at some point though

What the hell did everyone expect????
I'v read all the rumours about what Nokia would release at this event. It's been common knowledge for a while. A cheaper 920... That's ALL!!!
All the speculation about 41 MP cameras etc, has had me in stitches. All the major companies do this sort of thing. Apple with the 'S' series of iPhone, Samsung with the Galaxy S4 (basically an S3 with better hardware), and now Nokia with their incremental 920.
If you have a 920. Love it and enjoy it. It's the best around for the moment.
All those people clamouring for Instagram. Why would Nokia anounce this? They make hardware. Look to MS for that announcement...
Hilarious!!!!!

Yes but Samsung and Apple at least upgrade the underlying hardware on their phones; unlike Nokia which seems to have frozen in time.

Yes but Samsung and Apple upgrade theirs on a yearly cycle, this is only 6 months. The hardware will be upgraded on their next flagship

Yeah, they updated the internals one year after the initial model.
Guess what? Nokia will also have updated internals one year after the 920.
Nokia is just bringing the 920 to alternate carriers after their 6-month window of exclusivity had closed. But just dumping the six-month old 920 on those carriers would have been a bad look, so they refreshed the form in a positive way.
I don't see what all the crying is about.

Instagram will never be available for windows phone.

Humm it doesn't matter now we have clients that upload both "officially" and unofficially

If all 3 phones are basically the same, why not release them at the same time? I would of got the 928 over the 8X but that was 4 months ago. Just seems like a bad strategy to me, you would think Nokia would want a flagship phone on all major carriers asap.

Because carriers/operators in USA demand exclusives and you have to fulfill their demand unless you are too big to ignore.

Wasn't Htc 8x available on Verizon, AT&T and tmobile same time.

Yes and the 8x flopped hard with no marketing and pushing from any carrier.

And no marketing and pushing from HTC either. Nokia is the only OEM doing any WP marketing.

But technically they are all different so I still don't get it. Not saying all phones on all carriers, but each phone on their respective carriers at the same time.

then customers have the choice

People complain too friggin much. Ever since the rumors have started we have known it was going to be a 920 variant. If you were expecting anything more, that's your own fault. At least people on T-mobile will have a 920 variant. Granted, the 16gb isn't great, but it's better than nothing.

Trying to convince myself the opposite with no success...this event was indeed a waste of time,and the 925 should've been at least a midrange phone being announced on nokias webpage.

I cant help but think it would look so much nicer without that big fat aluminium strip around it. It ruins the unibody and that sheer change between shiny metal and matte plastic is soo ugly.

How can it support T-Mobile without the 1700 band?


The US version will have the right bands.
Meanwhile you can just not bother waiting and get the ATT L920 used on eBay for $250, unlock it for free by asking AT&T for the code, flash it with Euro Dev ROM to enable AWS 3G and retain LTE. Use on T-Mobile. Profit. http://forum.xda-developers.com/showthread.php?t=2278329
The L920 is the better phone still. Twice the storage, Qi Charging built in, and looks a LOT nicer.

After doing some digging, I found TMoUS's statement on their website. The 925 will be their first LTE WP8 device. As for availability, TMoUS has nothing to say more specific than later.

You all would bitch if you were hung with a gold rope.


lol
there sure is a lot of bitchassness in these here comments....
It's simple... TMO and Verizon now havve something on par YET different with AT&t's 920. It's an awesome deal. This summer we will get software releases (wells fargo app, drive+ out of beta, fb out of beta, instagram, etc)... in the fall (AS has been the case THE PAST 4 YEARS) we get a new flagship phone. Come on sheep

Man. Talk about throwing a wet rag against that wall. As others have stated, it's like warming up two day left overs in the microwave.
If MS, Nokia and other manufacturers do not get on the ball soon, not only will they not win over converts from Android and IOS, they will start bleeding current customers. If HTC came out with the HTC One and Samsung the GS4 with WP8 loaded, now that would make some real noise and light a fire under Nokia to get REAL aggressive. It almost feel like Nokia is in a holding pattern with WP8 and is buying it's time until it's exclusivity with MS has expired.

HTC one running Windows phone 8 would be fantastic i would even forgo Nokia drive and Nokia here for this combination.

Looks like a beautiful device. That said I'll stick w 928 :)

I have to say I'm surprises by the lack of personality in this phone. Looks like another generic android hunk of junk. No unibody? Backplates? Big camera bump with same specs? Sacrificed all the personality for thin and light... Not worth it. Here's hoping the EOS is unibody aluminum with bright colors.

I agree with you in that! Unibody rules! Whts the damn hump for!? Same specs! I guess to make it thinner. Oh well. Waiting for the EOS

You guys wouldn't be disappointed if you stopped listening to Daniel like he's some Nokia Microsoft expert..! He works for a website/blog not a manufacture nor microsoft. Did you think T-Mobile would drop all windows phones.... Well no they where making room for the new flagship 925..lol use common sense and you'll have it all figured out.. The 920 is the flagship phone period! By the way, FREE OJ SIMPSON HA HA

What a bunch of cry babies.

To late TMobile...i left for the 920 last year. Down low....too slow...

I'm a T-Mobile consumer who is dying to get a Lumia device worth more and look better than the 810 so I'm happy. Can't wait ;)

Ah well wait for the next release was expecting something more but its a cool device nether the less

Every flagship phone should come with expandable storage or at least 32gbs.

And the mountain gave birth to a mouse. And an ugly weak mouse. Now, why on Earth did Nokia hold this event in England to announce an American variant of a phone that's been available throughout Europe for 6 months?

Its not just an American variant, idiot! It will be sold widely in Europe too. Europe is key to Nokias success!

The only wrong thing Nokia did was calling in a conference. Should've just unveiled it online like they did with 928. Good thing I didn't stay up. And sorry, but was it really necessary for Jo Harlow to dress up like a basketball player?
The Smart Camera app sounds good though.

Wow I can't believe that the weight is only 139g! They really did a great job on this phone, but I still prefer the design of my Lumia 920.

Wow. These people commenting are idiots.

Luckily you can still out-idiot them all.

Some amazing comments in here. I think we need to petition the mods to start banning everyone who uses exaggeration and rhetoric to describe how Nokia is screwing their grandmother because they haven't lived up to the expectations that exist only in their heads. Expecting a company to change the world with every announcement is beyond idiotic. Both the 925 and 928 are nice looking devices, specifically designed to have mass market appeal to people who don't want the larger and more colourful 920. That said, I recon the 930 will be out by September.

So true. The people complaining...you'd think their life depended on the Lumia 925 having more specs, or a different design than the 920 or 928!

The thing is, most of the people complaining wouldn't have purchased the Lumia 925 anyway because they are either tied to a different carrier, or don't have the money to purchase more than one device at a time.

Funnily, no one is complaining about HTC/Samsung is taking forever to release any additional WP devices, while Nokia has released several models this year already.

Ok that's a badass looking phone

Windows Phones need broader proliferation and exposure. ATT having the premier partner status with Microsoft afforded it the opportunity to offer a Flagship WP devices. This of course left thousands of potential consumers who would desire a flagship device and committed/or locked on Verizon and T-Mobile out of the loop. The Lumia 920 is recognized(and mindshare of 920 is increasing in - think Wedding Advert) as the premier WP device. As some have stated, the ability for an OEM to contract with a carrier, particularly US carriers, can and often is difficult, especially when the carriers perceive that it could possibly take a loss with unsold less popular devices in an environment inundated with the ever present Android and idolized Apple products that consumers literally walk in the stores looking for(we won't even mention sales associates ignorance of WP devices). The competition has mindshare. Thankfully Nokia has been successful with bartering deals with the two other major US carriers(and the other carriers mentioned in the article) allowing for a high end WP to now be accessed by thousands of potential customers who were previously out of reach. The time between the initial launch of the 920 on ATT and "it's" launch as the 928 on Verizon and now 925 on T-Mobile afforded Nokia the opportunity to address some of the criticisms about the original device, hopefully increasing the chances customers will purchase it. Internally to Nokia and to we who follow tech news, the Lumia 92x devices are the same phone, adapted for each carrier and modified to address some criticisms. The regular "Joe Customer" may not realize that, though they may realize that it is a high end flagship WP device whether they are walking into an ATT, Verizon or T-Mobile store(or visiting a website).
It would have been great to have been presented brand new Nokia flagship device (I trust we will ser that later in the year) but I think Nokia

strategy is evident, provide a flagship WP on as many major carriers as possible to increase reach and mindshare, using the time between those releases (presumably to meet carriers requirements) to differentiate the device while also addressing areas of the design that received negative feedback and adding a few incremental improvements such as Verizon's 928 camera improvement's and the(temporarily exclusive) camera software offerings on the T-Mobile 925.

I'm actually disappointed that they're continuing this silly name/number system of their past. The phone itself seems ok though.

Eh. Memory is down and no microsd plus requires cover for wireless charging. I'll keep my 920

Can someone explain why all the 920 owners are complaining or even commenting about a phone they clearly aren't going to buy this is for the people on Tmobile with older 7.8 Nokia phones and new customers not you and they aren't going to beef up a phone like Verizon they do the opposite the 16 GB is a weird move and would have only made sense if they asked Nokia to make a flagship with expansible storage. Its as if they will only sell Nokia WP as a cheaper option versus their Android phones flagship or not

I
can't wait what's next for att... Im 100% sure there is something brewing in the labs...im will wait for a 5 inch WINDOWSPHONE

That kind of hardware spec just cannot compete with Samsung ATIV S........

Nokia Lumia 920 / 925 / 928 comparison http://mishmash.es/tech/nokia-lumia-920-925-928/

why is the date 8th of may in the pic?

Very sexy looking phone! I'm pretty sure my friend will be grabbing one during the summer (she has to just stop blabbing about possibly getting an iPhone 5 or HTC One now). I'm really impressed with its weight because it's even lighter than my Lumia 810!

Ya I have to keep deleting pics and vids to keep over 10 GBS in my phone.
as well as I just deleted a bunch of games off my phone to bring up my storage 32 is not enough.
if anybody says different then I want what their smokin' LOL:D

Oh well, I thought we might see something new. Nokia is kind of doing what Samsung did with the galaxy s2 having 5 iterations of the same phone in one generation.. Galaxy S 2, skyrocket HD, etc etc

I'm not impressed and neither are investors. This is a step back with hardware. Nokia has to do better to compete.
Stock is taking a tumble today.

Funny if you go to t-mobile USA website you will not find a single windows phone. The OS is not even available to select. IOS android and bb is all you will see. Some how I think Nokia is wasting their time releasing on tmo USA.

Yeah, I noticed that the other day. I wonder why. At any rate it is not good for Windows Phones or Nokia.

What? For tmobile but no 1700_2100????

Wow, they brought back the AMOLED screen. I wish they used it on the 920!

25GB in Skydrive+16GB I want that phone, the design is awesome I love it!

Im just happy t-mobile is getting it... Nokia 6133 --> Sidekick --> G1 --> G1--> G1--> Sidekick LX --> Tmobile Wing --> HD2 --> HD7 --> Lumia 810
Windows Central Newsletter
Thank you for signing up to Windows Central. You will receive a verification email shortly.
There was a problem. Please refresh the page and try again.