Nokia Strategy Summit: Lumia portfolio gains momentum in India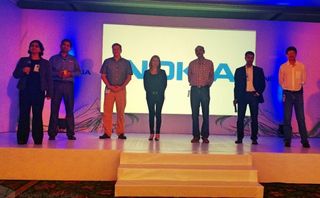 We are in Goa, the beautiful beach state in West India, for the sixth edition of the annual Nokia Strategy Summit. Apart from the sun and sand, it's been a summit of nostalgia (last summit before the Microsoft acquisition), a reflection on a successful 2013, and way forward for 2014.
Lumia Portfolio
2013 saw the launch of full portfolio of Windows Phone 8 devices in India – Nokia Lumia 920, Nokia Lumia 820, Nokia Lumia 720, Nokia Lumia 620, Nokia Lumia 520, Nokia Lumia 925, Nokia Lumia 625, and Nokia Lumia 1020. Phew! That's a range of devices at every price-point from INR 10,000 to INR 50,000 (in the neighborhood of $160 to $800 USD).
That did translate to good volumes. According to IDC, few months back, Windows Phone became the second largest OS in India with Nokia Lumia accounting for over 90% market share of it. Nokia Lumia 520, the most affordable Nokia Lumia device, emerged as the superstar. Not just in India, the 520 is the largest selling sub-$199 phone in the world!
New Lumia Devices
While Nokia Lumia 1520 was announced earlier this week and available in stores already, at the Summit, Nokia announced that the other 6-inch phablet – Nokia Lumia 1320 – would be launched in the first half of January 2014. The 1320 will be available in orange, yellow, white, and black. Expected price? Well, somebody at Nokia said 1320 is half the price of 1520, so INR 25,000 (just over $400 USD) might be a good guess.
Building on the huge success of the affordable Nokia Lumia 520, the next variant of the same – Nokia Lumia 525 will also start selling in the country in the first half of January 2014. The 525 will be available in gloss orange, white, yellow, and matte black and with changeable shells.
Exclusive Experiences
Apart from the devices, a key offering of Nokia is the exclusive experiences like Nokia MixRadio and location services from HERE.
Nokia MixRadio provides ad-free music streaming on Nokia Lumia devices. With over 10 million songs and half a billion downloads, Nokia MixRadio is the number one music streaming service in India.
There has been tremendous growth in map data from India for HERE Maps. At the moment, HERE maps over 2.02 million kilometers of road network across 6400 cities in India. The HERE team has also added indoor coverage for about 200 malls in India and HERE Transit features 11 Indian cities now.
Growth in Enterprise
2013 also saw the Nokia Lumia portfolio gaining acceptance and share in the Indian enterprise segment, as organizations switched to Windows Phone proposition from their traditional enterprise mobility.
In the last two years, more than 400 enterprise including GMR Group, Tech Mahindra, Ibis Hotels, Deloitte, KPIT, Qualcomm, Emerson, CGI Info Systems, Trilegal, and Eureka Forbes, among others, have opted for the Windows Phone based Lumia portfolio. Most of the customers opt for Nokia Lumia 520 and Nokia Lumia 720. Nokia is adding more than 20 new customers every month in India - organizations that are part of the Business Today Top 1000 corporations.
The Lumia range offers a lower total cost of ownership (TCO) for services like email and the Microsoft Office suite and offered tighter seamless integration and Enterprise grade security on the mobile device.
Closing Note
Nokia India has an interesting year ahead of them. In 2013, growing developer, marketing, and ecosystem partnerships have fuelled sales growth and furtherance of brand 'Lumia'. The next year might just be the year when Nokia Lumia with Windows Phone turns the corner. It's a challenging year with the impending acquisition by Microsoft, and I hope the force be with them!
Windows Central Newsletter
Get the best of Windows Central in in your inbox, every day!
I wish the same will happen for Nokia and windows phone here in the US like India. But good going Nokia. Hoping to see some exciting next Gen devices this coming year.

Waiting for nokia to upgrade Lumia 720 .512mb ram to 1gb or more,then i will also upgrade from 520.

Nice one Nokia, hope that they continue gaining marketshare in India and China both are huge markets!

Nokia lumia 2520 launch????

Begining to wonder if the Microsoft acquisition was a good idea. Nokia is thriving. Just bought at 2520 for my wife and looking to buy another to replace my Surface RT.

I've always said it wasn't. It could work if MS had bought Nokia entirely, thus acquiring the brand power too and not disrupting the Nokia momentum. They didn't do it and thought it was a better idea to get the people and hope consumers will buy a MS phone as they would buy a Nokia one. They're in for a disappointment.
But then again, I'll bet you a bunch of blind fanboys will follow shouting how wrong I am etc etc. Whatever.

I'm not disagreeing or agreeing with you, but you don't really know what is going to happen until the day Nokia/Microsoft succeeds or fails. I hope for the best. I'm just wondering why are Nokia enthusiasts mad about this Microsoft/Nokia deal, I am pretty sure the phones will be good quality still.

For many of us, Nokia is a dear brand. We've trusted Nokia to provide us with powerful and strong devices for many years (over a decade for some of us, like me). We know how Nokia operates. We know the quality of their service. We also know Microsoft and how Microsoft operates. It's day and night from each other. Nokia fans aren't happy for many reasons but the main is that Nokia will not produce phones at least until 2016 (yes, we all keep hope alive that they buy Jolla in 2016 and return to the mobile business). We don't want Microsoft phones. We want our Nokia phones. Also, many many Nokia fans do not like Microsoft at all. Some never liked them, others stopped liking them after being disappointed by them time after time after time (I'm in that group, having the final nail been struck 2 days ago by the fact that my Surface died after only 6 months). The phones will be good quality? Maybe. Maybe not. Microsoft's way of doing things is very very different. Microsoft has very little regard for consumer happiness. Microsoft only addresses consumers complaines and improves upon those complains when they see sales being afected. Pretty much like Apple and Samsung, actually. That's why WP is taking forever to get basic features but W8 got a fix 1 year after launch and a second is already on the way, and the Xbox One got the DRM policies reversed so quickly. But you are right. I don't know what will happen. My opinions are based only on my experience as a Nokia-only customer for over 15 years and a Microsoft customer for over 20. I know both companies fairly well from the consumer point of view (and a bit from the insider point of view as I have friends at Nokia and my late father worked for Microsoft for some time). They *could* surprise me. I'll be watching. I'm not giving Microsoft any more chances in the hardware department. But I'll be watching to see what happens. However I'm fairly certain sales of smartphones will be affected by something as simple as the removal of the "Nokia" brand from the phones.


I feel you, but the failure rate seems to be low for the Surface. I can't find the exact stats of the surface malfunction rate my apologies. You got to remember that a new CEO is coming to Microsoft, and Microsoft "says"they are changing their way of doing things. The WP 8.1 update seems (hopefully) promising. If it turns out somewhat like this: http://m.youtube.com/watch?v=tRVC4BKWaP8 (plus more apps) more people will switch. But I do understand you completely. I wish the best for you and I hope you will continue to be a WP user.

The new CEO will be crucial. But from all the names, I think only Tony Bates would be a true changer. I don't think MS will be that bold. As for "they say"...well...I've been listening to Microsoft saying that for many years now. I'm at the stage of "I'll believe it when I see it". So far, every time Microsoft "changed" they did it so that everything could remain the same. As for WP8.1. That video has a bunch of really good ideas. I'm not fond of extra columns on screens smaller than 5" though. Tiles become unmanageable. and the notifications center, I prefer it as it's apparently planed (from the top, like Android). But I agree there should be further gesture padronization with W8.x. Switching apps, split screen and closing apps should definitely be like that. I also quite like the idea of live tile folders. I can see it being quite useful for gathering, for example, social networks (facebook, Instagram, twitter etc).
Unfortunately I highly doubt Microsoft will present anything like that on WP8.1. I'm expecting just a couple of major features (notification center, Cortana and separate volumes) but nothing else. Lets see. I'll be with WP as long as my Nokia's work (and I'm hopping Goldfinger is the international version of the L929, because I want that one). However I'll now be open to try other OSs and brands, something it was out of the question for me with Nokia around (I'm probably going to get a Sony Z2/3/4 whatever at some point. And I'm keeping an eye on Jolla's Sailfish OS)

Whatever floats you boat man, I am not here to convince you to do anything. I just like a good discussion. I still don't see the reason switching, the people who make the Nokia phones will be transferred to Microsoft, the quality is still there. What happens if they keep the name Nokia.

yep i agree with you phone sales will drop after removal of the "Nokia"brand from the devices,even though the future devices will be manufactured by the same people,in the same places,consumers will look at them differently.The word "Nokia" means high quality,awesome design,and great customer care,while Microsoft means..... welll I let others to fill this space

The Surface is not know for being poor quality. Is see complains in software, but not hardware.

I agree, it's disappointing for MSFT to buy Nokia, especially where Nokia is at now. I think MSFT bought Nokia back in September because Nokia wasn't as known as they are now, i think they're very close to making a huge comeback as of now, but back in September, it wasn't entirely the case. Now MSFT has only the hardware and services division of Nokia and only has rights to the Lumia brand, not the Nokia brand. Which is disappointing, but i'll still support MSFT/Nokia after the purchase fully goes through.

But if you think about it the updates will be faster and the is would improve. I hope lol. Especially 8.1 around the corner.

Updates will be faster? They'll still be all passed through carriers. Microsoft won't have the guts to pull an Apple on carriers. They don't have that power. Also...what makes you think Microsoft will produce more OS updates? Given the fact that all GDRs where forced upon Microsoft by Nokia...the lack of an independent OEM pushing them around to improve the OS doesn't cast that good of a light upon future updates. Remember...the people tranfered from Nokia will be operating "the Microsoft way".

"back in September because Nokia wasn't as known as they are now" That's the problem. Microsoft hasn't the faintest clue about the power of the Nokia brand outside the US. What you wrote is completely true...in the US market. However, if you go to Europe or Asia, everybody knows Nokia and has known Nokia for decades. The fact that WP is over 10% in some European market has ZERO to do with the OS itself or Microsoft. That only happens because of Nokia. People see the phones, people hear their friends and friends of friends say "Nokia is making awesome phones again" and they go back to Nokia from where 90% of the mobile users in regions like Europe came. Only people who only got mobile phones after the iPhone's release can have missed a Nokia. Anyone who had mobile phones prior to the iPhone revolution knew Nokia and at some point owned a Nokia. This just doesn't apply to the US because Nokia was never really focused on that market (just like Sony isn't and Jolla already said they wouldn't). Because of that, Americans and by extention the powers at be at Microsoft, completely failed to see that the only way they could successfully buy a Nokia division and keep the Nokia momentum was by buying Nokia entirely. It doesn't matter how good the hardware is (and I'm expecting the quality to go down under Microsoft's leadership). There are plenty of mobile brands that produce good hardware. Asus Padfone for example is a solid device. Yet, it doesn't take off. Because Asus, much like Microsoft, lacks a brand in the mobile World. Some people like you and many here will still support mobile devices produced by Microsoft. But WPCentral readers are far from being the regular consumer. The regular consumer goes by the brand they know. People buy "a Samsung", "an iPhone", "a Nokia", "an HTC". They don't buy "a Windows Phone", "an Android", "an iOS". And when it comes to Microsoft...they still have a huge image problem as a result of the monopolistic atittudes of the recent past. That image hasn't improved. And they have done nothing to improve it, really.
So they'll face a very very very hard scenario. They may increase sales in the US. But there's World beyond the US. And that World knows Nokia. And doesn't have that good of an image of Microsoft. And the "Lumia" name can only take them so far. Lets see what happens. It will be interesting to see.
I personally won't buy any Microsoft-produced device. I got a Surface and it died after 6 months. And that's not the first piece of hardware from Microsoft to give me headaches. So Microsoft as an OEM is done for. No more chances. But I'll be watching what happens with their devices since I'll still be on WP while my Nokia's last.

Like you said the same people that make the Nokia phones are being transferred to Microsoft. The guy who will be running the division is Stephen Elop who is the CEO of Nokia for right now. They just need to get used to the Microsoft rhythm. Correct me if I'm wrong but isn't the Device division in Microsoft somewhat independent. Also Microsoft is new to the hardware market, meanwhile Nokia has been here since the 1800s lol and began to make hardware in the early 1900s.

Me too. That phone needs a bigger ram. Everything else on it is awesome.

What you said is totally true and I actually bought a Nokia L920 because of Nokia, switching from the dead Nokia N9 and switching from 5530 xpress music. All because it's Nokia not of what OS. (Symbian, MeeGo, WP)... I hope my L920 will work for the next 2-3 years cause I'm not buying anything but a Nokia !!

Ha, that's almost my exact same evolution of phones, only difference is I had a Nokia N8 in between the 5530 and N9.

Lets face the facts DJCBS. It was not Microsofts idea to buy Nokias D&S Division, it was Nokias. Microsofts idea was to buy a big amount of Nokia stock. But you know, Nokia wanted to get rid of D&S, because red numbers are not what Investors want to see. Nokia brand or not people will adapt. They already know what Microsoft bought and they know where they'll get their next handsets from. Pls stop arguing with other people I cant stand this anymore... Nokia brand is a thing of the past now, you want to support nokia? Start supporting microsoft.

Forc3, you got to recognise that DJCBS has a point. People don't talk about about WP. They talk about Nokia. By buying the devices division, Microsoft will effectively erase all the work Nokia did with the Lumia brand. And if they put the name Microsoft anywhere on the new devices they produce, I fear that they'll have negative sales numbers lol. I love some of MS' products and I've been using them for a longtime, but let's be honest here. The reason MS didn't come out with their own hardware when WP was released was because they knew they'd fail. Buying Nokia's devices division will only delay the failure but I strongly believe that it'll come...

I've heard rumors of MS dumping the Lumia brand. If so then this is not good. Even though the hardware in Surface is better the ppl know , I still feel that the Nokia branding is important. I just don't know if I trust MS just yet fully with hardware that's all.

As far as I'm aware Microsoft have bought the name for a period of time also, right? So they could continue to use the "Nokia" name, at least in the near future. Correct me if I've got my facts skewed though.

They can use lumia but not nokia

I influenced five friends to get Lumia. Plus i bought 920.
But if Microsoft wants to increase their market share to 15-20% they should make wp license free which will allow local brands to release WP's.
They have more than 50% market share in India and all of them make android phones only.

I personally have made 14 of my friends to buy Lumia. All ranging from 520 to 920 (even an imported 822). I just can't believe the amount of traction WP is getting here in India. Maybe its because of people like us ;) Xolo, Micromax and even Karbonn have plans to release Windows Phones. I just hope the negotiations go through sooner than later. I'd love to see some WP's at the range of Rs.5000/-. 2014 is going to be a big year for WP.

Wow that's great, here in Holland Nokia is considered by many as "old" "bulky" "ugly", you better have an iphone around here or you're a fcking loser
Not that I care, I loved my L800, and I love my L920

Hi Abhishek, any update on when the Lumia 2520 would be introduced in India.

Still dont understand how any enterprise can use WP with its poor email client, esp the pathetic attachment support. Are they all sending pictures to each other?

I just open the document i want to send and use share option to attach it to the mail. Also using share option in any file you can send them as attachments ex music, pdfs etc

They probably use Skydrive for attachments..

Yes! Same about the calendar and tasks management... My Nokia 3110 could do the same 12 years ago!

Hope lumia 725 comes someday :)

Let's wish farewell to Lumia by Microsoft...

Lumia Dual Sim 2 Core 3000mAH removable battery wifi, gps 8MP front, 2MP rear, LED Flash WP8, 10GB storage at $100 flat will be a deathblow to android market in India. $100 market in India is domonated by Micromax, Karbon and Samsung now

8MP front, 2MP rear? That'd be new.

well that my BS :S thanks for the correction :)

Welcome to Goa & waiting for the next PureView :D

Nokia, I wish you all the very best for your future with your remaining units of business. You've done an exceptional job by providing us with supreme quality products running an even awesome OS with a completely different perspective, which according to me is the most innovative OS in the world and certainly things are only going to get better.

i love windows phone. And i luv nokia. :-)
Windows Central Newsletter
Thank you for signing up to Windows Central. You will receive a verification email shortly.
There was a problem. Please refresh the page and try again.