Nokia launches the Lumia 1520 today in India, starts at INR 46,999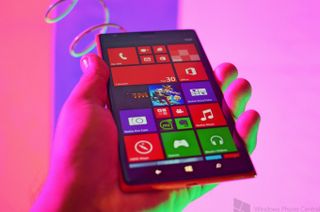 Happy Holidays to everyone in India! At a press conference in New Delhi today, Nokia India announced the launch of Nokia Lumia 1520. The phone is priced at INR 46,999 and available in four colors. Also, music to our ears, the phones are available in stores immediately.
The phone was unveiled at the Nokia World 2013 in Abu Dhabi a couple of months back. At the event though, no details about the availability in India were announced. However, we're glad that the phone has arrived before end of the year, earlier before what I expected during Nokia World and just around when it's been going up for sale in many countries around the globe.
Nokia Lumia 1520, as well as the Nokia Lumia 1320, are Nokia's first foray into devices with 6-inch displays to stake claim in the growing market for phablets. It's a pity though, that Nokia hasn't launched the 1320 in India considering it's cheaper of the two. No word on availability of it from Nokia India.
Specifications
Full HD 1080p IPS LCD, ClearBlack, technology Sunlight readability, Super sensitive touch, Gorilla Glass 2
Pixel density: 368 ppi
Qualcomm Snapdragon 800 Quad-Core processor, 2.2 GHz
2 GB RAM
32 GB internal storage
Bluetooth 4.0
3400 mAh internal battery with integrated wireless charging (Qi compatible)
micro SD card support up to 64GB
nano SIM
Camera: 20 MP PureView, ZEISS optics, OIS, 2x lossless zoom, dual LED flash
Size/Weight: 162.8 mm x 85.4 mm x 8.7 mm; 206 g
Colors: Yellow, White, Black, and Red
Nokia has also launched Nokia CP 623, a functional case for Nokia Lumia 1520. Available in matching colors, it is a front cover that can also flex and bend into a variety of shapes to ensure you get the best viewing or working angle. Nokia CP 623 is available for an MRP of INR 2,999
I'm not much of a phablet enthusiast, but several of my colleagues here at Windows Phone Central have got one, and quite like it. You might also want to check out our comprehensive review of the Nokia Lumia 1520. It's a good best buy price for this device since prices of flagship phones have been shooting north in India in 2013. Are you looking forward to pick one?
Get the Windows Central Newsletter
All the latest news, reviews, and guides for Windows and Xbox diehards.
Rs 45,999(Rs 1K less) on flipkart. http://www.flipkart.com/mobiles/pr?p[]=sort%3Drelevance&sid=tyy%2C4io&q=...

Will get this if there is a trade in available.

Its smaller than a micro sim.

If you have a micro sim you will have to go for a nano coz micro sim won't fit in

Lumia 1520 is a great device but actually I was waiting for Lumia 1320.

Same here....gr8 phone 1320 is

Happy holidays? Since when we are having holidays in December? Anyway, I wish they release Lumia 1320 as well in India. Its already on pre-order in China officially along with Lumia 525. http://item.jd.com/1020784.html#nonehttp://

Yeah. But we only have one day right.

Maybe but why be so fussy about it? Enjoy the greeting :)

You have one day off. But there are people like me in India who get two weeks off in December as winter vacations.Then there are colleges n schools that close for winter vacations. So dude, its actually happy holidays.....hard Luck to you :P

Most people get only one day off on Diwali, the biggest festive season in India.

These holidays are a western thing. But I guess they expect them around the world, in all countries.

I'm an Indian, and apart from few visits, never stayed in 'west' for long. Still, it's a global thing to call the Christmas/end of year as Holidays season. People take vacations, travel, and kids gets school break.

Is Christmas a western thing wow that's new

In the US, holiday strictly means a celebration, like Christmas, Halloween, Thanksgiving, etc. What you call holiday we call vacation.

Also, happy holidays is just a politically correct way of saying merry Christmas.

Since British invaded India ;)

Exactly...no holidays for people in India....except for schools maybe!!!

Yes its a must buy in India.

Nokia plz plz plz plz launch Lumia 1320 in India.

Now am confused 1520 or 1020

If the 6 inch screen isn't a problem then get the 1520, it has a better screen and faster processor. Both of which might not feel much at this point but it's going to matter when WP8.1 comes along next year.

How is it going to matter for 8.1?

The same way Windows RT 8.1 on Surface 2 performs better on than the original Surface .

Concern is camera and storage ...hmmm let me think

sudhish can u tell me why microsoft restricts[Locked] video hub for saving downloaded videos in video hub and sharing of music n video hub content? if u knw then pls tell me

Strictly API restrictions dude...dont have a glitch of an idea...may be if they can share Some API ....think we can write some headers and commands so we all people can have a free app just like moli player...and by the way the video sharing option will be enabled by April..when windows 8.1 is launched....but still keep u fingers crossed just like cat on th wall

Video hub is for copyright restricted videos only. Unlike music files there is no DRM checking in videos, so they cannot be determined to be copyright free. Personal videos go to Photos hub inside a video album just like pics. Videos received via bluetooth are found there. Sharing of both music and personal videos is allowed. Add your video to any album in pictures (photos hub) like you do with pictures and share via photo hub. That will work. For music, share from music hub. iPhone also follows same model except that they do not allow external music to be saved. Currently third party apps have ability to save (DRM free) music only. So when MS opens up API, third party apps will be saving videos inside Photos hub (mostly saved pictures or camera roll). Same is true for sending music/videos.

I want this but LL wait till the price drops to around 40 k....

The red 1520 should be in stock for unlocked mobiles on Wednesday for the uk

So is gdr3 available......

Yes, the 1520 comes with GDR3 + Nokia Black.

http://www.windowsphone.com/en-us/store/app/nokia-camera-beta/80b4b4a2-f...
NOKIA CAMERA BETA
FOR ALL PHONES WITH AMBER

Im buying it before 31st dec as soon as i receive my salary..

What's ur salary...kiddng

I saw posters of both 1520 and 1320 in nokia priority store. No 525 though. Was surprised. They don't tease a phone unless they have it there. o_O ?

Is it just me or does everyone feel its a bit overpriced.? I was expecting something around 38k to be honest. 47k is a bit too much, considering that one can get a note3 for lesser now, and that it does have more utilitarian owing to its stylus. Just my opinion.

Think it really depends on what you want out of your phone. The 1520 matches the Note 3 in the specs department and exceeds it as well in some. Not to mention the premium build quality. While you get the stylus with the Note 3, the 1520 comes with a 20 MP camera, wireless charging, a better battery and an arguably better display. So I don't think it is overpriced at all, unless you really need a stylus. Also, the Note 3 is actually a little bit more expensive than the 1520 (at least on Flipkart).

The screen is actually denser on the note 3 same res but smaller dimensions..so..there..secondly, i don't see where it exceeds note3 in the specs dept apart from its camera. Build quality, yes, i agree. Lumias are well built. Wireless charging is just a gimmick. Charges slower than a traditional charger and needs extra 5k for you to buy it. And the stylus, well, it really does enhance the experience. The howering effect and all. Try viewing screenshots of a video on ie 10 bundled with Lumia and you will know, but you probably don't need that, thus you dont see it. And lastly, better battery, i don't know about that. Cuz the Lumia 920 that i use comes with a 2000mah battery, yet hardly lasts a day. Why? Because the apps still aren't efficient enough, and the worst being WhatsApp, which i need the most,and presumably a lot of people do.

There is more to screen quality than pixel density... no idea if 1520 screen is actually better than Note 3's as I haven't seen either. P.S. Wireless charging is something you don't miss until you lose it. :)

I agree. There are differences, but note 3 screen isn't bad. :D i haven't seen the 1520 either, which is why i cant comment on how good it is. And about wireless charging, its helpful if lets say there are chargers embedded in tables in eateries and similar places. That's an awesome use for it. Also, the new DC charger by nokia is what interests me more. No hassles of wire in true blue sense.

I am using 1520 for 3 weeks now and cant be happier. Most importantly its future proof with the better specs. The display is much better compared to Note 3. PPI is one thing, the colors, the viewing angles, reflection etc make the screen good. I can easily read it in bright sunlight of California. Mine is stripped down with just 16GB and no wireless charging but still worth it.

Oooo and WP8 UI will obviously look much better than android on that screen. I am sure. :D yet it doesn't make the screen better.

The note 3 screen is pentile which means that it got 33 percent less subpixels compared to the 1520 so no, it is not denser even if it has the same nominal resolution.

How 33% less.?? From what i hear, the screen is anyway so dense that you cant see the individual pixels. Let alone the sub pixels. How does it change anything? I really don't know, which is why i am asking you? And i am assuming you mean the pentile matrix of the display. What does the 1520 display employ?

Ooo and you can get a note 3 for 44k in many brick and mortar stores. Its not much lesser than 47k, but it is.

Sigh... If only they made a 4-5" version of this. I'd instantly buy then. 6" is ridiculous.

me too...waitin for global version of 929

Nokia should definitely make large devices as this at an affordable entry-level or mid range segment. Does not matter if they have to cut down on specs to some extent. Right now it makes me wonder what the price of 1320 is going to be.

Hi guys, I know this is a little out of context, but will the Factory unlocked international version of 1520 ( RM-937 ), work on T-mobile in US.
I see the RM-937 has LTE 800/900/1800/2100/2600 and HSDPA / 3G 850 /900/1900/2100 Thanks,
Gaurav

Great... And Canada still does not have this phone... *SIGH*

I have to admit that's a fast launch. 920 was 3 months after international launch, and 1520 was launched internationally on 21nov

And that too the availability is on the same day as the launch. I remember when they launched the 1020, it took a few weeks to actually hit the stores.