Windows Phone maintains second position in India for third consecutive quarter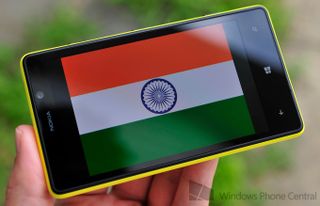 According to the IDC, Microsoft is still doing well in one of the largest and most important emerging markets, India. Latest figures have Windows Phone at a 5.4% market share, giving Microsoft's mobile OS a ranking of second most popular OS in that country, ahead of the iPhone and BlackBerry.
This will be the third-consecutive quarter that Windows Phone has held that position in India, meaning this is not a variance.
The IDC commented on the continued growth of Windows Phone in that country, noting that the OS is projected to continue to climb in market share over the coming years. According to Manasi Yadav, Senior Market Analyst, Client Devices, IDC India:
Nokia of course has been pushing hard in India for the last two years but they have not really hit their stride until 2013, when they were able to release numerous devices at various price ranges. Those devices include Lumia 520, 620, 625, 720, 820, 920 and 925. The Nokia Lumia 1020 is expected to launch there soon too.
Recently, Indian Windows Phone users were treated to an official IRCTC app for train service, which is an exclusive to the platform. State Bank of India (SBI) has also launched an official app and Nokia has teamed up with mobile operators there to offer free or reduced data packages when purchasing a Lumia Windows Phone.
Despite some ongoing tax issues between Nokia and the Indian government, both entities are poised to move forward and forge an agreement. Nokia appears to have grounded its feet in the country and is prepared for long haul growth. Hopefully that 5.4% market share will climb higher to a more poignant 10% or more in 2014.
In related news, Windows Phone recently took the lead in Russia, has had explosive growth in Vietnam and is the second most popular OS in Latin America. Windows Phone's greatest potential appears to be outside of the United States.
Source: IDC, Microsoft (opens in new tab); Thanks, Shivam G., for the heads up
Daniel Rubino is the Executive Editor of Windows Central, head reviewer, podcast co-host, and analyst. He has been covering Microsoft here since 2007, back when this site was called WMExperts (and later Windows Phone Central). His interests include Windows, Microsoft Surface, laptops, next-gen computing, and arguing with people on the internet.
Of course Samsung with cheap android

Ha ha ha... Funny Cheap android

what abt micromax utter cheap android than samsung

As if anyone buys 'expensive' WP phones in India.
How many 920 did Nokia sell in India??

I bought one.. At least three people I know bought one.

I say let em rot in jail!

LOL!. Took me a sec or two before I got it.

Interesting, they mention 2nd, 3rd, and 4th positions, but not 1st. First is android with 88% marketshare for Q1 2013. In 2012, they had 75%, and in 2011 they had 57%.

If you want to read Android news, you are at the wrong website.

Don't worry. It's against the policy here to report anything good about any other brand.
BTW, Apple is non-existent in India. There are few brand shops, that's all. Only expensive mobile which sell in India in decent amount is GN2.
Most WP phone you will find is 520/620s.

Yes i can see lot of people carrying 520 around and talking about lumia in general. Hopefully Microsoft do not screw up after merger. Microsoft don't have Xbox music in india and hope they continue with Nokia music which is very popular here.

I have been talking of Xbox music & the full experience of Bing on both OS's both of which are not enabled still. Been emailing & tweeting Microsoft about this but no joy as of yet...

I m from Mumbai...the problem with WP as with iPhone was Bluetooth transfers... In India Bluetooth transfer of songs and pictures is a huge feature... WP got bad name as it didnt support BT transfers... Then Nokia came in the picture and forced MS to add the option... now ppl are getting to know that Lumia's have this feature and also the price point...also the garbage touch screens ppl get with android phones in that price range cannot be compared to the awesome quality of screen ppl are getting in 520 and 620

Is the WP do not support BT transfer or iPhone? I have Lumia 920 and transferred files to almost all devices thru BT except iPhone because iPhone does not allow it. Check your facts.

So, how many people, on average, do you see a day using a WP device❓

On an average 4-5 people while commuting daily. In my team android and ios are already in minority with 3 of my colleagues converted by me

Wow. Keep up the good fight! :)

I have been converting friends and relatives to WP since the first iteration of WP7. So far I have converted 7 to the dark side :)
It is good to read someone else is doing the same xD

I can see many of my mates choosing WP out of the lot...mostly first time smartphone buyers

All thanks to the Nokia loyalists and the sub 10K pricing of 520... the price really hooked with the budget smartphone buyers and as a secondary phone. MS need to gear up their presence in India bigtime, now even more after the merger deal since a lot of noobs here think that Nokia is "finished" because of the "sold-out".

Expect soon a trend to arrive of windows phone in future.....!!

Outside US...
Btw, how many Lumia 520, 521 has HSN sold the past two months?
They sold about 25000 in 24 hours a while back, would be interesting to know the total number :)

In India, Micromax & karbonn phones r doing great , giving tough fight to cheaper Samsung devices .. Microsoft didn't license WP to these OEMs or else market share would have been in double digits

How many people, on average, do you see using a WP device a day❓

I see about 4 to 5 a day using either 720 or 520 on my work commute. Sometimes I see 920's. In my team its only Android and ios because of unified communication enteprise app and vpn support. AT work the number has definetly increased over the past year. The retail stores are also pushing WP now. When I visited a year ago to purchase my 920 I had to ask for it, now the store owners are suggesting 520 or 720. they are well informed too.

I wish it was like that here in the US.. But, Americans are slow, and resistant, to change... It will happen someday... Yesterday I saw a total of 3 people with WP devices here in DallasFortWorth Texas... I saw a 920, a 1020, and some lower end device, but I couldn't make out which one... I'm beginning to see people carrying around that 1020 like it's the new iPhone or something.. Nokia better keep that signature look on future 10xx devices... It's iconic now.

In India its because of Nokia you are seeing some momentum (you can compare it to Apple here is the US)

I know right! The other day I went to an AT&T store by the Empire State building inquiring about Lumia 925. While I was waiting to be helpred, I saw/heard a man asking for the Lumia 1020, saying it looks awesome and he wanted to get one. But the rep (I don't want to say who) kept pushing him towards HTC One. I wanted to shout at him when I heard him say that Google Maps is way better than what Lumia has.... Here Maps and started spreading FUD.... I was really angry and I stormed out nof the store... So, it's just not the public who is resistant.... But, true... people are exposed to the band Lumia now, more than ever... for sure... :)

I thought the CEO of Microsoft said that they were going to push the 1020... Those store reps are still pushing the GS4, and the One... Next time I hear him say that I'll know it's a crock of shit.

Ha. In my 2 years of Windows Phone ownership in the US, I've never seen another person with one. I see iPhones everywhere, Android and feature phones often, and the occasional Blackberry holdout. Nokia seems to have built some awareness with their TV ads though, as I've had a few people recognize the 1020 (with uncertainty).

The DallasFortWorth area is highly populated, and I work at DFW airport, which is a huge International airport.. To see someone with a WP device isn't uncommon.. In fact, I'm sitting on my lazy ass right now and if I got up to go do some work then I would see someone with one.. But, I'm lazy so just take my word for it... BTW,, I have seen more NL900-920 than any other WP device...

Its better right now that we see our Lumia phones on tv advertisements,now we see 925,625 more often

Its not Microsoft choosing whether or not to license. I'm pretty sure it is the company deciding if they want to or not.

Microsoft has minimum hardware requirement for oems that use their os. I don't know if the hardware these companies make would meet those requirements.

Yeah ....Micromax & karbonn are giving samsung a run for there money...in India, with their low cost Android fones with good specs. But android still will be a major player in here for long time. Most of the people think that Nokia is done now and WP is not user friendly as android. what an irony. lol

And so would be the double queue outside the service centres... one for android (which already exists) and another for WP :P

We are kinda hard-headed, but you gotta love us! #ornot #yourchoice =D

With all the market share hoopla where is the operator billing in india

+620... i so want it right now!!!

Windows Phone recently took the lead in Russia

That's not really true, it is Nokia who took the lead but it includes all non-WP phones.

Why is WPC not reviewing Wheres my water2 its a high profile game f

Let Paul play for a while ;)

The best thing about WP would be if MS introduced Bing services and Xbox Music Pass in India. Apart from that, WP is awesome. And yes, operator billing as well. Even if it is Vodafone India ;) (I use Vodafone, so kinda biased).

Still in second place ... but is it rising? Would be nice to see the actual growth rather than see it consolidating a position in the market. Any numbers on that?

If you guys can congratulate Vineet Durani Director Windows Phone India for good success in India...would be encouraging and nice to see the support.

I was first to get windows phone among my friends, Samsung omnia w.. Nw owning a Lumia 820.. And I made about 6 of my colleagues to get the WP :)

I bought my first WP Samsung Focus...september 2011...

How is Lumia 520 compared to similarly priced Androids in India? In the US, it seems there's no Android phone at the same price that offer the same smooth experience.

from local vendors like micromax, karbonn the phone are so cheap. but at international level lumia 520 is too cheap. like outdated samsung galaxy s duas is in the same price as 520 ie 10000 inr. the comptetior of 520, samsung galaxy core, sony xperial m are more costly at approx. 13000- 14000 rs range.

I am a nokia fan. In my opinion in india there are ti category who use smartphone. One are they who dont care about is. they use for just fun like games and movies. second is who use smartphone as a mini computer like me. I like nokia and also smoothness of wp. but there is some drawbacks like absence of file manager, not using a phone like modem since many pc do not support wifi, video file formats etc. Over all many of second catagery prefer to android because there are missing some important basic features in wp. if wp includes these basic features, nokia now wp will regain its share in india. I would like to tell that first category people take suggestions from us to by a smartphone. I use wp but suggest them to wait or by a cheap android. because they use these basic features and if i will suggest them to buy wp they will hit me.

Use tether-x, you can use the internet from phone to PC.

What is tether-x? means I use internet on pc via my wp 820 with internet sharing. But if i want to use net on windows xp or that pc which has not wifi capability, then? As i can use net via nokia n8 with nokia suite on any pc


I think MS and Nokia should pay more attention on promoting there OS and fones in growing markets like India, where they have more margins ( carrier controlled or subsidized pricing) and also more potential buyers who are ready to make a shift from feature fones.
Like at my work I am the only one using a WP device. Everyone else think nokia is a dyeing company and WP has no apps and too complex.
And we all know this is just lack of information. Wp has great potential in Indian market but it will need a great push as Android has made a place in everyone's mind set here.


sorry for my english. nokia is the first choice in india but due to lack of basic features in wp, android is preffered to buy.

I guess it will change, w/ all the leaks of features coming in GDR3/Blue, next 6 months will be interesting...except for peeps on AT&T

yes it works, when there was no bltooth transfer in wp7, many avoided nokia, but when it came later, many of them purchase nokia. because in india nokia is loved. I wish many basic features will be included but running time should not exceed otherwise.

Can feel the growth. But in Hong Kong I see maybe 1 Lumia a month. Still dominated by Samsung and Apple but, ppl in HK have a huge obsession with trend and status....Nokia HK isn't very helpful in support either...
Just hoping it keeps growing.

Last year Windows Phone was already third place in Brazil, behind which OSs? You guessed it, Android and... Symbian! Believe it or not Nokia had 22% (symbian) + 12% (WP) marketshare... assuming say 15% of those proud symbian owners move accross to the WP platform we're looking at around 27% marketshare...
Things are looking rather good over here, I hope microsoft invests more on the platform and make it so developers will look into it... the oportunity for growth is amazing... they need more advertising and carrier support. Imagine how far we could make it go!

This isn't really surprising for a country like India where people buy phones at full retail price - the iPhone is terribly expensive and budget phones like the 520 can really fill a large market.

The success of WP in India has been majorly due to the 520 i would say.. 10,000 rupees is a critical psycological price point for people here when it comes to phones... esp for those who are moving up from feature phones.. hope MS can continue what nokia started here.. The fluid OS really stands out from the monotonous androids at similar price points. however Nokia ( or MS i should say) MUST keep the momentum going by launching dual sim variants for their entry and mid level WP phones like the 520, 720 and 625.. Another Thing MS can do is to help become WP become embedded deeper into people's lives by coming forward and developing apps for major supermarket and fastfood chains here offering coupons along the way..and for high profile mass transit systems like the delhi metro, taxi services such as fast track etc..

I don't understand why MS put a lot of effort in US market, if the rest of the world is a much interesting place

Execellent question! MS and Nokia should really pay attention to this thought. A+++

I just hope the new notif centre saves wp..

Nokia Lumia 520 is the best selling Windows Phone 8 device in India. But still now no Amber for 520.

People have started liking WP a lot in India. That is why Lumia 520, 720 are immensely popular here. As compared to Samsung's cheap Androids, they offer better value for money. Another is availability of almost all apps popular in India. And the result is Lumia 520 is the best selling smartphone in the <10,000 category, where Sammy has virtually no market now.

yeah......Windows Phone.......

Basically Lumia's are selling well becuase they are from Nokia not becuase they have WP8.
Such is the rapport of Nokia in India.

Does any one get their amber update for l520 in India.....???

My Uncle Evan got a nice 12 month old Lincoln MKX SUV only from working part time off a pc. web link www.lock60.com
Windows Central Newsletter
Get the best of Windows Central in in your inbox, every day!
Thank you for signing up to Windows Central. You will receive a verification email shortly.
There was a problem. Please refresh the page and try again.