State Bank of India releases gorgeous Windows Phone app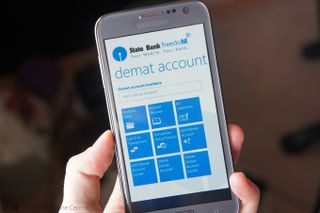 The State Bank of India (SBI) is the largest banking and financial services company in country, owned by the government. We've received a handful of reports that the bank has released a Windows Phone app, enabling customers to perform mobile banking while out and about on their Windows Phones. The usual features are present, including balance enquiries, the transfer of funds and paying bills.
Aptly named Freedom, this Windows Phone app is a must-have if you hold an account and desire some degree of control when not at a desktop computer.
To get started with SBI and to use their app, a registration process is available, which includes setting up MPINs and activating through an ATM and a local branch for peace of mind regarding account security - wouldn't want just anyone accessing your account, would we? It's a good looking app and we're sure many will find it useful.
Here's a quick list of features highlighted on the store listing:
Funds transfer (within SBI or other Bank's account)
Immediate Mobile Payment Services (IMPS) : Fund Transfer, Merchant Payments 24 x 7
Enquiry Services (Balance Enquiry / Mini statement)
Cheque Book request
Demat Account Enquiry
Bill Payments (Utility bills, Credit Cards, Insurance premium), Donations, Subscriptions
Mobile Top up
M-Commerce (DTH Recharge of Tatasky, BigTV, SunDirect, DishTV, DigitalTV and Videocon d2h connections, SBI Life insurance premium, etc.)
Booking of train tickets over the IRCTC portal through IMPS
You can download State Bank Freedom from the Windows Phone Store. Thanks to vikrant6 and Ayush for the tips!
Get the Windows Central Newsletter
All the latest news, reviews, and guides for Windows and Xbox diehards.
Rich Edmonds was formerly a Senior Editor of PC hardware at Windows Central, covering everything related to PC components and NAS. He's been involved in technology for more than a decade and knows a thing or two about the magic inside a PC chassis. You can follow him on Twitter at @RichEdmonds.
Good news for Indian Windows phone fans. Thank you

upto I looked at the draft that said money, I didnt believe ...that...my friends brother was like actually erning money in there spare time on-line.. there moms best frend had bean doing this for less than twelve months and just cleard the debts on their mini mansion and got themselves a Toyota. read more at, ---------> RICH6.COMREAL

OH REALLY? Thats wonderful for us ! There's hardly anyone here without a SBI account.

I am that odd one out :D Wish citi would release one. Their online transactions are the best I have ever had. SBI was pretty clumsy, needing a lot of physical travel and documents and stuff. Dropped them a 'bout an year ago.

Huh? What's SBI? There are hardly any of us without a Chase account ... And we have an app. Switch your tiny bank maybe?

Cut some slack on that idiotic arrogance of urs !! As big as Chase is in the USA ! so is SBI in India which you absolutely have no idea of. So in such cases its either beest to shut up or be polite.

Uhhh yeah idiot. It is called sarcasm because the first poster said that most people here are on SBI. Quit being a douche and get a life. In my first comment I neither called anyone arrogant or idiotic. But you jumped all over it. Grow up. If the words "tiny bank" get you riled up, maybe seek some medical help.

You're quite obviously the douche here, sorry.
Oh, the irony.

Because I said most people are on chase? Saying most people are on SBI doesn't make you a douche?

SBI is an Indian bank. Either you're an idiot that doesnt understand the concept of countries or a douche who put up that wisecrack of a comment to somehow feel superior to a complete stranger on the internet. Either way, you'd have looked more intelligent if you had just kept quiet.

When he said "here", he meant "in India".

Don't have an sbi account, but was super happy when hdfc released its banking app. Love hdfc. Hope hsbc releases a wp app, though i doubt that would ever happen

http://www.windowsphone.com/en-us/store/app/hdfc-bank/1c68e3c1-c88f-402f-a368-86dd944ce6a8

is this what you are looking for?

He's talking about HSBC. His first sentence already says that HDFC has an app out...

I have a SBI account but ICICI is my primary bank now. Wish they would release an app soon.

I know that ICICI has a Windows 8 app. Not sure whether they have one for windows phone.

I'm from Texas, but I hope you guys enjoy this app❕❕

Thanks! Need to get this mpin registration done first

Gawd! I didnt mean to spark a debate. And by anyone here, i meant anyone here in India. Is that really so hard to get?

That's true , SBI is the largest bank in India. Now I want Axis Bank application, that would be awesome .....

Yeah this is great! Now if only US Bank stops being a lazy a@# and releases an app, I mean BOA and Chase have great apps and US Bank is still sleeping

I'm practically trying to push my bank too. FNB in South Africa has apps for Blackberry, iOS, Android, Symbian and Windows 8 but they can't seem to figure out how to build a Windows Phone app? I mean seriously.

Wells Fargo too, but at least "supposedly" they have claimed twice in the last 7 months they have one in development.

They need to hurry the f##k up❕

Wow. This is good news.
SBI is India's biggest bank and almost everyone has account in it. Good to see more apps coming to Windows phone.

My first tip:) It's nicely designed and was one of the most desired app by Indian users.. Now waiting for ICICI Bank to release their app.

I think they might be already working on it. They already released ICICI direct app for WP.
Banking app already available on Windows 8. So its a matter of time.

Axis Bank should also release application now. It woul뢈ļwould nearly complete everyone's need.

Lets hope Canara bank follows suit

Really Canara Bank, you must be in your dreams....

Yeah..!! Great to see the largest bank of India recognizing WP..!!
WP is growing rapidly in India.. Thanks to Nokia ofcourse.!!

I need Citi Bank India App :(

Good to see banks creating WP apps. Can't wait for scotiabank to follow suit. There is a scotiabank app but it is only for Peru.

Still waiting for most American Banks to get their heads out of their assets and do this!

"Freedom" is not an apt name for a state owned bank.

Have you used their services or have any idea about Indian banking scenario? Even though they are state owned bank they are right up there with any private bank in India with respect to services and efficiency.

Every time I see an article about a financial institution releasing a WP app, my frustration and angst towards USAA grows...

Why? I saw somebody else complain about USAA not having an app, so I fired up my USAA app on my Nokia 920 and reviewed and paid my credit card bill. Thanks for reminding me it was due in two days and if I hadn't seen this posting I would have been late.

haha, no problem! :P
USAA pulled the app from the store even though it's completely functional, so if you never had it or lost it after they pulled it, you're out of luck.

Well that just sucks! Did they give a reason why?

Just the usual "low marketshare/usage" line. I would really like for them to release something because I have savings, checking, and brokerage accounts, plus a credit card through them.

WOW!!!! So glad I read this post! I have the USAA app on my wife's 900 and on my 920. Both work GREAT ,if I uninstalled to try to fix something and couldn't get it back I would be tempted to switch banks. I love USAA but I love my WP more:) Hope everything keeps working. Sorry you are missing out, it is insane that they pull a great fully functional app for no reason.

Wished Singapore banks would release a WP app. Not a single bank app for us is available.

This is BIG news! State Bank of India (SBI) is what Bank of America is to USA - it is by far the largest bank in India. Couldn't be happier :). Suck that ICICI

Still need one for hsbc all in due time i suppose

Citibank still nowhere to be seen.
I swear I may move to Bank of America =/

Not saying it's a bad app or anything... but gorgeous? Really? o.O

Never expected it,but this shows how important windows phone ecosystem is in Indian market,btw app is really great !!!

This is good news no matter where you live. It continues to show the steady traction that WP has for us all

Waiting for axis bank app

Navy Federal...? Hello...?

Wow! This was unexpected! No more Paytm for me :)

Its great news to have SBI app for windows phone.

im expecting axis bank app soon :)

Its not a surprise at all.. After hdfc released their app and the fact that Lumia 520 & 620 are escalating so fast..

Nokia will surely succeed.Keep moving>>>>

ICICI..... where are you?

yey an SBI app. I recently opened an account with this bank and was using te wap services from my IE on my WP. Now there is an app that does the job so thumbs up. And btw WP Central thanks for covering things like this.. I am really surprised. So a thumbs up to WP Central for the time taken to write this article. If not for them I would still be using mobile banking from the IE on my WP :P

there is also a very nice official app of HDFC Bank in India for Windows Phone. JUst want to mention that since SBI app is mentioned here

hummm good for SBI users ;)

Hope other banks will follow SBI..

Ohooooooooooo thank you very much tried hard for this.
I did many complains to SBI for not releasing app for windows phone

Windows Phone 8 is the next big thing...
SBI Freedom rocks...!!!

Yes... we should be happy that we have an official app from SBI... I already had my userids on the SBI freedom app on my old symbian.. so used it to login.. and to be truthful, it is really not gorgeous.... it works the same way it does on the symbian.. neither special nor feature rich... it doesn't have the metro UI either.
The ICICI imobile and the Citi mobile apps on symbian were more feature rich than the SBI freedom. I hope ICICI is already on the way to wp8.. not sure on Citi.

Interestingly
this is running on Samsung ATIV-S, which has not yet been launched in India

New Update launched, MPin chnaging issue solved.