Official IRCTC app available for Windows Phone, allows you to book travel on Indian Railways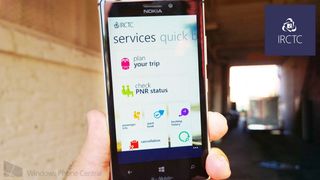 Here's some good news for our friends in India or anyone planning a visit there. The Indian Railway Catering and Tourism Corporation (IRCTC) has just released two apps. One for Windows Phone 8 and the other for Windows 8. Chalk a win for both Microsoft and Indian consumers. Let's check the apps out.
This is a big deal because the IRCTC handles all the catering, tourism, and online ticketing operations for the Indian Railways. If you find yourself in India and need to travel, you might do so by the Indian Railways. Some fun facts: The Indian Railways are a state-owned enterprise, they're also one of the largest railway networks in the world with over 71,000 miles of track. The railway network also, according to the latest stats, carries over 24 million people and 2.8 million tons of freight.
The Windows Phone 8 app is available today, with a Windows 8 variant coming sometime tomorrow according to railway officials. The Windows Phone app was developed in a collaboration with Microsoft. Here's what you can do with the Windows Phone app for IRCTC:
Plan my travel
Check PNR Status
Cancellation
Booking History
Frequent Passenger Info
Quick Booking
Preferences
Favorites
Recent History
Live Notifications
We're currently not in India, so we can't really test the ability the app. But did happen to download it and can say it looks really nice on our Lumia 925's AMOLED display. If you happen to download the app and play with it, let us know how it works. There is one caveat with the app and one that is imposed by the railway guidelines, not a limitation of Microsoft or Windows Phone. The app can't be used between 8AM and 12AM or between 11:30PM and 12:30 AM. We couldn't find any reasons railway guidelines stipulate that, it's possible that these are high traffic periods of travel. Maybe one of our readers can clue us in on why this exists.
Interested in getting IRCTC for Windows Phone7.x and 8 devices? The app is free and available from the Windows Phone Store. You can also grab it using the QR code below or swiping to the more section inside our app. The Windows 8 version is expected sometime in the Windows Store tomorrow.
Thanks for the tip everyone!
This is very big for Microsoft's presence in India.

By the amount of tips we received, I'd say you were right!

oh yes, this is gonna be huge for windows phone users in india

It is huge also because it is exclusive to Windows Phone and Win8! Never before has such a high profile app been developed exclusively for WP - just listen to Android users crib on various india blogs ;) A big thumbs up to MS for co-developing it with Indian Railways. Now it is up to Nokia to play it up and convert it into sales figures - knowing Nokia, they will use this app to the max. Anybody who has ever booked a IR ticket knows how valuable this app is.IR has 25 million daily passengers - over 9 billion annual passengers.
Sam/Dan, the article need to be updated to indicate that this is exclusive to WP, no other platform has it. This does not happen too often for such a high profile app - not sure how MS achieved it, but it is a biggie!

FINALLYYYY!!!!
I was waiting for it for such a long time!

I know irctc is the premier ticket booking service in India,btw check thenextweb.wheres my water2is released for wp and windows and ios and its free

can't find windows 8 store link..

That's because it's not live yet, it should be in the Store tomorrow.

Its live now. Though its not playing nice. Can't seem to view the history of booked tickets, even for the present month.

You have not lived until you take a tuk-tuk ride during rush hour in India... Have yet to try the train...

The reason for the caveat is that Indian Railways booking is closed between 11.30 PM and 12:30 AM. And the other is that 8 AM to 12 PM is the time for Urgent Bookings.

That is why the app is not allowed between that time

Cool! Thanks for sharing.

Do update the article saying its EXCLUSIVE TO WP as this is not available for android and iOS

Why. We should also have the option to book on tatkal basis. Other application users can do it, why not Windows 8 people can use it? Sundar


Loved the design of the app.. It is working very smoothly and fast.. The restriction for the use of the app between 8.00 AM and 12 noon may be because IRCTC experiences hell lot of traffic due to opening of Tatkal booking (For passengers who plan their journey at short notice).

How'd you get the TPIN??I am still battling hard to get it or generate it

Login to irctc.co.in on your pc and on the left hand side options click on Tpin. Click on ok to generate one, you'll get a sms to the registered mobile no. Pretty easy.

Only if it had worked..the option doesn't show up when i log in.Been searching for it whole evening.

Just switch ur internet explorer to desktop mode., login to irctc website, click on the TPIN option located just under My Transactions and User Profile, then follow the instruction. It's very easy., just generated my TPIN.

Tried it like what 50 times.hell i am cant find that fucking option.

Chill dude... I can't even login to the website :D

Dude log in from a desktop, below plan my travel, my transaction, etc you will find TPIN option. Click and activate it and you will receive it in your mobile
If it does not work i think your mobile no registered in IRCTC is different from the no which you have now

i've been trying the same ...in desktop,mobile...every browser...there is no such option for me ...i'm really pissed offf

That is strange.
pls find the screenshot to see where it is

This is not strange as it is happening with some older accounts.I had to create a new one to get the TPIN.The app is awesome though.

with new account u get TPIN?
u made new account with same email & mobile number?

No mate..you just cant make a new irctc account with same email and mobile number.Both have to be distinct

Awesome finally! It doesn't work even in android in these timings as all the tatkal (immediate) bookings happen and a lot of traffic is present and often the site hardly responds so that limitation.

Sam you forgot to mention that this is the first official IRCTC app on ANY platform. It's a huge win for MS!

Yup. It is exclusive for WP & W8.!! WP8 becoming so much popular in India.!

Wow. Clever Indians! I wish the bloody Swiss would take their head out of iFruity for a moment, maybe then they would see the light.

To me, this first launch is the sweetest part... a kick to others right where it hurts :P

this is really going to encourage more indian services to hit the indian wp marketplace as this is the most crucial one , i will surely try out this app , wp8 ftw!


Given the high volume of bookings that IRCTC handles, they have restricted mobile bookings from taking place during these time periods. You can book your tickets on their online website at any time. There is also a restriction for mobile tatkal bookings which are even more critical than the restrictions put in place for the same for online website bookings.

No even on websites you cannot book anytime the restrictions are there on the websites as well

nop... we cant advance book tickets even at railways stations between 11:30pm to 8:00am.

I must agree that bookings are universally closed between 11:30 pm - 12:30 am, but bookings are also not allowed between 8 am - 12 pm on mobile devices due to high volume of bookings coming in at that time and also tatkal bookings starting at 10 am. Sorry for the wrong info earlier, I just confirmed this from their website. Also, physical booking counters are definitely not open round the clock.

Does this including riding on the top of the train cars? How do I book this travel type?

For reference:
http://www.youtube.com/watch?v=A6Qr3j3USqA

lol .. no, you need the app of a hospital for that

Yes it is not the limitation of the app as well because the services of irctc are down between that night time. So the websites also don't work. But overall app looks pretty neat and great

Its big. And it will matter.

A model metro app. Great. Fantabulous app.

Yes its true that between 8AM and 12AM or between 11:30PM and 12:30 AM Railways open bookings for URGENT tickets for those who have planned their journey at last minute and current servers are incapable of handling high volume of traffic generated during this hours.
IRCTC is in the process of upgrading their server capacity.

Acrually 8:00 AM to 11:30PM are the advance booking hours for Indian railways no matter if its urgent ticket or not.
there are exclusive time window for urgent tickets etween 10:00AM to 12:00 PM (2hrs).

A well made and extremely useful app.

India knows the deal!! This is a great tool as people in India travel all the time

Great news... waiting for it... wp rocks.. :-)

Huge win for Microsoft! *claps*

This app is priceless,figuratively & literally!

I read reports after the Microsoft -Nokia deal that India could be the Kohinoor of diamonds for Microsoft. Lets hope so.

It's great to see Windows Phone getting an exclusive app and that too a very important one.
There is definitely a lot of interest in Windows Phone in India especially in the Lumia brand. Earlier my friends and family from India used to ask about the latest iPhone but now it's all about "Lumia" phones. The funny thing is that most don't even know what platform it runs. I guess the Nokia marketing team is doing a great job.

This a Windows Phone and WIndows exclusive app. Not available on iOS or Android... Thats pretty huge imo..

Good to see the IRCTC official app and the windows phone 8 being given priority ahead of the Android & IOS. Good work Microsoft and Nokia... you will soon attract lots of customers here in India and we should be able to see Nokia-Microsoft rule the Indian mobile industry again.... yeah the Kingdom that Nokia lost few years back to samsung and other chinese handsets.

Waow.. Windows Phone rocking in India. Microsoft and Nokia are targeting Indian market for maximum revenue as we use unlocked mobiles. No carriers

Considering their poor and sometimes non responsive website, I'm not sure how the app will work any better. :/
Anyways good to have in Windows Phone Store.
Source: Personal experience

I agree but this is during TATKAL booking rest all the time the site response very well.

I can't even login to the website at times.. And there's those times when we get those ServletException stack trace :P

Now this is a big news... :)
way to go WP..

https://irctc.co.in/beta_htmls/irctc_app.html
Someone should tell them to change to Windows phone 8 and its not WIndows 8 phone

Wow..this will become the most downloaded app on windows phone in India,thanks to MICROSOFT

Fun fact: Open the app, don't login, press the back button. You're asked if you want to logout.

TPIN generator option is not available on my id either. It seems they are enabling TPIN generator, batchwise.

There has been another official govt. app from India for WP8
http://www.wpxbox.com/mpassport-seva-app-for-windows-phone/

This application is also available on WP 7.8. I installed this application and looks good on my Samsung Omnia W, only problem i am facing is with TPIN generator which was not functional last night.

Amazing App ! Excellent job done by Microsoft. Having experienced the ultra slow desktop website if IRCTC, I was amazed that the app was extremely smooth and fast. Making this post today after successfully booking a ticket yesterday via Windows Phone app. Big win for MS, WP.
Note : Not sure why some folks here are facing problem with TPIN. I was able to generate it in the first go !

They may not have read the instructions to generate a TPIN properly, buddy.

The booking window is because of a service offered by IRCTC called 'Tatkal', which is available for people from 10:00 to 12:00. This is for sure a rush hour because hundreds of thousands of tickets (for the very next day) are booked during this time. IRCTC and the public having no access to a Windows phone wouldn't want this window to be opened for us. LOL.

this is really huge, the access restrictions in the morning are due to Tatkal booking(which is for users who plan their travel at last minute) and the other is due to daily site maintanence. irctc is among the top most visited sites in India. It would have been great if Takal booking was also allowed.Anyway now i can brag about this :)

Fantastically fluidic just like Windows phone OS! Just loved the background. Never expected this app would be such a pleasure to use. Great work!

Exclusively for Windows! Very sweet to see that today. Moreover the app also reflects windows 8 design. One more to thing to brag after HDFC bank app.

This is a huge win for WP in India.

Very Fluid Like the whole OS, just booked a ticket on the App just to check what it works like, really smooth and good.
11:30 PM to 12:30 AM curfew is there for all online booking tickets, even tickets counters are closed for that period,
8AM to 12 AM booking not allowed , this I had to check about that, as in the app it doesn't say anything about that, will check that tommorow at 8AM and give an update for sure.
Tatkal booking is open a day before the train departure day, opens at 10AM, if you are lucky seat could be available even after 12AM for the same category.


I haven't been in a train for five years now. But this is so cool!

How to generate TPIN? This is bad on IRCTC part :'(

Am happy with the app and it actually is faster than on the computer. Irctc needs to shed its horrible image. and the app looks uber cool too. the one thing i sorely miss in my lum620 is the lack of a CHM reader. there is one app and that too is paid and has a few reviews with an over all 1 star rating. i wud not pay for an app with 1 star. but i thought MS devices wud easily read CHM files. The PDF readers are getting better. But as of now if u have huge chm files, none of the WP will work for you.


The only official IRCTC app which is gonna make things better. Thank You Microsoft

INFO : To all the users having TPIN issue (this option is not avaiable in their IRCTC login).
This problem is with almost all the users having old IRCTC accounts.
To correct this, go to makemytrip.com (through same email id as registered with IRCTC) if you do not have makemytrip login register a new one with the same email id. after login, try booking a railway ticket, when you will click to check the status, the page will take you to a one time IRCTC registration page (this registration will link you IRCTC ID with makemytrip), in this registration page follow the instructions and validate your email & mobile (they should be same as registered in IRCTC).
After this one time verification, go back to IRCTC site.
and voila... TPIN option will be there.
I personally struggled a lot with this as I cannot imagine going to makemytrip for IRCTC thing.

For all the people, calling names to the users who had issues with TPIN, this is a real problem and you were the dumbs who didn't understood it.


its working man, thanks for useful tip.
I registerd irctc with ngpay 2-3 years ago not with makemytrip, still got tpin with your way.
THanks.

ONLY problem with the app is, it doesn't sync previously booked tickets (through desktop) in the app.
It should be corrected.

Indian Railway Catering and Tourism Corporation (IRCTC) has launched an official Windows Phone and Windows app. Users can down the app for free from the Windows Phone Store and Windows Store.
Download app @ : http://tracking.affiliatevia.com/aff_c?offer_id=1345&aff_id=12323

Apps are well quite useful for booking normal tickets. But for tatkal booking only through irctc website can be done.. This site helps me a lot in tatkal booking IRCTC LOGIN AND PNR STATUS

Did the thing with MakeMyTrip, but I still don't get the TPIN option on the IRCTC website

Take a look. Solution here. https://db.tt/ZaTapJOB

go to www.services.irctc.co.in login with your existing ID and password In the bottom of the screen you will find "My Transaction" in the next page you will find "TPIN"

For Getting TPIN, Pls Send TPIN to 139, and follow the instruction. If you are a new user send REG ( your Name ) and DOB ( Your Date of Birth like - DDMMYY) to 139 and follow the instructions. Regards RAADHEESH

This is the best tool for handling railway reservations. Customers can get complete information about http://www.reservec.com/ there reservations.
Windows Central Newsletter
Get the best of Windows Central in in your inbox, every day!
Thank you for signing up to Windows Central. You will receive a verification email shortly.
There was a problem. Please refresh the page and try again.