Nokia Lumia 1020 listed on Flipkart as coming soon to India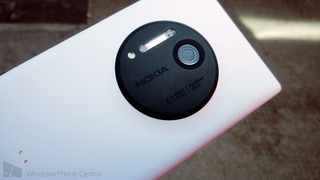 The Nokia Lumia 1020 started out as an exclusive on AT&T. Although it didn't take too long before the device started appearing in other markets. First up was China, then other countries slowly gained the list. For example, a few days ago it went on sale in Germany (and it was the 64GB variant too!). Up next however, is going to be India. Details below.
Head on over to Flipkart and you'll see the Lumia 1020 sitting there getting ready for you. The device has a "notify me" page set up for anyone interested in the device. Availability is listed as "coming soon". Unfortunately, details are a bit scarce. There is no pricing on the page. It's the 32GB model though, not the 64GB which is exclusive to Vodafone. You'll have your choice of white, yellow, or black when the devices do become available.
We'll of course let you guys and gals know when more information comes in. Any of our readers in India looking forward to the Lumia 1020? Let us know below.
Source: Flipkart (opens in new tab)
Thanks for the tip Clifford D!
Me!!!! I have been waiting to trade in my L720 for the L1020, through this secret deal with the Nokia store guy. (I also helped sell an L625 and an L925 on my many visits to the store).

If you are in bangalore then lemme know. I would love to strike a deal for my L920.


Sure, will keep ya all posted.

I'm also looking forward to your deal with Lumia 820 also have a Lumia710 working condition but now ex phone hahaha

Not bored. Its a tremendous phone. It woke up the photographer hiddne inside me. It has become my new hobby to take great snaps. 1020 has a better camera, thus if there is a good deal then I'll go for it, else I'm pretty pleased with L920.

Your gf will go nuts if you change another phone :D

I know. Thats precisely why i changed my username here ;)

Unfortunately, I am in Delhi, but you know you may try this thing out-keep visiting these stores and strike up a rapport with a store guy. And see where you can take it from there.

Tell me if you are interested for a 9 month old Lumia 920 :P Delhi!

how much price are you quoting

Bangalore here right now too. I may consider it but only if my 920 can go for the right price

How old is your 920 and for how much you want to sell it

*Scarce :P
I'd buy that. But i just bought my 720. Can't abandon my baby so soon :P

Then make a second baby ;)

Shhh... it's been a long day ;) Why not get the 1020 to keep your 720 company? lol

Let him grow then...eventually it'll abandon you!!

Instead of abondoning your 720 baby,you can buy sony Lens Cameras DSC-QX100 and QX10 released this month and can be attached to any phones.

My biggest worry is when MS takes over Nokia, India launches may be delayed by ages.
Surface 1.0 is yet to launch in India. MS is slow and it will slow down Nokia too[hopefully not]

Well, I disagree, because Microsoft would be using Nokia's supply chain which already are established in India. If anything, we could expect closer releases of both phones, and now, surface tablets too.

I agree much delayed Xbox One will reach India by Q4th of 2014. Until then I'd be better off with PS4. They need to work quickly in order to catch up in Asian Markets

Microsoft is extremely focussed on US for most of its consumer products.

The reason Nokia has been slow in rolling out new models across the globe, and even keeping up with stocks where they are available, is because of their perennial cash flow problem which would probably be alleviated when MSFT take over

With the week Rupee, I think when the price is launched it will give us a heart attack!!

M expecting it to be 42-45K. The 64GB variant, if ever it releases, might be 10K more.

Guess it would be 38-40k :-/

I would be glad for that. It should be closer (higher, when you adjust for the taxes) to the current off-contract price in the US.

Are u sure that we will get 64 Gb version along with 32 Gb version in India? because I need 64 Gb version

As of now not planning to get it. Happy with 8month old baby 920.. My next purchase will be either the HP Split X2 or the Lenovo Yoga2 Pro, as u suggested Sam!

Hopefully they will price it well.
They killed 925 and most importantly 625 with ridiculous pricing. They priced 625 higher than 720 and even 820.
Its a disaster in India which is supposed to be a huge seller. I know rupee depreciation is a reason for that but what is the point of pricing it higher than your own products which have much better specs.
They priced 520/620/720 very well and successful because of that.

Expecting it to be 38-40k.

I think the L925 is priced right, the L625 not so much.

Blame the rupee for 625 & 925 pricing ..

That's not true, you know. By the way, the rupee is gaining back again, if you have noticed.

I am guessing they put up the listings simply as a response to all the lumia 1020 keywords that popped up in the search database as a result of my fervent searching for it on a daily basis. :P

I currently have a 820.. I am undecided between this one and the 925.
I haven't seen the 1020 yet up close but the 925 is hands down the best looking windows phone to date..

Same dilemma here. According to me, the L925 is the best looking Windows Phone device made till date, but I guess I am more fascinated by the USP of the 1020, so yeah...leaning towards the latter. In any case, my brother (who BTW, trolled me really hard under a pseudonym in one of the threads here a few days ago) will buy the L925. So, we have a deal of frequently exchanging our devices.

If you need a pocket DSLR go for 1020... otherwise get 925 :)

Finally!!! I've been waiting for this since the Lumia EOS days :D

Looking forward but i am more inclined to get lumia 1520..

Me too... but I'm worried that might take till next year to launch in India :(

I've Lumia 820 & would love to buy the last creation of my favourite company. However, 41 number hasn't been lucky enough as it shows ending of Symbian and 41 this time was the end of company... Hate you Elop. Well

Wait China got an actual 1020 or is it a cheap copy?

i would consider it for sure , its just the price i am waiting for :)

Nokia Lumia 1020 also Listed On Infibeam.com Under Coming Soon. Expected To Launch Very Soon.

After Time Nokia Lumia 1020 Today Launch On Infibeam at price 49,999 INR.

If it's priced above 40 k I don't think they will get a good response.. I might as well wait for a month for the price to drop.. If it's prices ~38 k I'll go ahead and grab it.. Would be interesting to see what the Vodafone deal would be for the 64 gb variant

I don't think there's going to be any carrier deals in India. Much less, with Vodafone, who are promoting Blackberry actually.

True, but there will be some sort of a deal.. For example.. 45-47 thousand and you get 3 g for say 6 months, etc.. Things like that..

Why do I keep calling them flikfart?

Everyone has his preferences, but honestly, my favourite WP (phone) is the Lumia 920, I prefer it to the 925, 928 or this one. And I'm not saying this because I have a 920, as I don't, I have a 820.

i have heard that india nokia music web services has been shut down,i don't know this will affect the new users who brought the lumia phones recently because its the only legmit music services available for windows.

Service has not been shut down. The Ovi music store website has been.. Does not affect the phone users. It is BAU.

Nokia music website has been shut. But application on the phone will go on as usual.
The question is how long will that last? And will we continue getting latest songs?
We don't even have bing music here, nokia was our only saviour.

Own a 620, wish i had this one

It's great to see more devices released in more countries.

Waiting to get this beast, I will sell my 920 for this guy

Yes I am! Whatever price I don't care. But I love it. Recently I got Samsung ATIV s. Although I will get it when it will appear inbindia/New Delhi.
Windows Central Newsletter
Get the best of Windows Central in in your inbox, every day!
Thank you for signing up to Windows Central. You will receive a verification email shortly.
There was a problem. Please refresh the page and try again.