Nokia Lumia 1020 launches in China, available for 5,999 CNY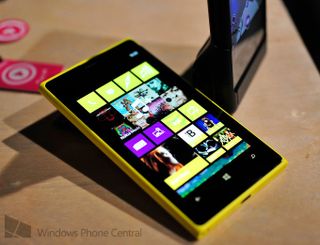 The Nokia Lumia 1020 has already started shipping in the US, but other markets around the world are still waiting for the manufacturer to launch the new flagship. The latest market to see the handset released is China. Priced at 5,999 CNY (about $980), a fairly steep price point as we've come to expect. Retailer Suning has a promotion running for the Lumia 1020 with owners walking away with a free camera grip and 200 CNY Suning gift card.
If you're slightly behind on your Lumia 1020 reading, check out our review and in-depth look at the camera featured inside this beast of a device. While it's a niche option, the Lumia 1020 is certainly worth picking up if you take numerous shots on your mobile phone.
Source: LiveSino, via: LiveSide; thanks, Yan, for the tip!
Rich Edmonds is Senior Editor of PC hardware at Windows Central, covering everything related to PC components and NAS. He's been involved in technology for more than a decade and knows a thing or two about the magic inside a PC chassis. You can follow him over on Twitter at @RichEdmonds.
Any hints about when we'll be able to get our hands on them in the UK? I registered my interest after the announcement but there hasn't been a word since.

5999? That's alot of samolians. Or is that like 20$?

The article says that's $980

Just jokes. Not good ones.

That's alot but in china today u have really rich folks......but you know what they say sell to the rich live with the poor....sell to the poor live with the rich....lol

i wonder how many new kidneys will show up on the market...

serious? this joke is now known even outside of china?

That's the way to play it Nokia. Launch in apathetic markets such as the US and China, whilst ignoring the consumers who have shown an interest in the Lumia brand. Genius marketing ploy!

I don't think that's the case at all

The US has bought plenty of Lumias! But I agree get the phones out there as fast as possible everywhere!

US sales have been pretty bad. 0.5M in 2013 Q2 compared to 7.4M total. Very small amount for a country of 300M+ inhabitants.

But actually Lumias sells good in China.

Yep, that's exactly what happens when you make it exclusive to one service provider.

I think there moving in the right way in the US. They just need to keep the pressure on. I will be interested to see market share a couple months after the 520 has been out.

They definitely need more ubiquitous marketing. I still have people say "I didn't realize Nokia still made phones."

The only people in China with that amount of money are foreigners, and they are decidedly communist (what demented country would not only elect communist Obama but re-elect him). So expect this device to not sell well at all because communist foreigners want everyone and everything to be the same which draws them towards the iPod phone. Really shameful that mobile communism lives on after Steve Jobs died of aids and the sheep of the world continue to be demented as per his dying wish.

Do you practice at being an idiot or does it come naturally to you?

China is not a "communist" country anymore and your assertion that Obama is a communist is incorrect as well, if he is anything other then what he says he is it would be socialist... (though I still have reservations about that)

How about a little context? What does a 32GB iPhone 5 and Galaxy S4 go for in China?

Galaxy S4 (Exynos ver) - 5199(16G)/5699(16G,dual sim)
iPhone 5 - 4787(16g)/5699(32g)
These are from the same retailer(suning)

Thanks. So when you factor in the freebies, about the same price then.

Nice. Now members of the Communist Party and members of the late Imperial Families will be able to buy this! Of course...the other 1.9 billion Chinese will keep sticking to rice.

I have seen more Mercedes in Shangai than in Stuttgart....

And you were surprised? Shangai as well as Hong-Kong, Beijing and Macau are the economical centres of China. It's where international companies have their offices etc. They are the places where all the rich people in China are. Except rich CHINESE people aren't the majority of the population. Actually they are the minority who holds the power. AKA the members of the Communist Party and the members of the former Chinese Imperial Families (both Ming and Qing dinasties are still much alive in China. They just moved from the Government to the Executive boards of major chinese enterprises).

You seem jelly bro, you do know that China can buy or annex your silly portugal just for fun :)

Hong Kong and Macau are not in china, duh.

I'm going into a retailer in HK, ask to play with a 1020 at the counter and subtly give back my Lumia 920 with a Pringles cap attached on the back.

I am from China and I don't understand Nokia's marketing strategy at all. I have 920 red. It's quite unique in China, however there are fewer and fewer people in China using Nokia. They now have 1020 which is more expensive than iPhone and Samsung. Not mention those manufactured by local company like Huawei. Is this the thing Nokia wanted to do? Only sell to a very small group of people?

Hopefully they are pushing L520 really hard.

Chinamans just follow what they see white people doing. And because whites are so incredibly communist they gravitate towards iPod phones. Monkey see monkey do.

On the other hand, Lumia 1020 will hit Philippine stores before the year ends which makes me wonder if it's worth pursuing the Lumia 925 which bound to hit the shelves next Monday (August 19th)

Nokia and Microsoft are very slow to push products to more markets. That's a bigger issue than higher-than-expected price of 1020
Windows Central Newsletter
Thank you for signing up to Windows Central. You will receive a verification email shortly.
There was a problem. Please refresh the page and try again.