Nokia Lumia 1020 - A closer look at the 41MP PureView camera
Windows Phone Central takes a closer look at the Nokia Lumia 1020's camera performance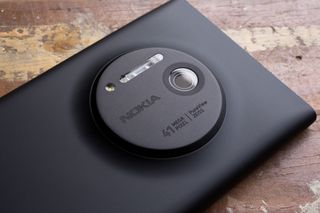 One of the key reasons why the AT&T Nokia Lumia 1020 is a head turning is the 41MP camera. Simply put, it's one hell of a camera.
Sure, the 4.5 inch AMOLED Screen looks great, the matte finish feels comfortable in the hand and the Glance screen is cool but the centerpiece is definitely the camera. It takes our Windows Phone photography to an exciting new level.
To compliment the hardware aspects of the Lumia 1020, Nokia has also developed a Pro Cam app that when combined with the 41MP camera makes the two a formidable pair. We've shared our full review of the Nokia Lumia 1020 and now we take a little closer look at the camera.
The Hardware
First, let's lay the foundation on the hardware. The Lumia 1020 is fitted with a 41MP camera that utilizes a back-sided illuminated (BSI) sensor that has optical image stabilization (OIS). The lens is the aperture equivalent to a 26 mm lens with a fixed aperture of f/2.2. The camera also has a mechanical shutter which will allow for sharper images and help the optical stabilization reduce motion blur.
The Lumia 1020's Zeiss camera lens is composed of six elements with a lens cover and outer protective element. At first I was a little concerned about the outer element. It is significantly larger than any other Windows Phone cameras and I feared it would be more susceptible to scratches. Maybe Nokia shared these concerns and instead of regular glass or plastic, this outer element is Corning Gorilla Glass 3.
Instead of a LED light to double as a flash and auto-focus assist light, the Lumia 1020 has a Xenon flash and a secondary LED light for video lighting and AF assist. It's no secret that I don't care for using the LED lights as a flash. While the Xenon's effectiveness is hindered a little due to the size, it's tremendously more effective than a LED light.
As far as mechanics and hardware go, the Lumia 1020 is likely the most advanced smartphone camera on the market. The only disappointment or area for improvement is the close-focus abilities of the 1020. Many Windows Phone cameras will let you focus on an object about six inches away. The 1020 just about doubles that distance.
Granted the "zoom later" feature helps make up for the more distant minimum focus distance (more on this later) but it would have been nice to have seen the 1020's close focusing be... well... closer.
Camera Grip, Yea or Nay?
Admittedly, I was skeptical of the Nokia Camera Grip for the Lumia 1020. I just couldn't help but think it was more of a novelty than a useful accessory for the Lumia 1020.
But I bit the bullet, picked one up at the local AT&T Store and haven't regretted it. When you know you're going to be taking a lot of photos (trip to the zoo, social event, family vacation, etc.) the grip is a must have accessory.
The grip gives you a more confident handle on the Lumia 1020, the shutter button is a little more responsive than the native button and the added battery (1020 mAh) helps your 1020 last through all those photos and videos. Oh...the tripod mount is an added bonus when you want to capture panoramas, HDR images, need a little support for shooting videos or just want to jump in the picture/video.
If you weren't able to get a free camera grip with your Lumia 1020, the $59 cost is well worth it.
The Software
The Lumia 1020 has your typical Windows Phone camera application with a modest amount of settings for still and video imaging. The layout is not unlike other Windows Phones with settings accessible through the three-dot menu. Modifications can be saved in place for when you exit and re-launch the camera app. Otherwise the settings revert to the default levels or when last saved.
Nokia Lumia 1020 native Windows Phone camera app settings
Photo Settings features:
Scenes: Close-up, Night, Night Portrait, Sports, Backlight and Auto.
ISO: Auto and 100-3200.
Exposure Value: +2 to -2 stops.
White Balance: Auto, Cloudy, Daylight, Fluorescent, Incandescent.
Aspect Ratio: 16:9 and 4:3.
Focus Assist Light: On or Off.
With the native Windows Phone app you are restricted to the 5MP resolution without the 38MP "high quality" version that can be cropped and zoomed.
Video Settings include:
White Balance: Auto, Cloudy, Daylight, Fluorescent, Incandescent.
Continuous Focus: On or Off.
Video Mode: Standard/720p or High Quality/1080p.
At the bottom of the view finder on the native camera app you'll find the customary lenses, flash, front camera, and video buttons.
Along with the native Windows Phone camera application, the Nokia has included their Pro Cam app with the Lumia 1020. Currently the Pro Cam app is only available on the Lumia 1020 but it's our understanding it should roll out to other Lumia 92x Windows Phones at some point.
The Pro Cam app is similar to third party apps such as Camera360 in that it gives you more control over your camera controls. With Pro Cam you can run everything on auto or manually set shutter speed, ISO, white balance, and focus. You also have full control over the flash and focus light along with exposure compensation settings.
Pro Cam lays it all out nicely with on-screen dials that can be displayed one setting at a time or you call throw them all out at once.
Nokia Lumia 1020 Pro Cam Settings
While most of your settings are accessible through on-screen controls, you also have a collection of settings for photo and video that are accessible through the three-dot menu. With respect to video, Pro Cam offers settings for:
Framing Grids: Rule of thirds, Golden Ratio, Crosshairs, Square.
Resolution and Frame Rate: 1080p with frame rates of 30, 25, and 24 frames per second or 720p with frame rates of 30, 25, and 24 frames per second.
Audio Bass Filter: Off, Default (100Hz) or Strong (200Hz).
With respect to photo settings you have:
Framing Grids: Rule of thirds, Golden Ratio, Crosshairs, Square.
Aspect Ratio: 16:9 or 4:3.
Capture Mode: 5MP, 5MP + 38MP or 5MP or 34MP.
Facial Detection: On or Off.
The 34MP and 38MP options for the capture mode is dependent on the Aspect Ration chosen. 16:9 yields the 34MP option and the 4:3 ration yields the 38MP option.
Nokia Lumia 1020 Video Trimmer
In addition to all the controls Pro Cam offers, you also have the "zoom later" and video trimmer feature. The video trimmer does just what it sounds like, allows you to edit the length of the video by adjusting the start or end point of your video. It's not a full editing feature but can come in handy.
While the video trimmer is a nice touch, being more of a still photographer, the really impressive feature on Pro Cam is the "zoom later" feature. This feature lets you capture an image in full resolution and then zoom in to your shot after you've taken it. You can also rotate, re-frame, crop and share new images as many times as you want.
Nokia Lumia 1020 Zoom Later
In capturing the image at full resolution, you have some wiggle room to crop into a particular portion of the photo and maintain image quality. This feature helps make up for the not-so-close minimum focusing distance of the Lumia 1020. Just keep in mind that there are limitations and if you zoom in too much, you'll start to see image quality suffer.
With the "zoom later" feature you can always revisit things if you want to experiment with other crops or go back to the full image. Only images captured with the Nokia Pro Cam can be zoomed later.
Room for Improvement
Nokia Lumia 1020 Indoor Photo Sample
While Nokia has laid a very nice foundation with Pro Cam, there is room for improvement. Don't get us wrong. What's in place is fantastic and we recognize this is version one of Pro Cam and knowing Nokia, improvements are already in the works.
Areas we see that could use a little fine tuning start with the physical shutter button. While you can set the physical shutter button to launch the Pro Cam app but from a lock screen, it won't bypass your PIN number if you've password protected your Lumia 1020. This kinda defeats the quick camera launch feature we all have come to know and love with our Windows Phones.
Next, Pro Cam needs settings profiles or at least the ability to save your settings. As is, when you exit Pro Cam and re-launch, everything (except your flash) is set to auto. It would be nice to set a profile for action photos where your settings include faster shutter speeds or a landscape setting that would include a lower ISO.
Pro Cam does take a few seconds to load and after each shot, there is a noticeable lag time in between shots. The delays are not painful but if you're shooting subjects that aren't cooperative, it can get a little frustrating. Admittedly the processing is dealing with a rather large image file but if Nokia could shave just a little time off this, it would be much appreciated.
Lastly there are a few stability issues present that will crash the app on occasion. I can live with the slow start-up time, but it can be irritating when you're about to snap that perfect shot and the app crashes.
It's obvious that Nokia put a lot of thought into Pro Cam to give Lumia 1020 owners an alternative to the native Windows Phone camera app. We've already seen bracketing added with the first update to Pro Cam and expect to continue to see improvements with future updates. Pro Cam puts more settings at your finger tips and reduces the need to go back and forth to the settings menu to adjust your camera settings. I find myself using the native camera app less and less.
The Image Quality
Nokia Lumia 1020 Outdoor Photo Sample
So how does this all translate to image quality? Daytime still and video capture is... dare I say...en feugo.
Colors are well saturated, focus is nice and sharp and the audio quality on video (now with stereo recording) is commendable. You can get printable, shareable, quality photos and videos straight from the camera without the need for editing. If you prefer to edit your photos, the Lumia 1020 gives you a solid foundation to build upon.
Nokia Lumia 1020 Outdoor Photo Sample
Nokia Lumia 1020 Indoor Photo Sample
Nokia Lumia 1020 Night Photo Sample
When the Nokia Lumia 920 hit the market we were all very impressed with its low light photography. The Lumia 1020 takes what the 920 had to offer and takes it to a new level. While the Lumia 1020 casts away the shadows, it leaves enough to give the image contrast and a more natural feel. The optical image stabilization did a good job of allowing you to shoot at shutters speeds in the neighborhood of 1/15th of a second hand held with very little, if any, motion blur.
Nokia Lumia 1020 without flash (left) and with flash (right)
I have to admit the Xenon Flash performed nicely. It illuminated areas well and has a more reach than your typical LED light. I also found the Xenon flash doesn't create the color casts that the LED is prone to generate. I still prefer natural lighting to flash photography but it's good to know that if I do need a flash, the Lumia 1020 is superbly equipped.
Video quality is sharp, well lit, and the audio quality is equally appealing. Zooming in while shooting video doesn't jeopardize quality.
Any suggestions on camera settings to maximize image quality? Not really. I found that the "auto" settings did a rather peachy job of things. I did bump the shutter speed up when chasing the butterflies, but otherwise I kept most everything set to auto. It you choose to tinker with the settings, the red warning light on Pro Cam's settings does a good job of alerting when you need re-think any manual settings.
Where the rubber meets the road the Lumia 1020 delivers outstanding photo and video quality that very few will complain about. As Dan mentions in his review, Nokia has delivered on the promise of being the best in mobile photography with the 1020.
Overall Impressions
In a nutshell, if you're looking for the Windows Phone with the best camera the Lumia 1020 wins hands down. The Lumia 1020 is strong enough to put some point and shoot cameras to shame. Combine the image quality of the camera and the capabilities of the Pro Cam software and you've got a formidable photographic duo.
The "zoom later" and video trimmer extends your Windows Phone photographic editing tools and add the Creative Studio app from Nokia or any of the other quality photography apps out there (Fotor comes to mind) and you have an attractive mobile photo studio in your hand.
There is room for improvement with regards to the camera and software but what's in place reflects admirably on the efforts of Nokia's engineering and design team. What's in place can easily be fine-tuned through software updates that will only add to the appeal of the Lumia 1020 and we are confident that Nokia will continue to improve things. Granted I doubt anything can be done to shorten the focusing distance but with the "zoom later" feature, I don't think the extra few inches will matter.
In using the Lumia 1020 over the past few days, it is a very impressive Windows Phone. It's lighter than the Lumia 920 and while I had reservations on the camera hump, it actually makes the phone more comfortable to hold than the Lumia 920. The camera hump gives my fingers a contour in the Lumia 1020's backing to grip on to.
Camera performance aside, the Lumia 1020 is a very appealing Windows Phone. Add the camera into the mix and I don't know if you can go wrong.
The Nokia Lumia 1020 is currently an AT&T exclusive running $299 with contractual discounts and $700ish off contract.
It's worth every penny.
More Pics...
Nokia Lumia 1020 High-Res Photo Sample
Same image but Zoomed Later
Nokia Lumia 1020 Night Photo Sample
Nokia Lumia 1020 Outdoor Photo Sample
Nokia Lumia 1020 Zoom Later Sample
Get the Windows Central Newsletter
All the latest news, reviews, and guides for Windows and Xbox diehards.
George is the Reviews Editor at Windows Central, concentrating on Windows 10 PC and Mobile apps. He's been a supporter of the platform since the days of Windows CE and uses his current Windows 10 Mobile phone daily to keep up with life and enjoy a game during down time.