Nokia Video Trimmer helps you shorten videos; shows up in the Store, but you can't download it yet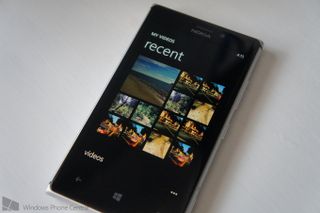 Nokia already has a plethora of apps available in the Nokia Collection, but the manufacturer isn't halting with what's currently available. Video Trimmer is an app we covered at the Lumia 1020 launch event, which enables consumers to conveniently shorten videos. All it takes is some magic and some sliding controls to cut down the duration to a single clip.
The app has now arrived in the Nokia Collection, albeit hidden, though you can at least look at it. That's the good news. The bad news is no, you can't download it, so consider this a teas post for this Friday when the Lumia 1020 finally goes on sale (You can see the app in action in our video below, it's worth the watch).
Video editing has long be sought after for Windows Phone devices and Nokia heard consumers loud and clear. While the app is fairly basic at the moment, presumably Nokia could continually add to it much like their Creative Studio app. We could invision Nokia adding filters and other wizardry to Video Trimmer to make a full on video editor in the future--seems like a natural step for them, no? Indeed, the fact that it is a separate app that can be independently updated from Pro Camera tells us that Nokia has plans for it.
Back to the app itself, once you're done altering the video, the end result can be saved to the device or uploaded and shared over WiFi or mobile data connection. It's a neat little app that will go well with the new Lumia 1020.
But what about other Nokia 92x devices? They too will get video editing with a future update, as we confirmed with the company in New York. It will evidently be a part of the Amber update that also brings Pro Camera support. That update will also bring stereo-audio recording, bumping the current mono mode that we have now. Nice.
You can try to download Nokia Video Trimmer from the Windows Phone Store on a Lumia 1020, though we're betting this is a look-but-don't-touch kind of thing for everyone else. Thanks, Jackniel, for the tip!
Windows Central Newsletter
Get the best of Windows Central in in your inbox, every day!
Rich Edmonds was formerly a Senior Editor of PC hardware at Windows Central, covering everything related to PC components and NAS. He's been involved in technology for more than a decade and knows a thing or two about the magic inside a PC chassis. You can follow him on Twitter at @RichEdmonds.
Cool. When is Amber expected to be pushed out? And when can we expect GDR2 for the Att Lumia?

@Cubeddd, no need to spread false information. There is currently no ETA on Amber for other Lumia devices outside of "Later this summer".

Sorry, I was being sarcastic, it 'should' be available latest early September in US I presume. EE UK seems to have no contact with Nokia so I'm not expecting it any time soon.

Is that true? I'm on EE. I thought the other updates were pretty snappy on my 920

Other storage fix? I have lost 16 GB. If I reset I'll lose my Whatsapp messages :'(

Try the shrink storage app

Doesn't reduce it by much. Like 20-30mb on my 920

I usually get about 500mb

I've used it before and it literally did nothing, but last time I used it (a couple of days ago) it freed up more than a GB.
There was recently (2 weeks ago maybe) an update as well.

A little off topic, but what does Whatsapp's backup feature do? You can backup, but can't restore.. What's the point?

If you uninstall the app you can restore your chats as it is stored on the phone

@ KKRLessey - Doesn't whatsapp have a backup option?

I have amber and gdr2 on Lumia 925 so its not the issue....still can't download

But you don't have Pro Camera. So you're out.

Had to check,so this will have to wait for the pro cam app they said would be coming?

That's the idea, yup. This app seems tied to Pro Camera for functionality.

But the pro camera app is meant for only 92x and 1020 so the majority won't get it :(

But it can edit videos taken by native camera app too, right? I mean after it launches for 920.

""This isn't fair❕ why does Nokia get all the apps, and it's not available for all WP users.. Nokia's causing fragmentation"""

Cause Nokia made the app..why does the Xbox not play ps3 games

Do you see the quotation marks❔

It's quote from all the whiners who just don't get it, that Nokia is doing all the work..

we dont always see your question marks...or any other symbol you use

Speak for yourself.. Get a higher end device.. Lol❕❕❕❕❕❕❕❕...
If you can see my emoji then do some of your own✔✔... I ♥WP8.. Lol❗

Wonderful! Another great Nokia app to be released to make it even Greater.

Only for 92x +? What about the 822?

The article said it will come later for other Lumia devices in a update.. You can count on the 8xx being covered...

I've read it a couple of times, it says "other 92x devices". I don't see anything about devices below that model #.

Oh, you're right.. That needs clarification.. Sorry.

It's tied to Pro Camera, which seems to be designated for their 92x series.

So pro camera isn't coming to the 822 either? That sucks.

We need video editor apps why there is no apps for that yet,,,else there is no video player and photo explore apps !!!!

The os limits this..... Thats why there are no additional players

Its a huge problem imo. Really hope next major windows phone update fixes the API limitation prohibiting it.

Wht abt L820's ... Does nokia care abt it??

They should make a tablet and desktop apps

windows 8.1 already have "movie moment"

Im switching to 1020 tired of this 512mb phone

We'll be able to upload??? Hopefully this means to Vimeo, YouTube, Facebook, WhatsApp, etc. & nit just to SkyDrive.

You can upload to YouTube every YouTube account has an email address not the one you log in with.
http://labnol.blogspot.com/2006/05/upload-videos-to-youtube-using-email....

Emailing isn't really the same as having upload via the app. I'd want to set the title, description, security, tags, etc. Plus this doesn't help with Vimeo, Facebook, WhatsApp, etc. Most importantly, the compression that happens via email is pretty severe and the video quality is significantly degraded.

You already can upload video to Facebook.

I'd be interested to see if it will also compress the videos so you can send them via MMS. The iPhone and Blackberry Z10 can both do this natively and the Optimus G and Optimus G Pro lets you trip a video, then compresses it to the perfect size to send via MMS.
Usually, this involves converting it to 3gp format. I would love to see this on the Lumias, though I won't hold my breath.

Finally some good news, cant wait.

I love these stories.lol "Congratulations you just won a million dollars. Stay tuned to find out when you'll actually get it." Lol.

Aaaand we still can't attach videos.

I have wanted this for SO LONG. Excellent.

description from the app store...so it's not just for 92X-1020 lumias. "This app makes shortening your videos quick and easy, and works for all videos shot on Nokia Lumia phones with Windows Phone 8. Simply drag the slider to the start and end points then use the step controls to adjust the selection to the second.
When you're done, save the video to your phone or upload and share it over WiFi or a mobile data connection, but be sure to check your network operator's data charges first."

I have the Nokia Lumia 1020 and downloaded it. I have yet to use it though.
Windows Central Newsletter
Thank you for signing up to Windows Central. You will receive a verification email shortly.
There was a problem. Please refresh the page and try again.