Nokia Lumia 1020 entering the Netherlands at the end of September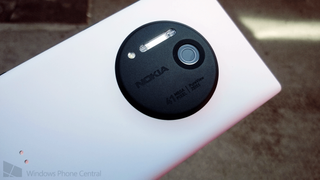 We know what you wish. You wish that from day one the Nokia Lumia 1020 was available on every carrier in every country. But that's not quite how things worked out for the device that was exclusive to AT&T in the United States. Slowly but surely, we're seeing more regions and carriers announce their plans and dates to carry the 41 million pixel smartphone. Now the Netherlands is getting in on the action.
A press release just went out over at Nokia Netherlands. It's in Dutch, but thankfully online translators do the heavy lifting for the language barrier these days. The press release tells you all about the device, things we've all known from day one. Things like how you'll be getting a 41MP camera sensor, OIS, six ZEISS lenses, 2GB of RAM and more inside the Lumia 1020. It also tells us that our friends in the Netherlands will have it in yellow, black, and white. The suggested retail price will be 699 Euros (including VAT, excluding grants).
That's one more country added to the list of places on planet Earth where you can capture the world with amazing detail on your Windows Phone powered smartphone. Let's have a quick recap of recent countries:
Sorry if I missed your country. I just went back in time to see what countries we've already covered with the Lumia 1020 on Windows Phone Central. If you know information about your specific country, be sure to tip us or leave a comment below.
So to our friends in the Netherlands. Are you getting one or waiting for GDR3 devices with 1080p displays?
Source: Nokia Netherlands
Thanks for the tip Ruben!
I just want to try one in a UK store, that's all I ask :(

Keeping my 820 until new devices, but I really like the 1020.

Same for belgium, end of september: http://newsroom.nokia.be/nokia-introduceert-lumia-1020-eind-september-2013-in-belgie-/

Cool. Thanks for sharing!

Buy the time they release the Phone in Thailand we will be hearing about the next gen 1080 devices. If they want to gain more market share they need to get all there latest phones to everyone in a timely manner not 3 or 4 months later. Samsung and Apple can manage it why cant Nokia?

What's to say those next gen devices will have a photography experience like the 1020? We've heard that the 1520 will have a 20MP sensor. While impressive, the devices can probably coexist well with each other. Time will tell, but I don't think the 1020 is going to get knocked off the throne of photography so soon.

My 920 has stopped charging to 100% in the last few days and on top of that I like to upgrade every 6 to 8 months.
If you had to wait 3 to 4 months you might get a little frustrated as well.

The other day an O2 Chat person told me that it'll be available 27/09 in the UK. I didn't save the chat as I was disgusted at having to wait so long. Patience isn't a strength of mine.

I've got already Nokia Lumia 925, but I'll hope that they could do 6 app tiles to suit in 720p screen too)))

*pats his 822* I'm content with what I have for now, even though GSM signal is a bit weak on this device. Will have to see what comes around in the future!

820*
The 822 is exclusive to the USA.

And? He could have imported it. Or he could be in the USA. Just because there are exclusive phones in the USA doesn't mean people around the world can't get their hands on them ;)

True, but there are 2 reasons why I deem that unlikely:
-The 820 was already available here in The Netherlands way before the 822 was released in the USA
-The 822 is restricted to T-Mobile and it doesn't even work on the Dutch frequencies of T-Mobile (thank the Dutch T-Mobile for filtering out certain phone types!).

Me too. It's never far from my fingers.

Saw this on Nokia's Nederland FAcebook page today and i was excited .. Not sure if I want to get this or wait for the 1520.

Really? When i chatted to them i tried getting info out of the person at the other end, but there lips were sealed. They wouldn't even say the amount of internal storage on the device (i pointed out their info pages doesn't mention this at all), even tho we all know they'll have the 64GB variant. At least we have a timeframe now... Actually, if its 27th, if that availability date or starting to take orders? (i know you personally probably cant answer) if 27th is availability date, then surely orders should start soon? I mention this also to the person i was chatting to, stating that if its available in September as all their pages say, surely ordering should start soon (i was trying to get a date or at least acknowledgement)...but i got zip

I'm only interested in GDR2 being available in the netherlands on my 720

Come on already UK! I have a chunk of cash burning a hole in my bank account and I just know that something else is going to happen between now and end of September/October. You know - car breaks, rent needs paying, we need to eat, better half buys more shoes

Wow finally!! I will try this one and after that switch to the Bandit!

I ordered it yesterday. They say they deliver the 27th.
I also get a free grip via Nokia. This is the first phone where i want to be on the first row. My lumia 800 will go to my daughter so she will be happy too ....soon.
There so many moment where i wish my DSLR but wearing that big bag everywhere isnt just handy.
Even on a pocket camera u have to plan it to be with u. This is a no brainer always in the pocket.

Hi, As for Germany the Lumia 1020 is available since Aug 30th.
The price is around 690 euro ready to be delievered or 630 euro if you can wait a week or two. I bought it on the release day and its just awesome. :D
------------------------------------------
Send with my Lumia 1020. ;)

It's October, I still haven't seen it ANYWHERE
Even the Philippines got it before us, we're supposed to be the best ''plural countries'' (--_--)
Windows Central Newsletter
Get the best of Windows Central in in your inbox, every day!
Thank you for signing up to Windows Central. You will receive a verification email shortly.
There was a problem. Please refresh the page and try again.