Expansys UK reveals pricing and availability of Nokia Lumia 1020 - fetch your cheque book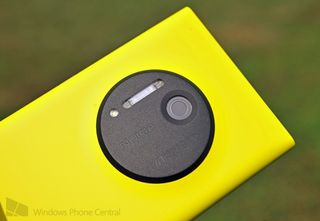 The Lumia 1020 was recently announced by Nokia and is already starting to be shipped to those who pre-ordered the Windows Phone in the US. Over here in the UK, we're still waiting for mobile operators to release details regarding availability and pricing. Today, Expansys has revealed that the Lumia 1020 will be sold by the company starting the first week of September (exact date still to be confirmed) for... wait for it... drum roll, please... £599.
Once you've managed to secure a personal loan with your local branch, Expansys will have the Lumia 1020 available in three colours - black, white and (our Daniel Rubino's favourite) yellow. It's definitely worth noting that these handsets are sold unlocked and are not tied to mobile operator contracts. You'll be free to use the handset on any compatible contracted or PAYG (Pay As You Go) plan.
The premium price tag is for a premium Windows Phone experience. Nokia is attempting to cater for all types of consumers. Some examples: the Lumia 520 is for those with tight budgets, the Lumia 920 is perfect for anyone who likes to have all features and functionality for a reasonable price, and now the Lumia 1020 if you wish to take full advantage of a 41MP camera with incredible optics.
The Carphone Warehouse is also looking to rock the night away with the Lumia 1020 soon enough too. If you haven't already checked out our previous coverage of the device, our in-depth review is certainly a must-read. It was noted in Dan's review how the handset is an expensive, yet niche Windows Phone. Don't take many shots with your phone? This thing is probably not for you.
Lumia 92x owners: don't feel forced to upgrade if you're happy with your current handset. While there are improvements included in the Lumia 1020, you'll not be selling Lumia Windows Phone 8 hardware at antique auctions anytime soon. We'll look to update you all once the Lumia 1020 goes on sale here in the UK. Head on over to Expansys UK to pre-order.
Source: Expansys (Lumia 1020 - black, white, yellow)
Windows Central Newsletter
Get the best of Windows Central in in your inbox, every day!
Rich Edmonds was formerly a Senior Editor of PC hardware at Windows Central, covering everything related to PC components and NAS. He's been involved in technology for more than a decade and knows a thing or two about the magic inside a PC chassis. You can follow him on Twitter at @RichEdmonds.
Perhaps expected, but still $920 is a hell of a price. And I thought the US price of $659.99 was high.

You sure that the price is $920?

Take off 20% and you get closer to the tax free amount.

Expansys is always more expensive than places like Clove so this shouldn't be seen as the MSRP, no need for people to run around screaming its too expensive. Or doing the inevitable, incorrect direct conversion to dollars and calling 911 for the ensuing heart attack.....

Usually the other way round, Clove is definitely more expensive, especially as they show VAT free prices.

The clove price is confirmed and it's lower

I'll wait for phones4u and Carphone Warehouse prices before I make my decision. I've only had my 920 since October and I can only get around £200 for it...paid £459! Too much of a hit maybe...who knows what the 1020 will be worth next year! My N8 retained better value...wtf!

I don't think it's over the top price wise. When you consider the iPhone5 is still £599.99 on Expansys and that's with their most meagre specs, the 1020 looks like good value to me.


Love the "secure a loan" bit :D Honestly though I've said to Rich this is too expensive for someone with a Lumia 920 trying to be financially responsible, but then I've also just realised this was the price of an N97 direct from Nokia a few years ago. On contract this phone could end up being fairly affordable for us Brits :)

Yeah I agree i was borderline not wanting to get this. But was able to find a relatively decent deal at the Microsoft Store and made the upgrade from a 920. Free Grip, $50 US gift card, and $10 dollar app card. I hope carriers/store are able to offer similiar deals in the UK. Because it's going to be hard pushing these phones once they realize the price is too high for what they're getting.

...same price as the 16Gb iPhone 5

...but with a way more usable camera than iP5.

and double the storage - sounds like a bargin to me :)

Haha! It looks like they're kicking iPhones out for Lumia 1020 devices with that price tag! I'd prefer L1020 then, and another winning for WPs!

TBF, in 18 months time, you'd get more when selling the IP5 than you would the 1020. The true cost is the difference between what you pay and what you eventually sell it for.


Seems to be £50 cheaper at Unlocked Mobiles.

Damnnnnn 600 bones that's a pretty hefty price no matter how you look at it. If I was still living in UK I might have had to sell my car to get Lumia 1020 :p

Great idea, although my car cost only half the price of a 1020 :-S

I thought cheques were made illegal in the uk. To be fair that's cheaper than what I have to pay for my 920

Inb4 US folks start correcting it's spelled check.

I had already tipped about this... ...anyway, it goes in line with the prices announced for Germany: 698€ arriving August 23rd. (And In Portugal the L925 is priced at 640€...so I expect the L1020 to arrive for no less than 750€)

To put it in perspective Expansys still want near £200 for the 620. You only check Expansys to see what the maximum price is on a handset.

Ha true, their stuff is always massively overpriced. Never understood how they keep in business, who actually buys from them?
But I actually for once don't think this is too expensive (for what it is). The 920 was £450 when it came out, given the camera on the 1020 this seems a fair price. A big price, but a fair price.

£100 too expensive for me

Right I'm interested but who has said that it will be available first week in Sept?

Questions around expansys: Who would you buy from if you wanted factory unlocked phones in Canada?

Is it just me or is it absurd that phones are starting to cost more than computers. It's ridiculous. $917 for a PHONE!

Is that with LTE? Because Expansys usually charges about $125 more for LTE versions. Oh frack it--here's a grand now give me my phone.

Expansys have been a complete nightmare for me to deal with. I had a faulty Lumia 820 and they wouldn't fix it. Also, the phone was meant to be 4G but because of the region the phone ACTUALLY came from it was disabled. I'll never buy from them again.
Windows Central Newsletter
Thank you for signing up to Windows Central. You will receive a verification email shortly.
There was a problem. Please refresh the page and try again.