Lumia 1020 not to be exclusive to Rogers in Canada, also heading to TELUS with Lumia 625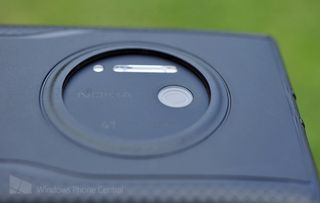 We reported earlier that Canadians will be able to enjoy the Lumia 1020 from Nokia this coming October. This information still stands, but we also stated the Windows Phone will be exclusive to Rogers. This part is where it's not entirely accurate. TELUS will also be stocking the Lumia 1020 as well as the new, gigantic Lumia 625. Good news if you're not with the mobile operator.
MobileSyrup has relayed that both Windows Phones will be heading to TELUS, meaning you won't have to switch over to Rogers if you are desperately looking forward to get your hands on the latest flagship with the 41MP camera. Soon you'll have the choice between the beast that is the cameraphone and the Lumia Windows Phone with the largest display. 4.7-inch screen big enough?
Source: MobileSyrup; thanks, muderko, for the tip!
Windows Central Newsletter
Get the best of Windows Central in in your inbox, every day!
Rich Edmonds was formerly a Senior Editor of PC hardware at Windows Central, covering everything related to PC components and NAS. He's been involved in technology for more than a decade and knows a thing or two about the magic inside a PC chassis. You can follow him on Twitter at @RichEdmonds.
YES! But Nokia is already to release a 1080p, quad core phone :(

You won't see the difference between 720p and 1080p. Plus this isn't Android, even a dual core is smoother than an octa core Android.

Hopefully Verizon gets it as well.

With updated specs and more storage please

Great news not just for Telus customers but for the Windows Phone platform as a whole. Choice is good!

SWEET!!! I'll be moving to Canada soon and was thinking about going onto Telus. This is great news.

Where in Canada are you going to live. If in Alberta Telus for sure. I am on Rogers in Alberta and it is very good as well.

I'll be moving to Calgary, Alberta. I'm def going with Telus since my wife is already with it. So it'll make it easier.

Welcome! I'm in Calgary as well. My wife will be buying this phone as I have a red 920 already but who knows she may convince me to get one too lol

Thanks! I'm excited. Hoping that the 1020 will be out or coming out soon by the time i move.

Small world, Calgary here too. FINALLY A GOOD WP FOR TELUS. Or decent, i mean i wish it had better hardware (cam excluded), but honestly its worth the buy.

Eastern Ontario for the win! Although, Calgary is much better than Edmonton.

Great news, finally Nokia is waking up to how damaging exclusivity is to them in North America.

It is best thing that could have happen. To compete with other phones on the market they need to be on as many carriers as possible. Now we need the Nokia 1020 on the rest of the carriers in the states.

Bell where are you??? LOL!!!! I really hope that they get the 1020 and also some more Nokia devices, which would be really good for the WP platform!

This! I would never go to Rogers but I would definitely switch to TELUS for the 1020... Come on, Bell... Give me a reason to stay.

AWESOME NEWS! I have 2 L620s from TELUS and both my Rogers L920s are activated with TELUS also... Fantastic customer service. Will be picking up L1020 ASAP

Just a note to Fido and Chatr users, you can still use your sim card on a locked Rogers Lumia phone and it will work properly.

That works? Nice! I needed to unlock the Lumia 710 to get it working on Fido, but I see things have changed now. Good news.

This is my personal experience with a Rogers Lumia 920 working out of the box on a Fido sim, and a Rogers Lumia 520 working out of the box with a Chatr sim card.

It seems Rogers locks their Lumia phones to work with their subsidiary networks (Rogers, Fido, Chatr), so I am assuming the same will be on the Lumia 1020 when released.

and your best bet buying the phone without a contract or Rogers account would be in a Microsoft Store. I will attempt getting it from the Yorkdale Mall in October, unless the Lumia Bandit turns out to be worth waiting for.

Yeah, those phones are network locked, not carrier locked.

This will also work with a TELUS phone on Koodo.

Good news, WP8 needs to be shared with as many populus as possible

Hopefully this will help move Windows Phone beyond 1% market share in Canada so we can get major Canadian apps (i.e. banks and news)

Exactly! RBC I'm looking at you...

If Cineplex and BMO came to WP, I'd be happy.

RBC has a W8 app. They are just being lazy dicks.

Definitely. As a person living in Waterloo, I see so many BlackBerrys. Too many BlackBerrys and not enough Windows phones.

Dang it! Bell drops the WP ball again!

Bell favors android more than anything..

Definitely CDN banking apps, PC for me or TD.

This is good news. Finally Telus is getting a phone I want. Can't wait to get my hands on that 1020!


Maybe the new Microsoft store in West Edmonton Mall will be open by the time this is released. Anyone know when it's opening?

wow 1020 on Telus? that would have been my next phone if not for the fact i want a quad core variant :P


Yeh, i know what you mean. I really would have liked a AMOLED screen, or something alike... Quad core proccessor, and just better battery and such.

FYI. Verizon is entering Canadian market. End of three year contract?

Three year contracts end for all Canadians in December anyway.

Curious if Bell/Virgin will get on the bandwagon as well.

Don't buy it in Oct. Buy it mid December when Canadian contracts are 2 year mandatory. Not freakin 3 years.

all canadian carriers have shifted to 2 year contract already.

Color me surprised that its not a Rogers exlusive. haha I'm with Bell soooo still sucks for me BUT at least Nokia is getting a bit better.

Bell hasn't had a Lumia device at all yet. they only have the ATIS S right now as they dropped the HTC 8X a few months ago

What case is that in the pic? And does it come in yellow?

Oh hell yes. Good thing I just got a 520 to replace my busted 800 because this my next phone.

Well I wish Bell would get more Windows Phones (especially Nokia ones), but I'm at least encouraged to see that they're not so exclusive to Rogers.
Windows Central Newsletter
Thank you for signing up to Windows Central. You will receive a verification email shortly.
There was a problem. Please refresh the page and try again.