Lumia 1520 x 35 = Nokia Skirt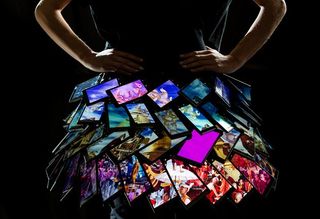 New York Fashion Week may have just ended, but London Fashion Week is about to start. To celebrate, Nokia's made a cutting-edge interactive skirt for the occasion. How'd they do it? By putting together 35 Lumia 1520's they were able to make the piece to celebrate London Fashion Week 2014.
Nokia teamed up with designer Fyodor Golan to make the interactive skirt. The images on the screens of all those Lumia 1520's change color as the dress moves. This helps to create a synchronized shimmering effect. Nokia made a custom app for the skirt to get the desired effect.
How many of you ladies would rock this skirt if given the chance? Hit up the link below to see more shots of the skirt!
Source: Nokia Conversations
Windows Central Newsletter
Get the best of Windows Central in in your inbox, every day!
Alright, So you really counted the lumias there?

Didnt have to count. It was said lol

35 Lumia 1520 must be very heavy for those skinny girls

The phones weigh more than the girl :) hahahaha

No really, the nokia 1520 weights less than my nokia 810 and much bigger.

All well and good, but what if she wants to sit down?

WoW, can I get one of those phones please...just sayin'

I would not mind lifting that skirt and...

Checking out of they have good cameras, yes!

those awesome cameras are pointing at the wrong direction!

It depends on what direction you want to look at ;)

Sadly she has pants on under boys.

...and see she's actually wearing Jeans under that heavy skirt... -_-

If they made shorts of these for men!

Cnet article had the count at 80 1520's and1020's... http://news.cnet.com/8301-10797_3-57618940-235/nokia-makes-a-skirt-from-... Need to find out the real number! Working out plans for Lumia ski pants :)

I'm not a lady, but I would rock the hell out of that skirt. Who's with me?

Totally would wear this....straight to the bank, cuz that skirt is worth bucks! Could there be a better reason for a dude to wear a skirt?

That picture I count at least 42 and that's not all...

There's 1020's as well.either ways that's one expensive ass skirt

The skirt is only wearable in 5 minute increments before you have to tap and swipe up all the screens.

Just set the lock screen timeout to 'never' and be fine.

You have a Never? I don't have a Never.

Yes, I have a never on my 920 as well.

I also have 'never' for screen timeout on my Rogers 920 also.

You mean during coding? Coz 30mins is max timeout setting on the O.S settings.

I have a Never on the 920

I have "never" on my 521 and my 920. Also, the app can be programmed no never lock out

My 1020 has a max of 5min.

Never option is coming in 8.1

5min max here on my 1020 also

Only the phones with LCD displays have the ability to set the Lockscreen to Never timeout, AMOLED is limited due to the fact the screens can burn out. Its the same reason they don't make AMOLED Tvs, it doesn't have the necessary lifespan, AMOLED is used in phones because of how often a phone is put into sleep.

Nope after the first update, my 928 got a never option. Its currently set to never. However this is exactly why I prefer LCD to AMOLED. Even before I got never the screen already had burn-in issues. I hate apple, but now that I have an AMOLED phone, I know why they don't use it and completely agree with them for not using it.

You'd have to tap that ;)

I wouldn't mind wearing that skirt #straightManTalking

I could talk the wife into it ...but somehow she would make me pay for it....just saying.

check out the video from BBC World's first smartphone skirt http://www.youtube.com/watch?v=Q_QtuhUCAnQ

Wpcentral, put this video in your article!

Actually, Sam, 1520 x 35 = 53,200

That would make one heavy skirt. Too heavy for me to want to wear.

Sam, where are you? It's very sad the fact you're not here with me in Brazil... I wanna spend the Valentine's Day with you!! haha! JstKding

Sam, international playa.

Nokia armor. By yismr tis a wondrous sight.

35 x 650 euros = 22,750 euro dress

That's a one heavy skirt lol

World's first bulletproof skirt


I'm no lady but I'll charge the phones for her!

Each lumia 1520 weight 209g
So... 209 X 35 (which im sure its not only 35) = 7 kilos and 315 grams
That is really heavy...

I wont wear it, but I am wiling to charge them one by one when they ran out of juices!

What about 1520 suit for men? Haha :D

Stylish and I still get a workout!!put me down on the list for an order!!

dear nokia, i will miss your weird & wonderful craziness once the device section transfer to microsoft has been completed. i somehow don't see MS trying a stunt like this.

I love lamp!!! Posted via the WPC App for Android!
Windows Central Newsletter
Thank you for signing up to Windows Central. You will receive a verification email shortly.
There was a problem. Please refresh the page and try again.