Nokia MixRadio gains new features, including better mix support in latest update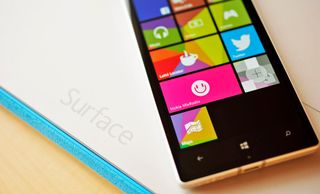 MixRadio from Nokia today has received a nice little update to version 4.4.0.418, and it's clear you folks are enjoying it due to the number of tips we've received. Maybe that's just because Xbox Music is faltering on steady improvements, while the MixRadio team is lapping them.
While today's update, up from last month's 4.3.0.387, is only a slight revision number, the new features are squarely focused on mix support, including offline and automatic refreshes. Let's take a look at what's new.
Nokia MixRadio 4.4.0.418
Automatic refresh of offline mixes. Offline mixes will try to refresh after 20 days when the app is open and connected to WiFi.
Search for mixes.
Mixes will now be recommended to you, based on your unique music profile.
Bug fixes and performance improvements.
We've also heard it should work better with those on the 8.1 Preview.
As you can see, the MixRadio team is working hard on, well, mixes. Makes sense. In fact, it looks to be evolving into a Songza-esque type service where you can find mixes and have ones brought to your attention based on your likes and previous selections. We're not sure if MixRadio will ever rival Songza's quirky personality (have you tried their Mad Men themed ones? Try 'Don Stares into his drink' (opens in new tab)), but we sure would love to see them try.
The auto refresh after 20 days melds nicely with last month's update, which displayed 'time remaining before expiry', though didn't go the extra step in refreshing it before it was unplayable. Now that has been addressed.
MixRadio is certainly catching on, as we can see from our own feedback on the app and knowledge from users about it. Who can blame them? The last few months have seen a nice transformation in the app and service, resulting in a fresh and sharp looking music app.
If you have a Nokia Lumia, pick up the latest version of MixRadio here in the Store. And don't forget, you can ask for features and give feedback via their User Voice forum: nokiamixradio.uservoice.com.
Thanks to the small army of MixRadio fans who tipped us!
Windows Central Newsletter
Get the best of Windows Central in your inbox, every day!
Daniel Rubino is the Editor-in-chief of Windows Central, head reviewer, podcast co-host, and analyst. He has been covering Microsoft since 2007 when this site was called WMExperts (and later Windows Phone Central). His interests include Windows, laptops, next-gen computing, and for some reason, watches. Before all this tech stuff, he worked on a Ph.D. in linguistics, watched people sleep (for medical purposes!), and ran the projectors at movie theaters because it was fun.
No. We don't know when the update for Xbox Music will happen. Please don't ask. Related: Who'd want to see Songza, Xbox Music and MixRadio merge into one mega service? A man can dream...

That. Would. Be. Awesome!!!

This comment remembers me a proverb: "prevenire è meglio che curare" (prevention is better than cure) XD so true

Or better: "Prevenir é melhor que remediar" (prevention is better than cure).

Why should Spanish version better?
XD

Go to Bing Tradutor and see what is the language.

It is not Spanish! It is Portuguese! :S

for me, the xbox music is fine. i like it that way.

Will be nice if it's possible to use XBox Music Store & Pass through MixRadio too.

Yeah, that'd be really nice. Hope that happens, though due to the complexity of licensing deals, not sure it could.

Xbox already has a Radio, no reason they can't take the Mix code and add it to XBM to bring that radio up to par. Only license they should have to deal with is with Nokia if MS didn't get the apps outright in the buyout.

Yeah...that's not very accurate at all. Licensing deals are done on a per label, per country basis. The licensing terms that Microsoft has signed are not the same as what Nokia has signed. You can't just "merge" contracts, you have to renegotiate them, especially since Xbox Music allows individual song download for 'Pass' holders, something that MixRadio does not even have. Microsoft can't just take Nokia's music offerings and add it to theirs, then offer it for download. Also, I think you're oversimplifying the whole 'add Mix code to XBM'. Things are not that simple: see current status of the XBM app.

I'm still confused as to what's included in the purchase of the Devices. I know Here Drive are not part of it, what about MixRadio and the other Nokia Apps? Will those be owned by MS?

I'm not talking about adding Nokia's licenses or library. Not even close to what I said. There is zero need. Just add the features into XBM's radio player so it operates the same way. They already have their own licenses, their own library, and it is substantially larger than Nokia's if it is not in fact, the same library. There is no merging, at all.
You're talking about reinventing the wheel. I'm saying take the lug nuts off one car and put them on another.

That would probably be the best thing to happen to all 3 services.

Daniel from where can I get that background wallpaper which is on that phone in thumbnail I liked it very much

That looks like Polyscreen (app). It will give you an easy way to create a unique background very similar to this one.

I had kinda hoped that when Microsoft bought Nokia, they'd be getting MixRadio and integrating it into Xbox Music, but that's, disappointingly, not the case. I gave up MixRadio back when it was Nokia Music because it did a horrid job of giving me mixes I liked, based on bands I did (I'd give it about a 20% success rate). If the mixes are getting better, I guess I'll have to try it out.

I just downloaded Songza and I'm listening 'Don Stares into his drink', the selection is very silky, "suave" and funny (Man, I need a suit and an Old Fashioned!). Thank you very much

Or MS can just buy Spotify and enable Cloud steaming. Should be all set then.

Is MS also buying Mix Radio Service as part of Nokia acquisition ? If they are, I hope XBox Music when merged with Mix Radio brings a new price point for Music Pass in line with the premium Nokia Mix Radio price (about $4 per month). I think that will bring in a lot more of my family members to paid subscription levels. Although I am already an XBox Music Pass subscriber and don't have an issue with $99/year price, others in my family with less disposable income that I do cannot justify that price whereas $4/month is a lot more reasonable.

Was going to ask if there was a chance of mix radio and Xbox music merging would be a step in the right direction!!!

Weird. The only thing I wanted was the transparent tile lol

where can i get this background picture??

What is the wallpaper being used in the phone in the post?

It's still pink, will never use it. Disgusting.

ahahaha, you have color issues Just call it Magenta. T-Mobile does.

And WPCentral logo also is :v

Um, you can customize our Tile and pick your color ;)

On website you can't change the banner

Hey Daniel.... How yours mixradio tile is plain magenta....

C'mon thats not so bad xD

My tile is not PINK anymore since i'm using this http://www.wpcentral.com/start-perfect-custom-windows-phone-81-start-scr...

Thats a good idea, but what about the logo? Is it shown on the tile?

Same. They f* up the logo/theme so bad that I just gave up on the app. Couldn't stand that thing in my screen.

good alternative is MUSIC+

every time it updates i keep hoping for the color change.

lol Comedy! "I don't like the color of the icon so I'm going to punish myself by not using this fantastic service!" -1520 Wuteva.

Such hate over a single colour. People are so funny.
I wonder if someone gave you a pink sports car, would you also refuse to drive it?

Well, change color and then drive it xD

Still not available in my country

i really hope now with Ms resources Mix radio can expand to other countries as well

Probably knowing MS most things included Lumia will become a beta in US only ;)

that's what i fear , all focus on the US market

Change the region in your Nokia Account to US. Or if you don't have one, just create a Nokia Account with US as region and use it in signing in to Mixradio. Works like charm!

I have been experiencing this problem.I brought my nokia lumia 520 1 yr back and at that time the advertisement says that free mix radio for lifetime. But soon after 3 months it started giving pop for account renewal. Can you please tell me is nokia mix radio sevice for listening mix only is free or not

Will actually you have to go to the store you bought the phone from after 3 months and they'll renew it to you for free, for lifetime, the store you bought the phone from should have told you that at the time of purchase, they told me to come back after 3 months although I never did because I don't use the service!

That's not true, who told you so?

Same here. I did a hell lot of searching, even got a thread on the forums. No definite solution yet.
Help !
Infact i talked to a nokia executive on online chat, he said that it wasn't supposed to be free for lifetime. What the hell ! Then why do they call it free ?
#520

I m using 720....after subscription ended my mix radio was stopped working too....it was always asking for renewal....thats why i uninstalled it,but some days ago i re-installed the app....now streaming is working fine without subscription....but downloading is still asking for renewal....but who cares for download....streaming is original thing and its working without subscription renewal.

Oh really ? Let me check it by downloading again !
Edit: thanks a lot pg2900, it works now !

I use mix radio on my Lumia 920 and I've paid for the premium a few times but most of the time I just let it expire and I can still play songs with the limited features, limitations in skipping forward and max 3 offline lists etc.
That's what I understood was the free package for all Lumia phones?

Amazing, but not available on my country...buuuuuut, when i travel to USA, i can enjoy MixRadio...back to my country and nothing (Costa Rica).

Change the region in your Nokia Account to US. Or if you don't have one, just create a Nokia Account with US as region and use it in signing in to Mixradio. Works like charm!

The tile lost it`s transparency after this last update on WP 8.1

mines been pink the whole time

anyone knows how to get Nokia MixRadio in unsupported countries??

you can change your phone's country to one that supports Mix radio , US for example

Im always on USA settings, perphaps i can use Cortana too and im not in USA right now.

Change country in your Nokia account

Change the region in your Nokia Account to US. Or if you don't have one, just create a Nokia Account with US as region and use it in signing in to Mixradio. Works like charm!

Are there any good mp3 players out there that are not ipods? I really wish there was a Nokia WP based mp3 player like how Android has the galaxy player. Should i just get a 520 and use it as a mp3 player?

Not sure what country you are from, but Best Buy had the 520 for $50 off contract. Update to 8.1, throw an SD card in that bad boy and you have a pretty awesome/versatile MP3 player.

that's what i did for my 5 year old.

I'm in the US. Thanks for the tip. With the availability of offline playlists and better service, should I go for Nokia Mix or Xbox music? I'm worried about what will happen if I invest in Nokia mix's service now that Microsoft owns Nokia.

I'd go Xbox Music especially if you have an Xbox and or Windows PC. You get 5 devices + Xbox.

Thanks, plus I have a tablet so that should work out nicely. Now I just have to hope Microsoft makes a lot of the changes to the app a lot of people have been suggesting. Apparently, Zune was awesome. Wish I had experienced it back in the day.

Incidentally, do you know the name of the Nokia device that lets you control your music? It's small and comes in different colors. I can't for the life of me think of what it's called.

I'm going to have to look into this. I've been contemplating whether I should get an iPod classic, but this seems like a better choice.

Me too. Maybe instead of a 520, I might be able to find a cheap older Nokia phone on Craigslist or eBay and repurpose it as an mp3 player. I seem to remember there being a deal to get the 920 for $100, but I can't remember if it was on or off contract.

Only if you plan on using it for music don't update it to 8.1, so you can still have a good built in music player. The standalone app is the worst.

Think franzDanconia meant behind the tiles, if so, think its from Zedge.......

Playlist support would be awesome. I used this right now for my primary, until Xbox music gets it together

Why cant Nokia mix radio add support for creating playlists from the existing music in our phones?

I don't have my password n mail id as I took I fone from my friend n hez in no touch with me . Wht shud I do ? To use mix radio ? Any helps plz . It does nt regestir on my id .

I think you're keyboard is broken, as it's missing some letters. That might be your issue.

i laughed hard edit : your :P

Why autocorrect doesn't help everything

Haha, that was a good one. I thought you were always serious

It's quicker, however... there's still a bleeding problem with the artwork. My OCD can't handle listening to Lana Del Rey while seeing "In the zone" album artwork

Why is this not in Denmark???? Boooh.

At least we have Spotify, in my opinion that's better than mix and Xbox music.. Just got to get the updated app already!

Is Mix radio also part of the Nokia deal? If so I can't see both services being offered on the platform, why not just merge them.

'just merge' them certainly sounds easier said then done. Different code, different databases, different licensing deals, different teams...there's a lot to consider before "just" merging them. It's very complicated and if they have such plans, it will be months (like 12-18) before that happens, is my guess.

Not available in my country. Is there any way to get this work in my region(serbia) I have already changed it to us region and still not working.

Did you try to change you country settings on your Nokia account?

Does Nokia mix radio now belong to Nokia or Microsoft?

But you can't save the music. They canceled the offline feature

Where did you hear that? I can still sync my lists for offline uses.

Yay, much better than Xbox Music !

We want Xbox music update

And I want on-topic comments ;) We don't always get what we want, lol

Does anyone know how the auto app update works in 8.1? Waiting to this to install. Yes I know I can force it to do it.

Go to your settings for the store and change your settings for auto updating. Here you can also force it to search for updates just like in Windows for the PC.

I'm starting to think Tim Cook is in charge of Xbox Music.

Mix radio is horrible, if I create a "50 Cent" radio I don't want to hear music from 1994.

50 Cent started making music in 1996 so it makes sense to get music based around the time he was making music.

It's a mix of music around the artist you pick and the genre the artist work with. And as replied before it spans the entire active time of the artist, that's the whole point of mix radio. If you just want a specific artist, this might not be the app you need.

this actually is faster, there used to be a few second delay when loading my music, sometimes making me think the app might have frozen. now it loads right up. i've switched to this from xbox music, at least till they get their shit together. even with all the bugs 8.1 is rockin'. huge step in the right direction.

Still no playlist function

Works like charm in windows 8.1 preview yay

Damn it... Still not for Pakistan

Still won't load up my local collection albums and crashes :(

This update erased all my favorites. I'm really pissed about it. :(

You may have to log back into your Nokia account, to which it syncs that stuff.

Had that issue to. Just before the update I kept getting logged out even after just logging in. Guess they had some issues with account access just the same day it got updated. Works like a charm now.

I love Nokia Mix radio it's a brilliant app but Ive noticed a couple of bugs with 8.1 and Mix radio (still this is Dev preview) but on the whole still a great app. I really hope it's here to stay post Microsoft / Nokia aquisition.

Not available in Belgium. Sad

Music+ is the best app I've tried hands down.

Microsoft should integrate Nokia mix radio into Xbox music

The mixes are far too short and repetitive for my liking.

I still waiting for a Last.fm scrobble support...

After the last update, I noticed the offline mixes were crashing. Will this update fix that?

This is definitely one of my favorite and most used apps since I got my 925 (never used it on my 920 until after and only used it as Nokia Music like once on my 810). Really nice that it now automatically refreshes mixes!

And we don't have gapless playback yet because?

Where I can get that wallpaper?

Overall it runs dramatically faster than before on my Lumia 625 with WP 8.1 preview. I'm really appreciated. :)

I still have a lot of problems with it.
Chainging songs is always slow, and now the thumbnails or the background album art gets mixed up with my other songs.

i cant seem to download any songs from nokia music anymore! it simply displays that it is 'no longer possible' :(

where can I get that background wallpaper which is on that phone in thumbnail?

V4.4.418 seems good. But Y.? downloading songs has been barred.? Now mix radio is just for listening offline mixes.?! Subscription goin to WASTE.! WTF.?