Nokia MixRadio updated with new UI features and usability improvements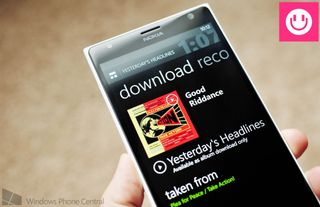 We haven't seen a significant update to Nokia's fantastic MixRadio app in a few weeks, but that's changing this morning with version 4.3 arriving in the Store (that's a bump from version 4.2). What's more, this isn't just bug fixes, but rather some fiddling with the UI to make navigation easier and some improvements to the offline mix capability.
Diving into the supplied changelog, we can see the list of what's new in 4.3.0.387:
Improvements to offline mixes: time remaining before expiry is shown, mixes become playable before they have completely downloaded, mixes remain playable while being refreshed.
Navigate Home from any page in the app.
Navigate to the Player from any page in the app.
Bug fixes and performance improvements.
Let's start with the UI changes. Now on most pages, you have two new areas for navigation (seen in the lede image): at the upper left is a home-like button that will navigate you back to the main page of the app. Likewise, there is now a timer in the upper right that shows the duration of the song played, but tapping that will take you to the player, which is pretty useful. It's a little unclear on the discovery aspect of that feature, but it does look really good plus it's super useful as you don't have to hit the back-button a bunch of times.
The offline mixes feature, probably one of the best things about Nokia MixRadio, also got refreshed. Now your offline mixes will let you know when they expire. The app will notify you that "due to some tricky radio licensing rules offline mixes must be refreshed every 30 days"; but with today's update, you'll have a better idea when that needs to happen. That fix is probably ideal if you're traveling or away from Wi-Fi often. Having said that, we haven't found this feature yet, so if you see it, let us know in comments. The other additions just make it more usable, with mixes being able to be played while downloading and refreshed (previously, you had to wait, and it could take 10 minutes to download on a slow connection).
Nokia MixRadio is a fantastic looking app, and if you're not using Xbox Music, it's a solid alternative. The big question we all have of course is what happens to MixRadio once Microsoft takes over: kill it, merge it or leave it on its own? Good questions for which we just don't know yet. (We're hoping that MixRadio either takes over Xbox Music, or they merge the best parts).
Regardless, download version 4.3.0.387 here in the Store right now.
Thanks, Mathieu G. and Dean P., for the tips!
Windows Central Newsletter
Get the best of Windows Central in in your inbox, every day!
Daniel Rubino is the Editor-in-chief of Windows Central, head reviewer, podcast co-host, and analyst. He has been covering Microsoft since 2007 when this site was called WMExperts (and later Windows Phone Central). His interests include Windows, laptops, next-gen computing, and for some reason, watches. Before all this tech stuff, he worked on a Ph.D. in linguistics, watched people sleep (for medical purposes!), and ran the projectors at movie theaters because it was fun.
What a nice app to flaunt windows phone in gym, parties, and everywhere.

So does the new [insert product name here], what a coincidence! :P

app opens a lot quicker on my lumia 920

It does! Oh finally! It was really annoying switching back into the app, it's super fast now.

same goes for when I open the app from music controls , love the new update

Yes, that's what I meant mostly :)

Hey Himanshu can you use it for free ? I have a big big problem that i cant even use it since my 3 months free expired. Whenever i click on play me, or some mix, it asks me to renew my subscription of unlimited downloads, while i just want to listen to the play me feature, i dont care if i have only limited skips. I have a forum post about it too, 2-3 people told that they can use it for free, but not me ! I even tried making a new nokia account but to no avail ! :( help ! I haven't yet understood why is it called free if i cant use it for free ! Please help !

Are you're trying to play drm content you downloaded from the service while you had a subscription?

I am not trying to play anything i downloaded. i open the app, and then i click on 'play me'. As far as nokia advertises, play me feature is free but with limited skips. I cant even open play me ! It asks me to renew my unlimited download subscription, but i DONT want to use the download feature (long story), i just need play me ! I cant even use it, while many people wrote on the forums that they can use play me even after many months of the free trial expiring !

I am still enjoying the service , will expire soon (april 19th) , i got the service for 1 year , after the service expires , you can not download songs or create mixes ,you need a valid subscription to continue enjoy playing music , here in Delhi , it only cost 280rs for 3 months , can easily get it voucher code from nokia care centre , sadly they don't have a1 year voucher :(

I'm not trying to download songs/create mixes. I just want to use the play me feature, which nokia claims is free with limited skips. I cant even use it !

Can we pay thru credit card or something?i seriously love this service and mine also expires soon , hope they make payment easier

Hey saksham alternative you can renew via oxycash too.

Thanks for the advice bro ! :) but i dont want to download songs from it because those songs dont have a pc-readable metadata and it spoils my library on pc.

I get you, I am having the same problem, for me my whole unlimited subscription became invalid, as I changed from Lumia 820 to Lumia 925,which incidentally was my uncle that he bought from Malaysia. Nokia Mixradio is kind of useless app for me as I can't use it. I am kind of fed up Nokia service ppl too they don't have a clue, I even bought a voucher as they advised and its was useless. What's with ppl telling u to renew subscription,what Saksham and I am telling is WE DON'T want to renew subcription we just want to use play me for free as Nokia advertise.

Must say haven't used it in a while, as the free one month I got ran out and sometimes need to skip a few

[edited] posted in the wrong place.

What happens since your free month ran out ? Mine ran out and i cant even use 'play me' or anything else ! :( it asks me to renew the unlimited downloads subscription !

Just buy a new subscription. I just did. 281₹ for 3 months, or 135 for one month, or 59 for one week.

I'm a student man ! Besides, i dont want to pay for a service i wont use (i dont like the songs downloaded from it, their metadata isn't visible to pc, and it cant be edited unless i convert it again to mp3), i just want to use the play me feature, which nokia advertises as free. Why are they lying if it isn't available for free ?

what are the payment options? like is credit card accepted or what?

Still not available in my country. Shee

Same here in Belgium, just ridiculous

Europe countries should be their priority :( Google play music is available in Slovakia, whereas nokia mix radio isn't :(

I got it to work in Slovenia. First you need to set your phone country/region to US or UK or some other supported country. Restart. This will enable you to download the mixradion from the store. Now to go your nokie account settings and set your country to US as well. Or create a new nokia account with US address. Open mixradio, sign in with the US nokia account, activate trial and you're all set. After trial is over, you can still enjoy the free version of the app. That's really all it takes. After it's all set I think you can set your location back to your country, but I'm not sure. I left mine on US because there's more apps in the store and more comments. And for nokia account, it really makes no difference what your country is.

Thx for the tip dude! Works now like a charm :)

Thank you! Finally, I was able to make Nokia Mixradio play on my phone!

:o Works like a charm! Wiiii Thank you so much for this tip! A really good one!

you could just set your store to the Netherlands and download it from there. No problems with other apps not being available as far as i have discovered and gives you the opportunity to use mixradio (that's how i do it). You could then switch back the Belgium store if you want but then you'll always have to switch back when an update is available. just a suggestion of course ;-)

Also waiting for Philippines support

Same here in Costa Rica! It was supposed that by buying a brand new beatiful Nokia Lumia (mine is a 1020), the user will have free access to Nokia Music (now MixRadio)... -.- I want it!

Available in Brazil since today at morning. :)

Waiting for Estonia support! C'mon!

"Go Home from any page in the app"... This is want I want for Xbox Music and Video since day one!! Try to search for many musics/videos: you will have to go back many times until you arrive in the home screen! Is annoying!!

Nice, even though Xbox music is worth my money ND I love it

Does it now keep your previous mixes when you update and have a way to sync mixes to your account so you don't have to recreate them everytime?

One of my least used music apps but always thankful for ongoing updates.

Ahh, the top bar with the "minutes left": Zune ashes. How I miss you dear friend!!

Too bad it is not available anymore in other countries like the earlier version. :(

Downloading. Hopefully it fix launcher the app from the volume display. *edit* It did

How do I get non-edited music?

Microsoft will destroy it. Nokia Mixradio will get destroyed into several pieces causing huge famine all over the world. This is for Daniel.

Best app for all Bollywood songs.

I use it all the time to download and listen to my music as India still waiting for Xbox music.. Sad my free subscription period ending this May :( May consider buying the subscription..

Doesn't seem to be much of an update and you still have to press back on screens...

Nah, it's a pretty big update. Much faster to load on certain devices, new UI changes to make it easier and improved Offfline mix support.

It is faster for sure, I don't use offline mix so I guess I dont see much of the changes

wish it was available in my country

Who listens to Good Riddance at WPCENTRAL? That's an awesome band.

That's be me (took the photo) and Seth does too.

Love the new look. Anyway I got Yesterday's Headlines ringing in my head now. Why Daniel why did you use that


Hmm, I don't see an update yet on my 925. I used the app yesterday when I was out.

This thing is still a major failure, IMO. It did a horrid job at making mixes I liked, with the success rate of songs being about 20%. I found myself skipping songs WAY too frequently for it to be a useful application for me.

I'm gonna assume you're not liking or disliking the songs

You need to work at it. Fill your phone with your stuff, fave everything and play genre mixes and fave stuff there too. It learns. To start with you get any old nonsense.

Good update, now it can find information about my favourite singers, however, it still doesn't knows who Lady GaGa is #TechShadiness

It does know Gaga, but her name is not Lady GaGa. It's Lady Gaga. Xbox Music changes her name everytime to the wrong one. I had to turn off the connection to Xbox Music and re-load the album (I bought it on iTunes) to the phone. And now it shows all the information to my queen!*-*

C'est la même chose mon ami, however, I'm no programmer, so that might have have a certain effect while search for an artist's information.

I have a subscription problem why?

I definitly would not want to see MixRadio take over Xbox Music. I think Xbox Music provides a much better service; for the way I listen to music anyway. If they put the MixRadio radio mix feature into Xbox Music then boom I'm all over that, but not one or the other.

The speed at which this app moves now has melted my phone. Im typing on a gooey hot platic screen as we speak...

Thanks for mentioning my name for the tip!!! As always great community!!!!!

I hate to egg it on but I just busted up at work after I read the second post.

My biggest issue with this app: if you choose to close out of the app and want to open twitter for example, then you decide you want to change the mix, you can't get to this from the volume bar. You have to go to the start menu and open the app from the tile. That still isn't fixed. Even still, I'll never subscribe to music when this app exists. I buy CDs and rip them to my phone and get to keep it along with free mixes. My favorite WP app.

Tap the artist in the volume bar then use 'more by this artist' in settings to get to the main menu again. That's always worked for me. Bit of a hack but there you go, better than starting from the main tile each time.

I found a work around. If you tap on "more by this artist" it will bring up the navigation bar and you can get to the home page.

I wonder if it adds more Spanish songs to the mixes. All the Spanish stations only have 40 songs before they start repeating. Definitely not worth $4 a month for this reason alone.

I just want them to keep the mixes fresh. I just keep hearing the same songs over and over despite refreshing custom or premade mixes.

This app works perfectly in South Africa. Finally decent update.

Not available in PR after the update...

Has it fixed the biggest issue...offline mixes not working when internet connectivity is lost. That is so frustrating, and was/is my only gripe with what is otherwise an amazing service !!

That's odd. Offline means doesn't need internet. I've never had a problem with the offline mixes playing when going through areas with little connection availability. One of the best reasons to use this app.

I've been discussing this with Nokia directly on the Nokia Conversations website. It was a fault that they fixed, but which then returned with the last update.
It's a fault other people have found too (opening up MixRadio when there is zero internet connectivity prevents the app from checking the subscription status. Without that confirmation, all premium features were lost...including offline playback of most mixes).
I'll test the update out tomorrow and report back

Yeah, I just tried switching off wifi after downloading one of the mixes. It still works.

Intermittent problems downloading offline mixes in uk,

Fine here in Uk. Offline refreshes in the background now too which is an improvement.

Haven't installed the new version, but can I just say that Nokia Mixradio is awesome? I've been a user of pretty much all the streaming radio/subscription services at various points over the last decade, and it is hands down the most clever and easy-to-use one. Beats Music is close, but at least on WP they are not there yet.

Those navigation tweaks? It's about ******* time. Seriously, that should have been there from day one. Now I just to wait a day for the download to pop up on my phone.

Scratch that, the navigation stuff doesn't show in the now playing screen, so it's still absolutely terrible to get around if you want to play your own music.

Only for Nokia and thats a shame!!!

Just buy a Lumia! There are plenty of other reasons to do so...

Still no playlist management...

Can't even stream any music (territory: KH!) and I just wanna listen to bloody American songs!

I love Mix Radio +. It's the only paid music service I use. I hope Nokia keeps it available, since I have no use for Xbox Music.

Hopefully it replaces xbox music :D, funnily mix radio is what is actually keeping me from buying the surface 2 other than the wait on the price for the LTE version in the UK :P.

Not available in Dominican Republic yet, what's the Fing problem? I loved using Nokia music but since they changed it to shit radio i'm not allowed to use it anymore, great work keep it up Nokia.
Windows Central Newsletter
Thank you for signing up to Windows Central. You will receive a verification email shortly.
There was a problem. Please refresh the page and try again.