Nokia Music now live in the U.S. Marketplace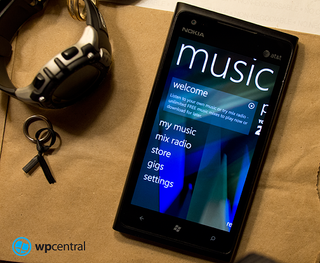 It may have take a while but Nokia Music is now available in the U.S. Windows Phone Marketplace. The music app is an exclusive to the Nokia Lumia Windows Phone and allows users to stream music from a collection of over 150 exclusive playlists.
In addition to the playlists, users can tap into a library of millions of songs and generate their own playlists.
To enhance their music experience further, consumers can use Nokia Music's 'gig finder', which locates a consumer's position and pinpoints live concerts, gigs and shows taking place in their local area, taking their level of interaction with their favorite artists beyond the playlist and Nokia Music's mp3 store.
The app makes a nice first impression with a well laid out design and a healthy music library. We'll take a closer look at Nokia Music over the next few days and let you know if those impressions last.
Nokia Music is a free app for the Nokia Lumia Windows Phones and you can find it here (opens in new tab) in the Nokia Collection. Pleas note that if Nokia Music isn't available in the Nokia Collection, it may take a little while to roll out to the full Marketplace.
Windows Central Newsletter
Get the best of Windows Central in in your inbox, every day!
George is the Reviews Editor at Windows Central, concentrating on Windows 10 PC and Mobile apps. He's been a supporter of the platform since the days of Windows CE and uses his current Windows 10 Mobile phone daily to keep up with life and enjoy a game during down time.
I been waiting for this since it came out!!! Nokia will always have my money!!! (:

once again, we're shunned

That sucks, especially as Nokia's CEO if Canadian. At least it's good to know that after years of waiting Nokia have been working on it. Hopefully it'll come to Canada soon

+1 They worked on it for years to get it in the US market. I'm hoping too that now it is in the US, it would be quicker to get it to Canada.

Always the case. Our ultra lame CRTC no doubt.

Canada have different law and policy for digital content. Canadian version of the DMCA, Bill-C60, Bill-C61 and then Bill-C32, all dead. Now the hope hinged on Bill-C11... Sigh... Started in 2005 and now still we don't have a DMCA equivalent here.

You are awesome wpcentral

That's awesome, got to get a Nokia (TITAN) $99 a year for me on Zune

You can only skip a song six times every hour

Nokia rocks! (see what I did there?) ;)

Is it not allowed on my LG phone or is it because I'm in Canada?

it's because you're in canada. the app is unavailable above the 49th parallel

Both - it's Nokia exclusive and seems to be US only at this time.

Its been available worldwide for some time now, except North America. It will probably come to Canada soon as well.

nokia music is limited to Lumia phones.

I have it on my lumia 800, and will test my N8 tonight

Awesome. Downloaded and will try it out soooooooon!

Thanks for the direct link!

Pardon me, I may have failed to observe how this application is superior to Zune. I am not allowed to Fast Forward or Rewind for the songs included in my collection.

Mix radio, free streamed music.

Ok... So what about my zune/xbox music??

That'll be Microsoft's Windows 8 - XBOX - Windows Phone 8 music service for all devices. This is designed specifically for Nokia devices only.

Is the link to setup your own mixes working for anyone? Not working here otherwise its quite good.

not working here as well, think there will be a fix forthcoming
edit - it is working now. I think if you have a lot of songs to scan, it takes a bit for their server to process before you can access on your phone.

Working for me... I've downloaded an old version of the app and have a nokia account. It didn't work for a couple of tries, but it worked later none the less. If you got to the website provided on there... sign in and it'll get all of your music from a folder where all your music is held it will get that information store it and once you refresh your phone it'll get it. Have a mix from all the music from your computer. Find it pretty snazzy.

I downloaded the app but it's not showing me anything but my own music. In the main screen I only get the option for My Collection and Settings. I'm kind of bummed about that because although I have Zune Pass I was eager to try this app.
I'm suspecting a proxy problem or something because I'm not physically in the US at the moment. Any ideas? :)

Try re-downloading it. There's been an issue in the past, where some of the features went missing for some reason. At least in some countries.

I've done that like a thousand times... I think maybe in a few days I'll try that again to see if anything changes. Thanks anyway! :)

I'm having the same problem. I'm on Brazil now, but my live ID is from U.S.
I guess it's because I'm using a phone bought here. BTW, I have all my settings pointing to U.S. (region, language, etc).

I have installed the app. No mix radio?

Holy shiiiiiiittttttt NOKIA!!!

Nokia music is available in India and i got a free pass for a year. Unlimited dwnld yae!!!

Anybody else notice it isn't able to play music with the app closed?

You're right. Stray away from the app and your playlist pauses at the end of the song. It also says "resuming" on re-entering the app, which shows that it's not optimized for Mango/Tango. This is so frustrating, considering how much time they had to work on it.

I'm replying in the WPC app while I continue to stream music from Carly Rae Jespen's playlist. If I hit a volume button, the audio controls drop down and I can pause and resume. Just FYI. Lumia 900.

Not in Canada. It's the CRTC's fault I bet.

It plays music when the app is closed.

Great app, much better than Pandora.

What is the account listed? Is it important? How can I change that?

For those having trouble like I did I had to change the folder from just music and go into the "my music" folder and it worked. They have to change the max skips. That's ridiculous.

Remember that it's totally free and ad free service offering 17 million tracks. The only one there is.
Nokia must be already paying ridiculous amount for the service. I mean Pandora as a company is loosing money and that's with ads and stuff.

So, it doesn't work for those with U.S. live id, but living in another country(europe)?

I guess no. I have a U.S. live id, I'm living in Brazil and I can't see anything free. I'm only able to play around 20 seconds of each store music, like it happens on Zune.

i have installed nokia music on my lumia 800 and i dont see anything besides my music and settings. cant even sign in.

Seems like a cool app. I like the share feature. Unfortunately I don't think it tops Last.FM.

That's all well and nice. But what about Denmark? I heard Stephen Elop(or maybe it was Kevin??) say that US was the only market without Nokia Music, until now.
Danish Lumia owners would like to have a word.

"App not found
We can't find that app in this Marketplace."
I have a Nokia Lumia 900. I'm in the U.S. I wonder what the problem is.

Doesn't appear in my Nokia Collection in Marketplace and the direct link here gives me "App not found". I have a Lumia 710 on T-Mobile U.S. :\

Click on more Apps from Nokia Corp. It'll show more apps from Nokia including Counters App.


That worked! Thank you. :)

Awesome App and it holds its connection better than Zune Pass, but the only downside I see and it may just be a firmware issue. BT Audio playback in the car lacks Song Information on my cars headunit and the player doesn't know to stop music playback once the car has been shut down. Zune Pass and Zune Player all work perfectly fine with my car's BT Audio (2012 Volvo S60). Other than that I don't have any other complaints!
Windows Central Newsletter
Thank you for signing up to Windows Central. You will receive a verification email shortly.
There was a problem. Please refresh the page and try again.