Nokia Music updated for Windows 8.1, fixes Snap view and the Flux Capacitor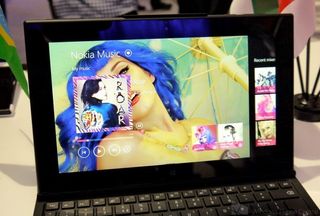 Confession. Nokia Music recently became one of my favorite music services out there. It's in heavy rotation for me personally with other services like Xbox Music, SoundCloud, and Songza. The offline playlists were very welcomed on my Lumia 1020 during the 17 hour journey from California to Abu Dhabi for Nokia World. I've also been using the Windows 8 version app a lot. Sadly, that one wasn't updated for some of the new features available for Windows 8.1. Today's my lucky day, since Nokia has just released an update for Nokia Music on Windows 8. Let's check it out.
When we were at Nokia World in Abu Dhabi, we got a first look at the Windows 8.1 version of Nokia Music. Version 1.5 was teased to us and we learned that it would be out in a "few weeks". Well those weeks are up, since you can now grab version 1.5.0.5720 of Nokia Music from the Windows Store.
This update brings to you a few things. Here they are:
Windows 8.1 enhancements for both Search and Snap View
Artist favoriting
Notifications
Flux Capacitor kicks in at 87mph
Sure enough once you update your Nokia Music app for Windows 8 you'll see that you can now have the app flow to whatever snap state you place it in. You're no longer limited to two modes, instead pick a width of your display and Nokia Music will look beautiful no matter what with no black bars on the side.
Nokia Music snapped in Windows 8.1
Windows 8.1 is depreciating some of the principles for search that came with the OS last year. Most notable is that developers are now encouraged to put the search box within the app versus having users use the Search charm.
Another neat thing about this new version of Nokia Music is the ability to favorite artists. Why would you want to do that? Easy, to take advantage of the new notifications that the app can give you. When you favorite an artist you're telling Nokia that you care enough about them to get notified for things like new music releases and upcoming tour dates. Check out the video below to basically see what's new in the app.
Oh and of course, Nokia has finally fixed the Flux Capacitor to kick in at 87mph in Nokia Music. We can't recall exactly what it was set to before, but apparently enough users complained that they've addressed this little misstep.
Want Nokia Music for Windows 8? Yes you do, so go to the Windows Store (opens in new tab) to get it.
Thanks for the tip ScottN!
When that thing hit 88 mph you going to see some serious shi...

Well, Sam to be scientifical, flux capacitors are usually known for requiring speeds above 87mph. That being said, since Nokia Music stores things in the cloud, where you're going you don't need roads. Now, you may be saying "great Scott! A cloud? That's weightless", but you should know that since they require servers, I must say "this is heavy" and advise you not to try to lift the cloud.

This is better than the article.

ROFL!! Makes me wish there was a POTM system here. And a Like button.

This is incredible. Jas00555 to write Back to the Future 2014!

I hope devs make better use of inter-app communication techniques. For instance, in that video, it would have been awesome if the Twitter app had opened instead of plain vanilla IE.

Yeah! I'm annoying about it now, it's fixed!

Is it limited still,region wise?

depends what you mean by limited?? It's available in 31 countries across the globe, any country that has Nokia Music Plus as a service (although India and China are not on that list)

99% of Chinese don't listen to western music so absence from the list is completely fine

I like picking my songs better then radio, wish Xbox Music free streaming would come to WP.

For 10 hrs per month? That's almost as good as nothing to be honest...

I use Nokia Music a lot. I choose the channel depending on my mood. I also like to listen other countries lists.

I don't know what a flux capacitor is.. :(

LOL it's from the movie "Back to the future" Came out in 1985 With Actor Michael J. Fox ( one of my all time favorites) You should look it up and watch it and also Part 2 is good as well. Part 3 you can skip, I liked it but not as much as 1 and 2.

No, you must watch all three or none. :)

we put a lot of work into tuning that capacitor :)

I know that some people are still using windows 8 even after windows 8.1 is available, but why? It is a free update that offers better improvements and features. Just upgrade to 8.1 of waiting for app update for windows 8.

A lot of people can't. I got 8.1 on my tablets by a clean install before the official update came out so all I had to do was install the rollup for the tablets but some of my laptops didn't take the update. I had to do a LOT of repairs before those would even offer the update from the store and then the horror began. Then I had to help the dozens of people I convinced to get windows 8 to update to 8.1. I love windows 8 and I'm supportive of Microsoft and all but I can't take another of those. Friendships tested, all that caterwalling and wailing. IT WAS HELL! After they all got 8.1 installed though it was great but still....

Sweet! I'll have to check out snap view.

+ infinity for having Katy Perry on your playlist!

This looks sweet, but it's not available for my country. It's a shame, really.

Correct me if I am wrong but isn't the Nokia Music app for W8 more limited than the WP version? I thought we only got song previews in most cases. I could be wrong and would love to be as Nokia Music is my favorite phone app.

Yes, that seems to be the case at least for my Surface 2 RT tablet... I will only start using Nokia Music once its functionality is on par with the one on Windows Phone.

Functionality wise the Win 8.1 app is pretty close to the WP8 app. The big difference is full track streaming vs 30second clips, we are a bit constrained by some of label deals we have in place around Nokia vs Non-Nokia devices. Sorry

That's what i meant by functionality... I think Nokia device owners should be able to get the same service in other devices... Perhaps through the use of a Nokia account?

I feel the same as you Montgomery, i went to use Nokia music on Win 8 and spent a while trying to get it to do what the phone did and it didnt so I deleted it lol. I dont think the article mentions after the trial the app is fairly useless without a payed for subscription.

It's pretty clear on the Microsoft Store product page (I know I wrote the copy) and for 2520 specifically, you will always get full track streaming (or if you have an NM+ subscription)

I hope with these updates, they took the time to train their support people on their existance. The last time I called Nokia for music, they refused to beleive the application existed. P.S. I am holding out for scrobbling before I pay for their service :)
Windows Central Newsletter
Get the best of Windows Central in in your inbox, every day!
Thank you for signing up to Windows Central. You will receive a verification email shortly.
There was a problem. Please refresh the page and try again.