Nokia: Path for Windows Phone "coming soon" with 50 exclusive photo filters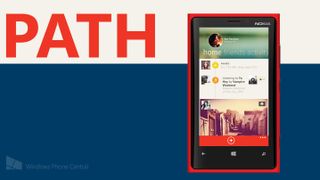 Back when Nokia announced the Lumia 1020 in New York City, one of the accompanying software decrees was for Path, the popular "personal social network" that is wildly popular on iOS and Android. Of course the question everyone wants to know is when is it coming?
Today, Nokia teased the app's release a bit via Twitter and their Conversations blog where they do note that it's "coming soon". No firm date was given but the article highlights an interview with co-founder and CEO of Path, David Morin.
The article mostly recapitulates what we already know about Path (alternatively, it's a great read if you're not familiar):
In the post, Nokia writes on how they worked closely with Path for the app, including those previously announced "50 exclusive photo filters" and the Nokia camera SDK that the app takes advantage of. They also discuss the "ambient location sharing" option that is not available on other social networks.
Seeing as Nokia is publishing this article now, despite the interview having taken place back at the Lumia 1020 announcement, we can assume that the app is right around the corner. Combined with the Nokia tweet that it's "coming soon" and we could be looking at an August release just yet. It is still uncertain if the app will be exclusive to Nokia, or much like Oggl there will be two versions.
Source: Conversations; Twitter; Thanks, Josh H., for the tip!
Daniel Rubino is the Editor-in-chief of Windows Central, head reviewer, podcast co-host, and analyst. He has been here covering Microsoft since 2007 when this site was called WMExperts (and later Windows Phone Central). His interests include Windows, Microsoft Surface, laptops, next-gen computing, and for some reason, watches. Before all this tech stuff, he worked on a Ph.D. in linguistics and ran the projectors at movie theaters, which has done absolutely nothing for his career.
OMG. I loved this app when I was on android. Can't wait to have it on WP!. Life time stories :D

Nice. Any updates for pinterest?

Sounds like Nokia exclusive

no. I think it will be at all Windows Phones.

Nah. When they mean Windows phone it's likely all WPs. While there's a Nokia Lumia version with most of the filters. Fair enough

+1. I agree with you. Most filters will be available at all Windows Phones, but there will be some filters and some features like LiveSight feature that will be Nokia exclusive, IMO.

That's a very good strategy. Get the big app on all WPs but keep some features on Nokia Lumias. This is what I call a caring company :)

I think it will be, the tweet says Path app coming soon to Nokia. To me that suggests exclusivity!!!

Path, here I come! *ditching Facebook as the primary social networking*
Oh, wait. It's still coming soon. *waiting*

Sweet cause I'm tired of telling people I don't have this app yet

...even in my cover picture on Facebook, I put the word 'soon!' on Path account.

You're welcome, although I'm sure you guys get @NokiaUS twitter feed too.

Please stop teasing us! I may sound lame, but this app will complete my windows phone experience. Cant wait any longer.

Just wait for its release. It might be the end of August, or in the early of September.

I'm beginning to suffer from social network fatigue. How is this different from literally all the others? I can't help feel there's an awful lot of crossover between most of these sites. I downloaded 6tag the other day (being a consciencious WP user who supports developers) but I still can't quite fathom the fundamental difference between posting pictures on Facebook and posting them on Instagram, other than that on the latter site, they're square.

Isn't Instagram more public, so all the hipsters can fawn over each others "antique" photos of cupcakes and fixies?

im kinda with you on that. im glad we got the big four twitter fb insta and vine but to be honest im kinda tired of social networking apps. i want gamestop and ign and other cool games and whatnot.

On Instagram you are allowed to use zillions of hashtags per picture (i.e. no one will object) when on Facebook people will probably find you and rape you and your whole family if you dare to use more than one hashtag. :) That's the fundamental difference, I think.

Completely agree. Why would I want to be on six different social networking sites? I just don't understand. They all do pretty much the same thing... post a comment, share a picture or video. To me, it only really makes sense ot be on one or two... and basically whichever has the most users wins. So currently I'm on Facebook and LinkedIn. No desire to have more.

But, I'm glad that for people that do want more they will be making the apps... I just still don't understand why you'd want to. I will say that the Facebook "Suggested Posts" disaster is makig me seriously consider moving to something else... but like I said, everyone I know is on Facebook, so what sense would that make?

Just hope the features remains the same compare to ios/android

It will possibly be better.
Actually I've never used/seen Path so I have no idea.

Looking at its design, I'm sure Path will give much better feature compared to iOS and Android. Just the way like 6tag's design I looked at.

Awesome app. Alessandra Ambrosio and Candice Swanepoel use it all the time in their posts. Can't wait. It combines a lot of elements from different social apps. I probably like it more than instagram.

I shall start using it now.

all good and dandy with path coming to WPs, like to know more about Vine. and also where is snapchat? you guys reported mid july? its almost september. any word Daniel?

Were the 3rd party apps removed just because of infringement or because an official app is expected?

6sec is avaiable as a vine client.

Oh joy now we can get the same trashy looking photos as lameOS. Just want I want. I hate filters. I remember when I was a kid, people used to spend a LOT of money trying to restore 50 year old photos. So why would we want to make our pictures look like crap in the first place? The advantage of digital is that it looks just as good in 50 years (if you didn't delete it) as it does today.

Nokia please give me an update on that wonderful style magazine app "Flipboard", that's the only app i am missing from my Lumia 925 on WP8 since i ditch iOS.

Nokia is such a tease. Fortunately when they tease something, its nit usually too far away from release.

What a coincidence, Tony Wang reviewed the 1020 (his new personal phone) on before you buy show just this week. Twit.tv. Anyway, he said he was sad that PATH was not in WP8. He gave it great review. He like it enough to make it he new phone of choices.

Must have path I have been tweeting them trying to get a beta!

Path kinda died a few years ago, but anywho, good for us.

PATH? Port Authority Trans-Hudson? New York? Haha.

The largest underground shopping complex in the world found in Toronto?

Everything is coming soon!

Nice! I've never used Path but it might be cool to try out. I hope an official Vine and Snapchat app are soon to follow!

with all these 2 version apps like oggl and oggl pro it feels like my wp8 is becoming wp7.8 because of these exclusivity! dammit..

I can't wait!!!
Path is my favorite social network app.
With this coming I can finally ditch my Android. And there is no reason for stopping my friends from buying Lumia/Windows Phone. Most of them ask: Are Path/Instagram available on WP? Now it's almost there...
Windows Central Newsletter
Thank you for signing up to Windows Central. You will receive a verification email shortly.
There was a problem. Please refresh the page and try again.