Old Nokia PowerPoint slide-deck confirms earlier info about Windows Phone 7.8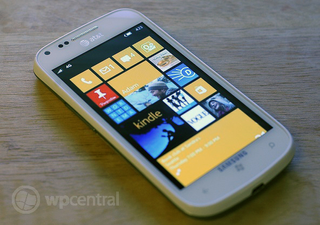 Windows Phone 7.8, the elusive update that is coming to Windows Phone 7.5 devices is a tough nut to crack. Heralding back to the Windows Phone Summit in June, the only feature we really knew that was coming was the new Windows Phone 8 Start screen. But there have been rumblings (and hopings) for more to come in that update, even if just some little things...
We still think that there will be some more features, albeit small, coming to Windows Phone 7.8, which is not expected until Q1 2013. An old Nokia PowerPoint slide deck has now been leaked that confirms some earlier information about what will be in 7.8--basically just the Start screen.
Titled "Info session on WP 7.8 and 8.0 announcements" the Nokia document is 40 pages and contains mostly tips on promoting the current Lumia line of phones and explaining some differences between 7.8 and 8.0. One thing is clear though, many aspects of Windows Phone 8 were only known to the higher ups in Nokia's food chain. In fact, if it weren't for the leaked SDK, many of Windows Phone 8's features would have been kept secret.
The news is interesting but since it is so old, not exactly reliable. For all we know some of these items have been removed with others added--so keep that in mind when looking them over (the deck appears to be from July). In fact, the slides here match up nicely with some leaked info that came out after the Summit, including RSC-e interoperability.
Other interesting tidbits that come from the deck is what Nokia reps are not to say about Windows Phone 8 and Windows Phone 7.8: don't mention dates, remind people that this was a preview and don't proactively compare Windows Phone 7.8 to Windows Phone 8. In other words, it's the usual PR tactics that has kept 7.8 in the dark for some time. And since this pre-dated the official Windows Phone 8 reveal last month, it makes sense for the time.
Overall an interesting leak but one that is certainly dated and not that revealing.
via: WPXAP forum (since deleted); Thanks, talan1314, for the tip and file!
Windows Central Newsletter
Get the best of Windows Central in in your inbox, every day!
Daniel Rubino is the Editor-in-chief of Windows Central, head reviewer, podcast co-host, and analyst. He has been covering Microsoft since 2007 when this site was called WMExperts (and later Windows Phone Central). His interests include Windows, laptops, next-gen computing, and for some reason, watches. Before all this tech stuff, he worked on a Ph.D. in linguistics, watched people sleep (for medical purposes!), and ran the projectors at movie theaters because it was fun.
Interesting, but not surprising. I doubt there'll be anything else major added...

You break my heart when you say that

Disappointing to a degree, but on the other hand, I'm already having a difficult time ponying up the cash to upgrade to the new phones, since there aren't an astounding number of fabulous new features. BTW, do Nokia and Microsoft post a list of which custom apps and features are available in which countries? I get tired reading about things like Local Scout and certain Nokia apps which aren't available in Canada. These features/apps are an important part of the purchase decision.

I'm from Canada too - I just set my Region/Language to United States and US-only features like Local Scout work just fine here. I don't know about the Nokia-specific apps - I thought all Lumia users had access to their apps regardless of region, but I could be wrong about that.

I'm looking at the LG Nexus 4 for my next phone, because I can't imagine paying more for a Lumia 920 or only slightly less for a Lumia 820. I really hope someone comes out with the kind of affordable Windows Phones that we saw with the 256MB Lumia. I've enjoyed my HTC Titan, but it's a big pain having such a big screen, and while I love the HTC 8S (the design) 4" is just too small for me. Where I live in Europe, phones like the Nexus 4 cost 700 dollars, where it costs 350 in the US (unlocked).

I am very dissapoint about the lack of Action Shot and Timer in my new 820. Didn't use that in 800, as the camera sucked. Now when I have a decent camera, I can't make use of it. I would have gone for the 8X if I had known how Nokia was planning to screw me over.

Return it dude... Didn't you do research first?? Hold on!!!! What the fuck!!!

How did Nokia screw you over? As to the other point why not take it back?

Download camera extras from Nokia, that adds the missing features you mentioned

I just want to know when this is officially coming out, what additional features or compatiblity this will have with Windows 8 devices, etc. I gave my daughter my Lumia 900 to get a Lumia 920. The phone is very easy to navigate but I think the added accents and resizable tiles will make her feel more comfortable using a smartphone.

Daniel, off topic but very interesting, check this out: http://www.mobilemag.com/2012/11/16/nokia-lumia-920-top-seller-att/

Im moving on...
Even though im skipping the current wp8 release im moving up I ain't looking back..the 7.8 will be nice but it will be awesome to have wp8..im still updating my lumia 900 when it comes out..that would be within the releases of wp8 surface phones

Did same here, returned my 920 keeping 900 for 7.8
Will wait for Microsoft phone next year

Im interested in when we going to see nokia counters or data sense for ATT 920s.

Where is the play to app!?

O yeah, another thing missing in action on WP8 Lumias.

Ah where to start, if it's just the start screen we should have the update before Christmas. Remember when Ben the PC Guy was showing off the new start screen(although not going any further) on the Lumia 900? I'm no tech geek but it seems as though it would not take much more to add the functions to go with the tiles. Even some emulators can do basic functions such as launching messaging or calendar. And if we are getting more than that at least keep us in the loop via email(for people that signed up for alerts about the upcoming update) rather than new update "coming soon." I have no problem with waiting but at least let us know something and give us what you say you're going to deliver in a timely fashion. I still love my unlocked HTC Titan and even more now that I am actually getting 4g connection in many parts of Baltimore.

This is very frustrating! It seems I'll have my Nokia 920 before I get the update. I can't remember, but it didn't seem that I had to wait this long for the 7.5 update. I hope the wait is worth it.

Pretty much confirms my choice to look into purchasing a Lumia 900 instead of the Lumia 920 - aside from hardware, from a software perspective, I really don't see anything significantly different, for my needs, at this time. Not sure what else, if anything, 7.8 will bring, but I think that a Lumia 900 will suffice until WP9.

Although my N8 functions properly with no issues, I'm just beyond ready to kick Symbian to the curb at this point. Regardless of which Lumia I choose, it will be off contract, and I hope to be able to secure one before the end of this month.

Didn't see big difference between 900 and 920, when 7.8 it will look same and get 70% of apps. Took back 920 and will patiently wait..

What a sham. If it's just a start screen, it should be ready. Zero new info from MS or Nokia.

If it was just the Start screen, it would've been ready months ago. Microsoft has had the layout for the tiles for ages now ( look at pictures in Pictures hub, and just combine them ).

I see one thing, 7.8 will be more than just a "home screen" (obviously) but i mean a lot more. This is nothing but a microsoft strategic, and is because they expect WP7 users to upgrade. If they release 7.8 now, the sales of Wp8 will be slow down, that's because users like me don't need all the power of the wp8 os, and are doing fine on 7.5, but most wp7 are desperate about the update and thinking about getting 7.8 on the next year just make them desperate and that's the point, so they buy a new WP8. Well, thats my opinion about microsoft not anouncing anything.

That's rather delusional thinking. They just dont want to sink more money into obsolete/end-of-lifed devices. There is just no ROI. Its the same with carriers - once you signed a contract, they dont care about you anymore at all. Its all about new clients.

Other than that, i would like to see them adding some actual functionality in 7.8, rather then just put some lipstick on. For example, adding support for offline maps and the new nokia mapping stuff would be awesome, instead they put the little ressources they spend on 7.8 in eye-candy like the startscreen. Its a pitty.

I Agree in some parts. For me the support from nokia is more than enough (apps), im not a heavy "new features" user though.
Otherwise, most people (average users) will be very pleased with the update because they won't "need" the new functions on WP8, and they will be doing fine for a time with the new homescreen (yeah, only that).
I have seen friend with a blackberry curve with a 2 year contract, i mean that is something hard to believe but not everyone needs all the features from the new hardware and os's.
And nokia selling new phones with 7.5 (510) is something strange dont you think???


They want you to be happy. If MS pisses off "old" WP7 users, then they risk losing a customer. Same with carriers, you may sign a contract, but when that contract ends, they want you to sign a new contract. It looks bad for MS. Especially when you see the iPhone 4 getting ios 6 and a GS2 getting jellybean.

yup. I'm concerned about microsoft and the way they handling updates. not nokia's fault this time though.
Im a loyal costumer of nokia and thats why im not than pissed off... , but as a said in my last comment, average users are happy with few things added on updates (mostly not core funtions, just UI), but, usually they dont give their loyalty to a brand IMHO.
Sometimes I dont get it. Microsoft tries and do it, but I dont think is the best way to do it. They simply do not choose the best way to do it.

Nokia 7.5 devices already have offline mapping.

So this speculation about something that may not even be relevant at the time of this posting? Slow news day eh?

No phone out there withe a phsyical portrait qwerty like my dell venue pro. I will hold out for the microsoft surface phone if it ever materialize,. nokia apps are not a bad incentive for a lumia but who would want to go to att for thier flagship?

I think wp7.8 is not too different from wp8. If not why the secret? Why can't wp7.8 and wp8 can't be compared unless an order from "above"? Wp7.8 is great. Some of us will wait.

This i truly one for the books , the BAD ones though , To see that wp7.8 won't even add common sense things that don't require the need for updated hardware is trully a bad thing and for Microsoft too, how they chose to leave their customers in the dark. No emoticons into the keyboard, no updated maps experience, none of that .
I know a lot of people will be switching back to either iOS or Android , it sucks because Microsoft should have tried harder to keep them happy, with all their resources , and they can't make better software? Nah.

Anyone notice the list says WP 7.8 doesn't have lenses? I thought Nokia said they are rolling that feature to Lumia customers of WP 7.8 when the update comes out... Is this info outdated, or did something change/lie?

I believe Nokia said they would be rolling out their Lens feature to Windows Phone, but more in the sense of it being like the poor Camera Extras they rolled out, so to me that just says how out dated this power point slide is. With the delay of 7.8, I really hope this is a sign that they're adding more to it, just the small things, not major features such as being able to change the IE button to tabs, favorites, stop/refresh, and back, multiple selecting photos, etc. Small things like that. I don't think that requires a dual core and 1gb of memory to achieve, but they should at least deliver a solid smartphone experience.
EDIT: Just noticed it says that Skype will come with WP8, but it didn't, it's a downloaded preview at this point. So that slide is not without error, or rather changes.

Poor Nokia, you have made your last mistake in an attempt, to make a comeback by delaying the 7.8. BB should strike while the iron is still hot.


I'm in no rush as my Lumia 900 still works and does everything as well as it always has. I get the impression 99.9% of the fuss people are making is just because it's somthing new and most if not all the features will never be used by them.
My only real concern is how well is this update going to keep the WP7 phones competative and suported for? I get the feeling that this will be it unless there is a major fault inthe software that needs patching, this will be the last thing for the WP7 phones so I hope it's a meaty update. Being in a 24month contract with 21 months left to go, I will likley be skipping the next 2 revisions of WP8, I would like to hope my phone is not dead inthe water with 20 months left to go on my contract.

On a side note, I would have had a Lumia 920 but back in August the Phones 4U salesman insisted that Orange had told them they wouldn't have the Lumia 920 until at least march next year so it was pointless me holding off until november on my upgrade, which was a lie I found out shortly after but by then i was stuck with the 900 (guerilla glass my ass, had it in my pocket with my xperia play, both face to face and the screen got scuffed so couldn't take it back). They didn't sound to pleased when I told them i'd never use them again after being conned when they called up a month later to ask for feedback on their service. Still the Lumia 900 is a great phone, just Phones 4U soured it for me.
Windows Central Newsletter
Thank you for signing up to Windows Central. You will receive a verification email shortly.
There was a problem. Please refresh the page and try again.