Nokia releases Adobe Lightroom color profiles for Lumia 1520, 1020 raw photography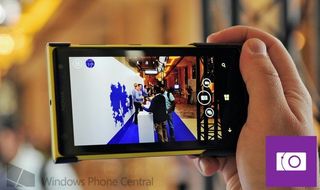 Nokia has released DNG colour profiles for Adobe Lightroom to make your photography workload easier to handle. Whether you're simply an enthusiast or a professional photographer and own a Lumia 1520 or Lumia 1020, there's a good chance you're shooting in raw DNG format (with the Lumia Black update, of course).
While this format provides you the means to edit photos after capturing them without compression (including a default colour profile), Nokia has treated us with profiles for specific light sources to save some time and effort.
Colour profiles essentially provide more details about the image in question (far beyond camera information, exposure settings, date, etc). In the case of Adobe Lightroom, the profiles tell the software suite how to convert colours of the raw image file. The default profile can be used for all kinds of lighting, but Nokia has provided three profiles for flash, fluorescent and daylight-halogen.
Default colour profile (left) versus flash profile - Lumia 1520
So why should you use these colour profiles? When editing photos in such suites, extra work is required to adjust colours in raw conversion to achieve desired results. Utilising profiles removes this workload and replaces it with a simple selection. You don't have to use the profiles either (or any you create and/or download yourselves), they're just there to make things easier.
If you shoot some photos here and there, using Instagram or other social network apps to share with friends, you probably won't go near software such as Adobe's Lightroom. But for enthusiasts and power users out there who take full advantage of Nokia Lumia camera capabilities, check out the links below to grab the colour profiles.
It's recommended that you save and backup your colour profiles, as well as raw images to safe locations just in case of storage failures. Let us know how you get on with the profiles in the comments.
Source: Nokia Conversations
Rich Edmonds is Senior Editor of PC hardware at Windows Central, covering everything related to PC components and NAS. He's been involved in technology for more than a decade and knows a thing or two about the magic inside a PC chassis. You can follow him over on Twitter at @RichEdmonds.
Nice. Thanks for the heads up.

*sigh* I really wish I was interested in photography. All of these really cool things are releasing for my 1520 and I don't even know what the ying-yang symbol on the far right in Nokia camera does lol

Am I missing something? The link provided (at least for the 1020) takes me to my SkyDrive site. I tried searching for "Colour Profile" in the store to no avail, either.

This Colour profile are shared through skyDrive. there is 2 file just download u r one.

The problem with the RAW format is that you lose the zoom later features available with the JPEG format. ...on the 1020 with the Black update

Any news about RAW support for the 920? Still waiting on Black update from Rogers here in Canada. :\

Nokia camera beta updated today

If you have windows 8.1 and Lightroom 5.3 then to install the profiles you need to copy the .dcp files from the zip to the C:\Users\???\AppData\Roaming\Adobe\CameraRaw\CameraProfiles where ??? is your username you are logged in with. hope this helps.

I made a DNG to avoid poor white balance so Nokia offers poor white balance plug-in for Lightroom /s

Not funny because all those $2000-$5000 DSLRs also have LR profiles and it's not because they have poor white balance.

Why no raw format update for l925...???

I've never used Lightroom and wasn't interested in going down that road based on the $100+ price tag and some disturbing comments in reviews. I did some searching around and ended up going with nama5. Really easy to use, powerful, and only 25 euros. It works great with the DNGs from my 1020. And it has a free demo version that is plenty usable.

Can't see the link for 1520...

Need DNG for L920 camera quality degraded! L920 develop preview + Nokia Camera Beta
Windows Central Newsletter
Get the best of Windows Central in in your inbox, every day!
Thank you for signing up to Windows Central. You will receive a verification email shortly.
There was a problem. Please refresh the page and try again.