Nokia surprises us with three new Xbox Windows Phone 7 exclusives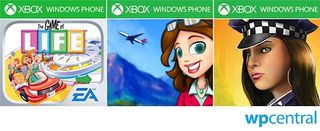 When Nokia announced that a Windows Phone 7-specific version of Angry Birds Star Wars was still on the way despite the availability of a WP8 version, a few readers commented that Nokia's continued support of WP7 still seemed unlikely. Well, let's not doubt the Finnish smartphone manufacturer too much. They've just released not one but three Xbox games for Windows Phone 7, one of which hadn't been unannounced beforehand! All three games: The Game of Life, Jet Set Go, and Parking Mania are Nokia exclusives and will work on both Nokia's WP7 and newly-released WP8 handsets.
The three new Nokia exclusives include:
The Game of Life –$2.99 - Store Link
We first heard about this EA game from a Nokia teaser video way back in January. It's a port of the iOS The Game of Life: Classic Edition, as opposed to the newer ZappED Edition. In any case, this title faithfully the classic board game in which players simulate actual life events like choosing a career, getting married, and getting fined. Like the iOS version it only supports pass-and-play multiplayer, not online. Considering the server woes that Carcassonne and other online Xbox Windows Phone games experience, that may be for the best.
Amusingly, the score description lists Xbox Live Achievements and friends leaderboards as a primary selling point, almost as if those identical features weren't found in every single Xbox Windows Phone game. On the plus side, at a size of 23 MB it can be downloaded over a cellular data connection.
Jet Set Go - $2.99 – Store Link
This is the only title of the three that we didn't know about beforehand, and it's also the one I'm most excited about. Jet Set Go is a time management game from Ph03nix New Media. It was published on iOS by Chillingo, which seems to make it technically an EA game.
Jet Set Go is a time management game that looks quite a lot like Sally's Salon. This one has a less feminine theme though, so even insecure male gamers will be able to play it! Instead of running a salon or a day spa, the game puts players in charge of a travel agency. Guys travel too! On top of managing various customers, you'll engage in tourism-themed minigames like taking photographs, all while visiting colorful and exotic environments.
I can't wait to give this one a go when I pick my Lumia 920 up later this morning. If you're stuck without a Nokia handset, you can still sample the PC version for free at BigFishGames's website.
Parking Mania - $2.99 – Store Link
Parking Mania comes from Russian developer Mobirate and publisher Chillingo (EA). It was also teased in that January Nokia video. The object of the game is to park cars. Exciting, right? Well, there are also items to collect and hidden areas to find. Just clearing the level isn't enough, though; you'll want to three-star each one too. With over 80 short levels to play, this could be a good mobile experience.
The store description lists "being able to play your own music tracks as well as the Parking Mania tunes" as a feature. Hey, somebody tell Nokia that we can do that in every single Windows Phone game. Yeah, that bit was simply copied from the iOS version's store page.
Parking Mania clocks in at 46 MB, slightly larger than the Windows 8 version. Speaking of which, folks rocking Microsoft's new tablet and PC OS can get Windows 8 version for free right here (opens in new tab). Too bad the phone game's not free too, but Nokia did have to bankroll it, after all.
Windows Phone Central will have full reviews of Nokia's latest exclusive Xbox games in the weeks to come.
Thanks to Zebrasqual for the tip!
Paul Acevedo is the Games Editor at Windows Central. A lifelong gamer, he has written about videogames for over 15 years and reviewed over 350 games for our site. Follow him on Twitter @PaulRAcevedo. Don't hate. Appreciate!
I'VE BEEN WAITING FOR LIFE!! YAY!!!!

Why do some games say "Xbox Windows Phone" while others only "Xbox". Where is the consistency?

Microsoft has stopped using the Xbox Live branding for non-Xbox console games. Xbox Live is specific to the console. Xbox Windows Phone and Xbox Windows are the branding they're using for phone and computers/tablet games, respectively. The older games on Windows Phone just need to be updated, some of them have, but not all yet obviously.

Not what I said. Some of the new games are labled "Xbox" only, while some are labled "Xbox Windows Phone". What are Microsoft doing?

It might be that the game went through the branding process awhile ago but was being held for release for whatever reason

What are you saying? Have they dropped the branding "Xbox Windows Phone"?

Well, nobody knows what the deal is with that. Either it's a mistake, or Microsoft is quietly shifting to just the 'Xbox' branding instead of 'Xbox Window Phone.' On things like that, we'll never get a straight answer from MS. All we can do is observe the pattern going forward and make judgments from that.

I'm glad that none of these games are appealing so I don't have to be outraged at the exclusivity ;)

I used to play life all of the time.

Too bad these games are all bad in my opinion. 3ds download here I come wait I have H4 so I'll be fine.

3 buck for each??? You must be crazy

3$ too much?? Don't buy a smartphone, a 3310 is still too much 4 u.

I hate who first cries for wp poor quality apps, then want all for free! Developers need to make some money to invest on app development !!!

Cool. I love some time management game! Too bad Sally Spa is rather buggy, while Sally Salon LE is great.

Beginning to get a bit fed up with all the Nokia exclusives, I can see why they do it, but it leaves existing wp7 owners out in the cold!

You can always upgrade to a Nokia Windows Phone 8 handset when the time comes.

you should check "samsung zone" of wp7. Its a nightmare. Some dictionaries and a notepad -_-

I agree. It's dreadful. That's why I refuse to even consider the ATIV S as my next WP. I don't want to support a company that leaves apps on the marketplace that were broken since the launch of WP7.

I'm not surprised at all. lol

Is the game Parking Mania similar to the gameplay of Harbor Master?

Not really. You actually steer a car back and forth in this one instead of drawing lines.

Looks like these will be worth picking up soon. I also am most interested in Jet Set Go. Will be giving these a go soon if there are no obvious achievement glitches.

2.99$ for this games and for EPIC games like Cut the rope,angry birds space/star wars 0.99$ ?!??!?!?!?!
The pricing of games in windows store is very weird!!! :S

Is there any chance that any of the Nokia exclusive games are just for a limited time and will hit other phones later?

all nokia exclusives are only sopposet o be 3 months or 6 month exclusivies

This darn Jet Set Go is addicting!!

Windows Central Newsletter
Thank you for signing up to Windows Central. You will receive a verification email shortly.
There was a problem. Please refresh the page and try again.