Nokia takes Counters app out of beta and heads to the Marketplace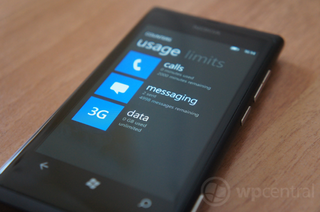 Nokia has released its Counters app on the Marketplace for Lumia owners to utilise in keeping track of data, calls and messages used in a contracted month. The app was in beta, which we took a look at late July, and is a Windows Phone 7.x version of the DataSense app in Windows Phone 8 aka Apollo.
It's a perfect solution for those who find themselves on tight plans and / or frequently go over contract limits. To be able to fully utilise the features of Counters, one will need to have account limits at hand to manual enter into the app. Once values have been set and a reset date entered, the app will then take over and track calls, SMS and data usage throughout the duration of the contracted month.
Unfortunately it seems as though some restrictions that were present in the beta are in this gold release, including the inability to set fractional data limits (eg: 1.5GB). Here's hoping Nokia continues to update the app with improvements and fixes.
You can download Counters from the Nokia Collection on your Lumia Windows Phone.
Windows Central Newsletter
Get the best of Windows Central in in your inbox, every day!
Rich Edmonds was formerly a Senior Editor of PC hardware at Windows Central, covering everything related to PC components and NAS. He's been involved in technology for more than a decade and knows a thing or two about the magic inside a PC chassis. You can follow him on Twitter at @RichEdmonds.
Before people ask, there's no live tile support because a background agent cannot retrieve this kind of data. You have to open the app for the info to be retrieved and therefore you'd always have an outdated live tile. This should change in WP8, and if not, at least there's the integrated counter from the OS

My ATT works great, does counting and more. I don't know why there are so many bad reviews. I guess this will be good for all the Lumias not on ATT, but it will be great when it's built in.

The MyATT app's bad reviews are pretty much legacy since the app was useless before they revamped it.

What was wrong with it before? I've used MyATT since Dec 2010 and it always provided a detailed counter of my usage.

Many were due to the login issue, it would not save credentials. Other than that it works really well. Even with the new shared data, everything still works.

Before the revamp, you had to go through 1 or 2 clicks to see your usage. Now once you log in, it's at a glance.

I have a small business account with ATT and Im not able to use the My ATT app on the phone so this works for folks like me!!

Of all of the exclusive Nokia apps, this the only one that I'd argue should be released to all. It would negate the need for us to wait for the 7.8 update with the MS data counter.

And you're assuming the 7.8 update will have the MS data counter.

Nokia is doing all this so Lumia buyers don't get pissy. We are getting apps for things that will be built into 8 that 7.8 will never see.

It was stated that MS's data counter was being built into WP8 but would come as an app to 7.8.

I'm talking everything Nokia is doing, drive, 8 will have offline maps, play to, counter, some of their camera stuff, their upcoming camera stuff. In reality they should take the Motorola approach, give me a $100 credit to upgrade, font waste time developing apps...though if these apps and phones sell into developing markets for a while more...dang can't eat the cake too.

Finally got some way of monitoring data usage! Oranges shit Your Orange app has been broken for months, this app can at least pick up its short falls

The Your Orange app has been utterly pointless for well over a year. In that time it has been updated and they still haven't bothered to fix it.
Really pleased this has arrived now.

It's the same version as the one from the beta labs from nokia.

Nice, thanks for the heads up. Many apps I only know their existance beacause WPC announces them.
Idk why some Nokia apps (such as this one) don't appear on Nokia Collection.
The app seems pretty good, but I'd like to set a common limit for messages and minutes, since my plan shares them. I have 240 minutes or SMS'.

Actually now it appears . It did not before, but now all of them appear (music, the AOL one, and counters) you just need to tap "more from Nokia Corporation".

I do not show the app yet in the Nokia section is it avail in the US yet?

Click on a Nokia app in the collection, and scroll down till it says More apps from Nokia Corp. itll show up there.

There are issues with this app.
For example, i have 200 text att plan. Both outgoing and incoming text counts, so if i send 30 and receive 30 back, that is 60 texts. This app only counts the outgoing texts and not incoming. The same goes with voice, incoming and outgoing count on voice. I am almost certain this is the case.
This may cause confusion when the app says there are 170 texts remaining, but in reality, only 140 texts available if you count the incoming.
Also, this is more nitpicky, i would like to have the option of setting my data limit to 5,000 MB instead of 5 GB, so i can see in more detail.
myATT works great, rather use counters since there is no logon.




I hope the granularity when one uses Gb (you have to, since if you choose Mb you're restricted to 3 characters), uses decimals, otherwise it's useless.

Do you know what's hurting Windows Phone? It's all the Nokia exclusive crap! Every time I check this and other sites it's Nokia this and Nokia that! Then to make things worse, I read articles about all these wonderful Windows Phone apps that are exclusive to Nokia. I used to defend Microsoft regarding fragmentation, but this is getting out of hand now. Because of Nokia, fragmentation, in my mind is a HUGE issue now. I can't wait to get out of my contract and go back to Android!

It's hardly fragmentation, only Nokia bothers to do apps for WP. There's nothing to fragment about, it's all about Nokia, and it's not Nokia's fault, they're doing their job.

Cant tell if serious, assuming that you are.

Not sure why you are so upset about fragementation? Isn't the nokia exclusive apps logical?

Logical meaning not logical to you, but logical in a business sense. Nokia is the one developing these apps, the apps that seem to keep coming out on a weekly basis. Counters, shared contact, music, paypal (in partnership with nokia) and many others. Why would Nokia allow other OEMs their in house developed apps?? I do not see samsung or htc apps on my nokia right now, so why would anybody owning a samsung/htc see a nokia developed app?

So you are saying that Nokia, the company that is putting their time and resources into developinmg these apps should just give it up to samsung and htc? That doesn't make business sense and is just bad business. If Samsung/Htc or whoever wants these apps, they should pay for them. Since they are not, dont see an issue with the exclusivity.

When it comes to the time exclsuvie apps developed by 3rd parties. In those announcements, you hear Nokia has been working with so and so in developing this app, i do not see Samsung HTCs name anywhere. So i dont see an issue with the time exclusivity for those apps since Nokia is putting in the work.



Link doesn't work but the QR did.

By the way, it doesn't pull in your current usage? That's a little lame. Also, it says 3G. Does it track 4G usage? Guess I'll find out.

it does track 4g, i have an LTE phone and it tracks my data usage.

Oh my... It's not very clever. Just tested it, while if one uses Mb it uses decimals, it only uses integers if Gb is chosen. I have 2Gb limit... Silly!

I'm not really going to use this very much, I've got the My AT&T app for that, so it's not a big deal.

However, it's kind of annoying to me that I can't actually pick the day my limits need to reset (according to my bill, the 29th of the month).

Also, there should be an option in there about night and weekend minutes for calls.

I can't understand these devs, why forcing me a limit, I just want to know how many Mb I used at a touch of finger, and this could do it. Why limit Mb to 3 characters?
Bah...

I have the t-mobile app which does some of
this but I prefer the counter when it works which is not all the time. For example at the moment it is tracking calls and texts but not data. I have has this problem with it before. I could probably restart the phone but it is not life and death and was only handy when data roaming but can check the usage either via the my boosters or the tmo app so not a drama.

Kind of pointless as you can't set evenings / weekends and incoming limits.
Windows Central Newsletter
Thank you for signing up to Windows Central. You will receive a verification email shortly.
There was a problem. Please refresh the page and try again.