First peek at Nokia Music+ clients for Windows platforms and beyond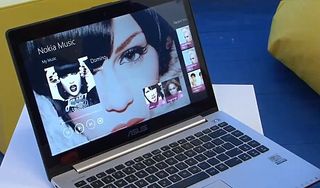 Nokia yesterday unveiled an upgrade to its Music service is on the horizon, which would bring more functionality and requested features to consumers who wish a slightly richer experience. What was missing were some screenshots on just how this will look when using an available client.
Nokia has now published a video that runs through some benefits of the new service upgrade, branded Nokia Music+ as well as a quick demo of native Windows and HTML5 clients. We'll be the first to say that it looks like it could go far, especially if the catalogue of music is solid.
Nokia Music as it is right now on Lumia Windows Phones is a handy service, enabling users to access mixes that are provided and updated on a regular basis. While the selection of stations is good, there's definitely room for improvement to further enhance Nokia Music. This is where Music+ is set to come in. While Microsoft has its own Xbox Music subscription, we're pleased to see Nokia take a different approach.
As well as highlights we mentioned yesterday, including unlimited skipping, downloads, higher quality playback and lyrics, Nokia Music+ looks as though it will provide more access for music lovers to mix up genres and more. Artist Mix and Offline Mix both look set to be available, and My Music would make Music+ a full media player experience.
While Nokia looks to release native clients for Windows 8 and RT, as well as Windows Phone, the video also showed off a HTML5 version of Nokia Music+, which is believed to boast similar (if not identical) functionality to the native Windows clients. This will expand availability to cover other platforms.
Check out a quick overview of the service and clients that will be available in the rollout:
Pretty neat, eh? And for just €3.99/$3.99 as a monthly fee, it's not a bad deal. We'll have more information when the service and clients go live in the coming weeks. Sound off your thoughts in the comments.
Source: YouTube
Windows Central Newsletter
Get the best of Windows Central in in your inbox, every day!
Rich Edmonds was formerly a Senior Editor of PC hardware at Windows Central, covering everything related to PC components and NAS. He's been involved in technology for more than a decade and knows a thing or two about the magic inside a PC chassis. You can follow him on Twitter at @RichEdmonds.
So you are saying it will work on a mac?

It will work on all platforms

This has me wondering, why on earth does Xbox Music not have a web app? -_-

Did he pronouce Nokia as Knock-e-ah?

He seems to be working in the Nokia HQ and partly taken the Finnish way to pronounce it. Meaning the K is hard and you don't round the O like in English.

Ahh ok, that makes sense then.

Rounding the O is the US English. Most people in UK pronounce it Knock e ah.

Correct, it's the US that pronounce it wrong haha!

I thought that was the way to say it?

I have always pronounced it No-Key-Ah

Yeah, most people do that way, but that's not the correct "Finnish" way.



Thats how everyone bar America pronouces it.

Yep same as rounders, you guys have been calling that 'baseball' for years!

Can't wait for Nokia to release this service.


Playlists are out right? Good for casual listeners looking for a Pandora alternative for offline. Needs a limited "favorites" playlist of 25 songs always available that can be updated monthly

I just wish the download button linked to Xbox Music Pass

Dear lord...if Microsoft isn't embarrassed by this, I don't know what they will be by.
Their Xbox Music nightmare is a about to be outdone by its partner. If Nokia comes out with a capable Video program, the people behind Xbox Music and Video should lose their jobs over this. This is comical.

Nokia is wp and Microsoft knows it lol

Totally agree. Apart from performance issues and poor design, if nokia is able to only charge 3.99 for the same functionality, I don't see xbox music taking off.

It's not the same functionallity. You can't create your own playlist based on the individual tracks you choose individually. I can go on XBOX Music and download each individual track and build my own playlist or listen to my entire collection. Nokia Music is more like Pandora.

How and why would Microsoft be embarrased by this? Do you have XBOX MUSIC? I don't think you do. You can't compare "Playslists" of music you've probably never heard of to downloading as many songs of the ones you like with XBOX MUSIC. I can play XBOX MUSIC on my Phone, My PC or XBOX. If you have an XBOX you can also listen to most of the music videos on their XBOX MUSIC APP without ads mind you. Plus a lot of the songs are 320kbs vs 256kbs on NOKIA. So, in the end you get what you pay for my friend. And to me, there is no better music service than XBOX MUSIC. There is one thing that I hope they take from NOKIA and that is to add lyrics. Other than that, the big M has everyone beat.

Just search for nokia music unlimited ... It is a service available in india by nokia that enables all the nokia music users to download any song any album anytime without limits ... Yes, no 10 songs per month limit... All for free for the first year and after that its just Rs113 per month that's like just 2$ per month and you get unlimited downloads for the whole month... Maybe nokia can bring that service to other countries too

Have you used Xbox Music??? It does nearly nothing correctly but stream their own music!

@missionparta, yes I have. I have all 3104 of my songs on it. Those are songs that are on my Computer. Thank You for asking. I say about 2800 of those are MP3s while the other are WMA. It works fine for me. You can also use your Zune software if you're not happy with your XBOX MUSIC APP. And if you're not happy with those two, there's also windows media player. Still not happy, use Windows media center. In other words, there are many forms of playing the music you downloaded with your XBOX MUSIC PASS.

I cant use Zune with my Windows Phone 8. Only the "crappy" Xbox Music. And your one of 10% that has gotten Xbox Music to work correctly with your own library. Your the Messiah.

Lets all agree that music syncing with windoes phone 8 is a disaster, i cant sync music using Zune (had all my music organised in Zune to sync music to my Focus S) now i am suposed to use Xbox Music to sync music which is not available to Windows 7 (Desktop/laptop) users, Microsoft expects me to upgrade to Windows 8 so that i can sync music on my phone is plain stupid, i tried to use WMP to sync music to my Lumia 920, it is buggy it takes for ever for WMP 12 to find the music on my phone, doesnt sync play count or rating, i dont think any one can defend microsoft with respect to syncing music to windows phone 8 devises. doesnt really matter how good Xbox Music pass is, they need to fix how i can listen to my music first.

Well, on the PC all you have to do is have your music in the "MUSIC" library section and it automatically detects it. I do hate the fact that I allowed it to replace my song info and it mislabeled some of my songs. I spent so many hours trying to get that right and it only took an instant for the program to ruin it. I do prefer the Zune software over XBOX MUSIC to manage my music however. XBOX MUSIC I use more just to listen to it. As for the WP8 I've never used it, I'm still with WP7.5

I've done that. And I end up with 2-3 copies of everything. Fantastic. Go to twitter. The overwhelming view is that this program is garbage.

An app for the Xbox 360, perhaps? If so, I might be on board. This looks pretty impressive.

$4 a month no problem. Just skip Starbucks

yeah.. just skip starbucks one day in the morning.. before work

Yeah, either make a cup of coffee at hgome, get the probably-cheaper McDonald's alternative a couple of time, or just drink a bunch of soda.

Or just have coffee at work. ;)

Since it runs on HTML5, IE10 on Xbox should be able to use the service.

Current xbox 360 runs IE9. IE10 will probably come in the next xbox.

I would like to see how this will look like on rt surface. Xbox music app looks boring and this reminds me of Zune for some reason. I hope I can use the client as a full blow player that can access my music stored on a micro SD.

Can anyone vouch for Nokia Music lately? I found it to be unimpressive when it first came out, compared to Pandora for example. Has it improved much?
The song selections seemed rather generic and didn't mesh as well as Pandora's selections do.

I wouldn't say that the selection is generic, but it can be limiting. You can refresh playlists that you download, and they do legitimately change it up. There is a pretty decent job of offering some lesser-known bands in the playlists I use. However, if you make multiple playlists with bands that are even REMOTELY similar at the same time (meaning similar style, but no common artists between playlists), there will still be a lot of overlapping content between playlists. That, and the artist selection isn't perfect. One band--Oh, Sleeper--will show up in a playlist that I like, and they are a band that I like. Despite being in playlists, they cannot be chosen when creating a mix, which is an annoyance, to say the least. So I wouldn't say that song selection is generic AS A WHOLE, but it is generic if you do it all at the same time.

they have a good collection of international music, when i create a music mix with 3 artists half of the music in that mix doesnt belong to the 3 artists, Nokia has lot of work to do on this, but it is a good start.

Will this Nokia Music+ service be available for unlocked Lumia 920 as well in any location? Currently, Nokia Music service cannot be accessed on the unlocked Lumia 920 here in Mumbai, India (this phone is purchased from outside India). Any thots?..thanks.

I have the exact same issue. Even I bought my handset outside India. Anyone can help on this???

What exactly is the problem that u are facing?... For starters go to settings n create a nokia music account and activate ur subscription , if that is not possible on ur phone goto music.nokia.com and create a nokia account and then sign in with that account on ur lumia in nokia misic settings...

Thanks for your feedback. But, even after doing all that, the store, gig and mix music options are not visible in the Nokia Music app. As such, I am not able to download any music at all!..any suggestions?

I think the problem is your phone is from another country and ur sim is an indian sim so maybe nokia is unable to process that whole nokia music unlimited on your phone and as your phone doesn't come under nokia India warranty u wont get any help from the nokia care guys too.... So only viable option i see is if u can flash the indian firmware onto it so maybe you can use it ...

Thanks for the advise. Shall try my luck by checking with the Nokia Care guys here if they could help me by loading the Indian Firmware. Thanks.

Cool that you are showing one of those ASUS Q200's...I recently sold my Surface for one and I am loving it...
Anyway, I want XBOX music to succeed...My music world is kind of in disarray right now because I am trying to still keep my Zune until they fix the "alpha" program with XBOX Music. I may always hold on to my Zune since it was a 64 bit model and I can have ALL of my music, all the time...but I really want XBOX Music to soar...

If I had Lumia, I would probably drop my Xbox Music subscription and pick this up.
But I love my 8X with Beats audio, especially with my music pass.

Video is private. Pull the story.

It seems Nokia Let the beans spill too soon. Video is Private now.


Jelly as hell. We don't even have Nokia music (I can't even get the app) so I don't really expect this to be available either.

Damn I would love some of this..

Bring it to all Windows phone and I'll be all over it.

From what's on the article, doesn't look like you'll be able to download specific songs/artists, only mixed radios (mix of different songs) so it is not same service as Xbox or spotify...yes its cheaper but not exactly the same service....

I don't understand music+.. How is this any different than the just 'music' offered by Nokia. I am using an,indian 920.. And well i can download any song for offline use.. Sure i am restricted to 4 mixes..but i have unlimited songs and album download..
Am i missing something here?? What exactly is new with subscription??

You get unlimited mixes and unlimited skips with music plus.
The song and album download from music plus is paid per each item

Its paid per album and song?? I don't see any plus in that..

Music uploads for unmatched tracks? Xbox 360 support?

Video from Nokia in above post is now private.
So it shows that there definately be a Nokia Tablet.
Chintan.

The app does not seem to be available for download in India...
Windows Central Newsletter
Thank you for signing up to Windows Central. You will receive a verification email shortly.
There was a problem. Please refresh the page and try again.