Nokia announces Music+ subscription service: unlimited downloads, higher quality, lower price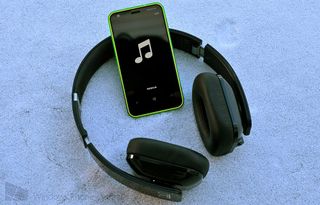 Nokia surprised a lot of people this morning by announcing Nokia Music+, an upgraded version of their current Nokia Music service available on Lumia Windows Phones. Music+ looks to compete directly with Microsoft's Xbox Music both in terms and features but with a lower price point: €3.99/$3.99 per month.
The service is expected to rollout "in a few weeks" and users can access their music via a web-app which "gives you the ability to play Mixes on your computer, smart TV or other connected screens". What's not clear at this point is whether this will be open to other Windows Phones or just Lumias. Also, the language about accessing Mixes suggests that individual tracks and albums may not be available across devices, though that remains to be seen.
The full feature list though is quite impressive.
Unlimited skips. Whether you like to skip from track to track, or just want extra control over what you hear. There's no stopping you with Nokia Music+.
Unlimited downloads. The free service allows you to download up to four Mixes (each of which contains hours of music) and play them without an Internet connection. The paid service removes this limit – you can download a massive supply of offline music you can swap as you wish.
Higher quality. We were surprised by the high quality of streaming music from Nokia Music, even over a 2.5G connection. Nokia Music+ allows you to download music at eight times the existing quality. Plus, you can set rules to only download high quality when you're on WiFi, for example.
Lyrics. Words to the songs you're listening to, right on your Nokia Lumia. Either in a scrolling list, Karaoke-style format, or a display you can scroll up and down.
At least when it comes to the lyrics options, Xbox Music does not have an option while the rest of the features are mirrors of what Microsoft is currently doing. Another question arises as to the size of the music catalog, but details are not revealed.
Nokia has been more aggressive about entering the services arena, much like Samsung and HTC for Android. It's a good source of extra revenue and dare we say Nokia will probably do a much better job of it than those other two companies.
However, like all new services there will be some missing options at first and limitations that may keep some users at distance. But that low price of €3.99/$3.99 per month may persuade quite a few people to go for it over other music subscription services.
As always, the devil is in the details and we look forward to taking Nokia Music+ for a spin when it's released. And for those without access to Xbox Music, it looks like Nokia just saved the day.
What do you folks think? Sound off in comments.
Source: Conversations; Thanks to everyone who tipped us!
Windows Central Newsletter
Get the best of Windows Central in in your inbox, every day!
Daniel Rubino is the Editor-in-chief of Windows Central, head reviewer, podcast co-host, and analyst. He has been covering Microsoft since 2007 when this site was called WMExperts (and later Windows Phone Central). His interests include Windows, laptops, next-gen computing, and for some reason, watches. Before all this tech stuff, he worked on a Ph.D. in linguistics, watched people sleep (for medical purposes!), and ran the projectors at movie theaters because it was fun.
This doesn't sound that interesting to me. If you can't download individual song tracks or albums then I don't see the point. I might as well be listening to the radio which is free or Pandora which does a great job of discovering music.

This is not a replacement for Xbox Music/Spotify type service. This is more like paying for Pandora.


Nokia Music = Pandora = Last.FM
Xbox Music = Spotify = Rdio

Can't listen to Pandora offline. And not everybody had a huge data plan. I work in a government building were a lot of sites are blocked and l don't have access to WiFi all day.

4tiles hit the nail on the head with this one.. Sry, but Nokia music is not all that, neither is Pandora. Spotify is pretty cool on android, but Xbox music will be better ultimately.

Like Odog4ever said you can't download Pandora or Spotify for offline listening.

Umm on Spotify you can download individual songs like Xbox music

Yeah that I know but how much you're paying for Spotify a month. Nokia is only $4.

Xbox Music $10/month + another $5 a month for the required XBox Live Gold membership. Better? Really?

As a gamer, I already have gold and usually buy the 12 month subscriptions when they have them on sale.. Plus I still pay the $15/mth Xbox music, and it gives us streaming, music videos, and 10 songs to own every month. Yes, it's much better. I gave Nokia music a shot, and was not really all that impressed.

i want the simple nokia music in greece...

Its not available for me in Canada either, but if you change your region to united states, it magically apeared for me in the store so I could install it.

I hope they include Canada this time.

Thanks for the tip! App installed.


it seems to look the microsoft account's country too.

I'll definitely be getting this. I'm currently listening to a qawwali mix on Nokia music right now. I've found so many new songs i hadn't heard before.. And if people here haven't heard of the qawali genre, well it just goes to so the depth of music available :)

Qawwali. File under things I did not know that existed.:) Will give it a spin.

As a starter you can go for Nusrat Fateh Ali Khan & Michael Brooks compilation.

Yeah i started with nusrat and then learnt about the wadali brothers, faiz Ali faiz (who sounds exactly like nusrat after smoking a few too many cigarettes lol!).. Etc.. And since I've been listening to qawwali for years, i loved the fact i was learning new stuff Keith - i definitely get your point, select three artists u specifically like and u should get a much better hit ratio :)

It doesn't quite work that way, though. I DO use the artist-chosen playlsits, but they're VERY limited. 3 of my 4 playlists are made up of heavy artists (one isn't), but even though no artist is shared across those 3 playlists, the 3 playlists all share probably 30% of their songs or more. That, and when you go with the artist-made route, you can pick 3 Christian artists and STILL end up with a playlist labeled as "explicit" and get many secular, profanity-filled songs, which is annoying. There obviously needs to be a content filter.

That, and even though some badns are in the Nokia Music library, you cannot choose them when creating the playlist (for example, I've had a few songs by a band called Oh, Sleeper come up, but no matter how hard I try, I cannot find a way to type their name into the "create a mix" application and get it to let me choose Oh, Sleeper for the playlist).

I agree about the content filter definitely. You should email it to them. I've heard theyre quite good with feedback. Also the playlist selection doesn't sound too good.. Again let them know.. I know for example even tho qawali is obscure, the records in listening to are on EMI etc., independent records might be an issue, but let them know anyway so they know there's a demand :)

I actually have sent them something about it through the app, though I don't think that it I sent an e-mail. Maybe I shall do that.

Indeed so, Children of Fire was my choice for 2011's top album,

That's Waladi not Wadali Brothers.

Yeah, it would be nice if they did a better job on their Christian playlists though, as the only one I seem to like casts too wide of a net onto Christian music (from the heavy stuff I actually want to the general rock I somewhat like to the super-slow stuff I want to avoid).

Looks interesting ... Was actually looking to get the Xbox music subscription but I'll wait to see more details about this

I just wish for a music app/program that is user friendly for my local music collection

Admittedly, no. On the desktop, it mislabeled a LOT of my music, and manually fixing them is annoying.

Yeah its not even close to being competent let alone being useful for anything. Still using the Zune Software works amazingly though

If this is going to be available in the USA then what price would it be?

About $5.20+ assuming that its costs €4 in USD.

The source says: "Nokia today announces Nokia Music+, which brings a slew of new and richer options for a low monthly subscription fee of €3.99/$3.99."

So, $3.99.

Yup, Nokia just added that--wasn't there originally. Added to our article too.

I'm guessing it will start in Europe first, since the price is in Euros.

From the source: "Nokia Music+ will roll out in the next few weeks. The price will vary slightly according to territory, but is expected be available at around €3.99/$3.99 per month." The article mentions a $3.99 price as well, so it should come to the U.S. at around the same time.

Sounds interesting. Nokia Music has introduced me already to songs I woulnd't even thought I would like.

With the XBox Gold Family plan, its impossible to add other family members to a single XBox Music subscription and requires you to take the family off the plan, add XBox Music to their account, then re-add the member again. Because of that requirement, family is already using Nokia Music on their 920's and with Nokia upgrading the service at such a low price point, I guarantee they will subscribe and I guarantee this will be my last year of using XBox music.

Question: How do those family plans work for LIVE? DO they have to be on the same IP address or Xbox or something? I have relatives on LIVE, but they are on different Xboxes.

You need to have them all on the same Xbox to start with, but can use the profiles from different IPs from then on.

Hmm, maybe I will look into that long-term then. Our accounts do not renew at the same time, nor are they paid for in the same way (mine's a birthday gift, for example), but I'll have to see if it's worth it at some point.

If you can get it organized and communicate often on issues (it assumes each account aside from the main member is a child, so you have to change options as you go), then its worth it. $60 msrp (though easily found around $35-40) compared to $25 per person for 4 people.

If music selection is on par with Xbox Music and it doesn't have the duplicate track issue, sign me up!

Is this only available in Europe?

No, the article says there is a $3.99 price as well.

Microsoft had better take note. As a former Zune and current Xbox Music subscriber, I have not been pleased with the new service whatsoever. If Nokia offers a better way for me to manage/synch my music between my WP8 and my RT then you can bet I will be making the switch. What irritates me the most in all of this is the lack of acknowledgment from Microsoft on some of these simple yet glaring issues with XBM.

I wrote 11 emails back and forth to Xbox support telling them how in mid of annual subscription I feel screwed over when a perfectly working Zune was replaced by Xbox Music. Forget about apologising, they insisted I shouldn't have upgraded to new hardware till end of my subscription! So don't get any Windows 8 device. I will surely jump to this Music+ at this price but need to see how well it syncs to online services on PC and phone.

Pssh, I love Windows 8 on my desktop to much to tell people not to get it.

I don't know why they would insist that when Windows 8 doesn't remove your ability to use Zune at all. I'm on W8 and Zune is my default player. Unless you're on a Surface RT, just download Zune and keep using it. Xbox Music sucks... I never use it myself. I still have the old +10 songs plan and it works fine.

This is not a competitor to Xbox Music or Spotify. You can't get access to individual songs or albums with the paid service. Nokia Music is a competitor to Pandora and Last.FM, basically just a paid customized radio subscription service.



@4tiles: How do you figure? That's not how I'm reading this at all, at least as far as the paid version is concerned.

Because it doesn't give you ability to download songs individually or create your own playlists.. Its the same thing its been, with unlimited skips and up to 4 playlists you can download, ie Pandora.. Xbox music is much better, and would almost say Spotify is better than Xbox music, but just because smart DJ isn't all that great. Still use Xbox music with the old old $15/mth Zune pass subscription because I get
to own 10 new songs every month

Well, here's hoping they do a free trial like Xbox Music does. I am intrigued by this, but not sold. I do like Nokia Music quite a bit myself, but its playlists are VERY limited in that music they choose from. It seems that 3 of my 4 offline playlists share about half of the same songs at times.

Also, for me to be on-board, there will HAVE to be something like Last'FM's ability to block tracks. That, and they need to do a MUCH better job of figuring out your listening habits. It's pretty annoying to be given songs with explicit lyrics when you don't want them. Small things like that just mess up a decent chunk of the experience for me.

Oh, and they need LONGER playlists. I think these ones only have about 20 songs on them, and when they're repeated over 3 of my 4 playlists (none of which have the same artists in the search field), it provides a VERY limiting experience. I'd say over all 4 playlists, there are maybe 20 songs I will actually want to listen to.

glad to see nokia getting some kind of paid subscription going to help with all the free services they give.

Sounds wicked awesome! Can't wait to sign up.

Gotta be better than regular Nokia Music. Hope this give Spotify a run from their money.

i feel like im the only person alive that does not give a rats azz about spotify.

You're not the only one... ;)

You probably shouldn't use it then. Eh?

Hope this service comes to Canada

How much is that in dollars?

Nevermind! About 5 something, so probably if rounded out about $5.99 I'm guessing...

Click the source. It says $3.99.

I'll wait to see if you can save your own mixes before subscribing. Love how DLNA will enable home theater playing. Sounds like this would be better than Spotify ($10 for premium service). Haven't heard from Spotify at all for WP8! More fidelity in playback has always been a deal breaker for me. Do you know the paid bit rate of the Music + streaming service?

Amm, is it for wp7.8 and symbian too???

I am sure, Nokia won't leave out WP 7.8 users. Symbian not sure. Since the announcement mentions Lumia. I doubt it will go to Symbian.
Nokia already had tried once in Music field with their ComesWithMusic service and failed at that one.
Let's hope they succeed this time.

Comes with music is still there in india just renamed as "nokia music unlimited (nmu)" in that we can download individual songs or albums from the music store on the phone or on pc via nokia(ovi) music client for windows. Every lumia in india gets a 1year subscription for free and after that we can get it for rs 113 that's about $2 per month and unlimited downloads

Wow. I really can't wait.

Nokia never seems to stop amazing me.

There needs to be a Nokia music website where you can listen (like Pandora)

There needs to be a Nokia Music forum, like Zune used to have. They also need to track plays and give you a profile, make it the replacement for Zune's "The Social."

A forum is a fantastic idea.

I'll definitely be getting this. The inclusion of a computer app almost makes it a no-brainer.

I've got the Xbox music pass for a year. If Nokia offers just as good a selection and a family pass, it's a no-brainer to switch. Hell, just same selection with lower price will get me too!

Well, can't say for sure right now, but I don't think Music+ will let you choose the songs you listen to, which would be a MAJOR issue for me. It is using Nokia Music as it is now, at least, as it seems about 40% of the songs in the playlists it makes are ones I don't want to hear.

I just started using Rhapsody and its very good. Nokia music didn't really make the grade. But I do like nokia's music plan.

I'd love to get this service, hopefully its launched in the US soon.

If they bring out some way of using this on the desktop then I'm sold. If not, the savings won't be worth not being able to listen on PC and Xbox.

From the press release:
"On your desktop. The Nokia Music+ subscription also gives you access to the service without your phone. A web-app gives you the ability to play Mixes on your computer, smart TV or other connected screens."

This would be a good alternative to MOG on WP8 (since there's no MOG app...) if they had a bigger catalog. A lot of stuff I commonly listen to just isn't available on this service, otherwise I'd certainly try it out.

Sounds like a winner to me, but if they allow access from all your devices, then I hope that they will allow music download to SD card. Cos 8 GB is not enough to take good advantage of service.

My nokia music no longer working.Re installed and factory restted and reinstalled no change.Can see only my music and settings in menu.

Awesome, perfect service for me. I have always been more like internet radio dude than certain song dude.

Cool, the best of both worlds.

Ok this makes up for the overly priced headphones

I don't get it, how does it compare with Xbox music if one can't download specific songs/albuns? Correct me if I'm wrong, but from what I understood you get more offline mixes and can skip songs ad eternum.. For the lower price it is ok I guess, but I'm also ok with 4 offline mixes

I use amazing music. I go on the search and find full albums I can listen to at any time for FREEEEEEEEEEEEE

I really like Slacker Radio Plus. For $3.99/mo, you get unlimited song skips, mobile station caching, and song lyrics. You also have access to ABC News and ESPN Radio. One feature I like on Slacker is the ability to "favorite" songs you like and ban songs you don't. Their mixes are pretty good. If you upgrade to Slacker Radio Premium for $9.99/mo, you can also play songs and albums on demand, play single artist stations, cache albums and playlists, and create playlists. Slacker works great on my Lumia 920 and on my Windows 8 desktop. Check it out:
https://store.slacker.com/store/Subscriptions.do?source=site-header

This is cool. I'm not interested myself but others should like this. Zune Pass is all I need. I saw this story on ArsTechnica first and it is surprising how different the tone is in their article.

I really like that price point of $3.99. If Spotify doesn't come out for my Lumia 920 and this is out I might switch over to Nokia Music. It all depends on the reviews and the finer details once released.

Been trying out a month of Xbox Music with my new 920 and I've been pretty impressed with the service. It's so easy to search on the store, hit download and have music ready for my car and the gym within seconds. Certainly looking for a cheaper alternative but Nokia Music's focus on the radio is of no interest to me.

I'd never pay money for a service without the ability to pick and choose the songs I want to listen to. Good for discovering new artists, not good for any kind of paid service imo.

I'm pretty happy with Xbox music currently I don't feel I'll need this as well, I wish someone would make it easier to make/edit playlists though

What exactly do you mean, "eight times the existing quality"?

Right now i suppose the quality of music in nokia music client on the phone is 32kbps(at least thats what it is in india, but we can download full 256kbps version via the pc client) so may music+ subscribers will get 256kbps quality songs via the phone client

I just renewed Zune pass, so I'm stuck there a year. Expensive, but I like it, except for smart DJ feature. Half the songs it chooses for an artist mix are for the artist I chose. I think it used to work better.

This is all pointless until Microsoft and/or Nokia sort out GAPLESS playback on our Windows Phone 8 devices...
http://answers.microsoft.com/en-us/winphone/forum/wp8-wpmusic/gapless-support-please/2a54c40b-d779-44f5-99ef-3b261695195a


If this is available for non-Nokia devices and has a desktop client for Windows 7, I'll be happy. Cann't stand using the Metro interface on the desktop.

There's still no Nokia Music or books in Colombia, don't really know why, they just aren't available in my region

Nokia windows music voucher recharge
Windows Central Newsletter
Thank you for signing up to Windows Central. You will receive a verification email shortly.
There was a problem. Please refresh the page and try again.