Nokia Video Director released for Windows Phone 8, brings video editing on the go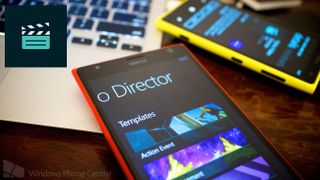 Thanksgiving just passed here in the United States and we've got plenty of things to be thankful for. Like the new Nokia Video Director app for Windows Phone that just hit the Store. This is a companion app on Windows Phone that goes with the Windows 8 app by the same name. Let's check out some of the features and things you can do with Nokia Video Director for Windows Phone 8.
Nokia stresses in the app description that this isn't exactly a standalone app experience and is really meant to be used in conjunction with your Nokia Lumia 2520 running the same app. That said, it looks pretty polished from the first few minutes we spent playing with it.
Nokia Video Director allows you to quickly capture and transfer videos to your Nokia tablet (we saw the tablet version at Nokia World). You can also transfer any projects you start on the phone app to your tablet. Here are the video templates the app for Windows Phone comes with:
Action Event
Announcement
Audition Time
Birthday Party
Celebration
Holiday
News
Sports Day
Nokia Video Director is an app for both Windows Phone and Windows 8 that gives you a basic video editing tool set to produce amazing results. The app will guide you through a variety of templates (listed above) and help you select appropriate footage to make a killer video. For example, pick the birthday party template and you'll have a template from Nokia aimed at producing a great video to recap a birthday party. You'll be instructed to capture video of guests arriving, everyone mingling, the birthday star opening gifts, candles being blown out, etc.
The idea is that Nokia Video Director will take the footage you shot and create great video. You can start the process on your phone and then continue editing on your Nokia Lumia 2520. Check out the video below to see it in action on the tablet and you'll get the basic idea of what the app does.
We'll put more thoughts up over the weekend of the app once we've spent some time actually using it. In the meantime, it's a free app for Nokia Lumia devices that requires Windows Phone 8 to work. Want it? Of course you do, so go to the Windows Phone Store to get it. You can also use the QR code below or swipe to the right in our app. Tell us your impressions of the app below!
Via: WindowsPhone.es
it's available for 512 MB devices. too bad i've reached the storage limit :'(

But then I realized I need to have a Nokia tablet. Useless. I want something like Android's Magisto.

Just installed it on my 1020 phone. Try again.


Woohoo! Now all we need is for Microsoft to allow video uploading.

They do? Nokia uploader app

The 'last updated' part suggests that it is around since September?? :o

Where's storyteller and temple run 2?

Where i can't see it ...!

I've downloaded Storyteller 2 weeks ago.

Near Field Communication.

Make this Bluetooth or WiFi transferable please and the app for my surface ;)

This. Very cool app but worthless without the tablet app.

Yup and I'm not buying another tablet just for the use of an app.

I just installed this app on Lumia 720.

Yeah, cool app, but I'm trading in my SP2 just for a video editing app, no matter how cool.

Yeah, cool app, but I'm not trading in my SP2 just for a video editing app, no matter how cool. (especially since it's a Pro model, I could use any editing software I want, really.)

You mean you are or aren't?

Aren't, sorry about that. Typing on a phone's keyboard... While I think WP8 has the best virtual keyboard, it obviously doesn't compare to the real thing (and hence while I'm never giving up my SP2 w/Type Cover).

Is it completely useless on phone in absence of 2520?

Bloody hell....can't save videos

Without a nokia tablet its useless

What's the point of this then? I can't believe after all this time we still don't have a proper video editing app.

I'm right there with you my friend.

NFC required..:(:(
not supported in 520.

Ah, windows live movie maker stays my video editing app for now.

Yay! This totally makes up for it not being on the surface!

No it doesn't. Its useless.

Not really, it's a companion app, so it won't work without transferring the video to a Lumia 2520 via NFC (which also makes it worthless on a Lumia 520). It won't let you save the video on the phone, it /must/ be transferred to a Lumia 2520. Pity, really. Looked cool, but this whole app is worthless without using Nokia's tablet offering, and I'm certain ally not buying a whole new $500 tablet just for another video editing app (especially since my SP2 can run any video editing software I see fit).

Now I want Lumia 2520 to make my project comes true!

Pretty useless unless WP API allows us to attach videos in chat apps smh.

Useless if I can't use it without a tablet..

I hope this is a precursor to a phone-based video editor.

Crashed when i select a video

Seriously, MS needs to open up the video API as much as they have done with the pictures API. Let a great 3rd-party dev create that perfect video editing app for this phone.

Fine lot of good apps are making entry into WP, but what about storage. Pls make provision to store apps on SD card.

If you want to add music into video you can buy brand new Lumia Guitar and Lumia Drums!

Lumia needs a Better VIDEO PLAYER which can play formats like .mkv etc from NOKIA/WINDOWS instead of such kind of apps..

I have been using MoliPlayer Pro for a while and it does a good job at playing .MKV files without lagging or overheating my 920. I think they have a trial version avalible; so you should try that. Hope it helps!

Moliplayer is great been using with no problems.

Any idea for movie player with subtitles? I cannot believe that the third mobile system have no way to watch films with subtitles. It's a shame...

MoliPlayer can show both subtitiles embedded in video files and also external ".srt" files.

Moliplayer is Nokia's OEM partner in China. They've got access to video and music folders. We can save videos to SD Card and can even delete videos from SD Card.

It really needs a better video player.

Try MoliPlayer Pro. It's one of the best video players in the store.

Very far from video editing apps available on other platforms...But its' a starting point.

Wait...i just read the app description.....a video editor app is coming to windows phone store soon.

Could you please specify the name of the app or developer so that we can find it after its released

I hope so. I got a surface 2 instead of a 2520. They will have to remove the NFC function. Its nice but obviously not necessarily.

I don't see the point of the app. If I was going to have to send my project to a tablet, why not just use the tablet from the get go? I don't see how this companion app adds value to the process of producing a video.

Phone video cameras are usually better than the ones on tablets.

Dear Nokia, I have a Nokia phone (a few, actually), but I don't need a tablet as a convertible fits my bill better. Please make this available to those of us who have Nokia phones even if we don't have Nokia tablets.

sorry Nokia but this app is totally useless unless u have a lumia RT tablet which is also useless as well, what i will do with a video editor in my phone if i cannot see and save the edited video in the phone itself????

Well, now there IS a use for a Nokia RT tablet.

Oh I really hope in future they'll develop this into a full standalone app for wp8. Or at least make a win8 app aswell.

Microsoft is acquiring the entire Device & Services division of Nokia, and that includes the group that does all of the software development for their mobile devices, including all of the imaging software. There is no way this app won't be updated to work with all Windows 8/RT devices.

I'm tired of this Nokia exclusive crap. Why can't I have these nice apps? Just because I bought an HTC 8X?

Do you have a Lumia 2520? If not it is worthless to you anyway.

What are you talking about? This is an "exclusive" app because it is a NOKIA app. This isn't like a game that someone else made and Nokia paid to bring it to Windows Phone. It is THEIR app, that THEY made. If you like all of the nice apps, maybe you'd have been happier with a Nokia device. Geesh.

Wtf without teblet not useful

this is really pretty cool, it allows 160x120,320x240,640x480 capture, so I can send video fast and cheap on mobile just to say hi to family or friends. 1280x720 is killer on data and slow. now i can take video that is just for chat or hi.
Windows Central Newsletter
Thank you for signing up to Windows Central. You will receive a verification email shortly.
There was a problem. Please refresh the page and try again.