Nokia will give developers "deep access" to camera settings with new imaging API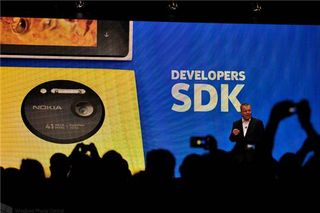 Stephen Elop put out the word to developers that Nokia is looking for their help to push innovations in imaging technology. To aid them in this venture, Nokia will be releasing the developers SDK, which promises to offer "deep access" to the settings on the Lumia 1020.
Some big names have already signed on to use the new developers tools for official apps. Look for new releases from CNN, Vyclone, Yelp, Flipboard, Foursquare and Path.
Stay tuned for more details from the floor.
You can also grab the SDK right here.
Windows Central Newsletter
Get the best of Windows Central in your inbox, every day!
Wrong article but I just wanted to say how happy I am that at&t got their ass handed to them. Hahahahaha. I'm so happy Ralph was there to hear it :)

Didn't you hear how the Forbes reported criticized at&t on the 920 release.

Watch the video of the event. Skip to the last part Q&A section. I think it was the last question. She criticized at&t's support for the 920 and how "crummy" they supported it. Also, she mentioned how employees were not informed about it.

I'm looking for a event video ... thnx for the tip though.

Path and Flipboard.
2 apps I can strike off my list of 'nice to have apps'.
I await for Instagram.

Path is something that I've waited months ago, and so now will have it in no time!

Will this new sdk let developers acces the videos on your Phone?
i'd like to see some Video editing apps