Nokia Xpress: Get smart with how you use the web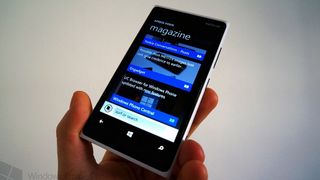 Calling itself a 'content discovery' app in the Windows Phone Store, Nokia Xpress seems to sell itself a little short. At the core it's designed to help save your data plan by reducing the size of webpages before sending them to you but there is much more here.
They have also built in the ability to create a slick looking personalised "magazine" from your favourite websites which are then made available to read offline. All this and more and has been rolled into one powerful app, its now left beta and is available to download today. We take a closer look at the final version.
Windows Phone Central on Nokia Xpress..
While some of us have either generous data allowances on our mobile plan or have the luxury of Wi-Fi connections, others may have certain constraints. Those could include those who are traveling to another country and trying to be frugal with how much roaming data they use or simply that data is expensive. Whatever the reason there are plenty of good reasons to get smart with how you use data.
Xpress looks to help ease the pain of this issue by reducing in size all the web content that comes down to the phone. It does this by compressing the webpage before sending it. It's a simple enough concept but the results can see dramatic improvements to how much data is consumed.
At its most basic level, think of Nokia Xpress as a web browser replacement, instead of viewing websites using Internet Explorer you just view them in Xpress. Nokia will crunch down everything in the webpage before sending it. Used in this way you can see up to 80% savings in your data. Here is what Nokia have to say when describing Xpress.
Magazine, Saving a page for offline reading, Saved pages..
The other side to the app is that you can create your own magazine built from your favourite web pages and cache them for offline reading. This is where Nokia Xpress enters the territory of the likes of Flipboard or other content aggregation apps. All you need do is go to your favourite sites and then it will allow you to tap to add this to your magazine. Once you do that it will cache some content for latter reading.
Introduction Screens..
It does a really nice job of making it readable, essentially stripping each article down to the first paragraph and allowing you to view more if need be. Presentation is handled well and of course if you wish to read beyond the first part of the article the rest can be downloaded using minimal amounts of data. There are other ways to achieve similar results with other apps but this is a powerful and easy way to reduce data and get the content you need. It should suit power users and the casual user equally.
Highlights of the app include:
Magazine – Store and read articles, news blogs and more in a clean, easy-to-read format
Monitor Data Usage - Data usage and savings are reported as a live tile on the start page and via a detailed dashboard in the app
In Page Search - tap on a word and discover related content with automatic contextual search. Currently supported by Wikipedia, Bing and YouTube.
SkyDrive – easily save and store videos and images to SkyDrive without using your precious data plan
Translations - One click language translation is available for virtually any web page.
*UPDATE*
We have reached out to Nokia about some of the complaints we have seen here about the app not installing or seeing issues. "Update on WP8 - We are in the process of improving our support on the recently released WP8 devices. While the current version will mostly work on WP8 devices, there are a couple of known issues, that we are still working on fixing:"
We're glad to see this one finally arrive out of beta and if you have a Nokia then we urge you to go take a look.
Download the Windows Phone 7 version from the Marketplace here
Download the Windows Phone 8 version from the Marketplace here
Windows Phone 8
Windows Phone 7
We'd like to hear what you guys think of the app, it has been in beta for a while so if you have any tips of views we are all ears.
Windows Central Newsletter
Get the best of Windows Central in your inbox, every day!
The link does not work for windows phone 8.

Really? How are you accessing the link?

From the download link from the app but I just accessed it from the webpage using IE10. I guess that is another way to use download it.

Looks to be related to the app, we're checking that now.

There's 2 links, 1 for wp7.5, another for wp8, you should've tried 2nd one, worked for me

Looks interesting I'm checking it out now.

Title bot found that does work for w8. Its good I like it

Would like to try this app. Sounds good but not available for wp8

You clicked the link to the Windows Phone 8 version?

Yes I have a Nokia 822 pressed download app and it says not available for your phone

That is odd, can you try again, I am able to access from a Lumia 920 and 820.

Tried again no dice. Says my device needs updated. I check for new updates says phone is up to date. I have Verizon maybe after portico update it will work

Thanks for the heads up, I will see if I can get some confirmation on that from Nokia

I just downloaded and installed it on my 822 about 30 minutes ago. Used the top QR code.

It's probably not available on the 822 yet. This happened with Photobeamer. It went to the AT&T Nokias first and showed up for the 822 about a week later. I would guess that the same thing will happen.

It is available on the 822, I just downloaded it on my Verizon branded one.

I have tried with my 920 as well and says it is not compatible with my phone. I tried using the link that shows up on my computer browser to manually install it but I can't figure out how to get it to install now that it is on my computer.

Try to view this on desktop/browser mode.wp7 and wp8 link is there at the bottom end.

Did you try this link? It worked on my Verizon 822: http://www.windowsphone.com/s?appid=cbf5f827-aa0a-4670-8ba6-775676f275b0

Probably you need to change the region! Im now living in KSA and when i bought my Nokia 920 i checked the stroe and hardly any applications. I searched the store from the Web by changing the region to USA and all the application where avaliable! Therefore, i changed the region on my phone to USA also and all of the Apps showed. So incase, check your region buddy!!



I think if you're on a seriously limited data cap, Portico's option to not load images and the future rollout of DataSense will have you covered. I used to surf on the daily commute with Opera Mini + no images and never used more than 20MB.

What datasense rollout? I've heard no such news about Rogers.

I was excited by DataSense when we heard it way back before WP8 came out. But then we found out its something to be implemented by carriers. Thats great for Verizon users, but for me on AT&T that puts it in the Fairy tale bin. I love Nokia for filling in where MS has come up woefully short.
Although I do admit the loading images option is a great idea. Thanks to MS for that.

This app is really cool.nokia strike again..:-)

the link doesn't work for my Nokia Lumia 800 either... :-/

its in the nokia collection section

Uh oh, another Nokia story, haters in 3, 2, 1.........

Yet you freely hate on any non-Nokia story. Shut your punkass up

On this site? What Nokia haters are you talking about?

I was able to get it on my 822 just now. I got it from the Nokia collection in the store.

i have it now, its very much like a flipboard like app

Nokia has made my 900 worth every penny. Excellent support from Nokia. I am patiently waiting for 7.8.. Nokia is making this wait easier. Nokia is just awesome!! (BTW 920 users do you think is worth it or should I wait until its a little bit cheaper, I am buying off contract/ebay way thanks).

I would wait for the surface phone or something unannounced like that. My mom has a white 900 and i've had my white 920 for over a month now and they are not too different. The screens are the only thing I really notice different and thats up to preference if you want amoled or ips. My dad just picked up an 820 because he wanted a smaller size and loved the amoled screen. Once you get 7.8 it'll be sweet... I do love my smooth curved glass feel compared to the edge on the 900 though. Hope this helps

Man you would want to try the 920 and you might possibly retire the 900. I have both phones with me right now and I can tell you the 920 is years ahead of the 900. Apart from the Pureview camera, the Pure Motion HD+ screen and the wireless charging, the 920 is also superior in audio(Dolby surround), processor speed, NFC, Better sound and video recording, call quality and the list goes on and on. If you have budget constraints and want to wait a little bit the 900 can still hold the fort for you but trust me there's a huge leap between 900 and 920 and I'm more than happy with the 920.

Click on 'Download App' then select 'Title not found' to install Nokia Xpress

OK I think I have found some irregularities which may answer why people are not finding it easy to locate this app.
It seems that the "Nokia Collection" from the WP does not find all the software made by Nokia and they can only be found when you search for "Nokia". Nokia Xpress is one of a few examples but there are others such as My Nokia CosmosConquest The Caddie + CNN Accuweather.com Soundtracker Draw Something PGA Tour Someone should mention this to Nokia!
Anyway back to Nokia Xpress. I tried this in Beta and was mildly impressed but didn't have much time to look into it and certainly didn't realise it has the ability to build your own magazine.
A word to those who have the beta, this install will not replace the Beta so you will end up with another copy and I have chosen to uninstall the beta to avoid confusion.
This release version fixes the issue of not potentially knowing what this can do with a nice set of tutorial / information pages and there are easy to follow instructions that help you as you build your magazine (nice one!).
I found it a bit confusing at first when you entered a new website in the address bar and it loaded the full page as I was expecting it to format it into the magazine format for me (but that just might be my own interpretation as I was in the magazine section at the time).
Once you get to the magazine section it is wonderfully rendered and swiping between pages is very smooth, almost a delight!
What I did find strange was that loading the images at the top of my newly added subscription takes too long (and this was me on my Wifi network!). Hopefully this is a one off thing. When you choose "get full story" the rendering is also very nice.
I will continue to use this and report back but saving data is not only good for your plan but also keeps things moving along quickly even when you have a below par network connection. Good effort Nokia, now I am off to see how good these other Nokia apps are that I have found.
Side note (nothing to do with Xpress)
I would like to see the use of RSS services, why do all RSS readers use google?
Is it because the website you are searching has signed up to the google RSS service or is it a client side thing?


Neat lil app. Nokia at it's finest :D

Hi friends!
Nokia has confirmed! NOKIA DRIVE WILL BE AVAILABLE FOR ALL WINDOWS PHONE!
http://www.wpdaily.it/2012/12/21/nokia-drive-disponibile-per-tutti-i-windows-phone/

Greetings from Italy!

Am I the only one experiencing trouble starting the app?
The last update on BETA made it impossible do start sometimes, TOO SLOW!! Now i thought it`d be fixed, but it`s exaclty the same way .-.
And yes, it`s the only app with this problem.

I purchased my Lumia 900 3 weeks ago, and this was the first app I downloaded - I am using my ATT Paygo sim $0.10/min, $5/50MB data) and this app helps me save, on average, 80% in data usage. It is relatively the equivalent of the Opera Mini app I used for my Nokia N8 when it comes to saving on data.

What I also like about this app, among other things, is that the phone clock remains in the upper right hand corner when using the app - may not matter to some, but I like seeing the current time when using my phone, and this is the only app that I've used that gives me that information. I think it is a nice touch.

Definitely a very useful app, and I will always use this over IE whenever I have to use my data, since I have limited amounts.

"You can't use this app on your phone
You need a Nokia Lumia phone to use this app
Please uninstall this app"
What the hell? I have Nokia Lumia 920?

The first download link didn't work for my Rogers 920, but the second one labeled as "Title not found" worked. Edit: the app is pretty useless if you exit as it doesn't save the last page you were at automatically.

Agree with apocarux. It worked that way.

Worked by going directly to the Nokia Collection in the 822.

Just downloaded this and gave it a real quick try. Very nice. I will definitely need to give it a full testing but I'm impressed so far.

Not better than internet explorer

This is a really nice app - a nice compliment to IE. I'll still use IE for a lot of stuff, but for browsing articles from sites like The Verge and ProFootballTalk, this is a great app.
Every time I question my decision to be a Nokia customer, they always come through with something to make me happy I own their phone, be it an app or a free charging plate or whatever. They really are a great company and I hope they do well with WIndows Phone.

Does this mean Xpress kind of works as a proxy, since the site is actually being pushed back to you by Nokia?

Doesn't IE10 already compress pages similar to what Opera and Amazon does?

Would using a reader app such as Weave also use less data than going to the actual website?

It is very dissapointing that i cannot install the app because i have Lumia 610. IIs it so difficult nokia's developers make the app running under 256 mb Ram?

I had no trouble installing the app on my Nokia Lumia 920. It was listed in the Nokia Collection. I got the app for the magazine feature, but it appears only certain web sites can be added to the magazine. I tried to add the news page of my favorite sports team, but no dice. The "Add to Magazine" option was greyed out. I also tried adding CNET, but that didn't work either. Anyone know what the criteria is for being able to add a web site? The app is kind of useless if I can't add the web sites I want to the magazine.