Lumia 950 and 950 XL stuck getting builds are now receiving Windows 10 Mobile 10586.36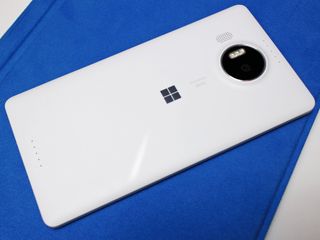 (Image credit: Daniel Rubino / Windows Central)
Update: It's not entirely clear if this update is rolling out to non-Insiders, or just Insiders who were stuck on 10586.0 and who could not get 10586.29 and 10586.36. For at least the latter group, they should now be getting the update. It is less clear for those who are non-Insiders if they are getting 10586.29 or not.
Original
It appears as though Windows 10 Mobile Build 10586.36 is headed out to non-Insider Lumia 950 and 950 XL phones now. The same build was sent out to both the Fast and Slow ring recently, and now it appears to be hitting phones that aren't enrolled in the Insider Program. This build will be the final release of 2015, and it brings a few fixes and improvements to the phones.
If you've got a Lumia 950 or Lumia 950 XL, and have yet to receive the update previously, you should check again for the update. Once updated, be sure to hit the comments and let us know your thoughts.
Windows Central Forum - Anybody is getting .36 update?
For more information and to share your experience jump into our forums.
Thanks to everyone who sent this in!
Jared started off writing about mobile phones back when BlackBerry ruled the market, and Windows Mobile was kinda cool. Now, with a family, mortgage and other responsibilities he has no choice but to look for the best deals, and he's here to share them with you.
Cool, I guess? Let's hope carriers play it nice.

I just got .29 available for download on my unlocked 950 today. First time it was available.

Same here, updated to .29 today, but still no .36 here.
No reset, non windows insider yet.

That's strange. I just jumped from 00 to 36 for my 950 unlocked. It said something about insider fast ring, but I'm not sure since my windows insider app seems to be broken and it makes me set it up every time I open it.

I deleted my insider app yesterday because it didn't appear to be working. About 5am this morning, my unlocked 950L beeped telling me that I needed to restart to apply my updates. It referenced insider and .36 - naturally I restarted. I now have jumped from .0 to .36

I should note, I'm not in the insider program on the phone.

Same here. But I'm stuck on .29 and no .36 available. WI app always needs to reinitiate.

No reset, non-insider (on this device), 950 XL downloaded .29 overnight.

I got .36 today but my eqaliser is not opening beofre it also one update for audio came and broke the equaliser app

Just got the .29 on my unlocked 950XL this morning for the first time.

Enrolled in the Insider Program or not? My 950XL unlocked, which is not enrolled, doesn't see any update. Still stuck on .0 :(

Not available for my AT&T 950.

Well, they usually roll out in waves.

I guess the thing that's not clear in the post is whether or not anyone with an AT&T phone reported that they received it. Still very wary of their willingness to let updates through.

I think they fixed it for Insiders, but .36 would be too early (imo) to go out to non-Insiders as they probably want more than 48 hours of feedback from Insiders before being pushed out.

Yeah, that makes a lot of sense. That's not what the original version of the article (that I was commenting on) suggested, though. Live and learn, I guess.

Im an insider with att 950. I previously was able to download .29 and got .36 yesterday.

Yes, I am an Insider with an unlocked 950. Previously I couldn't get any updates. .36 is downloading right now!

Finally got the update! Everything is smoother. Like the new Update graphic, too, Dan!

Hi Daniel, I have updated my 950XL to build .36 but now when using whatsapp (specially) or another applications, it hangs and restarts. The keybard crashes a lot but that was fixed when I did the hard reset but system hangs specially usng whatsapp during typing and its random and irritating. Any suggestion.

Says I have a update on 950 (at&t) but sits at 0% while downloading...

Did a hard reset, restored backup, update downloaded, now installing...

On a 640, 2 1520's, and th 950XL unlocked, the download status bar seems stuck on 0% while my bandwidth tool on our firewall shows them pulling the update down. Eventually, after they are deep into the download, the status bar "jumps" to show some level. (not sure if they were all the same) Guess I'm saying that the 0% download status can be misleading. Regardless, glad you got it.

Finally on my 950xl, getting .29... My ATT 950 got it when it was originally released. Neither phone is enrolled in insider.

Hopefully the 2016 builds fix simple bugs that no OS should have, it takes forever just to play a song on my Lumia 640 (on newest Windows 10 Mobile Build) and sometimes it'll just refuse to play. I've never had that problem with Android or iOS.
EDIT: Sometimes I have to delete songs as they give me instant errors on trying to play

Well, it's a preview, so...
(For the 640, it is.)

That is a core is function though.. And the same thing happens with the 950s so...

I haven't run into that on my 950. Not saying it never happens on 950, but it's not like it's some core OS-level issue, or something.

If it was a Groove Music issue why haven't they fixed it already?

My point (that I made poorly) is that, if it were a systemic issue to Windows Mobile 10 (or Groove, for that matter), it would affect every device using that software. There may be something funky with your device, or the install corrupted. I had an issue with my 950 when I first got it where I was unable to download any of my Music Pass songs. I had to do a factory reset, but that resolved it and it's been fine since.

I run an elderly 1320 on .36 and have not had the problem you have. My Groove music opens up with no delay and plays a tune straight away. Strange. Then again, I've had no issues with .36.

I run occasionally into the same problem on my 640 too (WP8.1.2)
Restarting the phone fixes it though.
I also used to have the same issue on my older 625. So not a device problem but rather a windows one. The error usually reads: Sorry we can't play this file on your phone Moreover I can not download .29 on my 640, so no idea of .36
Download gets stuck at 7% for hours and then fails. Been in this loop since two days

Not happening on my 640 (daily driver) or my 950. Hope it clears up for you soon.

Dude....your daily driver is the 640 and not the 950?? Strange.....

Something I've noticed is Groove tries to log you in each time you open it. Maybe it's waiting on account login? Open the settings menu next time it's not playing music and see. I don't know why they couldn't just have it remember the last login account.

No problems on my 640's. Music plays just like it did in 8.1.

if only Microsoft would give me a brand new 950xl to go with the update ...

It's very smooth in my 630, the only problem is the battery.

Have you done hard reset after isntallation? it usually fixers battery drain.

Found that out when my wife almost returned the 950. I told her before she does that, try at least hard resetting it once. She went from 5hr battery life to almost 18hrs. Her phone used to run extremely hot and drain the battery like crazy. Now its running as it was supposed to.

Why can't my navigation bar on Lumia 630 just disappear down like 730 even in win10

Tell something more. I also wanted to try out Windows 10 on my 630.

Yeeeeeeh!!! I don't have 950!!

As Insider I am sad to report my 950 still crashes / reboots on occasion

As an insider, I'm happy to report that my 950XL is pretty solid. No crashes or reboots at all.

Nice. Heard of many without issues, so it seems Win10M is coming together. But MS is not quite there yet....

As an Insider, I like to mix Skittles and M&Ms in the same candy bowl.

What more does a boy want....

Aah, you also like to live dangerously

Do you use windows hello? I've found my phone only does random reboots when I have windows hello enabled.

I have not had a single crash/reboot on my 950. Could it be an background running app that's causing it?

Do you have a SD card installed? Whenever I enable my SD card, my 950xl crashes within an hour or two. I've tried two different SD card brands (64GB Scandisk and PNY). When disabled my phone does not crash.

you'll probably need to replace/exchange your phone to fix the SD card reboot thing. There's a thread in the 950XL forum where several of us have been tracking this and the ultimate fix for those of us who have tried it has been to replace the device. Really looks like a hardware issue.

not on the xl I have....keep getting irritated with this...OOOHH look for an update...no update. it is on att. fyi

You may run the Windows Insider again first.

No update for me. 950 Xl non insider on .29

.29 is the latest non insider build

NOPE! An unlocked 950Xl with insider and AT&T 950, neither showing the update. I literally just reset BOTH phones just to get .29... Please dont post a blanket statement like this, again. The updates on w10m are a disaster. EVERY one seems to need a reset. No wonder they arent advertisign the newe phones, who in the general public would put up with this amateur garbage. Id expect this with an upstart company.

"Please dont post a blanket statement like this, again. "

You do realize how complicated this is, right? Anyway, are you an Insider (Fast or Slow) or neither? Also, if you are looking for assistance, probably best to keep the snark down.

My AT&T 950 is not enrolled in the Insider program and does not have the new update available either.

Thanks, appreciate the info.

If you had simply been patient for a couple of days until they fixed the update issue you would have gotten .29 without doing a reset. My .29 update just came through last night and is being applied now. As the wave of rollouts proceeds I will probably get the .36 upgrade as will you most likely.

Nope. Still not getting .29. 950XL enrolled in fast ring.

Wow, someone hasn't had their fiber this morning.

I got a non-insider L950XL. After a few days wait, I finally got .29 this morning. When I woke up thing morning, the phone felt hot. I got a message that phone settings had been changed and wanted me to re-start to finish the installation. I did and found the .29 ready to download. MS has apparently done something to make this happen. But it is not .36. I'll wait till .29 update is finished and see the whether the .36 is waiting.

Same thing for me. Did not get.36 after .29 was done though.

Same here. .29 is being applied now and hopefully .36 will follow.

I can't download language packs

This was on the issue list of the last build when it went out on the insider ring.

Just do Insider initialisation again and then try to download language pacs.

I'm having the same issue. Insider with the .36 update and still having issues with language and speech packs :(

Glad to know I'm not alone. Latest .36 build clean install.

I also have an att 950 with .29 installed and I cannot get the update . Both before and after a factory reset.

I got .29 for the first time today. Not seeing .36. Unlocked XL not running IP.

I'm an insider on the fast ring with an AT&T 950 and I have .29 installed already ((I got it when it first went live), I can't get the .36 update either.

Not an insider. I was an insider on my other phones but microsoft engineering asked for my field medic report due to my horrible battery problems. So until I hear back from them I don't want to do the iider program.

Yup, just got it! installing almost done. Finally an update for my Lumia 950 XL

Finally managed to get .36 on my unlocked 950 after being stuck on .0 PS: I'm on the fast ring.

I'm an Insider, but haven't been able to activate it since switching to my new 950XL. Got .36 build earlier today! B-)

When will we get the update in India I m using 640Xl

Non-insider, previously stuck. Just received .29 950xl

Yea please some confirm if the keyboard issue is resolved. Have reset my unlocked 950 5 times yesterday to try and over .36 being stuck and then keyboard not downloading.

Try switching to slow ring and then search for update. I used to have problem, when I was in fast ring, keyboard and speech weren't downloading so I switched to slow ring then checked for updates voilà the updates will download keyboard. I hope it will work for you.

You reset your phone 5 times?? Are you familiar with Einstein's definition of insanity? Look it up.

Have it on my 950 in Cali., I'm on fast ring.

For all not only Lumia 950

After patiently waiting since the release of .29 my 950 XL has now finally received it. ​No .36 available yet. (Not enrolled into Insider Preview for phone.)

You're not really stuck. Mine stayed at 0% for a while also. Just sit back and relax.

I didn't receive any update in my Lumia 950, Airtel India, I'm fast insider with 10586.00 build

Change phone region to US then try.

If you are on .0 and an insider then I hate to say it, but I would do a backup, hard reset, dont restore the backup. Install Insider fast or slow ring doesnt matter. Do the updates all the way to .36. Reset again and then restore the backup from step one. It is a pain for sure but my 950 now rocks.

that need too much of data usage :(

When will the update start rolling OTA for other windows devices? For non insiders.

Grrrr, did a hard reset yesterday :'(

36 seems the same as 29 on my 640.

It is the same for the end user mostly. Most of the changes are with OneCore

In my 640 w/ .29, i cant use the wordflow keyboard(swype) on the store and edge, but can do it both w/ .36...

India/Non Insider/950XL - Now .29 update is showing up. First ever OS update after receiving the phone, fingers crossed -_-+

Got it on my 950XL- not insider. OS 586.29

Yap!! I was get the 586.29 . I'm non-insider now after 581 build

950xl, insider, fast ring... Seemingly stuck at .29, but waiting (as) patiently (as possible). 36 is supposedly cumulative, yes...? Any idea why people are still getting 29 after a reset...? Doesn't seem like that should happen, particularly for an Insider (who re-registers the phone after the reset)

No update for me... First i didnt get .29 after second time i got it but now u didn't get .36. Im not insider

A bit off topic... But any idea when WC's universal app comes out.. Last I heard it was in internal testing

I've got it on my 950XL now. Haven't set up insider app on this one

Hey, so I have an unbranded Australian Lumia 950 XL - without insider preview - and I'm seeing the update now.

Eventually getting .29 on my UK EE 950. Will there be the .36 build afterwards or is it just the one build?

Non insider 950XL. Finally got .29 update 12 hour's ago. Just checked and no .36 yet. Happy to wait a couple of days like Dan said.

Yeah, I was surprised when I suddenly got it today on my 950 XL. Windows Insider Fast Ring.

Non Insider. Getting the update now. Carrier Fido in Toronto Canada. Looks like it's a big update. 950XL.

10586.29 update complete.

Stability and much better battery life. recommend.36 for even more improvement. No new features in either build.

950XL (CV NL), not on IP: not getting it, currently on .29 1520 (CV HK), fast ring: getting it, from .29 640XL (CV NL), fast ring: getting .29 from .11, assuming it will get .36 afterwards. 930 (CV UK), fast ring: getting it from .29

Nice list of phones there lol

Stuck on .00, Insider Fast and not receiving anything at all on my unlocked 950.

My Lumia 635 is getting it now. I'm insider fast ring. Posted via the Windows Central App for Android Now it's stuck on 10%

I never could get .29 even after the return to availability after the brief absence. I had waited until it reappeared and then tried after two hard resets ( first one with restore from a backup, second one with no restore from backup). When .36 appeared I signed on to fast ring and got it immediately. Very nice build, no issues thus far

I have the Lumia 950 xl. But the latest update have not reached to me yet. I'm from India.

Hope they fix all the network errors on wifi since it's really frustrating

Not available on my 950xl

Why can't people just wait and chill you'll get update,it's rolling out to servers worldwide

It is not. It is insiders only.

I was stuck and got .29 this morning. But not .36.

My lumia is not enrolled in insider, it got .29 last night. And tere is currently no sign of .36

Non insider, here. 950XL, stuck on .0, now DLing .29 Finally!

Unlocked, non insider L950 still stuck on .0

Does it fix the audio issue we have?

Assuming you are talking about the equalizer in the extras section, got to Settings - Privacy - Background apps. Disable the equalizer from being in background. Then go to Settings - Extras - Equalizer. It shall open ok. After that re-enable the background ability for the equalizer. It will stay ok. Worked on my L950 XL on .29 version without any reset.

I can't download the 10586.36 update on my Lumia 535, but I already have the 10586.29 update. In my phone it shows the update is available, but not downloading, update stuck on 0%. Pls help me. And I also can't download any app from Microsoft Store.

It's great news whether you are an Insider or not. Have some patience and the updates will reach your phone soon. I was the original poster of the MS forum thread for no updates on the 950XL almost two weeks ago and *finally* can see an update (10586.36) this morning. Patience, young padawans. Patience you must have.

No. Patience, must you have.

Running .36 on my aging 928 for over a day now, too early to tell about battery life, no issues to report. Seems to be a little faster, WP Central app still slow opening.

lumia 950 europe insider...update came few days ago

10586.29 on 950XL NL Unlocked (no insider)
(Problem detected on equalizer, that closes automatically)

EQ issue was reported here yesterday. This is why i haven't updated it. http://www.windowscentral.com/microsoft-updates-audio-introduce-new-ui-e...

Assuming you are talking about the equalizer in the extras section, got to Settings - Privacy - Background apps. Disable the equalizer from being in background. Then go to Settings - Extras - Equalizer. It shall open ok. After that re-enable the background ability for the equalizer. It will stay ok. Worked on my L950 XL on .29 version without any reset.

Still have the equalizer crash after update to .36 on unlocked 950. Anyone else ?

Non Insider, Unlocked .29 950Xl on AT&T here in Indiana. No .36 for me as of 1:48pm Saturday

Non insider on a 950 not seeing anything yet. Not sure if it matters whether it's unlocked but I have the AT&T version.

It's not supposed to matter.

It just told me to update to .29

I just checked my Equalizer. Mine seems to work fine. Found that you can't utilize the equalizer while listing to broadcast FM . it states: "Audio settings don't work with some audio devices or FM radio." The settings are greyed out.

Insider, L950 went straight from .0 to .36 .........finally. No issues but I didn't have any to begin with

Well I got .36 today as I was reading this news. Insider fast on 950XL here.

Last night I FINALLY, and automatically, got .29. I am not on Insider. I will manually check for .36 tonight.

Getting 10586.29 on Lumia 950 XL.

I haven't read one good review about the 950/XL so far.... Starting to wonder if we have MS glasses...

Read gsmarena.com then. Biggest and best reviewers. Quite positive.

That's because You didn't read lol Posted via the Windows Central App for Android

I got the update for my non-insider 950XL.

My insider L810 receive .36 last night and my non-insider 950 XL just receive the .29 update this moring

Hier nog niets. Nothing here I'm afraid.

If you are an insider you get totally tracked by microsoft? text, messages, calls...everything? Posted via the Windows Central App for Android

Yeah its annoying being tracked and monitored, but I like to have the newest OS. Last night I could hear them laughing while they were listing to my conversaion with my Grandma, but oh well...

You're kidding right? They can't be listening can they? Lol

I received .36 overnight on my unlocked 950xl.

Unlocked 950XL Dual Sim and still no updates whatsoever...

For my 640 xl have .36 update available, soon as they release it.

I have "Updates are available" but the progress bar is stuck at 0% on my L950. I'm not insider.

Unlocked 950xl in UK and no .36 still on .29
No problem with equalizer as reported here
But still have problems with frequent restarts when microsd card and AC is connected

non insider here with 950 locked to Meteor IE received the update this morning.

Finally got .36 (Insider)!!! Lumia950XL @ Finland - previous version was .0

Unlocked 950XL, non-insider still on .29.

In my friends 950XL we finally had to reset and start over. It was on 10586.0, but it was stuck at 0% downloading .29. But it got the false "low storage" error, which then turned the phone into a pocket burner. You could barely charge the thing, and it would just burn through it. Thanks Microsoft, for the ~6 hours of backup, reset, upgrade, reset, restore, update apps, reconfigure, etc... joy.

I got the .36 update last night for my 735 last night. I am on the Slow Insider program.

Dan I think that the people who did the hard reset to get .29 will not get .36 without doing a recovery. I did a hard reset to get .29 and is on the insider fast ring. Did not get .29 did a hard reset and still no .36. Do recovery and .36 roll in. There are still some issues going from build to build that needs to be address by MS. 950XL

got yesterday night... now on .36 on 950xl but still no double tap wakeup! Loving the phone though

Started update on my son's phone earlier, with no Insiders Preview installed.

I opted out of the insider program and still got the .36 update.

I'm on 950 XL unlocked as well on ATT and it's on .29, just checked and no update available. Non-Insider.

Finally, I went from 00 to 36 on my 950xl unlocked

I have a 950XL and am on 29, not on the insider program .36 got stuck and start sucking battery like crazy and getting very hot. I did a hard reset and am on 29 and not being offered 36. I will wait on 36 until after the new year .

Got the update after installing .29 update. I notice a minor bug where the background jumps up a bit after opening and closing an appilcation from the app list. Also, my Lumia 950 didn't ring or show new sms messages on the tile after the update, although they showed up in the inbox, but this resolved after restarting the phone.

In Canada right now, and today I went in a BestBuy...large display showing of surfaces and windows logo everywhere. Store is packed with people.
No 950, no XL.
Do Microsoft even want to sell those phones?
Why Do they lost this end of the year shopping season ?
I cannot believe that

I got it but its buggy as ****. Apps crash, os crashes phone runs hot hot hot. Battery last 3 hours not even being used. Already formatted the phone once and my ms band 2 never stays connected. What a piece of crap phone. Oh the white back cover is already discolored

Lol I hear that one. But my thing is this why release the phone if the OS wasn't ready. I came out from the windows insider program due to my Lumia 1520 getting crazy hot (for no reason), when taking photos in rapid succession the phone restarts, when on calls phone gets hot, apps open slower on W10M. Those are my biggest problems nd there is nothing else I can recall. Don't get me wrong the OS is on the rite path but I just feel they need to work on that battery drain was first priority.

I love and hate Windows Phone at the same time. Wish windows phone all the best

Just about downloading it on my Lumia 930, some tech forums talk about that Lumia 930 and Lumia 1520 will also get Windows Hello and Continuum support with future updates coming up next 2016 year, if so that is good, no need to replace the phone.

unlocked 950xl on .29 on ATT. Tried insider fast and slow ring no update for me yet.

I have a non-Insider 950XL. Was not getting updates but today got .29.

My L810 is a non-insider and got the .29 update and is now getting .36

Nokia Lumia Icon slow ring. Tried updating to .29 for 2 days (I figured .29 first then .36) but kept getting error 0X8001007 code. After many soft resets and 1 hard reset I still got error code. Finally swiched to fast ring and and updated to .36 with no problem so far. Waiting now for apps to update.

I just got it for my Nokia Lumina 830, on the insider program. Updated from I think .28.

Lumia 920 on insider 36 since distribution day...

Had a chance to play with continuum on the 950XL. I find the phone opening office apps particularly slow. As a phone, its impressive. But for practical purpose, I can't see the benefit of it over a Windows tablet hooked up to TV via hdmi running full fledge MS office. I find my 8in Atom tablet runs office much faster than the phone. Opening a word file containing pics and and attachment certainly is faster with Atom vs the 950XL. Not to mention, i can run photoshop, illustrator or other legacy software on the tablet which the phone can't. Although an Atom is hardly the right hardware to handle such graphically demanding task, its still capable of doing minor changes & viewing the psd or ai email attachment. As a windows fan, I'm just trying to see how I can fit this phone into my daily working life.

I got new .36 update bt it still updating problem and still somewhat slowly opening apps on my Lumia 640 xl....

I hope Microsoft will soon fix issues with background downloading. Currently downloading .29 update. The above told issue is causing the update to stop again and again when I am doing multitasking or whatever my screen gets locked.

Finally my 950xl have received.29 after hard reset

For what it's worth, I have an unlocked 950XL I've been using on T-mobile. I am not on the insider program, and I was previously unable to get any update. The phone insisted that no update was available. Yesterday my phone updated to 10.0.10586.29.

Aaaaa....how did you get the 950xl to work on T-Mobile...I thought AT&T was the only carrier that offered the Lumia 950 and 950XL

My 950XL unlocked (MS store) works on MetroPCS & T-Mo.

I bought the phone from Microsoft, then put a T-mobile SIM in it. It was that simple. Well, almost that simple. I had a microSIM, but the 950XL uses a nanoSIM, so I had to go to a T-mobile store, pay $16 for a new SIM, and then put it in the phone. But if you already have a nanoSIM, it should be as simple as sticking it in the new phone, so long as the new phone is unlocked.

.29 update....in india for xl anybody getting .36 in india

I live in Canada and using an unlocked Lumia 950 XL Dual Sim MS Store. Had to do a hard reset to get to .29 from stock .00 Now I have not received .36 yet ...now do I have to do some sort of trick again to get .36 update? ...So people say do an recovery? .36 Will it be for people who already have .29 or is it only for people coming from .00 only? Loving my 950 XL

I got the update on my Lumia 920 version 36

Yesterday I finally got the .29 update... First it was stuck for a day... Storage bug.... The phone got crazy hot for no reason and the battery drain was insane.
It wasn't until 01.00 o'clock at night when it finally started downloading and now 08.00 o'clock in the morning that it's on the new build... I don't see the .36 update though... But I'm glad my 950xl seems to be working normally again ;-)

Wow..10586.36 build superb for Lumia 640.. No loading.. No resuming... Very smooth and fast.. Great work Ms.

10 mobile rtm still not come:(

Got .29 automatically on my non-insider 950XL. .36 is not available though.

I'm on a Lumia 640 and I just got the .36 update yesterday.

Occasional screen freezes other wise so far ok on my HTC one m8 download was quick and smooth

I got the update yesterda(saturday) afternoon. Straight to .36. I didnt even notice. I was studying with friends and when I opened my phone I had the message Update was Installed. Didnt notice anything new yet. Maybe is under the hood. The only problem I was having before the update was: shooting videos sometimes didnt work, after taking a pic, the phone was taking too long to give the final image touches. Randomly turned off during a call. Basically thats all I had in terms of issues, as far as I remember. Iris scanner seems to be faster. Battery is deffinetely better.

The autofocus is horrible!!!!

I did not get the update. I then downloaded the insider app, rebooted and was immediately notified that I had a pending update. I chose the slow ring.
Apparently it's a insider thing... ? It was stuck at 0% for 15 min. I stopped paying attention and when I checked again it was grinding it's gears

Im on insider, but didnt receive the previous build. It's now installing this one (950 XL)

Got .29 on my 950XL a while a go, so waiting for the .36

I received an update message and was able to download the update the day it was released for slow/fast ring. It's a SLOW download, if it seems as nothing is happening that's normal. I'm on a 950 btw.

What about Lumia 730? anybody!!! Please reply...

It has been told a lot of times. Windows 10 is , for the moment, available only through insider program on older devices. Only the new lumias 950 950xl and 550 will recive this releases as an update to the system;).

950 DS bought from Amazon unbranded in Europe (Germany) and entered Insider, no luck for a few days, stuck on .0, tried again yesterday after the news here, no effect. Then I changed from slow to fast ring, ther you go, direct and flawless update to .36.

"It is less clear for those who are non-Insiders if they are getting 10586.29 or not.​"
I did get 10586.29 on my Lumia 950 yesterday and I keep that device out of the Insiders program...

After the update I had to reset the phone as it was doing something over the WiFi that made it hot. Resetting fixed the hot WiFi issue, bit now I can't mms and the glance screen is not working. Go figure... 920 with insider fast

Ah, and also the predictions for English Australia is not downloading

Is everyone else having issues with some apps after the update? I sure do alot, I instagram, facebook, my Christmas gift list even to calculator is acting up, I'm so close to just bring my 950 back to Att and get a new iphone after 4 years of windows phone and not much progress on any of the most use apps for everyone, sad to say but it's true, after all I pay and dealing with this right on Christmas time no fun, I don't want to miss having pictures on Christmas day again thanks to windows

Got .29 the other day 950 XL, no insider. Still no .36 here in Denmark.

Getting .29 but install crashes every time. No insider program. Norway.

Were do u find the build number on the phone. Have looked in extras and info cant find that number anywhere

Why are they sending out .36 its not ready and very buggy.

Unlocked , non insiser Lumia 950 just got .29 update here in India. Not sure if ill be getting .36 point to noted it did change few of my pesonalized settings. for example i had phone as detailed status on lock screen after update , it was calendar. like it went backt to defaults. weird.

I am not sure how I got at first but when checked, I had got it through windows insider on 950XL. 1.Device not geeting too hot now, while even at charging. 2. Keyboard often crashes, 3. Continuum has become little sloppy. On a large screen 40 inch TV the title bar was cut off. It hung at time. 4. Edge is still crashing a lot, unable to handle Yu Tube videos on full screen. 5. Battery have to check out for a day or two, may be a slight improvement. 6. Phone freezes at times. Twice in a 24 hours time. 7. Unable to project my screen wirlessly. These are few issues I found.

Not insider. My Lumia 950xl, is still on 10586.0.
??? :(

Lumia 640 insider and battery is horrible compared to 8.1 but I hope it's work on progress

Got .29 two days ago. Today I got a new update. Not .36, but some called MICROSOFTMDG... Or something like that. What might that be?
Lumia 950XL non-insider, sweden.

As an Insider I had 10586.29 on my 950 and I had none of the issues related to warnings for low storage or unwanted restarts.....until I tried to install 10586.36. The download got stuck at 0% and no restarts or soft reset would unstick it. In fact while I was "waiting" for the update to download I got 2 low storage errors. I wound up doing a hard-reset and removing Insider. I'm waiting until after the new year and the next release and skipping .36 altogether. I really don't want to have to do another hard-reset and I just don't think Microsoft put in the effort to make sure both .29 and .36 were sound. I think they wanted to get them out as fast as they could before everyone left for the holidays and the consumers are now suffering.

Lumia 950xl non-insider. Win ver 10586.0. Today i've got an update. I downloaded it and installed. After that i saw the update version and it is still 10586.0.
??? I have no idea....

Is there ever gona be a sale on XL. Want one but refuse to pay retail for anything.
Windows Central Newsletter
Get the best of Windows Central in in your inbox, every day!
Thank you for signing up to Windows Central. You will receive a verification email shortly.
There was a problem. Please refresh the page and try again.