Now everyone can enjoy Microsoft's revamped Windows Maps experience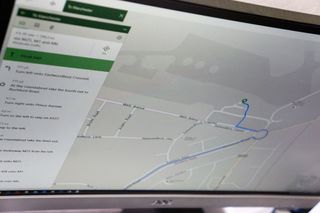 Microsoft has rolled out an update for Windows Maps on Windows 10 hardware. This latest release completely revamps the experience by packing in new features and making everything more awesome. We've been alerted to the change and have confirmed the new experience on our own Windows 10 installs.
As noted by MSPU, here is what's new in this latest update:
You can now minimize search results, directions, and location info to enjoy more of the map, while keeping them in easy reach.
We added search to 3D cities so you no longer have to scroll to find the city you're looking for.
Your favorites are now available offline so you can truly enjoy your offline maps and take advantage of all the places you have saved. You can also add notes to your favorites to keep track of things you want to remember about that place.
When Cortana is enabled, you will receive turn-by-turn directions in Cortana's voice, currently supported for English (United States), English (United Kingdom), Simplified Chinese (China), French (France), Italian (Italy), German (Germany) and Spanish (Spain).
We've made it easier for you to follow your public transit route and know when it's time to get off the bus with updated turn-by-turn instructions.
And finally, based on the greatest amount of user feedback we've made improvements to the UI of turn-by-turn instructions to improve glanceability and the layout in landscape mode.
You can download the latest update for Windows Maps from the Windows Store. Let us know how you're getting on with the new Maps.
Download Windows Maps from the Windows Store (opens in new tab)
Thanks to everyone who tipped us!
Get the Windows Central Newsletter
All the latest news, reviews, and guides for Windows and Xbox diehards.
Rich Edmonds was formerly a Senior Editor of PC hardware at Windows Central, covering everything related to PC components and NAS. He's been involved in technology for more than a decade and knows a thing or two about the magic inside a PC chassis. You can follow him on Twitter at @RichEdmonds.
Still there is no option to add stoppages while planning a route.

You can pin anything on maps randomly. Its new option now. Just long press and select drop a pin.

Yes, but is it possible to add that pinned place to currently found direction route?

You can only drop pins for now there is no modifications in planned route.

It can show you an alternate route automatically but not through pinned places

I think he means an option to "travel via" a location - So take me from London to Edinburgh but make sure the route goes via Manchester. It would be really useful to create a single Itinerary in the app, but as a workaround you can just do multiple trips to each location in order.

Yes you can add tabs to do multiple trips

exactly, that is what I meant. Google maps has that option. I do use the workaround though :D

Waypoints. Every GPS standalone unit had them a decade ago, don't know why they're absent in HERE and MS map products.

They aren't absent in Streets and Trips or Autoroute, just current MS map products ;) 1 step forward after 3 steps back.

Does not show alternative routes anymore. My 1200km trip to Italy wants me to travel over Munich instead of Milano :(

Noticed that too. 2 steps forward , 1 step back

Hmm, just noticed that my Italy route is in my favorites. When I search for a random city I've never been, I get 4 alternative routes. When I try to navigate to a saved location which is in my favorites, I only get one route.

More like one step forward, two steps back.

Should work you may need to read.

Just scroll up after choosing to "Get Directions" and it should reveal the alternative routes - I've just tried this with a saved favourite and a random location from a search

I'm seeing multiple routes on mobile. Did you pull up the list?

I hope it still lacks Pakistan as it does in mobile version.

I really enjoyed, it's odd but I love new apps even Maps

My main issue is still, how do i make it sync to my phone from pc.

If you search from Cortana on your PC it should send the route to your phone, I've used it in preview builds for a while but it seems to have stopped doing it - When I had it working it only worked when asking Cortana for the directions. It does sync your history across devices though so your last search in the box should appear on your phone so you can quickly get directions, just a bit more manual than needed.

Sadly Cortana is not available in denmark yet. Even if english would be fine.

It lags on tilt mode while here maps works great and pan dosen't seems to work.

Great. But, until which update we can have dark theme option?

Was always dark.
As far as I can see maps and photos were the only apps exclusively dark themed

Ups, sorry. I mean Maps in the Redstone build.

No its not. Not like the dark theme we used to see in here mapa

Used new one, not even single landmark is showing correct.... The third party google maps shows better current location and landmark..... Maps were pretty outdated too

Transit isn't working. Anyone out there with the same issue?

it is not working in some cities that i tested it e.g. Athens and Thessaloniki in Greece ​. in most major cities is working. i have the same problem like yours.

What about the compass? What about the slick HERE interface while driving? The tiles for different forms of transportation? (I had the whole suite of HERE apps pinned to my start screen) The new maps app is anything but "awesome". Sorry :(

Are you kidding?? Still no compass on Lumia 950?? This is just ridiculous.

this is the ONE thing which still keeps me away from MS Maps

Without HERE maps available on the store....for some people this is the ONE thing which still keep them away from MS completely.

"Your favorites are now available offline so you can truly enjoy your offline maps" But, if 3g/LTE is on, there is a way to stay offline in the app? I mean, I don't want to know the traffic, just want to use the map.

You can disable traffic info thru the layer menu item (the icon with the piled squares)

Download Maps without Connection...

Guys ... How to get fav data imported from Here ?? On Feedback Hub, they mention that option to import would be there in Maps favorite menu. But it isn't. We (at recent w10m builds) need to back to 8.1 and then enter Insider and update again to w10m ? Btw, it will be the same for PC and tablets ? Any step-by-step ?

Just login to your ms account in maps app you will get all of your saved data

When I do that, I only get the favorite places that I saved on the new Maps app (before they implement that migration of saved data) and not the data from Here. How to import Here data, when we already have been using the Maps app for months ? I think they could do some script for that, because in the web page of Here, we can see the old data (places, routes, etc). Seems not so hard (for devs) to get data from there and put into Maps.

Still here maps suite works good for me. Lots of room left to improve in this new map app

Not corrrect. You get your "Favorites" only. No collections and no HERE data... :( bummer.

On the latest build of Maps for W10M (I'm on the Release Preview Ring FWIW), look under settings. There's a button to import from HERE.

Here: http://www.windowsblogitalia.com/2016/05/importare-i-preferiti-here-in-m...

I'm sure they've been working hard on this, but they need to keep working. They should stop wasting time on 3D cities and work on real time traffic.

I agree.. They should work on more practically useful features like, asking for terminal when looking for directions to the airport.. That would be really useful!

What version is this one?

I just find this app laughable. I truly wish the HERE suite of apps would come back. They were all MUCH better than this. I especially miss City Lens. Nobody makes an app like that.

When do we get turn by turn directions that do not completely override audio already playing? Directions over a lowered volume of music, podcasts whatever is what I'd love to have.

Cars should come with a Bluetooth speaker for navigation and message reading aloud and save the audio system for music. Attenuating the music a bit would be fine when Cortana speaks.

Real time traffic would be good. Also the facility to group favourites together in categories. I finally managed (though a very long winded process) to import my huge list of favourite places from Here, but now they are all in one big long list, rather than separate themed lists as they were in Here. I miss Here still, to be honest. This MS Maps app lacks some of the useful functionality of Here. 3D cities I can live without for now...

Too bad there isn't a dark mode anymore, but oh well, I can live with that. What I would like is a Microsoft Maps app for Android so I could sync my locations with my Android phone.

Is the traffic layer persistent? If it's not then this app is useless.
Edit: The traffic layer is still not persistent. Switches off as soon as you start navigation. I wonder it this feature is so hard to implement.

Indeed, but there is a workaround (for now). For some reason, I am not getting the latest map update ( I am stuck on v5.1603.1471.0 in the UK). I use Maps as my daily commute map, as I was used to do with Here maps on Windows Phone 8.1... As soon as you start navigation, the Traffic layer is turned off. A way around this requires quick fingers... The key here is to display the Map Layer windows at the right time. Once the 3D navigation has started, you can no longer access the Map Layer windows to turn the traffic layer back on. "Easiest" way: - Pin to Start the Direction to your favourite (home and work for me). - When you tap on the tile on the start screen, it will start the Map app, calculate the route and launch the navigation to the destination - AS SOON AS the map app is started, tap on the Map layer button on the right of the screen to display the layer window... If traffic is on, you will notice that the app switch it off as soon as the route is calculated and the navigation in 3D starts... Because the Layer window is still displayed, you can now manually switch the traffic layer back on... - Tap anywhere outside the Layer Windows to make it disappear... "Harder way", needs good timing: - calculate the direction to a destination... the Map app will show the suggested routes and will display a "Go" button to launch the navigation. - you need to tap "Go" and the Map Layer button immediately (in that order) before it disappears and the Map switch to 3D navigation screen (then the Map Layer button is no longer displayed)... Now you can enjoy navigation with the Traffic layer on... At this stage, the Map app won't re-route on traffic condition, only displays the traffic (probably the reason why the traffic layer is off in navigation by default !). Hopefully, automatic traffic condition re-route will be implemented soon and traffic layer enabled in navigation once again! Have fun! Tony

Will it now work to speak directions over blue tooth, correctly pausing blue tooth music? That or route direction audio to the speaker in the phone, I always end up with bt turned off using maps which negates the concept of hands free for calls...

Why can't gps coordinates be used to look for locations.? It would be a nice feature to have.

I've been enjoying the new map app. My wife hates it. She says it messed up the location on her places or something. I'm not having that issue.

I'd like to know when we will see the feature incorporated where you can use a pen to draw the route you want to take on the map and the app will navigate you.

That sounds awesome. Did they showcase this?

I could be mistaken but I thought Ms talked about this when they first showed off the new ink space in Windows 10

https://www.youtube.com/watch?v=ZtWqZV863Q0 Look at the 07:00 minute mark. Windows ink is not enabled yet, not even in insiders builds, but apparently will come after anniversary update.

I have the ink space on the fast ring. Maybe we are talking about different things though, not sure.

I wonder uf maps for Japan will be available in mobile :(

Oh wait apparently they are available now :0!!!!!!!

No folders for favorites, transit with public transportation in Estonia is a nightmare, favorites still need connection (I remember when I went to Italy and relied on the fvorites in Maps, big mistake, not to be made again). MSFT is just hashing out half fabricated shait at this point, on all fronts, and hopes people will eat it. Well, when I am getting a new phone it aint gonna be freaking Windows Phone, because I am fed up...

I think living in Europe you have to consider that Microsoft probably won't meet your needs

I think that MSFT needs to step up their game... US is not the only country in the world, but if they can properly support only America, then they should GTFO from other countries. Im not talking about Office or Windows (although they can't shut up about Cortana, and its only working in like 5 countries), but about Windows Phone, for example. Why would they sell those in Estonia, if the expirience on it is horrible, and half the stuff just doesnt work?

it's the world best Maps Online Available....

Not much here.. Still no sync of "Collections" having an unruly list of favorites is almost useless ! Being able to group map items is how it should be.. shame... doesnt seem like it would take much to implement....

They need the ability to add my location to favorites. I couldnt get it to work from my phone. in older versions i could. the constant change is complicating for users. I hope they bring back that feature. I dont allways know the address where i am when im in the middle of the country to save it. MS please return this feature.

Damn right. I'm want my location to be favourite, but I can't. Also, why can't it show gps coordinate like in google map?

Still no offline China maps... This used to be almost perfect with Here maps, especially since data can be hard to get when visiting there.

campass is still inactive on Lumia 640 LTE, really MS ? f****

Interesting, since they did not put the ability to print directions back.

Unfortunately still no scale. I like the scale in bing/mapspreview. Unfortunately not available on Windows Mobile.

So is this update being "rolled out" or is it for a specific Insider build? I can't get the update.

I am on the latest insider fast ring build (W10M OS 14371) and still didn't get the latest Map update in the UK. I am stuck on Maps 5.1603.1471.0... What is the latest version? (I have seen in another post 5.1606.xxxx)?

Much better, i can actually read my eta without having to hold my 1520 up to my nose

man why cant they just make it like the new web version. its miles better than this app

They should just rename Here Maps to Microsoft Maps. It's amazing how MS keeps making new apps that is lacking lots of great things from the old ones.

MS Maps and Here Maps have been separate apps from the beginning. MS Maps uses map data from Here (and likely other sources as well). Here Maps on android seems better than Here on WP8.1 or MS Maps...

How do you enable Cortana for turn by turn directions?

Readability of navigation is better since last two updates. But since then the actual speed only shows when exceeding speed limit. And then it is displayed on the distance-to-destination field. I like to have both fields together on the screen, always. Already given this feedback to microsoft. Hopefully the repair this quickly.

And when is the Windows Ink integration coming? And to the rest of Office also? I'm getting really worried and noone has noticed, 90% of the new Windows Ink experience is still missing on Windows Insider Preview.

For some reason car and transit navigation are not working for me. It says that it can't find a route to the selected destination. Maps are updated. I'm on PC.

I still don't have the update yet.

And still no compass feature -_-

I really don't like one thing is the voice navigation is enabled by Cortana, I don't know when I will have that feature. HERE Drive allows me to use any voice language to navigate regardless of the phone language. I need this feature!

Where's the pen support we been seeing and hearing about?

CAMPASS CAMPASS CAMPASS CAMPASS DOESN'T WORK LIKE ON HERE MAPS, IF YOU ARE NEW TO ANY PLACE WHERE YOU ARE NOT ABLE TO DETERMINE WHERE NORTH IS, THE MS MAPS DOEN'T HELP YOU TO OR SHOW YOU THE DIRECTION TO TAKE UNLIKE HERE MAPS THAT HAS A WORKING CAMPASS THAT ROTATES MAPS ACCORDING TO WHERE YOU ARE FACING.

With the new update, Transit directions (public transportation) for Athens and Thessaloniki in Greece is not showing any results. Does anyone has any idea why this is happening? Before it was working.

I have a Lumia 830. Already for several months, both the 'car' and 'walk' option are not showing the 'guided navigation' option. So, when I select a destination, I will only show me one possible route, with no 'go' button on the right side. In other words, it does not allow me to actually start the navigation, only to see the fastest route to the destination. Strangely enough, for the 'transit' option this does work properly. Anyone else suffering from this problem?