NPR One comes to Windows 10 as a universal app, headed to mobile soon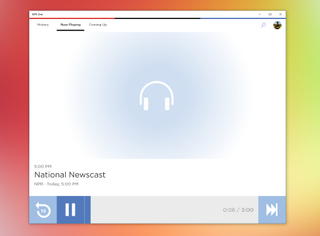 For you public radio fans out there, NPR One is now available as a universal app for Windows 10 and is coming soon to Windows 10 Mobile. Bumping the app up to version 2.0, the app is now designed specifically for Windows 10 with a better big-screen experience along with Cortana support and more. Here's the breakdown:
We're excited to bring you an entirely revamped and unique NPR One experience - designed specifically for Windows 10.
Enhanced Large Screen Experience - We've brought beautiful and captivating images associated with stories to your desktop experience.
Cortona Support - Missed the latest episode of your favorite program or podcast? Just tell Cortana which program or podcast you'd like to listen to in NPR One and she'll fire up the latest episode for you. Like that story you just heard? Ask Cortana to mark it as interesting so we play you more content like it.
The app is currently only available as a Universal Windows Platform (UWP) app on Windows 10 desktop, but NPR notes that Mobile support is coming soon. If you find yourself puzzled as to why a "universal app" is only available for one platform or another, be sure to check out our editorial on the subject for a thorough explanation.
For now, you can grab the app at the Windows Store link below for Windows 10, and be sure to check out the Windows Blog for an in-depth look at building a UWP app from the NPR team.
Download NPR One for Windows 10 (opens in new tab)
Via: Windows Blog
Dan Thorp-Lancaster is the former Editor-in-Chief of Windows Central. He began working with Windows Central, Android Central, and iMore as a news writer in 2014 and is obsessed with tech of all sorts. You can follow Dan on Twitter @DthorpL and Instagram @heyitsdtl.
Oh ****! They keep coming And this one even has Cortona integration. It's Cortana's assistant sister

ITS WORKING.UWP IS AWESOME!!!!!!!!!

This was already a universal app when it was released on Windows Phone 8.1 and Windows 10. I know there is a little difference to it, but they are just bringing the app back to the phone. Anyone with WP8 can already use it.

Lol I'm pretty sure I emailed a tip to you guys about this one over a month ago

I email them very often and have never been responded to or featured, I assume they get a boat load of messages 'daily' and only sieve a few from the bulk, keep trying though buddy! P.s I like your screen name (if it's from ffix??)

They are very different, get both!

Nice that devs are taking the time to convert apps to UWP apps. However, I'm looking for some new high profile apps that were not previously available on the platform. This is a good start for sure but bring on all the banking apps, Pinterest, Uber Driver, Store Apps, gas station apps and some google apps. Many college kids drive Uber part-time but they can't convert to windows mobile because the uber driver app isn't there. Windows Central, thanks for giving us the blow by blow on all the UWP apps.

Bank Of America is working on a Windows 10 mobile app supposedly, but it won't be universal

My favorite radio station, woot.

There does appear to be some good momentum in the world of apps for us! I figured it would happen, but it is nice to see it coming to fruition. I see articles that say that ms should kill off windows phones...I disagree wholeheartedly. I am happier than ever with w10 on my 950 (and on gaming pc, surface 3, xbox)

The 950 and Continuum is so far over the average phone journalists head it's embarrassing.....

It's because they are used to a grid of static icons. Can't blame em pretty much all o/s's until W8 and WP7 was a static grid of icons.

Man!! Www are getting hot with barrage of apps!

Omg... All the apps are W10 now. Great!

If I had adequate internet, I would grab the application.

I read the title as NCR one... lol!

And technically, Windows 10 is barely 1 quarter old, with W10M no released except for a single model new phone. Microsoft takes a lot of heat for reloading, and rightfully so. But their strategy seems to be legitimate. Early signs anyway. I agree that when a couple of major banking apps and a notorious app or two show up, then it's on! I'm not rooting against them, that's for sure.

Yup, just waiting on WM10 GA to hit. I'm sure some of the companies are already working on the universal apps for the Windows Store. As after all why wouldn't you want to target an additional user base if your app makes sense on a smartphone. Especially since required effort is pretty small when compared to what was previously required.

What do they mean NPR one is coming to windows 10 mobile I thought its one platform??? I thought once you make a universal app it works on any Windows 10 device

The devs can choose which platform to target, the code is shared but the UI is not. For certain apps it wouldn't make sense to share the exact same UI across a desktop PC and smartphones. To mandate which platforms devs should support is a big no no.

Read the article that was posted earlier today that explains exactly that, ****!

Chill out and read the article Daniel wrote about the ins and outs of UWP apps.

It still requires a sign in with MIcrosoft, Facebook or NPR just to use. That kills this app for me. It look interesting, but I don't see why I need to sign in simply to view news. Those requirements are not very friendly.

This version was installed on my S3 on 6-Dec. making it a few weeks old now. It ain't new as many here think.

Thank you NPR. I anxiously await the mobile app. I listen to multiple stations daily.

I knew you sounded cool! :)

If developers have the option to choose which platform to create UWP apps rather than creating one platform app to a run all windows devices what would stop them from not creating app for windows 10 mobile???? Desktop market share is for larger than mobile market share this is going to be the Achilles foot for Microsoft with windows mobile

Wow. NPR. That'll drive sales away from Apple.
Windows Central Newsletter
Thank you for signing up to Windows Central. You will receive a verification email shortly.
There was a problem. Please refresh the page and try again.