Nvidia releases new Windows 10 graphics drivers, just in time for Batman: Arkham Knight
Nvidia has released new Windows 10 drivers for those with GeForce graphics cards installed. The company has rolled out drivers designated 353.30 just before Batman: Arkham Knight was released.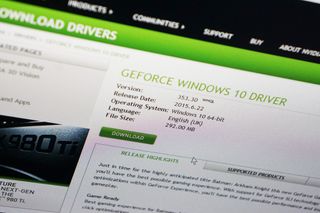 The new Windows 10 drivers from Nvidia bring updated support to a range of the company's best graphics cards, including cards from the 400, 500, 600, 700 and 900 series. Should you enjoy keeping up-to-date with Nvidia and drivers for your card, you may want to check out the latest release.
Updated to the latest version? Let us know how you're getting on in the comments. For those interested, Batman: Arkham Knight is now available for both PC and Xbox One.
Source: Nvidia 32 bit (opens in new tab) / 64 bit (opens in new tab), via: Reddit
Get the Windows Central Newsletter
All the latest news, reviews, and guides for Windows and Xbox diehards.
Rich Edmonds was formerly a Senior Editor of PC hardware at Windows Central, covering everything related to PC components and NAS. He's been involved in technology for more than a decade and knows a thing or two about the magic inside a PC chassis. You can follow him on Twitter at @RichEdmonds.
As far as i know, Batman: Arkham Knight has been a complete mess for the PC. I have seen hundreds of complaints regarding poor optimization (stuttering, frame drops, frequent crashes even on high end systems)in various forums and twitter. Maybe, the drivers address those issues so that the game runs well on Windows 10?

The bugs are still there.

Sounds like every major PC release, sadly... Posted via the Windows Central App for Android

I wouldn't subscribe to that statement in regard of The Witcher 3. For a game of that size, the initial PC release was already remarkably free of bugs.

Agreed. Witcher 3 was surprisingly good. These drivers are cleaning up the sli mess I was in but it's still erratic, and that's on a titan x sli, 32gb ddr4, pcie c drive and the works. Some people are having issues, others not - not sure what is going on.

You are running cutting edge hardware with equally new drivers and wondering why you have issues?

Witcher 3 and gta v work perfectly on my cutting edge hardware. What was your point?

Nah, a lot of game sure, crap even on the console (after you put in a day 1 game into you xbox one, you see 5 updates for it) it's just as bad... There has been a lot of games over the years where install and they run pretty good...

Bad comparison, console games are much more stable due to the limits on hardware variability. But in general, a public release should not happen with critical bugs.

Yeah it full of bugs and glitches very disappointed with this :(

Sounds good! Well ahead of the 29th of July date. I hope this means Windows 10 will get a great start with gamers.

Having seen what's possible with NVIDIA graphics cards and DX12 at Computex, there's a lot to be excited for.

Half way through the installation gave me bsod. Might wait bit longer

Yeah the update process buggered my machine so I'll wait for the next one.

Got it. No issues in 10130.

The driver only supports 600+ series, not 400 and 500 *edit* nevermind, found the right one..

I can finally use my 980 ti's with windows 10 :)

I hope they will stop giving me BSODs. Though they probably only matter if you're running Windows 10, aren't they?

No surprise there, i regularly get BSODs too while playing games...sometimes due to mouse driver issues or due to some other driver..

Long running issue with their drivers since vista

Now fix the Dolby Audio ... :( it keeps on installing update that is not compatible.

I had that problem as well. You need to roll back and then disable windows updating drivers. Should be fine after that

The driver releases since 345.20 have been a disaster. Even that needed to be modded to run correctly. Throttling, crashing, benchmarks increasingly worse, overclocking crippled at best, texture flashing, amongst other things. NVIDIA is a shell of their formal self. But hey, atleast it works better for 1 game.

True that. Its like after the vista snafu hardware recall they just dont have the same qa they once did. & I sucked they pulled the dvd codec from xp users

Anyone help me how I check for update it

If you have GeForce experience then u can click check for updates

I have Windows 8.1 right now and thinking of installing 353.30 so that when Windows 10 finish I don't have to download this graphic drivers or avoid any issue with Windows 10 upgrade. Are there any difference between 353.30 version for Windows 7.1 Windows 8.1 and Windows 10.

I got a bsod during installation, then a couple of hours, my PC locked up hard, requiring a one finger reboot

Installation gets hung up on installing the 3D Vision driveron build 10147, crashing to the lockscreen and failing to install the rest (ie, PhysX). Only way I could get it to install was to uncheck the 3D vision drivers. Also had this same issue with the last Win10 Nvidia drivers on build 10130. Will be unchecking the 3D Vision Driver from now on. Don't need it anyways.

After instqalling te update this morning my Winodws 10 build 10130 would not wake up from going to power save Twice already Guessd I will just have to shut it down when I am going to be away for a bit

Performance issues because of maybe Denuvo protection and because of which i won't be able to play it since it won't be cracked for a log time like Fifa 15. So much wait for nothing.

I couldn't update from Win10 10074 to 10130 even after uninstalling Nvidea drivers, but this update has done the trick ;)

They apparently didn't update the moblie drivers correctly. I've had nothing but problems with the Nvidia drivers for Windows 10 x64. Sure it's not a GeForce chip, but the Quadro FX has a new driver for Windows 10. This driver is like all the others before it, not really compatible with Windows 10. Windows update or Nvidia's driver, doesn't matter, they just don't work right. My shader, core and memory clock speeds stay throttled back all the time. Restarting the PC twice is the only way I've found to work around it. This is the kind of problem that if left unfixed will cause me and probably others to "downgrade" back to Windows 7. Leave it to Microsoft to go and ruin a good thing. Looking back I wish I had ignored the free update to Windows 10. I see why they chose to give it away, it's still garbage in its current state, complete with Vista's buggy driver support and everything. I mean it looks ok and its plenty fast compared to other Windows variants but the way the menus have been changed, settings half moved to some other app/framework. It's like walking into a half built house and being able to see the ducts and wiring and knowing what's supposed to be there but none of the work has been done yet. Even the "Windows" are still missing, figurativly speaking, lol. I'll give this issue a few days/weeks to see if they resolve it over Windows Update or from Nvidia directly but I bet they don't and my only way to really fix the problem is to downgrade. I mean if the Quadro FX mobile gpu isn't going to be properly supported in favor of some half baked driver with limited speeds built in by design then I have no more use for the operating system and will be sad to see Windows 10 go. In the end performance beats eye candy anyday and if MS or NV don''t think the moble chipset is worth supporting then why offer Win 10 to me in the first place. All this has done is waste hours of time trying to solve it with no real solution. On my desktop which also runs a Nvdia gpu, the new update fixed any issues it had, but that's a GTX 460 and thankfully the drivers for it were tested better.