Office Mobile 6.1 Coming Soon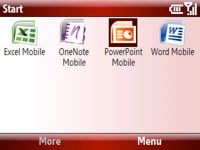 An update to Office Mobile, which will finally add full support for the latest file formats from the desktop version of office, is coming soon. It was actually available briefly, due to a little mixup:
Read: Office Mobile 6.1 coming soon
That's the way of things with blogging, sometimes. No worries, Landridge, we've all been guilty of hitting the "post" button a little too quickly. We're all looking forward to the update, it was announced back in June that it will be available for both WM5 and WM6 and it will be free (opens in new tab).
Actually it was already released, then they took it down. However, someone got it first and put it on rapidshare which is linked in the thread below. You need a PC as the installer runs from it. I opened the installer file and there are versions for WM6 Smartphone, WM6 PPC and WM5 PPC.http://pdaphonehome.com/forums/ppc-6800-xv6800/92591-microsoft-office-mobile-6-1-update.html
Windows Central Newsletter
Get the best of Windows Central in in your inbox, every day!
Thank you for signing up to Windows Central. You will receive a verification email shortly.
There was a problem. Please refresh the page and try again.