Official app of Rajasthan Royals gets updated for the latest IPL season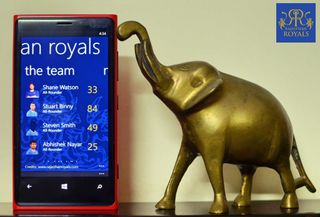 Rajasthan Royals is an Indian Premier League (IPL) franchise representing Jaipur. Started in 2008, IPL is an annual Twenty20 cricket tournament where different franchise teams participate for the title.
The official Rajasthan Royals app for Windows Phone, published by Tata Consultancy Services – the franchise's official technology partner - got bumped to version 2 recently for the upcoming IPL season starting this month.
The app offers live scores for IPL and Champions League T20 matches, league standings, and complete schedule info. You can find team details with statistics as well as the latest news, pictures, and videos. You can also keep a tab on the team's social media channels – Twitter, Facebook, and Instagram - from within the app.
As part of the Fan Zone, the app features a predictoRR contest for fans as well as the ability to download team's wallpapers and set the official anthem as your phone's ringtone. The app also provides random cricketing trivia as 'Fun fact of the day'.
I quite liked the app's ability to give reminders for upcoming matches and push notifications for match events. These are very useful to stay updated with the cricket without firing the app sometimes.
Download the Rajasthan Royals app for free for Windows Phone 7.x and Windows Phone 8 devices from the Windows Phone Store. If you wear the Rajasthan Royals jersey during the IPL season or follow the tournament, the Rajasthan Royals app is a great app to have. Give it a whirl, and let us know how you like it. Halla Bol!
Windows Central Newsletter
Get the best of Windows Central in your inbox, every day!
Such Kind of App existed??

This is way better than Developers Preview

Here is an unofficial app for Mumbai Indians. http://t.co/kpKkkmWpzJ Planning for feature upgrades for IPL 7. Show your support and give your feedback.

Let the Gayle, Kohli show begin!

Please suggest an app for the entire IPL

The ESPN CricInfo app is great for cricket in general: http://www.windowsphone.com/s?appid=1e64e7de-a62c-4baf-8a66-4433bd9b648a

I love India, for its love of Cricket! Oh, and for giving my country its national dish of Curry :) Yours, a poppadom loving Brit LOL


Wow!! I am from the team that worked for the Windows Phone app. It's great to see it featured here.

I believe the TCS CEO (Chandra) is an avid supporter of Rajasthan Royals so I don't think there'll be an app for any other teams...

TCS is a sponsor of Rajasthan Royals. 'Chief Technology Partner'.

... and also... http://www.tcs.com/about/corp_facts/sponsorships/Pages/Rajasthan-Royals....