euronews for Windows Phone 8 now available, the most-watched news channel in Europe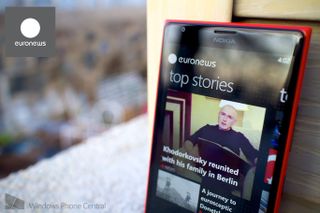 euronews claims to be the most-watched news channel in Europe. They cover world news and broadcasts in various languages 24 hours a day. Their official app has been available on Android and iOS, but Windows Phone users are no longer left out. The official app has just been released at the Windows Phone Store.
Head past the break to watch our hands on video and walkthrough.
Select one of the eleven languages when you open the application for the first time. The top two stories are shown right away with more on the right screen. Just swipe.
Click on a title to read a story. Just like the Sky News app, euronews uses white text on dark background. Every story has a video that stays above the article even when you scroll. We like this implementation because it enables us to read while the video is playing. You can watch the videos in full screen by turning your phone sideways.
Comments are not enabled, but there's a simple reaction section where readers vote on whether the news is good or bad. Results are shown after voting.
In addition to international, economic, cultural and scientific news, the euronews application also provides documentaries and magazine videos on demand.
We think the best feature on euronews is the language support. The articles are displayed in your preferred language and the videos are narrated in your language as well.
We like the initial version of euronews for Windows Phone. It will get even better. Over the coming months, euronews promises to offer more programs and features, including live streaming of Euronews TV, bookmarks for your favorite stories, and a search engine. Arabic and Persian languages are also on the way.
euronews is a free download from the Windows Phone Store. Check it out and let us know what you think in the comments!
Thanks for the tip, David B.S.!
Windows Central Newsletter
Get the best of Windows Central in in your inbox, every day!
My favorite news channel!

Ready for Live Streaming!

This is excellent news for us Europeans.

Finally !! :D ...Keep those official apps coming!!

I am European and never heard of this :D

Here's another European who's never heard of this station. I prefer to watch my national news stations and thought everyone in every nation would do the same. Maybe with the exception of Al Jazeera to get some insight into topics which are simply not covered by our own stations.

Same here. Never heard about this. Anyways Europea's most watched news channel is kind of silly when all of us watch our country specific channels.

Can't say that I've ever heard of euronews before, but it's a very well designed app imo.

Have you heard of European Union?

They should duplicate their news in text, reading is faster than watching.

They really are the most watched news channel, especially when it comes to sports.

Not from Europe but this app is well designed

i dont know who they are but they are very welcome to party, and i congratulate them for starting strong with a well made app.

Jesus... How can someone live in Europe and not have heard of Euronews even if they don't watch the channel... O.o

Well i live in London and never heard of Euronews.

Live in Denmark, never heard of it either.

I jump around Finland and Sweden. Never heard of it and certainly never seen it anywhere.

It doesn't seem to have ever been particularly prominent in Scandinavia, going by others comments and my own experience.

Good stuff, but no live tile?!

Fav news channel but fios doesn't carry :( happy to see on WP! Thanks

Can you turn off the startup sound??? I often work in places where loud noises aren't acceptable. It even plays when the phone's set to silent

Euronews? News from brussel? :)Never heard.

Nothing is better than official app! :)

No Scandinavian languages available?

Kommer kanske senare. Men ingen i Skandinavien verkar ha hört talas om det.

Its good. BBC come on and support this platform

Well i live in London and never heard of Euronews. Now the BBC is what i normally ready using Paperboy.

I don't mean to be picky or whatever, however "euronews for Windows Phone 8 now available, the most-watched news channel in Europe" is a totally incorrect statement. It's actually the forth most watched European news TV station; the top being CNN, then CNBC Europe, the BBC World, and finally Euronews. [1] Good news for those who watch Euronews, but it's now understandable why many people living in Europe haven't heard of the station. [1] http://www.campaignlive.co.uk/news/49907/

I know it exists, but being european I have never watched it. I can agree with Nukey that probably CNN and BBC world are watched more. But the app does seem very good. Worth a look at.

Really happy about this. Tried it right away and like it very much. :-)

I asked for this, and they delivered. They originally wanted me to use Flipboard, but I am glad they developed a native app!

I'm shocked that some people have never heard of Euronews!

Welcome aboard to more official apps! Hope the windows phone growth continues.

I'm an American who watches the BBC a lot, I too wish they would make an app

Une des rares chaînes d'infos européenne (si pas la seule) à diffuser en d'autres langues que l'anglais. I was waiting for, they did it, thx !
Windows Central Newsletter
Thank you for signing up to Windows Central. You will receive a verification email shortly.
There was a problem. Please refresh the page and try again.