Watch live news or read the latest stories from the Sky News app on Windows Phone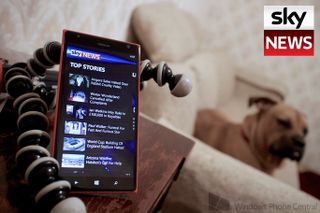 Sky News is a dedicated 24-hour, multi-media news channel based in Britain. They have an app for Android, iOS, and Windows Phone. There have been over 8 million downloads of their app to mobile devices. You can read and watch videos on the latest stories from their newsroom. Their app covers UK and World News, Politics, Showbiz, Sports, Business, and even the Strange.
Head past the break to watch our hands on video and walkthrough for the Sky News app on Windows Phone.
When you open the Sky News app, ten of the top stories are shown right away. Any breaking news is highlighted yellow. There are thumbnails shown next to the stories to make it easier to skim through the content. Stories with video have play buttons on their images.
Swiping to the right shows the live TV section. Click the play button to watch Sky News live for free on 3G or WiFi. Just make sure you're aware when using a mobile connection. Streaming videos can use up a lot of data and you don't want any surprises when you receive the bill. There are three video quality options: low, medium, and high. You can choose on the lower right corner. Want even quicker access to the live stream? You can pin it to the home screen.
You can browse through specific topics in the categories section. Swipe left or right for UK news, world news, politics, business, showbiz, sports, and strange news. You can pin your favorites on the home screen, but that option is somewhat hidden. You have to click on the three dots on the lower right corner before you can pin.
The Bulletins section in this app is really good. This is the place to watch brief wrap-ups of today's top stories and showbiz news. They're about two minutes long and are frequently updated. This is also the place to the watch the weather forecast, but we don't recommend it. There are weather apps that can provide better information.
Another noteworthy feature of the Sky News app is the ability to send breaking news stories directly to the Sky newsroom. Along with the news tip, you can attach a picture from your existing gallery or snap a new one with your camera.
Overall, we think this is a great app to catch up on news especially if you're in the UK. We do have suggestions for improvements. The app uses white text on dark background. We like the look, but we know some of you may prefer dark text on lighter background for reading. It would be nice to have an option to change themes. Another issue is that there is no search button in this app. You won't be able to find specific news stories. There also appears to be a limit on the number of stories per category. We can't see more than 10 stories per topic. There's no button or other options to load previous stories.
You can download Sky News for free at the Windows Phone Store. Let us know your thoughts on the app in the comments!
Get the Windows Central Newsletter
All the latest news, reviews, and guides for Windows and Xbox diehards.