Watch live news or read the latest stories from the Sky News app on Windows Phone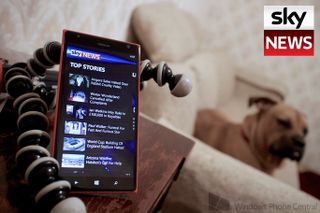 Sky News is a dedicated 24-hour, multi-media news channel based in Britain. They have an app for Android, iOS, and Windows Phone. There have been over 8 million downloads of their app to mobile devices. You can read and watch videos on the latest stories from their newsroom. Their app covers UK and World News, Politics, Showbiz, Sports, Business, and even the Strange.
Head past the break to watch our hands on video and walkthrough for the Sky News app on Windows Phone.
When you open the Sky News app, ten of the top stories are shown right away. Any breaking news is highlighted yellow. There are thumbnails shown next to the stories to make it easier to skim through the content. Stories with video have play buttons on their images.
Swiping to the right shows the live TV section. Click the play button to watch Sky News live for free on 3G or WiFi. Just make sure you're aware when using a mobile connection. Streaming videos can use up a lot of data and you don't want any surprises when you receive the bill. There are three video quality options: low, medium, and high. You can choose on the lower right corner. Want even quicker access to the live stream? You can pin it to the home screen.
You can browse through specific topics in the categories section. Swipe left or right for UK news, world news, politics, business, showbiz, sports, and strange news. You can pin your favorites on the home screen, but that option is somewhat hidden. You have to click on the three dots on the lower right corner before you can pin.
The Bulletins section in this app is really good. This is the place to watch brief wrap-ups of today's top stories and showbiz news. They're about two minutes long and are frequently updated. This is also the place to the watch the weather forecast, but we don't recommend it. There are weather apps that can provide better information.
Another noteworthy feature of the Sky News app is the ability to send breaking news stories directly to the Sky newsroom. Along with the news tip, you can attach a picture from your existing gallery or snap a new one with your camera.
Overall, we think this is a great app to catch up on news especially if you're in the UK. We do have suggestions for improvements. The app uses white text on dark background. We like the look, but we know some of you may prefer dark text on lighter background for reading. It would be nice to have an option to change themes. Another issue is that there is no search button in this app. You won't be able to find specific news stories. There also appears to be a limit on the number of stories per category. We can't see more than 10 stories per topic. There's no button or other options to load previous stories.
You can download Sky News for free at the Windows Phone Store. Let us know your thoughts on the app in the comments!
Windows Central Newsletter
Get the best of Windows Central in in your inbox, every day!
Yes❕... 2014 looks to be extremely promising as far as developer support for WP.. Our platform is really getting the recognition it deserves.. Here at the airport the other day I was looking at some aftermarket phone accessories, and I noticed that a few of the charger boxes read "works with iPhone, Android, and Windows devices" That's a huge step forward considering that just a year ago you wouldn't have seen that.. I can't wait to see how far we've come by this day next year.

I see Windows Phone everywhere when I visit India(once in a while) I haven't seen as much marketing or familiarity in the UK. It just puts a smile on my face when I see support for my phone and it deserves this support because it is a brilliant OS

Oh, I failed to mention that I'm in the US.. Out of the thousands of iDroid devices I see a week, here at the airport, I may see a handful of WP devices a week.. The airport is a great way too see what devices are the most popular, especially here at DFW international airport where we've had days where well over 900k people have come through... This is device central❕❕..

Why can't they add streaming to the fox news app? I use Bloomberg instead which has live streaming tv.

Is this an advert for Sky News? I mean come on, streaming in the Sky News app was present at least two years ago...

My thoughts exactly. I thought perhaps we'd had an update for it but it's just a user guide for the app which has remained unchanged since WP7.5 2 years ago.

I'm confused too. It's actually a fairly rubbish app. What about a skygo app? Then we'll be talking...

I know the following companies would never read this but here goes: This BBC and HSBC is an example of providing mobile support.

Personally, I need a BBC Sport app...

Great to this app but I've got to say that Bing News is a brilliant news app and I don't think I will be swapping it for any other app. It is also very visually pleasing

This app has live video and news articles, but other than that its pointless. Stick to Bing News which has Sky News built in. Why is WPCentral even covering this? The app has been out for years

This is an app directly from sky. Don't mistake it for the one in the Nokia collection which hasn't seen an update since forever. This app is very good and shows wp is getting recognition.

The app has recently been updated?

Says updated 12/10/2013, so it would appear it has.

The app looks far nicer and runs quicker, hopefully means other sky apps may appear soon!...sky go!

I contacted Sky, pointing out that Sky in Italy had released SkyGo. They said it's a separate company and that they have no plans for a UK SkyGo app. https://twitter.com/drofidnas/status/408906140345327616 Read the forum comment in the link - it's complete horseshit. The Admin makes the statement, millions point out whay this is illogical and then nothing back from any Sky rep. Shameful.

I wouldn't really count 12th October as recent. Its a good few months ago.

In 'murica we classify dates like this: MM/DD/YYYY Not: DD/MM/YYYY

Also in 'murica, two is not "a few"

It was updated on the 10th December.. I know as it updated in my phone... Latest version is much improved and looks way nicer than previous versions..

This isn't exactly news though is it?! Sky News has been on Windows Phone since i switched from Symbian when i got my Lumia 800! Yes, Sky (purposely imo) forget to mention the existence of a WP app when they promote the Sky News app on air, but it has always been the case that this official app existed.

And this is the first time its been updated since then, don't get why the article fails to mention this..

I don't get why this article was even posted

This was posted in 2011 when the app actually launched. A feed days ago it got an update that essentially added 720p support and fixed some sections that didn't load properly. Why is it getting more promotion when Sky don't promote the app and don't truly support WP? Original post: http://www.wpcentral.com/sky-news-windows-phone-now-available

They need to update sky sports app

They certainly do! Hopefully soon, the stories never refresh properly when opening the app for me

Sometimes it has a headline and when you click it, its a whole different article inside sometimes even different videos. I would like streaming of the live sky sports channel especially with the January premier league (BPL) transfer season coming up.

Just wondering why a review of Sky News has been done when the app itself has been out for a while!! Must have been a slow day at Windows Phone Central lol

I won't support it since they wanted to challenge MS's cloud storage service name SkyDrive.

HaHa lol, they didn't want to challenge MS over the name of SkyDrive, they did challange MS!

Don't forget its a criminal offence in the UK to watch a live TV broadcast on any device unless you have a TV license £145 per year i think

Sorry BronzeUK any TV even satellite from other countries http://www.tvlicensing.co.uk/check-if-you-need-one/topics/understanding-...

But this only applies to LIVE BROADCASTS

Weird, always assumed it was only Aunty Beeb that needed a licence.

Yes the money collected all goes to the BBC but as nobody would pay if given the choice they made it a criminal offence to watch any live broadcast from anywhere, so basically everyone has to pay unless you want a criminal record, think we are the only country in the world to do this

Yes the money collected all goes to the BBC but as nobody would pay if given the choice they made it a criminal offence to watch any live broadcast from anywhere, so basically everyone has to pay unless you want a criminal record, think we are the only country in the world to do this, so even being caught watching sky news on the app could leave you unemployed as you would have a criminal record. Seems weird dosnt it

I quite like this app but the latest update still didn't bring support for live tiles - surely an essential for a WP news app. Surprised the article didn't mention this.

Don't forget its a criminal offence in the UK to watch a live TV broadcast on any device unless you have a TV license £145 per year i think People are now getting around this by watching shows on demand. So watching them after they have aired. Not a thing the BBC can do about it.
Windows Central Newsletter
Thank you for signing up to Windows Central. You will receive a verification email shortly.
There was a problem. Please refresh the page and try again.