Official Kobo Windows 8 app launches; Windows Phone version coming soon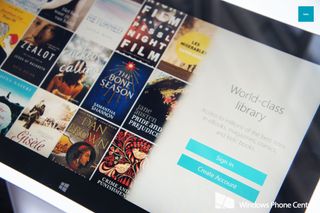 Kobo (www.kobobooks.com (opens in new tab)), the eReader and eBook giant, today announced the launch (or re-launch) of the official Windows 8 app. The company has brought across features from its own device line to Windows-based tablets, offering a complete solution for those who'd rather read digital content on their tablet or laptop and PC.
Just like the Kobo eReaders, the official Windows 8 app enables users to bookmark pages and pick up right where they ceased reading in the previous session. This data is synchronised with other devices and readers on the account, providing better mobility and even more ways to enjoy said content. Even fonts and text sizes can be altered to suit personal tastes.
If you're one to read in the dark before hitting the pillow, the night mode feature turns down the lighting for an easier experience, then you have both portrait and landscape modes. It's a perfect companion app for the array of 10-inch and 8-inch tablets available, which run Microsoft's Windows platform.
For content, users of the Kobo app have full access to the eBook store, which sports not only best-sellers, but new releases, comics and children's books. Since this is a Windows 8 app, we've got the usual exclusive features, including the ability to pin individual eBooks to the Start screen for more convenient access. Tiles can also be both resized and grouped for a more personalised layout.
Kobo for Windows Phone? Coming soon. Kobo has stated in a press release that an official app for the mobile platform will be released this spring. Similar features will be available for the Windows Phone version, including pinning tiles to the Start screen, synchronisation across the board, access to the eBook store and more. We'll keep and eye out and give you all a heads up when it's released.
For now, download Kobo (opens in new tab) from the Windows Store.
Windows Central Newsletter
Get the best of Windows Central in in your inbox, every day!
Rich Edmonds was formerly a Senior Editor of PC hardware at Windows Central, covering everything related to PC components and NAS. He's been involved in technology for more than a decade and knows a thing or two about the magic inside a PC chassis. You can follow him on Twitter at @RichEdmonds.
Are there textbooks as well??

Glad that it's back. I bought many books back when they had 90%, 75% codes for any book. Now the codes are very selective.

"Selective"...? I just got a ton of books two days ago with their unlimited 90% off coupon. You should check out MobileRead forums, they're really up to date on Kobo's promo codes.

So, is this just another Adobe Reader, or a Kindle/Nook kind of app?

It's like Kindle. Although I think it supports ebooks bought or downloaded somewhere else than the kobo store (not sure, haven't tested yet), unlike the Kindle app. To add other content than stuff bought on amazon on the kindle app you need a kindle email where you can send the content, and for that you need a real kindle... I bought a Kobo reader two weeks ago and it's freakin' awesome! It even looks a lot like Windows 8, with tiles on the start screen that show the last books you've read and stats and stuff.

Oh, someone just commented that it also doesn't allow you to open bought you already have on your computer.

use calibre. you'll be able to do it. it's also stupid to take one comment and assume it's gospel since the app isn't even available.

Wow... You seem like a nice person you... Saying I'm stupid to read comments because the app doesn't exist yet... Well. It's stupid of you to say the app doesn't exist yet since the article we're commenting on says the app just launched, and I just installed the app on my Surface actually. And the commenter wasn't lying. You can't add your own books. And yeah, I know about calibre, I used it already, but I don't like it so having new possibilities is always good.

How does Kobo compare to Kindle?

A lot of people prefer Kobo because it's got more content, especially if you want content in another language than english. But other than that both services are pretty close to one another. I bought a Kobo reader two weeks ago and I love it. One of the reasons I bought it instead of a Kindle is the interface. It looks a lot like Windows 8, with tiles. Although you can't select what tiles you want, it automatically updates your start screen with the last books you've read and with stats and other fun stuff.

Cool. I have a Kindle, but it will nice to have support for the non-Amazon eBooks.

Shamefully doesnt allow us to open personal epubs that we have bought previously or own...

Sad. The Kindle app does the same thing. Anyway, I bought a real Kobo reader two weeks ago and I'm never gonna read books on a tablet ever again, it's so much nicer with e-ink than on a tablet. And I can add all the book I already have on my computer.

it will open all epub. it's not that hard to strip DRM off an epub anyway using Calibre. i did it last month when Sony announced they were shutting their service down.

But theres no option to import, and pasting them on the folder where it stores download wont work, at least he doesnt find them anyway...

Use the nook app. You can import books from the PC or onedrive.

Waiting for amazon and wattpad to arrive. Seriously wattpad, what's happening

Finally. I really like Kobo.

Its needs to allow my eBooks or I can't use it. I wonder why eBook apps are like this. Apple is the worse. They have NO apps that allow personal ebooks to load up. Fortunately, we have Book Bazaar and BookVisor to fill that void quite nicely.

Hope this new update fixes the bug of not all my eBooks showing up. Also before the kobo website wouldn't work with IE 10 on windows 8 when signing into your account. Not all my eBooks would show up in my library

Just might make me switch from Nook...

The app looks great! Kobo is my preferred eReader on my Nexus 7, just seems slicker than any of the others I tried, plus it lets me read all the epub files I already own (that I bought ages ago and am still making my way throguh!). Unfortunately that feature doesn't seem to be present on the Windows app yet. :/ The books I've bought from Kobo have automagically appeared (with the option to download individual books or download them all to the device which is useful) but no access to the local library from my Nexus 7 nor a way to import those epubs (along with library sorting data) to this app. Not a problem just yet as my Nexus 7 will be my eReader for a while longer but hopefully it'll come in an update at some point. Great to see it coming to Windows Phone too!

If it can't open my existing ebooks, then it's useless (for me). I've been looking for an e-book app for long time which can open my ebooks on my one-drive and can syncronise my reading status over my Win8 tab and Win 8 phone. I found only one called "freda" but its userinterface is terrible. Until that I use book bazaar reader on tab and bookviser on the phone

I think Nook can read non-store documents. I know it allows PDFs to be imported to the library, so it might do ePub books too.

Could you post a link to the Nook app please? Marketplace search comes up with nothing.
Edit: sorry, I thought you were talking about WP, but clearly you were talking about W8

To open ePubs downloaded from other sources, I have been very pleased with ReaderPro. Since I do a lot of personal studying with the ePubs, I like that you can highlight and annotate the files. Currently it only has one highlighter color, but the developer told me that more are on the way. One limitation is that it doesn't have a way to share your highlighting and annotations with a copy of the ePub on another tablet or computer. So, what you do on one device stays, but none of the other devices can see the changes. That to is being considered by the developer. Peter West

I used Kobo once. Its nice, but I don't think I'll be downloading it on my tablet, I don't really have anything on Kobo that I need (only had free content), so I think I'll stick with nook. Nice to see it arrive on Windows though. And at least they are making a Windows Phone app, unlike Nook.

Same here. I wish they would come out with a WP nook app.

Nook is also developing an app. I asked them on Twitter and they said they would try to release it in the near future to "give the best reading experience on the Windows 8 phone(yeah, I know)"

Typical poor Kobo effort. Does not allow the import of ePub files. Has poor font and display options. Vastly inferior to the Nook app. Piss poor reading experience compared to Fiction Book Reader or Liberty.

Superb news as we get a step or two closer to app parity.

Great! I hope the both the Windows 8 and Windows Phone apps are high quality. I would love to have an option other than Kindle.

KOBO is really made by David Olofson. :P
Windows Central Newsletter
Thank you for signing up to Windows Central. You will receive a verification email shortly.
There was a problem. Please refresh the page and try again.