Watch every March Madness game live on Windows Phone and Windows 8, official apps coming soon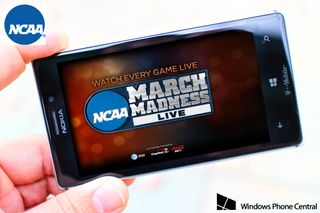 Big college hoops fan? Then you're going to be pretty stoked that March Madness is right around the corner. Since you're reading this on Windows Phone Central you'll be even more stoked to know that an official NCAA March Madness Live app is coming to Windows Phone and Windows 8. Let's make it rain.
This year the NCAA is doing something a little different. All 67 games during the NCAA men's college basketball tournament will not only be broadcasted live on television, but will be viewable through an official app on all major platforms.
Each of the two semifinal games will also feature three simultaneous broadcast feeds. TBS will have a national broadcast of those games, while TNT and truTV will offer broadcasts specific for the teams competing. All three feeds can be viewed using the app.
There's no word on exactly when the NCAA March Madness Live app will drop for Windows Phone, it's just listed as "coming soon" on the website. It's worth noting that the Android and iOS apps are also listed as coming soon. It does state that AT&T is a sponsor for the Windows Phone version of the app. Does this mean the app will be exclusive to AT&T handsets? We'll find out when the app launches.
Here are all the features we'll be able to look forward to when the apps drop in the Windows Phone Store and Windows Store:
New bracket layout – new interface for smartphones and tablets, includes more views and functionality
GameCenter – redesigned with live game streams, pre-game matchup analysis, live in-game analysis, live in-game stats, key social moments and fan chat
Capital One NCAA March Madness Bracket Challenge – Official bracket game for March Madness right in the app. Make your picks and share them.
Coke Zero NCAA March Madness Social Arena – forum to expend conversation around games with over fans using the NCAA March Madness Live apps. Follow game tweets, Instagram photos and Vine videos. Participate in chats and more.
TV Schedule – Easily see when exactly your favorite teams and games are taking place with the included schedule.
Tournament News – the apps will provide fans with direct access to the latest tournamenet news and updates, including highlights, recaps and more.
How many of you are stoked for March Madness games live on your Windows 8 tablet and Windows Phone handset? Sound off below and give a shout out to your favorite college team!
Now if only the NBA would get an app out for Windows Phone...
Source: NCAA March Madness, USA Today (opens in new tab) Via: Reddit
Windows Central Newsletter
Get the best of Windows Central in in your inbox, every day!
Hey Sam - NBA Game Time? That counts as an NBA app - just sucks that it isn't up to standard.

It does suck and isn't available in the US. I don't think thing has earned the right to be called an app :P

Woot! GO WICHITA STATE! WATCH US! PLAY ANGRY! GO SHOCKERS! :)

Most overrated team in the country.

We will see. Seems like people forget we made it to the final four last year. Also we lost to Louisville who went on to win it all.

Did WSU even play a ranked team once this year??? I'm a Kansas fan so I like the idea of a Kansas team going far, but I don't think the Shockers are going past the Sweet 16. Hell, I don't even know if they'll get that far!

I'm not sure if they did. But it still is difficult to go undefeated in the regular season. I'm not saying they are going to win it all. But I think they can make the final four. Everyone is going to make the mistake of underestimating them. Keep in mind this is all opinion. :)

I'm not saying they won't go far, they had a great run last year, and they should definitely be in the top 10 or so in the rankings. But be #2 right now? They have the worst SOS of any of the ranked teams. Still, yeah, undefeated is tough no matter who you play. But it's less important than other metrics, 6 point difference in two games and Syracuse would've been undefeated too.

AGREED, conference schedule is shit

Oh hell yeah! March Madness is the best sporting event of the year, especially the first round. I'll be putting this app on on my Lumia 928, my Surface RT, and my Yoga 2 Pro. Wish there was an Xbox One one too (1, 1, 2?). My money's on Arizona. Even with their starting forward out for the season, I think they might Louisville it and use it as motivation.

I grew up in Tucson so I'd like to see it, but they look like a completely different team without him. The ASU game was painful to watch!

Yeah, it's tough to lose a starter. Really tough. They'd be undefeated right now had he never went down. If the entire team came back next year instead of a few of them prematurely going pro (looking at you, Aaron Gordon), they have the potential to be one of the best teams in college basketball history. And I'll reiterate that: the potential to be. Don't want to get too ahead of myself.

They won by a combined 52 points in their last two games without Brandon Ashley. They'll be fine. I still bet they make Final Four and a really good shot at National Champions. Probably Arizona vs. Florida.
Also, in all fairness to Aaron Gordon, even though another year of college would do him a lot of good, when you're a top 10 draft pick, you go.

I'm a huge Wildcats fan. After a few rough years, I think we might get a shot at the national title game this year. Miller is IMO an average coach with trouble adjusting strategy, the cats get thrown off as soon as anything other than man to man defense is deployed. But we have a great team this year, even without Ashley. Their athleticism and perseverance should carry us. I predict Florida vs Arizona in the finals. Shockers will be first #1 seed to lose in the first round.;) I hope the NCAA will continue to sell a separate online streaming package and allow this app to be used for it. I haven't had cable in years, but have purchased the March Madness streaming package online at NCAA.com. I really hope this isn't going to be one of those things where you have to log in with your cable tv subscription. :/

I'm going with 'cuse and Arizona, even though I hope my tarheels can make a run lol. But I think Wichita can make the sweet 16 if not the elite 8

Not looking too good lately... Good luck though. I have a soft spot for Syracuse and Kansas.

They sure have been giving us heart attacks! #OrangeNation

What? We actually might get something the same time that ios and android do? Amazing!

OK I'll be downloading this as soon as it shows up for the phone and surface. But will the new CBS Sports app also have live games?

I heard from someone who used to work for Turner ( the developers of these apps ) that Microsoft paid for the Windows apps to be developed this year.

I heard from a friends old girlfriend who used to work for BlackBerry that they were going to release a gold Z10.

Go UK Wildcats!!! (or Louisville!!)

Kentucky is bleeding bad this year. Tonight's loss to Arkansas must have Calapari pulling his hair out.

I almost feel bad for them...

Looks great but im sure it will be US only. So tough luck for me. :(

Fuck yes! That was a let down last year.

It sure was. We had an app, but no streaming. Felt pretty crappy... Glad they did better this year (it looks like). But if this is exclusive to AT&T, I'll be fucking pissed.

My Airtel apps options is now available in India in the store :)

Don't forget that Warren Buffett is giving away $1 billion to whoever creates a perfectly accurate MM bracket.
GO GREEN!

This just happened! ....or is about to happen. Let's go.

Though I don't live in US and I barely knew the teams and most of the players, anything about basketball gets me stoked! And some of the players are sure NBA-bound, so this is a great app for me to know these players while they're still in their colleges. Yay!

They've had this the past few years. It was called March Madness on Demand. All the tournament games through the web.

Yep, but never for WP. I really hope we can still pay for it directly from NCAA like before, the article at ncaa.com doesn't give me much hope of that though unfortunately... looks like another deal where you have to have cable. :/

Cant wait. 31 days left fuck yeah. Cant build be preponed.?

Rock Chalk Jayhawk!!!!!!!! KU

Rock Chalk, baby! Embid and WIggans better dominate!

will be downloading! also the nbcsports live app just got updated to watch all sporting events like we originally hoped.

I'm using an unlocked 1520 on T-Mobile I hope its not att exclusive

So now we have this, CBS Sports, NBC Sports Live, in addition to NFL Mobile and MLB At Bat on its way. So the question is: what is taking ESPN so long to release a WatchESPN app??? They just released one for Windows 8, so I'm hoping that a WP version is in the works...

Speaking of ESPN, they don't even keep up/maintain the Windows Phone apps that they do have. Very disappointed in them. (anyone ever seen the live tile for ESPN Hub work??)

Ah yes, the working ESPN hub tile. As rare as the rainbow unicorn.

Definitely stoked to get this, March Madness is my favorite time of year for sports, even more than the Superbowl. What happened to the NBA Gametime app, didn't Sam do a 'coming soon' article about that recently?

This is excellent news! IMO this is as good of advertising as anything. Last year during the tourney they advertised the app 100,000 times and specifically mentioned iOS and Android. Hopefully the Windows Phone name will get thrown around with the others. It should help with the mindshare game. As for teams in the tourney, my Vanderbilt Commodores won't be making it, unless by some miracle they win the SEC tourney. Florida is a complete team, and I think they're going all the way. SEC SEC SEC!

I was just about to say it would be sweet if there were an XBO app but then I realized I can just use IE instead. Though, it would still be nice to be able to snap an optimized app while I'm playing Titanfall or BF4.

I'm cautiosly optimistic. I was ecstatic at first but that AT&T sponsorship is worrisome. I'm on Verizon. Hope AT&T is just making sure it's avaiable for WP users, but with the NFL, live content is only available for Verizon users I think, so no reason to think AT&T won't screw over non-customers.
Windows Central Newsletter
Thank you for signing up to Windows Central. You will receive a verification email shortly.
There was a problem. Please refresh the page and try again.