Start your engines, official NASCAR Mobile 13 now available for all Windows Phone 8 devices (but Sprint gets the perks)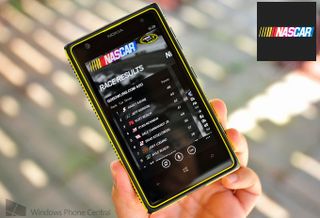 Great news if you're into the whole NASCAR racing sport as today, the official app to keep track of the race series is available to all Windows Phone 8 devices.
That's the good news as the app is well designed and offers up race results, scheduling information and video clips. The bad news is if you want all the cool stuff, by which we mean access to the Live Race Center, you'll need to be a Sprint customer.
From the app description:
Sprint has been the main sponsor of NASCAR since 2004 and they recently renewed their deal, making sure the US carrier stays well ahead in marketing. Knowing that millions of dollars are trading with that contract, it should not be a surprise that the premium features, such as Race Radio and In-Car Audio, are reserved for their customers.
On the bright side, the app in its basic form is not staying exclusive but instead can be downloaded to other non-Sprint devices. That's a welcome change and one we hearing will be similar to the NFL Mobile app, which is expected to go live today as well (more on that later). The NFL has a deal with Verizon, so a similar arrangement will await Windows Phone users for that sport.
Regardless, you can now download the official NASCAR Mobile '13 app for Windows Phone 8 here in the Store. Thanks, Jay S., for the tip!
Windows Central Newsletter
Get the best of Windows Central in in your inbox, every day!
Daniel Rubino is the Editor-in-chief of Windows Central, head reviewer, podcast co-host, and analyst. He has been covering Microsoft since 2007 when this site was called WMExperts (and later Windows Phone Central). His interests include Windows, laptops, next-gen computing, and for some reason, watches. Before all this tech stuff, he worked on a Ph.D. in linguistics, watched people sleep (for medical purposes!), and ran the projectors at movie theaters because it was fun.
They also have an F1 app, but who cares about leaderboards, I want to watch the race live on my phone...

There's no official F1 app

Then (join me and) bug Dish about issuing DishAnywhere for Windows Phones. My Kindle Fire runs this well (although I had to sideload the app), so I can view live and DVRed shows around the house. (It could run anywhere, but I've chosen not to open my router's firewall to those ports).
Also, like the other commenter, I don't see F1's official app available for WP.

I hope with NFL we get some official fantasy football love soon!!! C'mon CBS yahoo etc.

Good to see more official apps

So now I need to choose my carrier based on which sport I like the best? NASCAR = Sprint. NFL = Verizon. Are AT&T & TMob choosing between MLB, NHL, NBA and MLS? I actually get it with Sprint as they are heavily invested in NASCAR. I would think the NFL would be bigger than a Verizon deal. That's one massive chunk of fans, excluded. VZW must have paid handsomely. *yes, I'm aware that this is a US sports-based comment.

NHL is with Verizon which makes the lack of Gamecenter flat out insulting given that they preload NFL mobile on their devices. I'd say they didn't have it last season because of the lockout but somehow they managed to get it out for BB10.
If they actually do release it for us this year, Verizon customers get a free upgrade to premium which includes NBC national games but others can upgrade or get the full Live subscription which allows 40 games per week.

I don't follow Nascar, but it just seems like disrespecting the fans by releasing exclusive mobile app features only through one carrier, disregarding hard core fans of the sport on other carriers.


It's not like people can't just use a web browser on their phones.
I don't really see the point of these apps, to be honest, unless they have live video.

I don't think the full feature set is available via browser. Isn't this a subscription level of content? Plus, a lot of these sites are flash-filled and otherwise non mobile friendly.

Even worse, you can use the iOS app regardless of carrier. Glad to see this app, but WP users are still getting hosed here.

Sprint always gets the Perks, used to love that when I was on Sprint, not so much now on T-Mobile,. Welcome aboard the WP Train Sprint.

Doesn't seem to be available in the UK?

Nope, even if the title quotes "for ALL windows phone 8 devices" ha my arse...

I hope you're not an NBA fan as well, because Sprint gets exclusive content (including all live audio). Gotta love when you decide to attack Sprint for sport league exclusives, and I hope you do the same for Verizon for the NFL and NHL, as well for AT&T for MLB.

At least you can pay for content for the same content Sprint subscribers get for the NASCAR and NBA apps, while the other leagues won't make any announcements in making their apps available to other carriers, while charging individual users a fee for additional content.

I just looked for the MLB app & I couldn't find it.

The app appears to be US only.

Just installed. Been waiting for this since they took it away from Windows Mobile 2 years ago.
Nascar does allow subscription to the live stuff for your PC.

Glad for NASCAR fans. Congrats. However, I want an official NHL Gamecenter app damnit :)

This makes me sooo happy!

Hey, a reason to switch to Sprint. Not.

Hey, a reason to bash Sprint... NOT!!

A reason to dick ride. Not.

A reason to curse like a grumpy old man. NOOT! Blocked!

I am just tired of your fowl language and references to male genitals. I wonder why you haven't got suspended for such, Mr. K**!

Sprint has Windows Phone 8 devices?
http://newsroom.sprint.com/news-releases/sprint-plans-summer-launches-for-first-two-windows-phone-8-smartphones-to-feature-truly-unlimited-4g-lte-htc-8xt-and-samsung-ativ-s-neo.htm

The 8XT is available, and the Ativ S Neo is rumored to be sold sometime this month.

This app was awesome back when I had my Samsung instinct. Sprint actually inherited NASCAR from the Nextel buyout. Actually Sprint had the NFL too. Until Verizon paid the NFL more money. Since NASCAR is sponsored by Sprint it's cool that they get the extra features. I just wish other people who's not on Sprint had a option to buy a season pass.

I was wondering if it was possible for me , an AT&T to pay for live audio functionality but it appears not. Strange they wouldn't offer at least a way to buy this.....

Actually, you can buy access to content, regardless of which carrier you have.

Would please elaborate? Tell us T-Mobile, Att and Verizon customers how we can get it? I'm referring to driver chatter and the track layout with the little circles with the car numbers moving around the track live.

When you download the app, if you try to view the content which is free for Sprint subscribers, the app will let you know the premium content has a cost, and just follow the instructions for payment. NASCAR, Sprint, and the company which makes the app for NASCAR decided to let every carrier have the app, while keeping premium content free for Sprint subscribers.

I've went all through this app. I can't find that option anywhere. The only thing I find is a "LIVE" button at the bottom. There's 3 options Race Radio which is greyed out with a lock, Race Chatter also greyed out with a lock, Race leader board which doesn't have a lock and not greyed out. At the top it says the two locked items are for sprint customers only. There doesn't seem to be anyway to purchase. If you found away please share. Thanks

Probably because the content is not on sale at this moment. It was made available early in the season for Android and iOS devices not on Sprint's network. I can suggest to contact NASCAR in regards to this.

This I bs NASCAR is only screwing the fans with carrier exclusive rights and besides no live stream, I believe this is what we all really want after all isn't it. We can get scores anywhere...

Well..with it being called the "Sprint cup", I can see why users on the Sprint network would get some extras that aren't available to users on other carriers.
Windows Central Newsletter
Thank you for signing up to Windows Central. You will receive a verification email shortly.
There was a problem. Please refresh the page and try again.