Official NetBenefits app from Fidelity Investments launched for Windows Phone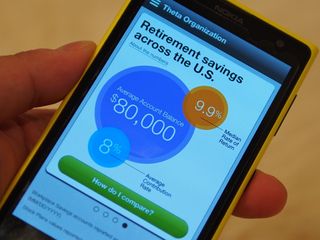 NetBenefits from Fidelity Investments is now available in the Windows Phone Store. The new app gives you access to your Fidelity workplace accounts. With NetBenefits you're able to look up your retirement, stock and pension plans on Windows Phone.
The NetBenefits app is available to individuals who have one or more employer-sponsored workplace benefits provided by Fidelity Investments. Please note that the app is currently not available for use with Fidelity-serviced HR/Payroll plans.
Here's what you get with this early version of NetBenefits for Windows Phone:
Library: Review financial educational information to better understand your options and make informed choices for your retirement planning. Browse our collection of articles, videos, and podcasts.
Peer Comparison: Compare your retirement plan information with people in your age group and location to understand how your savings goals stack up.
Retirement Accounts: Keep your financial goals on track by monitoring your retirement plan balances and investments, your plan's account performance, and more.
Stock Plans: Monitor your stock plan account information, exercise employee stock options, and accept grants.
Pension Plans: Access important information about your pension plans, including plan balances, if available.
Health & Insurance: Get a complete view of the medical, dental, and vision health and insurance plans you are enrolled in. Review detailed health benefits information, including inand out-of-network costs, coverage information, and provider contacts.
Other Accounts: Review other Fidelity accounts, like 529 college savings plan accounts and brokerage accounts, to see how they contribute to your overall financial strategy.
Early reviews for the app are mixed. It appears to be a web wrapper, but that's at least a start and maybe a full-on native app will come out of this.
Use Fidelity at work? Let us know what you think of NetBenefits.
Thanks for the tip Antonio!
Windows Central Newsletter
Get the best of Windows Central in in your inbox, every day!
Cool but I wish they would update their other app with check deposit and other missing features.

About time.. MS employees used have Fidelity netbenefits for their retirement and such... Dont know if they still do, maybe MS is applying some pressure to close partners? Naaah....

Yup we still do. Got excited until I saw web wrapper...

Well, it is a start and at least it is something. I was sick of walking into the break room at work and seeing an instruction sheet on the door showing how to access our netbenefits on Android/IOS with no mention of WP.

That annoys me everywhere.

Cool. Another step in the right direction.

off to a bad start, doesn't allow install to a SD card. will have to see what other gotcha's are there.

Thanks for the heads-up on the watermark: I pass.

Works well...but a little slow

A mobile website in a web container. Nicely done! :/

I wonder if they asked for any financial help on this from ms.

All these web apps make me want to leave WP.

Google chrome. Books do the same thing all its app up till recently have been web based

Yeah, but not on Android or iOS.

Beautiful. "Official". Its a beautiful thing.

i have had a ' Fidelity Investment' app on my phone for sometime now to manage my workplace retirement.. not sure what the rave is about this new one.

Yea I use it too, is better than this wrapper

I downloaded it too and logged in and it doesn't seem to do much more than the Fidelity Phone App. I am sure I am missing something.

I smell official app, nice.

I love the word "Official" in any article title when it is about an app. The word "official" gives me the security that Windows Phone is an official platform. That's a very good feeling. A another app off the list. thanks. Downloading......

Official web wrapper > nothing official

Late to the game. Downloaded it 2-3 days ago. Lets check all the apps I have so far and the ones I need.
have:
1) wpcentral
2) wells Fargo
3) amazon
4) zappos
5) skyward
6) Domino's pizza
7) pappa john's
8) eBay
Need:
1) AE
2) WalMart
3) ?
Got most apps I want and need. Just looking to more WP features...

There are a number of Walmart web wrappers available. As for AE, I assume that is related to American Eagle and not A&E networks?

The difference in this app and fidelity is this allows for more in depth view of your 401k. Where ass fidelity just shows total amount invested.

My company uses net bennies. This is good foe me!

Just had a chance to take a look see and I have to say that there is a lot more information on there than I'd expect. Its also a lot easier than logging on the website to check out my portfolio status (aside from summaries aggregated into Mint).

Please help.
I cant open the store, its been a week

Nice. Will finally be able to manage the retirement fund on the go.
Windows Central Newsletter
Thank you for signing up to Windows Central. You will receive a verification email shortly.
There was a problem. Please refresh the page and try again.