Official Snapdeal app gets much-needed refresh, now offering an immersive shopping experience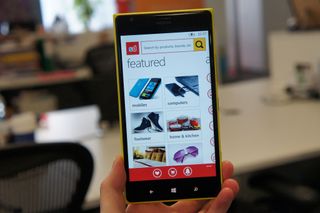 With over 18 million members, Snapdeal.com (opens in new tab) is India's largest online shopping site featuring a wide assortment of products from Indian and international brands in multiple categories.
While Snapdeal.com has had an official Windows Phone app since two years, it was a half-baked effort and hasn't been updated much. The abominable reviews on the Windows Phone Store listing tell the tale. But as we've seen, 2014 has been a great year for official and marquee apps in India, and with their latest update, Snapdeal joins the fray.
The latest update bumps the app to version 2.0.0.0 and brings a smooth online shopping experience on your Windows Phone device. The app also utilizes offline caching for improved performance. Users can sign-in for quick access to online product availability, shop from favorite brands, and get their order delivered by a free shipping service to 4000+ cities within India.
The revamped app features a user-friendly interface that allows you to browse through multiple product categories which are grouped in an intuitive and easy to navigate manner. You can easily find what you're looking for using sorting and filter options. For each listed product, users can view reviews, specifications, and features before placing an order.
There's also a neat option to shortlist products to view or buy at a later time. However, products shortlisted on your Windows Phone device are not accessible across all the platforms, which is a bummer. There's still some way to go.
Download the Snapdeal app for free from the Windows Phone Store. The app has an intuitive user experience, and competes with other e-commerce apps like Tradus and Flipkart. There are also exclusive mobile app-only offers, so give it a whirl, and let us know how you like it.
Windows Central Newsletter
Get the best of Windows Central in your inbox, every day!
Thought that said official snap chat app then.

Same, read it from the Live Tile

Yeah same I thought it said official Snapchat as well.

For a second a read Snapchat...

Ohh thats good news. They must have seen Flipkart's brand new app and got jealous. So finally they too decided to rise their app up from the dead. :D

That's right! Competition makes the world go round ;)

Official Snap Ch.. Oh well

Now jabong.com and myntra.com needed

Flipkart is best. Then comes Amazon.in and then Snapdeal.

Amazon India said they have a WP8 app in development. Haven't heard anything lately when it is going to get released.

That would be nice. In my house we use ebay and amazon mainly.

Here we use flipkart and amazon

i think amazon is bit ignorant towards WP. I have seen so many people requesting to update imdb for so long.

I saw on the live tile "official snap" and I was like SNAPCHAT? And I clicked and it and was like ohh..

Like I said yesterday... India is officially WP land.
.................
Just rename the site to IPCentral...

U may visit to India to see the love for WP

Hey!!!! Maybe I will!!!!:-o:-o:-o:-o

Lol... You don't want me to come there... Tha last thing India needs is another black guy twerking on top of the imperial tower... Another.. Lol!❕❕

There are many blacks here already..Some are baking in the sun this summer..Some are immigrants from Africa lately..

India needs to export the population... :p we're the seventh largest country in size, and the second largest in terms of population..
But still.. Do visit if you get a chance, its much different from usa etc.. In a nice and refreshing way.. And the people here are really nice.

Population, to an extent is not really a bad thing but non-utilization and overlooking of human resource is. And that's what India currently has a long way to go... I think.

No that's not true... We welcome you whole heartedly. We have blacks, brown (mostly) and some whites so it really doesn't matter whatever... Personally speaking, I'd love to meet everyone who's a WP fan, no matter where on earth he lives and how he looks...
Did I say too much?

Really? I ain't a racist or something, but you people don't even treat your countrymen right. Few days back I heard about a guy from east India who was killed just because he looked chinese? WTF? Better start respecting your own before thinking of welcoming others. Just sayin'

Seriously?
I didn't hear of any such news, would be nice if you provide a link. Even I would stand against it if someone is killed just for his/her looks (please go through the news I'm sure what you read wasn't all) And let me remind you India is the country with largest no of different religions followed and obviously they all look different. We can relate a person where he belongs in the country from his looks. So if that's the reason then we should come across such incidents every minute. But we don't. To make sense, we are mixed unlike most of other countries.
So, I wont say its ever a good idea to judge a whole country just from an incident. Regarding respect, we do respect everyone.

I guess u must have missed the story about Nido tania from arunachal Pradesh. Learn to differentiate your own country men from others. We are not CHINESE. INCREDIBLE INDIA!

Most possibly, yes. I realized it happened during my trip to Dubai.
But thanks for the reference bro, I just did some search and realized this wasn't fair. The boy, contradicting to my previous reply, was innocent. And hey what's wrong even if there are Chinese among us? I know a family in my area whose wife is Japanese for instance but they are a happy couple and I really appreciate them.
**********************************************
While I was searching for more details, I saw this video that was made to oppose such incidents(this video was made basically because of that incident). Check this out- http://m.youtube.com/watch?v=QrwKkMpl1Gg

Dude.. Stop.... Like people here in America are perfect.. Or in the UK.. Whatever.... We have kids shooting up schools.. Now, that's crazy!

LOL at Snapdeal claiming to be number 1 in India, they are just one of the many with no warehouse, infrastructure, logistics and just hoping to be bought for a good price by Flipkart or Amazon.in

Hahaha ! True ! Amazon has a great service, great packing and great customer support.
I wonder why no one mentions ebay, my family uses ebay mostly and started using amazon these days. I bought an amzer cover for my 520 from amazon, and it arrived in a well packed and stuffed box. I ordered another for my dad's Lumia 520 from flipkart and it came in a plastic packet with minimal protection. Needless to say, it had got bent and needed about a week to fit well on his Lumia by regaining its shape.

Because Ebay is similar to snapdeal,tradus etc, they just provide platform for sellers and buyers and have no infrastructure, warehouse, logistics. Only Flipkart( For WS retail) and Amazon.in(for Fulfilled by Amazon) have total infrastructure, Flipkart has even Private Courier logistics setup for their product deilveries.

Agree with you! As per my past experience, Flipkart has the best possible service in India. Specially, their multi-layered packaging and super fast delivery. I do almost all my e-commerce on flipkart only.

So i am not the only one who read 'official snapchat'. Thank god.

India only! No US??? WTF
/s :)

I have not downloaded any of the shopping apps. Mobile sites of flipkart and amazon are very much functional and fast. So I dont really get the point of downloading an app for that.

I dont mean to be rude, but there have been alot of India-specific articles recently... It would be interesting to see WPC's reader demographic.

Maybe Abhishek is being more active these days ? That there were news always but he wasn't active before ? :)) no offence Abhishek, nice article ! ;)
Its just India showing love for wp recently ! :)
No one complains when us specific things are told 70% of the times, let India get space too on wpc !

When things like Surface,, Cortana,,Icon,,Bing Features+Rewards,,Xbox,,Etc..Release worldwide and not only in US of A..Only then are we gonna protest Abhishek to minimize the number of articles of Indian apps on WPC..Till then you sit quiet..Or you can start bugging MS people to release their products everywhere..

Xbox is coming in September or October in India

To say Icon's comin in the form of 930..Beta of Cortana..Xbox "Assumed" in September or October or till December..Bing features do work when we change the region to "US of A"..These are all sort of life supports or lollipops by MS to calm people outside US till the time they work something out for them..And we all know how fast MS services and product releases are..

Not happy but I've to agree.

Hey, I'm from the UK, we only have 2/5 things you mentioned that are exclusive to the USA you seem to have blanketed as "The West". I am just pointing out the increased number of India specific articles recently, and if this increased number relates to a large number of Indian readers... or if Windows Phone has become more of an eastern brand than a western one in general. In short, when i see an Indian specific article i think to myself "damn, because i live in the west, perhaps i should move to a phone OS that receives more attention from the west, rather than one that recently seems to be getting more support from the east". Like i said previously; perhaps I'm just a stupid westerner who is naive to the rest of the world.

Last I heard UK is thought to be in the centre of the world..You know Greenwhich :-P :-P

Last i heard, the centre was changing to redmond, USA. (useless joke :-P)

You get LTE and all the millions of articles about it, we dont ;)
Besides, UK does get some nice support too, nothing to be sad about missing a lot.
Just that India has the majority of its educated youth in the tech industry and they've got to put their brains somewhere.. You see, we have a population above 1.1 billion, you can easily get people to code for wp.

If i could narrow my point even more it would probably be the irony that this brand (windows phone) which Aman2901 said previously gets alot of western attention in the form of Microsoft support, recieves a large amount of support in terms of apps from the east. We cant even get official snapchat, now tv, facebook, youtube apps, yet India seems to be pushing out big name apps every day: "2014 has been a great year for official and marquee apps in India".

Yeah as if the apps are gonna run on their own..Without any nice hardwares or services..Your from UK..So sorry I flared up on you..

I suppose every article here must be either approved by Derek or Daniel..So they livin in US don't have any problems with it..Why should you??

Sick of waiting shit windows phone is the OS of waiting

Why do you Indians crib so much when someone posts hard facts about you? Grow up!

Great news!
Love the support windows phone is getting in 2014!