Turkish Airlines launches beautiful new app for Windows Phone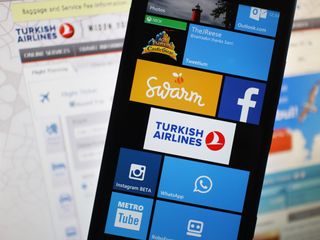 Turkish Airlines is the world's fourth-largest carrier in the world by number of destinations and the national flag carrier airline of Turkey. They're huge company and they've finally launched a new app for Windows Phone. The official Turkish Airlines app is available for free in the Windows Phone Store and allows you to buy tickets, check flight status and much more.
Head into the Windows Phone Store and you'll find version 1.0 of Turkish Airlines. Here's what you can do with the app today:
Mobile Booking & Reservation: You can buy your ticket, book a flight or complete your reservation on the move. All you need is to select our best flight offer.
Miles & Smiles: You can become a Turkish Airlines loyalty member. If you are a Miles&Smiles member, you can access Miles&Smiles services.
Mobile Check-in: You can save your time by selecting or changing your seat on the move.
Arrival-Departure: You have the chance to make best plan with insant access to departure and arrival status of Turkish Airlines flights.
Timetable: You can plan your trips via access to Turkish Airlines worldwide flights.
We don't have any upcoming flights with Turkish Airlines, but this app looks beautifully done and should make any Windows Phone user flying the airline happy. Fly Turkish Airlines often? Download the app and let us know what you think!
Thanks for the tips Ultimate Insider and Kyle S.!
Windows Central Newsletter
Get the best of Windows Central in in your inbox, every day!
Launch the app and see how it loads.. just beautiful!

and really loved the background. I'm using those kinds of pic on my phone, pc and tablet :)

Sweet! I fly them all the time from Houston to Istanbul for work.

See its not that hard....come on developers :)

+8.1.1 I truly believe developing is easiest for windows.

Even if apps like Skype, Facebook, Twitter, Vine, LinkedIn etc were to get on the WP 8.1.1 bandwagon and give us real WP8.1.1 apps, our platform would feel appreciated. I am already shocked by seeing how many apps have already got updates to get "iOS8-ready" weeks before it got to the masses. Even OneNote is updated for iPhone!! - That's when you know how much more work is needed before WP is not just another wanna-be OS. Till then, yes we will have Beta apps for everything we want.

This is why if MS releases cortana on other platforms WP will be dead in the water as other than the UX it wont have any unique selling points that can grab headlines. Rooms is an amazing feature but they (MS) hardly talk about it -.- and most of the Tech press don't even know that such a feature exists, I would say many don't spend more than a few hours with WP and it shows.

Seems like Facebook mobile site was redesigned, but still doesn't show full pictures. Btw. Turkish airlines app rocks, indeed it is beautiful.

Looks much nicer than the British Airways app. Well done Turkish Airways!!!

Türkler selam :D
Wonder how many turkish people (im turk) use wpcentral

Selam from a fellow Muslim! (I'm not Turkish, BTW)

Aleyküm selam. Çok var :) by the way i've been waiting for this app for too long. this just made my day :) Keep it up guys. Make beautiful apps

Beni de sayın :D Turkish Airlines is the best :)

Merhabalar! Selamlar hollandadan! I was just checking out the app some hours ago. What a coincidence. There's also a Turkish Airlines Golf app!

Çooook var. 9gag ile bunu aslında türkler yönetiyor. Sam sabri değil onun adı, sabri sam, o da Türk, hatta yan apartmanda oturuyor... (sam abinin geçtiği cümle tamamen uydurma.)

haymina :)) çokmuşuz ha :)

Selam. Bi bitmedik amk :D Great app from Turkish Airlines like their services...

Paging southwest. Where you at? (probably the same place Verizon is keeping cyan)

Right? Exactly my thoughts as well.Anytime you would like to join us Southwest. One of the few apps i'm truly missing.

write to their facebook and ask them to make an app for Windows phone.

Waiting for CheapOair. Will try this one too. Already have KAYAK, airtravel, aviasales :)

This is becoming one of my favorite dev teams, I think they might be WinPhan! Have you had a chance to check out their golf game, it's called Turkish Airlines Golf and it's awesome! 18 holes of beautiful graphics and gameplay! Go Turkish Airlines! :D

I know that game and it is amazing :)

Last time (my first time) I flew with Turkish, I really enjoyed it a lot, especially the food and seating is better than Delta and United for sure. On a side note, on my layover at Istanbul I ate a ton of Lokum aka Turkish Delight (and bought some as well), that thing is freaking awesome!

Glad you liked it but for sure its not for who has prosthodontics :)

Well, if u likes it, you should try our cuisine. You will be in love with it ;):D

Emirates Airlines should do the same.

Theres a lot going on in turkey. Im proud of being turkish, but this airline.. Another story, not belong to here...anyway, respect for wp developing.

So, United, Lufthansa, Avianca, South African and now Turkish Airlines - when can we expect a Star Alliance app? SeatGuru would be nice, too.

Garuda Indonesia Airways also hve a beautufull app, good job turkish airlines!

Now THIS is a gorgeous app. All developers and companies should take note!

Turkish Airlines App bit.ly/13rxMUi
Windows Central Newsletter
Thank you for signing up to Windows Central. You will receive a verification email shortly.
There was a problem. Please refresh the page and try again.