Officially licensed Craigslist app, 8list brings classifieds and more to Windows Phone 8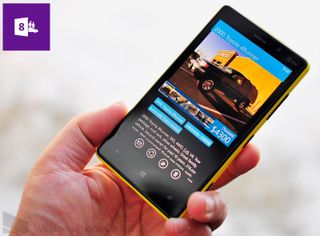 Craigslist (www.craigslist.com) is a popular classified advertisements website, sporting sections covering jobs, housing, services, community, gigs, résumés, and more. Windows Phone currently lacks an official app from Craigslist and thus developers are tasked with filling the gaping hole. Introducing 8list, an officially licensed Craigslist client for Windows Phone 8.
If you're an avid fan of Craigslist as a whole, you're going to want to try out this sweet little app. Not only are you able to maintain different favourite lists to keep everything organised, but posts published on the website are saved in states (the app remembers what you've seen and what's "new"). This is a pretty neat feature to help make the experience a little less cluttered.
Contacting folk through Craigslist is an important part of the service and 8list helps you out by automatically pulling all contact information into a single contact card, which can then be conveniently saved to your phone. But before you contact other users, you need to find what you're looking for – this is where the favourite lists come into play.
Whether you're looking for used vehicles, jobs, properties or numerous categories at once, you can order multiple lists to keep everything organised. Posts themselves can be hidden from view and searches can automatically alert you as to when new posts are detected. Speaking of notifications and whatnot, 8list fully supports the pinning of Live Tiles to your Start screen. These tiles can be of individual posts, favourite lists or searches.
The user interface is intuitive and everything runs as one would expect. We're impressed with both the speed and fluidity of 8list, enabling you to get stuck in with checking out latest classifieds in your local area. If you use the website and own a Windows Phone, you should definitely download and try 8list out.
You can download 8list from the Windows Phone Store for free. Cheers, Mohamed, for the tip!
Get the Windows Central Newsletter
All the latest news, reviews, and guides for Windows and Xbox diehards.
Rich Edmonds was formerly a Senior Editor of PC hardware at Windows Central, covering everything related to PC components and NAS. He's been involved in technology for more than a decade and knows a thing or two about the magic inside a PC chassis. You can follow him on Twitter at @RichEdmonds.
Nice for America. Wish there was a gumtree one. Mobile site isn't that great

Fat people, millions in jail, broken health system, no money left, trailer parks, poor people, screwed up gun laws, millions of bums, spying on the entire world, police brutality....AMERICA, f*** yeah!

So you must know this only through the main stream media...maybe you should research a little more before you over-generalize. It will make you appear less ignorant.

There are fat people, millions in jail, poor people, screwed up gun laws, police brutality, debt, and trailer parks in plenty of other countries. Stop being so ignorant and educate your own dumb mind

I'm confused. Are we pretending none of this exists in the rest of the world now or in the past? We should be lamenting humanity not just taking cheap shots at a country that, despite being so diverse, has managed a pretty intricate balancing act with only 1 constitution a couple centuries ild and an elected government that sticks to its terms and just doesn't press the reset whenever people disagree. It's not perfect, but lets not even pretend the rest of the world is either.

Its just the beginning of 2014, try not to depress US Citizens.

You know nothing of America, obviously. Sounds like you get all you information from you state ran media. Probably China or Russia.

Can we ban these people from posting their anti American sentiment here, this is not a political site.

I really hate these stupid comments on countries either it being directed to India, like I read plenty here, or America. It's very, idk... Nazi and yeah, definitely dumb.

Its the same posters everytime.
In this case, "Tafsern", seems to be copy/pasting because he literally says the same thing everytime.

It's the second time, have some sense of humor :D

Fuck all you people comment on my post. Nothing i said should have lead to the comments above. Bunch of eejits

supernatural fan? or just say that?

I lika America, it has it's flaws, but so has a lot of other countries. A modern, individualist country with a lot of opportunities. And with so many people, some of the dumbest people in the world probably exist there. But also some of the smartest ones...

If only America could be like Europe.

What Europe AlpHa ? Bankrupt Greece, or Nazi Germany ? Or maybe even homophobic Russia, or gang rape India. Sense of humour, huh.

What?? Since when is India a part of Europe or Russia even a part of it? Put the drink down. I know I have.

This app is riddled with errors...everything I do, touch, search makes an error message asking me to send it to the developer. Terrible.

Good weekend for wp users.

Another official app to cross off the list :)

Well, it's officially licensed, not official app. Same with the forthcoming FilmOn TV and Wikipedia. Companies are more and more letting 3rd party devs make "affiliate" apps, so long as they follow predetermined rules.

Craigslist classifieds is way better

Which forthcoming wikipedia app is this that you mention?

It's already available as Wikipedia. If I remember right, Rudy Hynn (I know I butchered the last name) created the Wikipedia app and Wikipedia/Wikimedia has officially endorsed it, thus one would believe it's officially licensed.

Downloading now. Not a fan of CL mobile site and haven't found a decent app yet despite trying a bunch.

I think Craigslist+ is better.

Didn't try that one. Just went back to the mobile site(ugh). This one seems pretty good so far.

Craigslist deluxe seems better than 8list. Tried 8list and had a bunch of errors.

8list? Rudy Huyn copycat developer?!

Barebones Dev. Isn't that Andrew, one of the guys from WMPU?

How exactly is 8list anything like Rudy? The guy is amazing but let's not be delusional

First, everyone needs to hop off of Rudy's member in the comments. And Daniel's, it's ridiculous. Second, wasn't asking who the dev is, it was a joke because of the possibly random number in the app name. Third, *swoosh*.

But you were the first one to randomly mention Rudy in the first place. Not sure how I was supposed to understand it was a joke. Bit the random number isn't that random. 8....windows phone 8. I would likely assume the 6 in Rudy's apps are technically more random.

Lol nothing of which I wrote mentions Rudy randomly.

And I make some random post :D and here is a random number: 548676887

Can you let us know what the full feature includes cause you gotta pay for it

Guess I'm not the only one who couldn't find a list of features included in the paid upgrade.

Sorry about that, I should have included a description of what the full version unlocks in the Store or within the app. Free version is limited to...
- 10 favorites
- 10 hidden posts
- 1 search alert
- 2 posts pinned to Start Screen

Craiglist that's where people go for casual sexual encounters! Am going to download for research purposes

Lol...i see what you did there xD

You'll want to download that Tinder app too... 6tndr or something like that :P

I hope you can post pics. I buy and sell alot of stuff on Craigslist. I haven't found a way yet to post pics from a W8Phone.

Craigslist classifieds allows you to do this

I can't find anyway to post on Craigslist classifieds.

Thanks this works great!!!!

There's no account sign on, I bought the app, and I can't sign in, or post from app.

Sorry about that, I should have included a description of what the full version unlocks in the Store or within the app. Free version is limited to...
- 10 favorites
- 10 hidden posts
- 1 search alert
- 2 posts pinned to Start Screen

I have been waiting for this day.. For so long

App title is messed up. It says 8list. Then a mile away says for craigslist

Cool - if this can take the place of RSS feeds on my favorite searches, I'm all for it.

Nice app but I will stick to Craigslist+

Yeah, after a few seconds with the app, it is apparent that many third party offerings are more fulfilling.

I don't like the way it messes up my app list. They need to fix that.

Craigslist Classifieds is much more full featured and easier to navigate.

I really like Craigslist Classifieds. Color scheme, ease of use, features. I can post from my phone and it has a "search" field right from the beginning. This app, you have to go into a category and search from there. One extra step. Also, I really dislike how many apps use that cyan tile. It makes my home screen have solid blue in certain places. I bought a windows phone for its UI look. That just kind of ruins it for me.

Maybe the developer could make KIJIJI app too

Been using Craigslist +. Its been pretty good to me. Anyone else agree?

Yeah its a reasonably good Craigslist app.

I like it alot. That's the app I use.

I like the way this app looks, but can't figure out how I can log into my account and create posts or renew current postings.

OMG THAT PICTURE IS A POST FROM WHERE I LIVE TUCSON!!!

You live in an LA Fitness?

Nah, he lives in that car in the parking lot ;)

Haha yeah, I'm a tucson native. Good to hear from other WP users here!

This app used to be called Craigslist Controlled. It was the best and most consistent CL app on WP7. The dev pulled it because he was trying to get CL licensed. So glad he did because while Craigslist+ is good, CC (now 8list) is my favorite.

All of these apps starting with a number are annoying - clutters up the alphabetical list of apps. This is the equivalent of your company being called "AAA Alpha Plumbing" to be listed first in the phonebook.

Decent start. The app has to be able to filter better than it does. If I search for Lumia 920 from a private seller, I don't want results from businesses too. Then I get repair stuff too. Not good. Good start though. I'll wait on the next rev.

Garbage, error, error, keeps on crashing.....

Yeah, I keep getting error messages too when I try and read an ad. Will be sticking with the other Craigslist app!

I get the same error messages.

Officially licensed and no way to post an ad?