Offline data for Maps on Windows Phone 8.1 is getting updated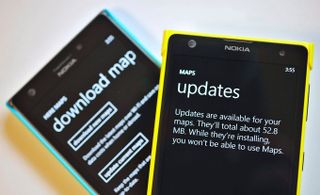 If you are using a Windows Phone 8.1 device and use the offline maps option, you may want to check for an update. Users are reporting to us, and we have confirmed that multiple states in the U.S. – and likely elsewhere – are flagged for some map refreshes.
We can confirm that at least New York, Connecticut, Massachusetts and California all have fresh maps to install. To clarify, this is not an update to the HERE Maps app, but rather the downloaded maps data for offline usage.
Offline maps are used for the HERE services and help reduce your dependency on a data connection while traveling. You can choose maps by State, Country or Region. The process is simple to check for offline map updates and is as follows.
Update offline Map data
Go to your Windows Phone Settings
Swipe over to the Applications Page
Scroll Down to Maps
Tap the "Check for Updates" button
Alternatively, opening up HERE Maps directly often alerts you of the pending updates, or you can in the app's settings and check for updates directly.
Should updates be available, you will be given the option to install the updates now or wait until a better time to do so.
At this time, there is no word on what is new with these maps, but they likely contain fixes, new routes, updated street names, and the usual things associated with atlases.
Thanks, Marcus S., and others for the tips!
Windows Central Newsletter
Get the best of Windows Central in your inbox, every day!
Daniel Rubino is the Editor-in-chief of Windows Central, head reviewer, podcast co-host, and analyst. He has been covering Microsoft since 2007 when this site was called WMExperts (and later Windows Phone Central). His interests include Windows, laptops, next-gen computing, and for some reason, watches. Before all this tech stuff, he worked on a Ph.D. in linguistics, watched people sleep (for medical purposes!), and ran the projectors at movie theaters because it was fun.
Still the best feature of all my Nokia's

MS, please update the Rotation Lock toggle button on the notification center. The right padding is not the same on the left and the 'Lock' word is almost at the edge. Please wrap it appropriately since its killing me every time I see it on my notification center!

If you notice the margin on the left is uniform on all of the quick action tiles.

It is supposed to be like this. Same with live tiles. They have a steady padding from the left and when the text is too long like with calendar texts it just goes till the end of the tile. There is never padding on the right side.

But the Internet Sharing on the quick action is wrapped, having the 'Sharing' on new line.

What does this have to do with the article?

Now that's what I call 1st world problem...

it's what i call an ocd problem lol

Don't mind my ignorance, but what does OCD mean?

obsessive-compulsive disorder

The routes themselves suck compared to gmaps. I only use it when I have no cell signal.

My experience has been the opposite. On a few trips Google has directed me to take the full tour of a small town I was passing through (about 8 x 12 blocks in size), rather than giving me the direct route to the other side. Maybe I got the route for one of their photo cars by mistake.

Totally agree. GMaps is crappy just from the start: My wife (then an S4 user) was shocked at how fast my 520 got positioned. BTW: I've be kind of distrustful of navigators since my first TomTom: All of them go crazy from time to time and you have to reboot :)

Although HERE Maps gives us three different types of routes (balanced, shortest, fastest), I'd really like if it gave us different routes on the map itself, just like I could do on Gmaps on my old iPod Touch three years ago. That's my only 'complain.' Other than that, it works flawlessly here in Brazil. Much better than Gmaps (I compared it to my friend's Note 3, and Gmaps gave us direction to a dead end street, while my 925 had already calculated to turn on a different street).

I travel a lot for work... I mean whole lot, and I've compared Google Maps, Apple's maps on the iPhone and the Here Maps. First, as I'm sure many know, Apple maps are garbage and not worthy of a comparison. Google Maps are good, but I've had problems with some routes particularly in rural areas. The main knock on Gmaps was that I couldn't download the maps, I'm not sure if it was the device I was using or if it's just not allowed. Here Maps work great all around for me, the only better experience I've had is a paper map and a few dedicated GPS units (but many of them suck too).

Nothing yet for Ontario Canada

I love how maps improve constantly :)

Crab Legs & the Noles got this still...

Nice. I would like the chance to play them. It would be a great game I think. We gotta take care of business till then.

No updates for Minnesota, Wisconsin, Iowa, and North Dakota.

I received a Minnesota update last week.

Does anyone have issues with Here Drive + running under lockscreen? I have it enabled in battery saver so that it can run in the background, but every time I turn the screen off, and turn it on after a while, the app's gone (shut down) and I have to re-open it for navigation. Of course, I ensure no other apps are open in the background, eating up the precious RAM. Extremely annoying!

All my mapping apps act like that. Even expense paid ones.

Mine crashes if a text message comes in. still a nice app though

There's also a battery saver option on the app's settings. You could try turning it off.

just checked, mine was turned on. turned it off and will see how things go. thanks!

​Go into here maps settings (if i am mistaken, check here drive settings and the wp system settings \ swipe right \ maps settings) locate a menu that says clear my search history or something like that. Press that, exit and restart your here apps and see if theres a difference. That search history seems living as part of the OS so it survives here apps reinstalls, so if it gets fked up, no matter how many time you reinstall the here app, you have to clear that history separately. This trick solved my constant here app crashing in the summer.

Did switching off battery saver finally work? Just outta curiosity...:)

I've never had any these issues with Here Drive and I use it for hours every week. Maybe try an uninstall/reinstall.

unfortunately, that is something i already tried.

I have the same on both my work 625 and my 1020

I would like that 1020. :). But anyway, I'll check.

Newfoundland and Labrador and Nova Scotia Canada have updates.

Mexico City is not receiving updates yet.

What the hell is there in Okie that needs updating?

You know,wagon trails railroads

No love for Sao Paulo map's

Nice, but this is old news (30th of Oct): http://360.here.com/2014/10/30/news-flash-updated-maps-android-windows-p...

Update on Sao Paulo - Brazil :)

Nice. Also nothing for Overijssel. Thats means, nothing for The Netherlands.

Still don't have HD voices...the Android app had them on day one. Posted via the Windows Central App for Android

Didn't know about this. It just bugs me how much "right" and "left" sound alike in the voice guided nav. (You wouldn't think this possible, but I am absolutely not joking.)

Good by me. I have a 1020 and a Note 4. HD voices are awesome on Android. I just find it very strange that HERE, originated on Symbian/WP, is lacking features vs. the free Android version...

Wish this would come down automated as an app update

Me: Waiting for the Light Rail to office. A stranger appears. Stranger: Do you have GPS on your phone, I kinda need to find my office. Me: Yeah sure. Searching... Here it is...that's near my office :) Stranger: Thanks a lot. What plan do you have? Me: Oh no, this is offline maps. NOKIA. Stranger: S*** I paid lot of money for this iPhone and I can't use the maps without service. Me: I too don't have service. Smirking :)

Here offline maps are no longer WP exclusive

They were never exclusive to WP, as all Symbian (or most Symbian) devices had them in parallel. But you're right. And it's coming on iOS soon.

we're happy you're happy ;)

I don't use cellular data on my Lumia at all, just wi-fi at home, plenty of free wi-fi out and about, and offline maps for navigation. It's great.

Romania nothing yet. Standby.

Ohio and Pennsylvania both have updates!

Massenger got some update

No update for Texas, but I think I updated mine about a month ago.

Question: Do Here Maps and the native WP Map app share the same map data? i.e. If i update / download maps for one app, do I need to do the same for the other?

Yes(it seems though on devices with drive+ the offline packages are bigger)

Tks - but was that 'yes' to they share the same data or what yes I need to update each one individually? Cheers

HERE Maps and HERE Drive share the same downloaded map data with the native WP Maps app. So you only need to download and update the offline maps you want once. Updating the maps from any app will work for all of them.

Does Windows 8.1 have Nokia offline maps? If not, why doesn't the Here app, on Windows 8.1, not have offline maps?

I have offline maps on my Surface 2, you can download maps with the here app.

Thanks. I'll try it tonight

Nothing new for Uk or florida. But then they updated a week or so ago.

All of my maps are "up to date"

Can someone explain to me why I have two "maps" listed in my applications list. One has a slightly smaller map in the icon/logo than the other. Otherwise they launch the same thing.

Philippines have it a week ago.

A week ago these countries/areas were updated for me: Ukraine( still nicely as it should included Crimea however hard Putler cries about it), Lithuania, Netherlands, Belarus and Sardegna(Italy).

Please ditch HERE in the US and use Bing with Cortanas voice. HERE is off consistently bad in Dallas, however Maps works well just no voice. Make this change please!

isn't bing maps powered by nokia maps?

Don't know enough to say yes or no. In my three years of using HERE with voice vs Maps with no voice, Maps is much more accurate/up to date.

The New York map is now just a big white square with no roads.

No updates for South Africa yet.

the best just got better.

Would be nice if we could download/update the maps using cellular data and not just relying on wifi.

I've had a couple of updates in the last 6 months - Australia.

Updated for Galicia (Spain), Portugal and Belgium

Don't see the update yet.

Nothing for the land of the flying Kangaroo.

He's referring to Australia. And no, kangaroos don't really fly. :)

Why Nothing for aussies? The road here at the front of a roundabout is displayed wrong.

there is actually, just dowloaded the update on my L1020, but only a small update

I hope they today Athabasca Alberta. Highway 55 813 was finished a year ago...

Not true... Eastern Canada got updated and last I checked Nova Scotia and Newfoundland and Labrador are still part of the great white north. Even though some dipsh#t I meet last year in Florida thought it was part of Maine and Maine was on the west coast.... Lol

There was a 1MB download for the Southeast region in Brazil.

No updates for Australia.

i am currently downloading the update mate, check again.

Not for my country - INDIA

I got the update last month. You might have had done updating it already..

Ontario, Quebec, British Columbia & New York updated

I love Nokia here maps than other in India

I got the 300MB update for India, last month.. The update failed in the first attempt, so actually had to download 600MB data just for updates -_-

Did u really get update after reading this article.. Reply me if possible....

Oh no no.. I got no updates today. The updates i got were in the last to last week. No updates today.

No update for indian users.

Hi guys , i have a serious problem. , when anyone calls me , a sound start saying the name if the caller , how can this be stopped or deleted ?? DP 8.1.1 , sorry i know its not meant to be here but i had to

check if narrator is on in settings

No updates for Saudi Arabia and Jordan

Updated Finland and Italy.

no update map here , in Indonesia !

wheres the mapp for denim update for lumia??????????????????????????????????????????????????????????????????????

Nothing in MA, NH, CT and RI, USA.

Wheeeeeere the hell update my Tunisia Gabes because my place cannot show satellite map are horrible !

This is best. I have problem with finding place , need perfect name and sometime is not understanding what I try to find search engine is very very bad.
I got two new bridge constructed near my home ,1 is 3 years old and other 1 years old but no one is showing in my maps.
I am allways updating my maps but allways disappointing me my maps
I'm using here maps when it was 700 MB in size now after updating countless updates is now 1.3 GB in size but no updates near my home route

Washington and Florida also updated

Downloading maps is still a terrible experience because the app has to run in foreground which makes the phone unusable for hours...

I am from Pakistan, Microsoft needs to take care of Pakistani customers, there is no offline maps available for our country its sad!

Still no maps of japan! Why?

Map is not downloading under lock screen. Download is paused it we lock the screen. Please make it download in background.